Food
CLEAN PLATE: Pork Wontons with Chili Broth
---
It's always important to find time for self-care, and everyone has different ways of pampering themselves. Some like to relax in a hot bath while others prefer to unwind with a fast-paced run. Me? I like to go to the grocery store by myself.
An hour of "me" time in the supermarket is my catharsis. Even though I always make sure to bring a list, I love browsing the shelves and checking out things I usually don't need, like duck fat or oversized wheels of Camembert cheese. If I'm feeling really indulgent, I might even treat myself to such delicacies.
I was pumped when a rare solo-trip to the Acme presented itself last week but, when I drove into the parking lot I knew something was off. It was unusually packed, and mostly with construction vehicles. Inside, the store was a mess. Apparently, the Acme is operating while under renovation; I was hit with a wave of anxiety as I swerved my cart around forklifts, through aisles that were in disarray. An activity I usually find therapeutic was anything but.
In all the commotion, and despite having my list, I forgot several items I needed for recipes. Still, there was no way I was going back to the store. These pork dumplings in a spicy chili broth called for green onions, which I substituted with shallots. In the end, everything worked out; a warm, delicious spoonful of dumplings and broth was healing enough to make me forget about my supermarket trip gone wrong.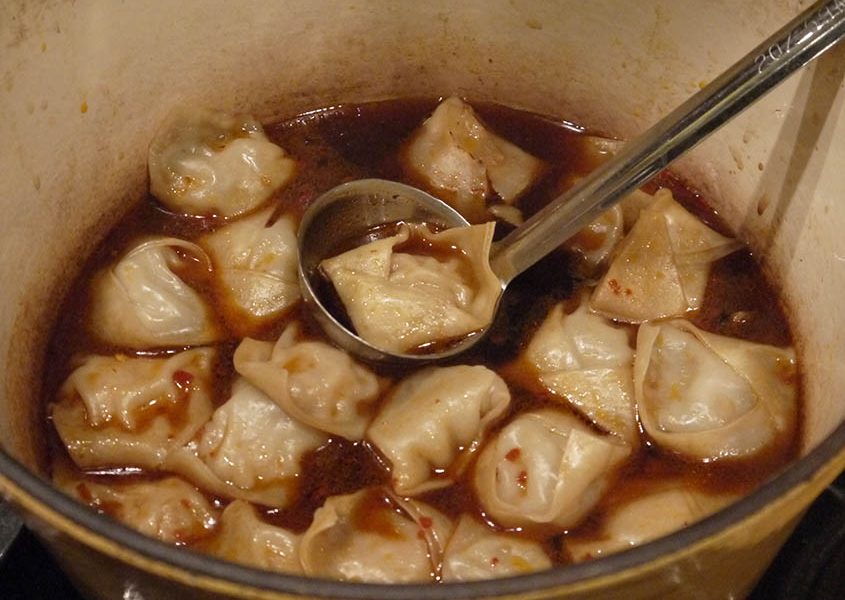 Pork Wontons in Spicy Chili Broth
Adapted from Jeremy Pang
Wontons

1 lb. ground pork

1 tablespoon shallot, miced

2 cloves grated garlic

1 teaspoon grated ginger

2 tablespoons soy sauce

1 tablespoon dry sherry

1 tablespoon sesame oil

2 teaspoons sugar

¼ teaspoon pepper

1 package of wonton wrappers (about 35 to 40)
Broth
2 ½ tablespoos soy sauce

2 tablespoons chili oil

1 tablespoon brown sugar

2 tablespoons rice vinegar

3 teaspoons sesame oil

2 cups chicken broth
In a large bowl, mix ground pork with the filling ingredients. Stir the mixture for 10 minutes until it feels heavy and sticky. Cover the bowl and rest in the fridge for at least 30 minutes. Wet the edge of wonton wrapper with water, and add a heaping teaspoon of filling. Fold in half to form a triangle and gently press the edges to push out air bubble and seal them. Wet the two tips of the triangle and fold over the middle part of the wonton. Steam the wontons over boiling water for about 10 minutes. (Alternatively, you can submerge them in boiling water for about 7 minutes.) Set cooked wontons aside in a large bowl.
Prepare the broth by mixing all of the ingredients in a large pot. Bring to a boil and pour over the cooked wontons, in a large bowl. Serve hot and top with additional chili oil, if needed.