Food, Local Business
Cocktail Guide: We Rank the Riverwards Best Cocktails
---
  The cocktail is an artistic way for mixologists to exhibit their knowledge of spirits and present the patron with a one of a kind beverage. A good cocktail makes me forget about a tough day at work, or break the ice on a nervous first date. A great cocktail whisks me away to Hemingway drinking mojito's on a beach in Cuba and makes me forget the reality of being an overworked millennial drinking alone in a bar. I don't need a participation trophy. Just give me a delicious drink, a table outside in the sunshine and I'm good.
  Philadelphia's culinary scene has been filling in spots all over the Riverwards and many restaurants seeking to capture the same demographic who would go out for dinner and drinks in Center City offer innovative cocktail lists. Many feature locally made ingredients, including spirits from the several distilleries in the area.
  We've compiled a list of our favorite cocktails to get you thinking about your favorite place to be in the summer time. The cocktails are in no order and we think they are all delicious. The list comes from a recent bender — I mean tasting tour — of standout cocktails in the hood. We think you will enjoy them. Cheers!
#1 Gin and Tonic — Root (1206 Frankford Ave.)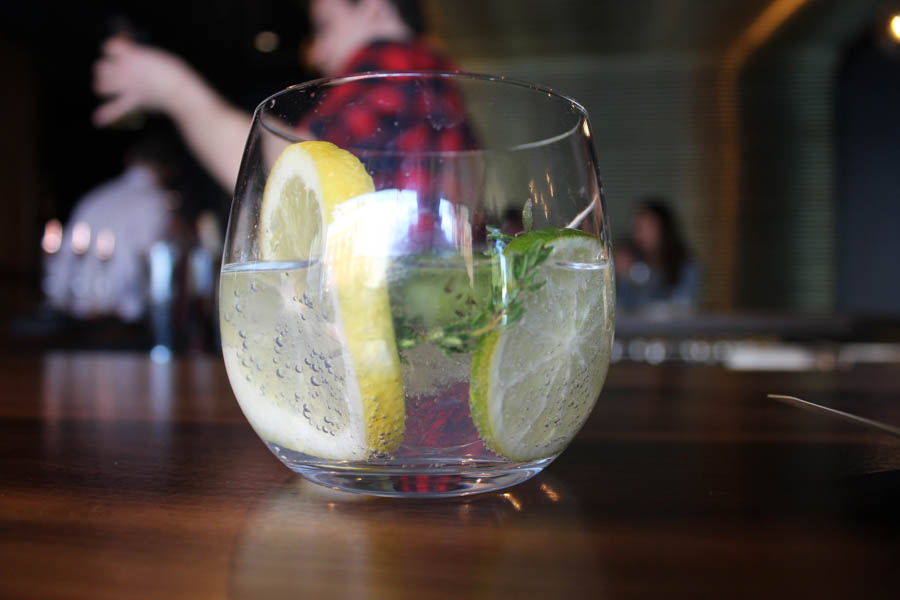 Root can be found along along Frankford Aveue, just a few steps away from the bustle of Girard Ave. The front windows open up when the sun is warm, so you can enjoy a beverage or some fine crafted nosh on the sidewalk while people watching.
  I often find myself beginning my evening with a cocktail at Root during happy hour. The cocktail list includes Root's takes on classics like the Sidecar and the Old Fashioned. They have four different house gin and tonics made with beefeater and Bluecoat gin. All four are discounted during happy hour.
  The Number 1 Gin and Tonic is my favorite of the bunch. This mediterranean-themed gin and tonic uses Bluecoat Gin, mediterranean tonic, rosemary, thyme and slices of lemon and lime. I expected a burst of herbal fragrance, however it was much more subtle, and proved to balance the citrus and gin flavor in this refreshing take on the classic gin and tonic.
The Capeside Minuteman — Bourbon and Branch (705 N 2nd St.)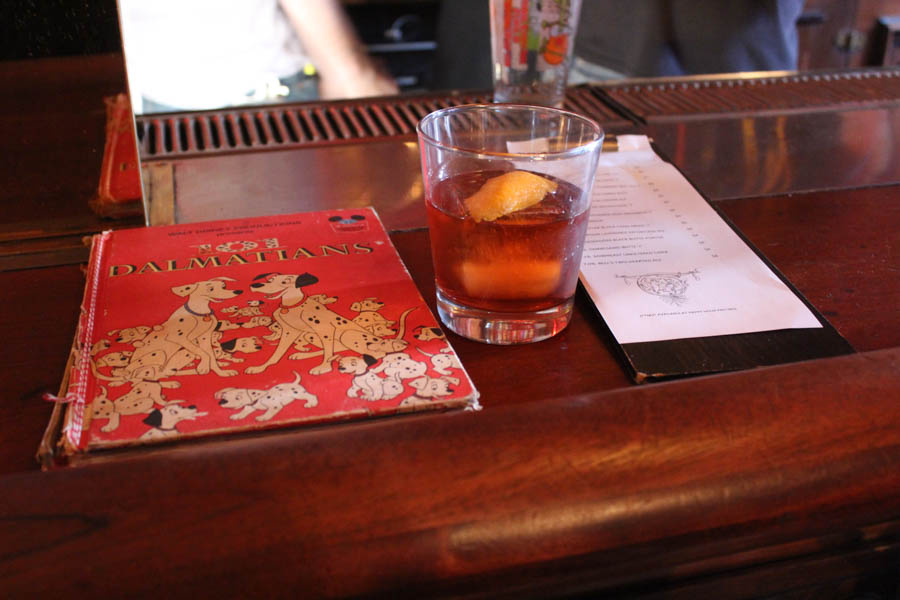 Bourbon and Branch is a well-rounded bar and restaurant along 2nd Street in Northern Liberties. They have everything you need from a great sounding live venue on the second floor, to a fantastic selection of craft beer, whiskey and some unique cocktails.
  If you find yourself sitting at the bar waiting for a show to start, try The Capeside Minuteman. If you like Manhattans and smoky flavors, this is in your wheelhouse. This cocktail is carefully crafted with Kinsey Rye, Antica, Campari, Benedictine, Agnostura and Smoke Tincture. It's garnished with a lemon peel.
  This is an easy drinking cocktail. The smokiness compliments the Antica Vermouth, but doesn't overpower the sweetness of the Campari. This was delicious and I recommend having one, though you may find yourself ready for another once it's all gone.
Baba — Martha (2113 E York St.)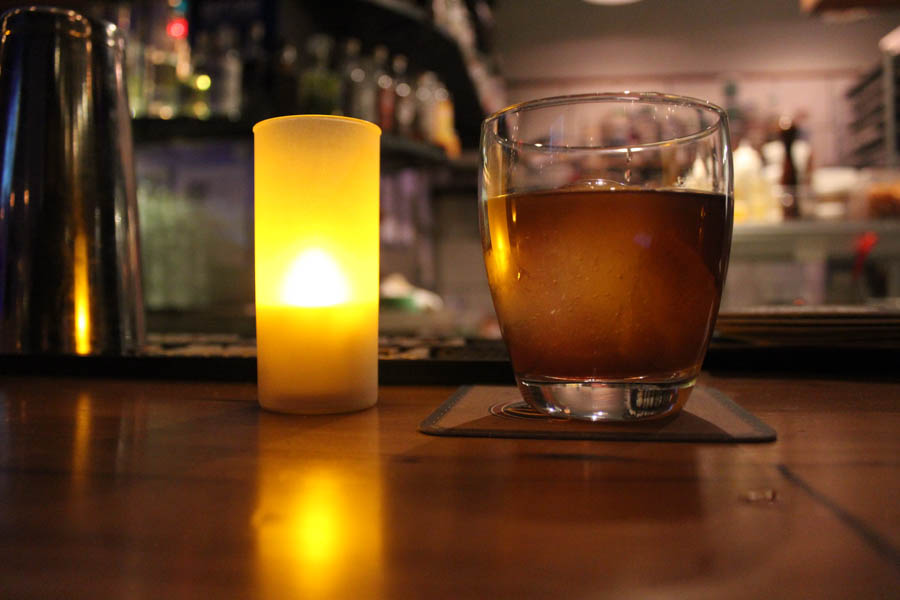 East Kensington is quickly becoming a landing spot for people being priced out of other parts of the Riverwards. Their thirst for craft beer and local spirits carried over with them and Martha is becoming a beacon for great food and drink on the cusp of East Kensington's renaissance.
  The modest industrial exterior hides the posh interior. Inside, the bartenders and cooks are serving up food and drink with attention to natural and locally sourced ingredients. As I gazed at the electronic menu looming over the bar, I was intrigued by one cocktail's ingredient and felt the urge to satisfy my curiosity.
  The Baba is Martha's interpretation of the Manhattan. This standout ingredient in this cocktail is burnt eggplant skin infused bourbon. Other ingredients include Linfield Rye, Soom Tahini Washed Vermouth and Orange Bitters. It comes with a lemon peel.
  This was unique and the burnt eggplant skin is prominent, though not bad. It's like you just over baked some eggplant parm in the oven. The drink has an earthy taste that isn't bitter or smoky. The indescribable taste of umami could be applied to this cocktail, and I recommend this to anyone ready for a different type of Manhattan.
95 Project — Bait and Switch (2537 E Somerset St.)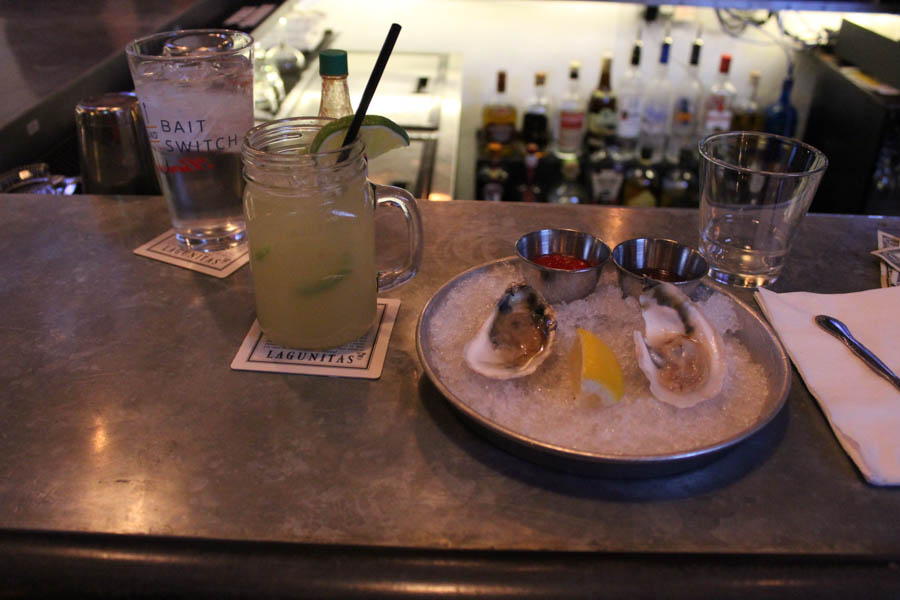 If you're looking for a top notch bar that serves quality seafood in Port Richmond, there's only one place to go and that's Bait and Switch. This former neighborhood dive was recently converted into a chic seafood restaurant serving local beers, and some very tasty cocktails.
  After some careful thinking, the cocktail I chose was the 95 Project. It's Bait and Switch's homage to the unwieldy beast of a highway that influences our lives in someway on a daily basis. This summer cocktail consists of Tequila, St. Germaine, lime, pineapple. Coconut soda and jalapeno.
  I decided to upgrade my experience with a pair of Honey Hues Cup Maryland oysters. The brininess of the oyster was a perfect counterpoint to the sweet lime taste of the cocktail. A slight taste of coconut fizzes in your mouth, and the jalapeno gives you a spicy kick in the back of your throat, much like an afternoon rush hour ride down I-95 from the Academy Avenue all the way to the Vine Street Expressway.
Mutter's Charm — Philadelphia Distilling (25 E Allen St.)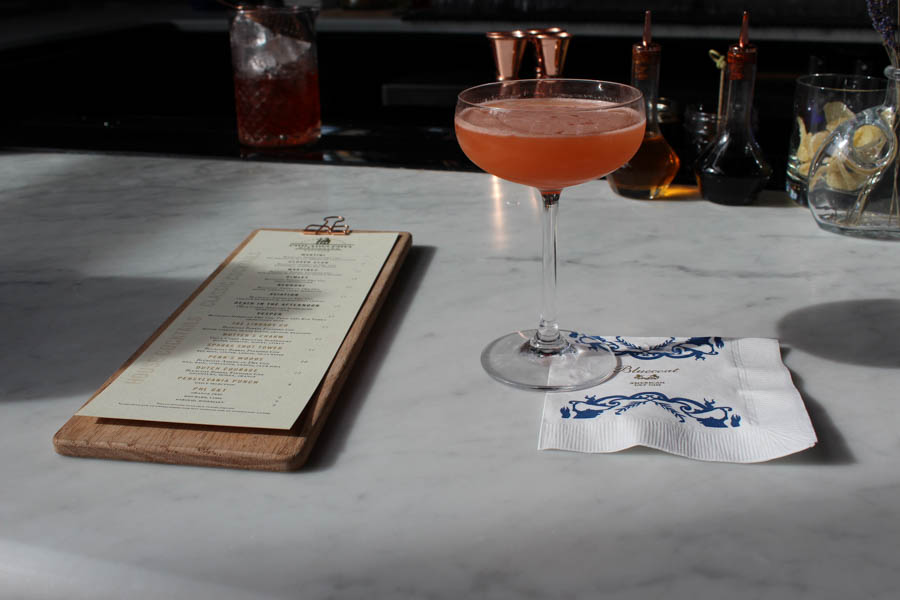 It seems like every month there's a new brewery or brewpub opening in Philadelphia. We were excited to hear Philadelphia Distilling would be moving all of their production to a facility in Fishtown and would be opening a cocktail bar to show of some of their hand crafted house and specialty cocktails.
  Sunlight shines through the windows that cover the wall along Allen Street and you can gaze at all the towering distilling equipment that faces you from behind the bar. The cocktail list features many of Philadelphia Distilling's spirits including Bluecoat and Barrel Finished Bluecoat Gin as well as their take on the Absinthe called Vieux Carre. I was torn between barrel finished or Absinthe in my cocktail. I decided the latter and chose a cocktail that would be tasty on a warm afternoon.
  The Mutter's Charm did not disappoint. I was quite surprised by the beverage that was placed in front of me. The pinkish orange cocktail is made with Vieux Carre Absinthe Superieure, Bitter Apertif, honey and citrus. Once all the ingredients are in play, the cocktail is shaken before being served.
  This was so refreshing, and if I didn't have prior engagements, I would have sat there and had a few. The honey foams up in the cocktail, giving it a frothy taste much like other cocktails that use an egg white to achieve the same mouth feel. The licorice taste of the Absinthe blends perfectly with the citrus and honey to form a delicious cocktail that will leave you ready for another. •