Features, Technology in Northern Liberties
Code For Philly: Local Techies Meet Up to Develop Apps and Innovate Together
---
It's a Tuesday evening at the LocalHost (formerly Devnuts) building on North 3rd Street in Northern Liberties. The room is filled with couches and computer screens. As people begin to file in, they headed straight for the PCs or linger near the door to chat. Many also stop by the free pizza table. Welcome to a meeting of Code For Philly, a program designed to get tech-minded people together in order to generate new ideas. These people then partner with government and community leaders to build tools that will benefit civic issues.
Code For Philly is part of San Francisco-based Code For America's Brigade program. There are now dozens of Brigades across the country, as well as in countries such as Japan, Taiwan, Germany, and Croatia. Chris Alfano, Chief Technology Officer for the software engineering company Jaruvs Innovations, founded the Philadelphia Brigade after representatives from the Code For America Fellowship program hosted a few promotional events at Jarvus' headquarters (908B N. 3rd St.). Alfano believes in the importance of technology in improving quality of life issues in Philadelphia.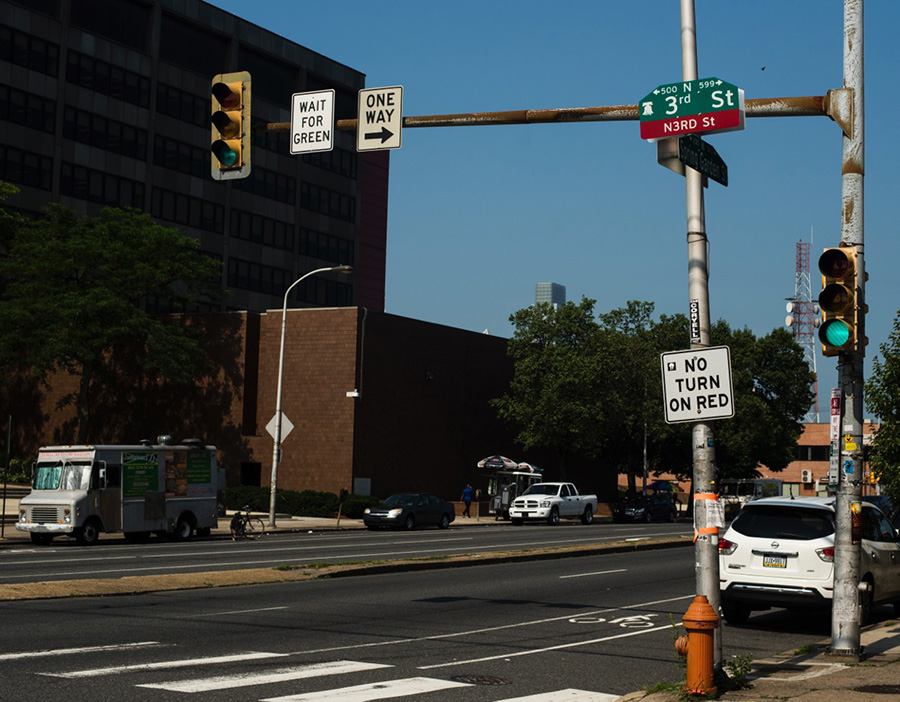 "Technology has the power to enact radical change," Alfano said. "Code For Philly is about developing technology that promotes the kind of change that brings communities together."
Examples of some civic-geared software to come out of Code For Philly include "UnlockPhilly", a web app used by the disabled to monitor elevator outages; "CyclePhilly", a smartphone app that records a user's bicycle trips and uses this data to create maps that will serve to make the city a safer place to ride (this app has since been adopted by Knoxville, Tennessee and Dusseldorf, Germany); and "Not in Philly", an app that incentivizes and facilitates weekly litter clean-ups in communities around the city.
Code For Philly has a meetup every week. The first meetup of the month is a workshop and is usually partnered with another Philly-based tech program. During the meeting, tech pros lead a short workshop on a topic of their choosing, such as programming languages or software mapping tools. The focus of these workshops is to get people who don't have much experience with the tech field acquainted with these subjects at the ground level, fresh blood. Past partnerships have included Girl Develop It (a Philly chapter of a nonprofit that provides affordable education for adult women interested in web and software development), Young Involved Philadelphia (non-profit focused on increasing civic engagement), and GeoPhilly (mapping technology enthusiasts).
The next two meetups are free-format, like the one on this night. They're called hack nights. They serve simply as window of time for people interested in tech development to get together, work, and discuss. The last meetup of every month is an open house and usually takes place at a bar. The open house is only meetup that does not provide time for working. These events are meant to get newcomers familiar with Code For Philly and its projects, for project leaders to recruit volunteers, and for experts to explain different subjects and ideas.
As the first hour of the hack night progresses, things get a little more social around the computers. People move their rolling desk chairs together, clustering around a single screen. They chatter excitedly, proposing and demonstrating. These meetings are designed to function as incubators, a place to work and network with other people who may have the certain skill or idea you're missing.
Eric Bailey is here tonight as an apprentice in the Urban Technology Project (UTP), a program that helps Philadelphia youth break into the workforce in technology fields like IT and Computer Support. Bailey is currently working for the School District of Philadelphia, developing a program to help them sync up all of the District's iPads. He says he comes to Code For Philly because it's a good place to discuss and negotiate difficult problems.
To learn more or get involved visit codeforphilly.org.