Features, Local Business in Fishtown
Mad Rex and Urban EEL Corporate Filings Raise Interesting Questions About Upcoming Concept Restaurants
---
Back in January, Spirit News spoke to Michael Johnigean, the Florida-based businessman behind two new entertainment restaurants coming to Fishtown: Mad Rex and Urban EEL.
 Documents obtained by Spirit News show that Antonia Z. Brown — whose husband, Brent Brown, founded Latitude 360, and is the target of at least 57 lawsuits alleging fraud and failure to repay loans in numerous states — is listed as a member on corporate filings for Rex Gryphon and VRex Lounge, the limited liability corporations associated with Mad Rex and Urban EEL.
 So how did we get here? Let's explain.

WHO IS BRENT BROWN?
 Latitude 360 was an entertainment company in Jacksonville, Pittsburgh and Indianapolis that raised millions and then suddenly shut down. In an article for BuzzFeed, journalist Matt Stroud writes in-depth about how Brown allegedly mismanaged the business's money. Stroud reports that investors in Latitude are asking where the estimated total of $100 million dollars that they put into the company went. The money kept coming in despite Latitude's lack of success, but Brown's wallet was suspected to be thick. From accusations of bounced employee checks to allegations of Brown convincing an elderly couple to empty their retirement savings, Brown is accused of owing millions of dollars to investors, contractors, landlords and employees.
 Brown has repeatedly denied any wrongdoing and has stated that he's a victim in all of this, too.

THE RESTAURANT CONCEPTS

 Latitude, Mad Rex and Urban EEL share similar concepts. The three Latitude locations existed as large complexes comprised of entertainment options such as bowling, dining, movie theaters, live music, arcade games and a cigar lounge. According to its website, Mad Rex will feature a multitude of amusements with a post-apocalyptic twist: virtual reality gaming, dining and live entertainment. Urban EEL, the "sister location" of Mad Rex at 1000 Frankford Ave., aims to have a cigar lounge, multiple theaters and other options as well. 
 Most of the images on the restaurants' websites can be reverse image searched. Doing so reveals that most of the photography on the websites come from other businesses, such as Burn by Rocky Patel in Naples, Florida. This isn't out of the ordinary; the following disclaimer is posted on Mad Rex's website:

These photos are conceptual and final designs may vary. Because this is the first location of its kind, we're sorry to say the Mad Rex must maintain a bit of mystery. Prepare for a unique experience, full of surprise & excitement, as the Mad Rex will be something you have never seen before. Be sure to subscribe right below this text for the date of our unveiling & information on how to win a complimentary VIP table for Opening Night!
WHAT IS REX GRYPHON?
 On various Mad Rex and Urban EEL-related websites, logos for a company called "Rex Gryphon" appear throughout. The contact email listed on both Mad Rex and Urban EEL's websites is info@rexgryphon.com.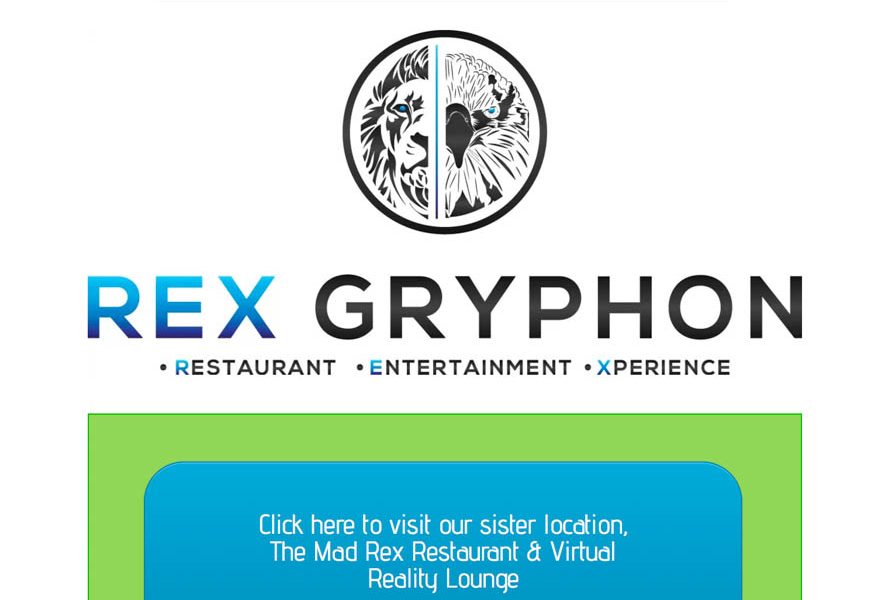 According to Mad Rex's Fundable page, Rex Gryphon "was established in 2016 to acquire space in the new Penn Treaty Village in downtown Philadelphia and open the first Mad Rex location." The same page lists the Rex Gryphon team, made up of three members who have former relations to Latitude: Pavel Rathousky, Mauro Monz and Dennis Hopper (not the actor of "Easy Rider" fame). Rathousky was a shareholder of Latitude, holding an estimated 959,910 shares at one point. Monz served as Entertainment Director at the Latitude location in Pittsburgh. Hopper held many Latitude management positions.

JOHNIGEAN'S PAST
 Johnigean, who we interviewed about Mad Rex back in January, held no explicit titles within Latitude. The Florida-based one-man band prides himself on being a luxury real estate agent, restaurateur, entrepreneur, filmmaker and business broker. Johnigean has a list of companies he expects to be "household" names on his website including Mad Rex, Urban EEL, VRex Lounge and Rex Gryphon.
 Johnigean presented himself to Spirit News as a successful businessman. However, many filings made in Florida courts show that Johnigean has failed to pay back loans and has a spotty entrepreneurial history.
 In 2010, Johnigean was the debtor in a Chapter 7 bankruptcy filing, racking up $12.8 million in liabilities. Johnigean faced over 100 creditors in the 85-page-long document. Johnigean's two-year-old papillon, lovebird and parakeet make an appearance in the document as well.
 The rest of his history in the Duval and St. Johns County Clerk of Court Offices is littered with foreclosures, breach of contracts and indebtedness.

THE PHOTO
 Spirit News looked for ways to connect Johnigean to Brown. Being that it's 2017, we started with the obvious first place: social media.
 Users "Brent W. Brown" and "Michael Johnigean" are Facebook friends. This same Michael Johnigean user on Facebook posted a photo on October 16, 2016 tagged in Philadelphia with the caption, "Working hard in Philly. Working on a very exciting project. Stay tuned."
 In the photo, there's a man wearing a backpack. Multiple sources have identified this man as Brent Brown.
  Spirit News asked Johnigean about the photo.
 "Mr. Brown was there with the Land lord [sic]. He had a business that I believe he was planning to put in a location their [sic] but the business failed. So I guess he was helping the landlord find a tenant for the space," Johnigean responded in a text.
 Spirit News made multiple attempts to contact Core Realty, the real estate agency managing the Penn Treaty Village property, but never received a call back.
 Before the three Latitude locations were shut down in early 2016, documents show that Brown had plans in Penn Treaty Village. According to a statement dated October 28, 2015, "Latitude 360 Penn, LLC" was registered for 1000 Frankford Ave., Suite 102 with the typed signature "Brent Brown." A Latitude location never opened in Penn Treaty Village. In November 2015, Philly.com reported that Latitude 360 had plans to be in the area. However, bowling alley entertainment zone Revolutions popped up instead.

THE RILEYS
 Our investigation then led us to folks in Florida who had issues with both Brown and Johnigean: Bob and Aaron Riley.
 Bob said his family had a neighborhood utopia with their next-door neighbors, the Browns, in Jacksonville. Bob claims his girls would babysit the Brown children and watch Brown's dog, Bud, when the family was away.
 Now the utopia is no longer. Bob's son, Aaron, has filed a civil lawsuit against Brent Brown and his wife, Antonia Brown. Aaron claims that Brent failed to disclose the company's liabilities when they traded Aaron's Aston Martin for six-figures of worthless Latitude shares.

 Both Rileys spoke at length to Spirit News about their prior business dealing with Brent Brown. They believed that Antonia's name would be used in any new venture to conceal Brent's involvement.

 During our investigation, Johnigean filed a restraining order against both Aaron and Bob. The orders were later denied. Aaron says he hasn't spoken to either Brent or Antonia since the end of 2015. Both men also claim to have never met or spoken to Johnigean.

A DUNN DEEL
 After asking Johnigean about the structure of Rex Gryphon and the photo, he referred us to Brian Dunn, who Johnigean claimed was his Philadelphia-based business partner in his upcoming ventures. In a telephone interview, Dunn explained to Spirit News how these restaurants are connected. An actual parent company to these restaurants has not been decided on, Dunn claims. However, he told us that eventually Rex Gryphon will "fall" into being their parent company.
 Urban EEL was created first, Dunn told Spirit News. His name, as well as Pavel Rathousky, a Latitude shareholder, is on the Urban EEL liquor license, which has a "pending" status on the Pennsylvania Liquor Control Board's website. Dunn's name is also identified as a "Member of the Borrower" on a Urban EEL LLC corporation statement. Opening up Mad Rex became a possibility after Travinia Italian Kitchen and Wine Bar left a space open at Penn Treaty Village, according to Dunn.
 A Havertown native, Dunn said he met Johnigean as a potential investor, not related to the Philadelphia area projects, while in Key West. When Spirit News asked Dunn whether he had any personal ties to the Browns, Dunn admitted that he knows the family. He also explained how he was aware of what happened with the Browns and Latitude.

 "I feel bad for [the Browns]," Dunn said. "You and I don't know the whole story."
 Dunn claims he did not invest in Latitude because "economically, it did not make sense" to him. Dunn gave his opinions about why Latitude failed, questioning the board of Latitude and company's eagerness to take on loans. But if Brown wanted to open up another bar, Dunn believes he's allowed to do so.

 As for those who are angry about Brown's Latitude hardships, Dunn expressed criticism. "If [Brent] did something wrong or illegal, he'd be in jail…", Dunn said. "People are mad, I get that. People are mad because they lost money. I get mad just like everybody else [when one of my own investments doesn't pay off]."

 At the same time, Dunn criticized Brown's own business practices. He told Spirit News that the business decisions he would make if he was in Brown's position are different, but seem logical. Dunn's economic thinking is to be reflected as what's to come at 1000 Frankford Ave., so he says. "Urban EEL is not going to fail," Dunn said."I'm not going to not pay my people."
 Concerning whether Brent or Antonia Brown were involved in Urban EEL, Mad Rex or Rex Gryphon, Dunn added: "No, they're not involved."
THE DOCUMENTS
 After speaking to all these people, Spirit News looked into corporate filings. Rex Gryphon LLC is registered in Delaware, so we called the Delaware Division of Corporations and asked if any members were named on the documents. The attendant on the other end told us there was a name there. We threw darts and got no points. Our attempts led the attendant to confirm that Antonia Z. Brown is listed as a member on Rex Gryphon formation document. We submitted a request for this document.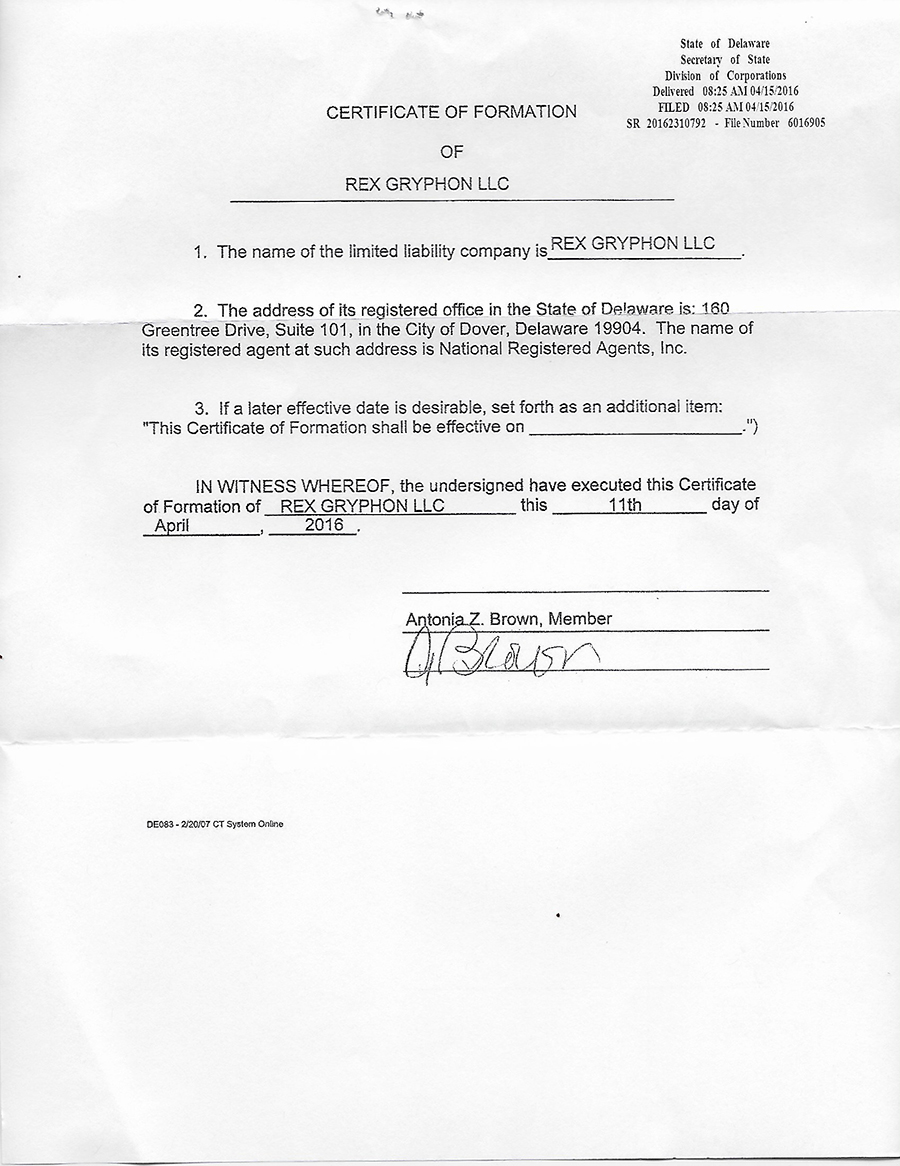 As Spirit News patiently waited for the paper to come in via USPS, we looked up other terms associated with Mad Rex and Urban EEL in the state's corporate filings.

 VRex Lounge LLC lists Antonia Z. Brown as a Managing member. The VRex Lounge plans to be a virtual reality hangout hub in Mad Rex, with a private chamber on the side for "customer's intimate VR desires." VRex Lounge appears next to "Survivors Kitchen" on the Mad Rex logo as well.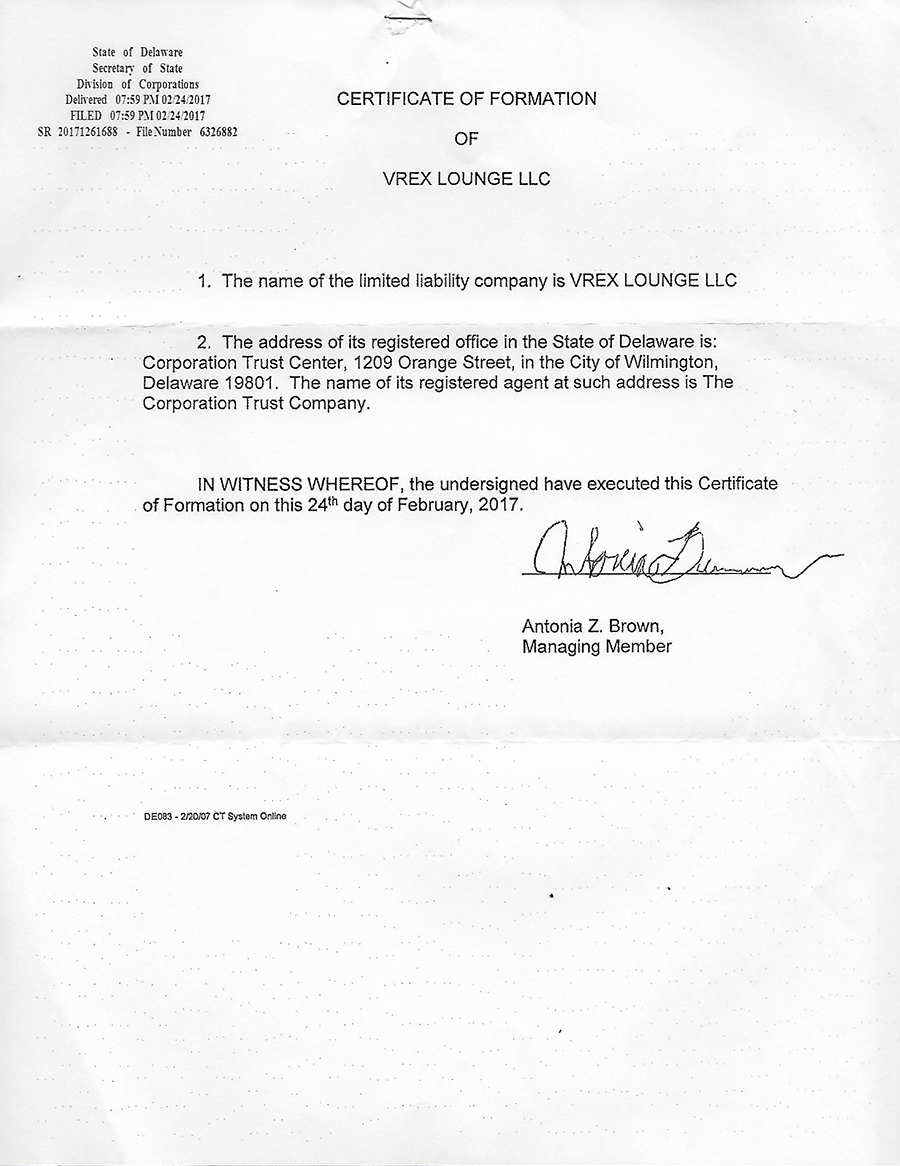 After the physical documents arrived, Spirit News reached out to Brent Brown. In a text exchange, Brown supplied comment into his reasoning why Antonia's name was on the documents.

 "It was done in the beginning to help Johnigean organize a team to build two concepts. Her name was used as a registration purpose. It's pretty simple and people do it all the time. These entities do not own the restaurants. Period. They really have no purpose presently other than group identity," Brown stated in a text.

 Brown denied having investment funds in the Philadelphia projects as well. "I nor my wife nor any family member nor latitude 360 have any investment $ in these restaurants," Brown said in a text message. Spirit News could not confirm or deny that Brent Brown has any money invested in Mad Rex or Urban EEL.
 Spirit News also contacted Johnigean, who texted us referring us to Brown. Johnigean did not answer our calls.
 When asked about the document, Dunn backtracked on his original statement that Gryphon would fall into being the parent company of his bar, Urban EEL.
 "No it states the same what Rex did has nothing to do with my bar," Dunn sent us via text message. "Rex Gr has nothing to do with urban eel bottom line and I have everything I need filed with my lawyers if you want to talk to 1 of them."
 As of the time of publication, Rex Gryphon logos still adorn Urban EEL's website and state "The URBAN EEL Concept by Rex Gryphon."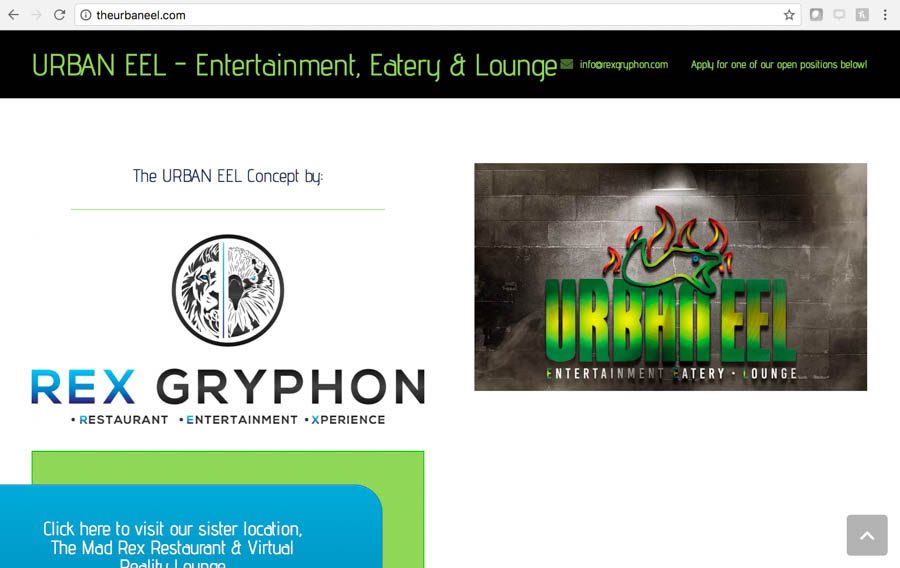 BUILT ON RISK
 It's been more than a year since the three Latitude locations closed, and as of April 25, 2017, Brown has not been charged with a crime related to Latitude. Last August, former Florida State Attorney Angela Corey told Action News Jax reporter Jenna Bourne that Corey's team was actively investigating the situation. Corey told Bourne that "there's a world of white-collar crimes we can go after them on."
 Corey is no longer the State Attorney and the status of the investigation is unknown. Spirit News has not confirmed any ongoing investigations into Latitude or any of these Philadelphia restaurants.
 Mad Rex and Urban EEL have not opened to the public yet. Neither a single criminal charge nor a public suit has been publicly filed in relation to these restaurants. Spirit News hasn't heard any accusations that funds have been mishandled within Mad Rex, Urban EEL, VRex Lounge, and Rex Gryphon.
 However, there is a paper trail that leads the Browns to Philadelphia. Johnigean has promised  Spirit News a walk-through and tasting before Mad Rex opens to the public. When Johnigean spoke to us in January, he told us the restaurants would be open by the end of April or early May 2017. More recently, Johnigean has pushed that back to mid year.
 As for Dunn, he knows that every investment is risky, no matter who you go into business with.
 "Any startup no matter how big or small is the greatest risk we take in America everyday," Dunn said. "Not for anything, it's how America was built — on risk."