Crime, Features in Harrowgate
Crime Blocks: It Starts With Just One "Nasty" Property
---
Inattentive landlords leading to problems for long-time residents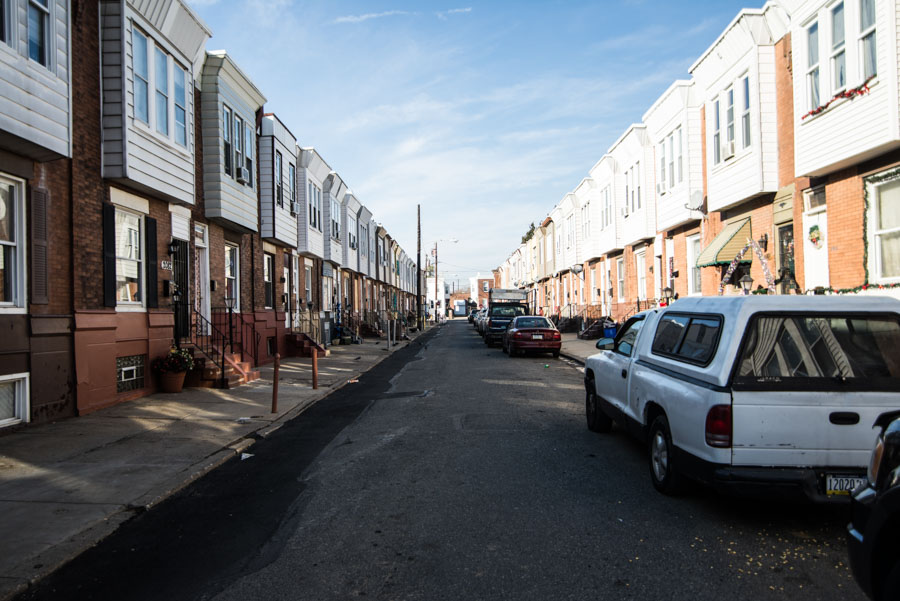 Terie's jaw dropped when I told her that the owner of the pest-infested, litter-strewn, foul-smelling house next to her home is a millionaire from Brooklyn, New York.
My jaw dropped nearly as low when one of the roaches scurried across my notepad as I was jotting down her reaction.
"You see that! Yep, there's one there!" said Terie Fields, a clinician who works for a firm providing service to the Philadelphia School District. Basically, she's an elementary school counselor. She is also a homeowner on Pacific Street in Harrowgate and has been living there since 1998.
"Isn't that terrible? Isn't that nasty? So when I'm sitting in my own home, where I pay the mortgage and work, I can have a roach just crawl up! It's ridiculous. Ridiculous."
Terie loses sleep thanks to the roaches, not only because of the invasion of her domicile and the mounting cost of fighting that invasion, but because the roaches crawl across her when she sleeps.
"You'll feel them crawling on you," she said with a shiver. "It's nasty, real horrible."
The week before I sat in Terie's living room, two men came by on behalf of the neighboring house's property owner to exterminate the pests. They planned to "bomb" the property and offered to do the same for Terie and the other adjacent neighbor. Terie and the other neighbor both accepted, but that seemed to be limited to "bombing" for roaches.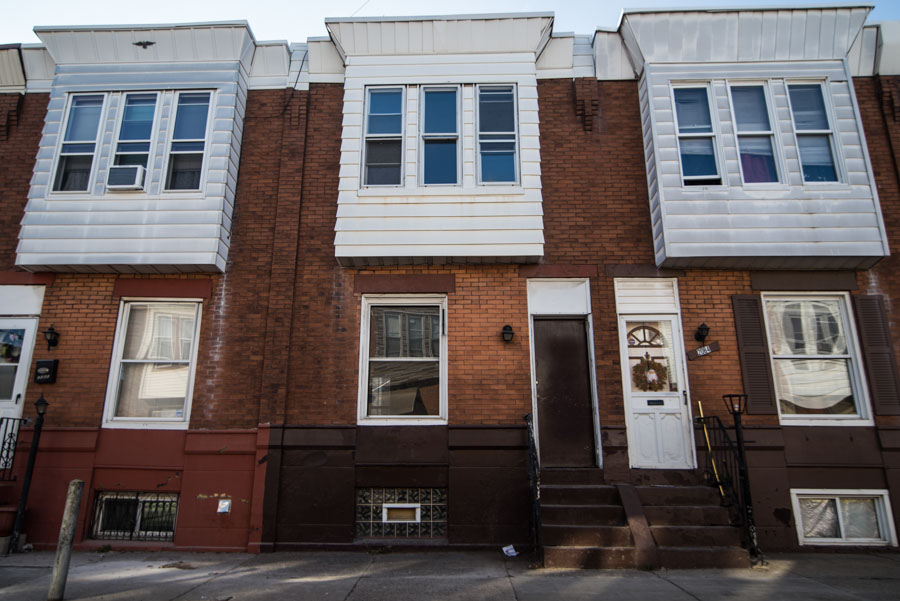 Terie had to arrange for cat-sitting, leave her home for the day and spent the evening cleaning dead roaches off of her floor. Even so, living roaches continued to scurry across her living space, their numbers no less than what they were before the exterminators came through.
"It seems like [the "bombs"] just moved [the roaches] around," Terie said.
The rodents breached the walls too, though Terie doesn't see them as often as the bugs.
"I don't do rats. If I see them I'm leaving [my home]," she said.
Fortunately, her cat, Penelope, does a bang up job of rodent containment.
"Sometimes she'll just be playing over there (pointing to the wall) or in the corner with something," Terie said. "I don't look. I don't want to see it."
Occasionally Terie finds a dead mouse or two in her cleaning equipment.
Terie said that her neighbor "can't handle roaches, but she doesn't mind the mice. So she picks up my mice and I step on her roaches."
The symbiotic relationship makes coping easier.
I stroked the affectionate Penelope, an orange, white, and brown Calico, who answers to Melope, thanks to Terie's young grandson's best pronunciation attempt. The cat rubbed up against my leg while staring at a live roach on the side of the coffee table. She made no move toward the bug though. The two dead ones at her feet attested that resistance to their presence is futile.
The coffee table itself is under-utilized. The roaches invaded Terie's Keurig coffee maker too.
"I have to shake [the coffee maker each morning] to make sure the roaches didn't get in," she said.
The owner of the house next door to Terie is Eve Wachsler, a resident of Brooklyn. She and David Wachsler currently own six properties in Philadelphia. All were purchased for $45,000 or less over a two-and-a-half month period exactly 10 years ago, according the records obtained from Philadelphia's Office of Property Assessment. At least one other Philly property was purchased by Eve in late 2005, only to be transferred to another member of the Wachsler family in early 2006.
The Wachsler's home in Brooklyn is worth more than $1.1 million, according to documents obtained from New York City's Department of Finance.
Eve Wachsler denied knowing anything about the infestation problem at the property on Pacific saying "not really, not any problems, no."
In response to hearing that Terie spoke of the problem at the civic meeting, Wachsler said, "She should have called me."
But Terie said she not only doesn't have contact info for the the Wachslers, she's never known anything about them.
"I've never seen anyone here," she said, further explaining that exterior property damage often goes unrepaired for long periods of time. "We wouldn't need to look for you if you'd just do what you're supposed to do."
Wachsler said that there is a "property manager" who notifies her "if… he uses an exterminator."
Wachsler said the man's name is "David Goldberger." She would not give me his contact information despite several requests saying, "I'll call the property manager and talk to him about it. We'll try to take care of it."
So an hour or so later, after The Spirit staff texted me a "David Gold's" number, I called him. He said his name is Gold, not Goldberger, and confirmed he took care of the property on Pacific for the Wachslers (On the most recent lease we obtained, the property manager/agent is Dmytro Goldenberg, but a David Gold is listed for maintenance requests).
Gold also corroborated Terie's story that someone came out to "bomb" the Wachsler's building as well as Terie's and the neighbor on the opposite side.
"[We used] a special gas [to] kill the roaches and everything," he said.
Gold does not plan to do anything more for Terie. I asked him if he accepts any responsibility for Terie's infestation. He answered, "No, no that's all [we'll do]," Gold said.
Wachsler questioned her own culpability in the matter as well.
"Are you for sure it's from 2086 (the building Wachsler owns)?" the homeowner asked.
In November, Terie came to the standing-room-only Harrowgate Civic Association meeting to plead for help. We happened to sit next to each other. She was not alone at the meeting: Many others complained of abandoned or ignored properties next to their own, where squatters or careless renters wreck havoc on the quality of life.
"It's a big problem," Shannon Farrell, Harrowgate Civic's President, said. She further explained that it can be tedious for neighbors to start the process. There are different agencies for different problems. But she said, "That's what these meetings are for. We'll get the right people involved."
Farrell recorded the addresses of the problematic properties and will forward them to Councilman Mark Squilla's office. His staff will write letters to the listed owners that ask to "please take the necessary steps to remediate the issues as soon as possible." They go on to warn the owner that "if not addressed in a timely manner, we will refer the property to the Nuisance Task Force in the District Attorney's Office, which may result in the property being seized."
That process is in its infancy for Terie. But what if the remediation isn't adequate?
Gold asserted that this was a bad tenant situation and directed me to the Philadelphia Court system. The court system has more than a dozen landlord/tenant cases filed by the Wachslers. It also lists a half dozen code enforcement cases against the Wachslers that made it to court, including suits from the City, Commonwealth, L&I, the PWD.
The former tenants, Nicole Woodard and Kyne Akins, according to the documents provided for the court case, stopped paying rent around March of this year. The Spirit could not reach them for comment.
Terie doesn't have many fond memories of the adult tenants: She actually only recalls seeing one in particular, though they never bothered her either. She believes there were five children in the home.
"The children, particularly two young girls, were lovely," Terie said. "But their hair was never combed."
Terie and other neighbors only saw into the home one time. There were "piles of trash and… a child's pink coat on the floor that looked like it wasn't washed in 20 years," she said. "We (Terie and a neighbor from across the street) offered her trash bags, but she said 'No, I'm fine.'"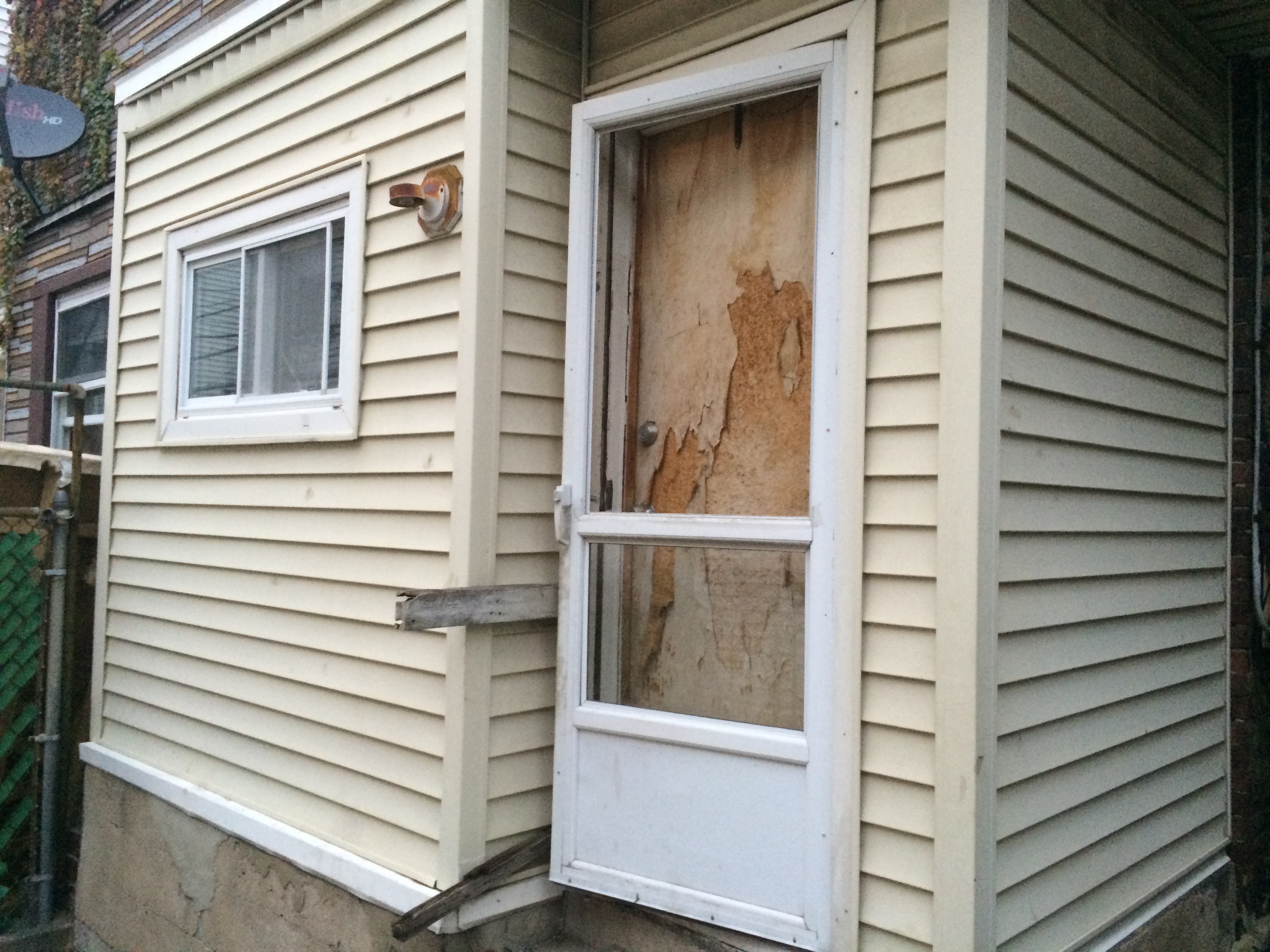 For now, Terie is just trying to stave off the invasion as best she can. Buying new bug sprays as old ones become ineffective, "I don't know how much longer I can afford this. It gets expensive," she said. She also worries that when the property manager paints the place it will drive more critters into her place. She's not sure what, if anything, will give her her home back.
"I still got roaches, Y'all!" she said. "I don't want your problems."
Why is one property considered a crime block issue? Well, Terie is on the brink of leaving her home. That's exactly what Marc Collazzo said we don't want to happen, using the example of the 2800 Almond Street case we described in Crime Blocks: Removing the Menace.
"At some point if nobody helped [residents of the block], they're gonna get frustrated, give up, or worse from our point of view, they're going to move," Collazzo told The Spirit.
"We don't want good people who want to be there moving because the system didn't help them."
In the next edition of our "Crime Blocks" series we'll show you Jasper Street. According to one life-long resident, who is under 24-hour police protection due to a recent incident with a drug dealer, it was "one property" that caused her neighborhood to become a hole. One renter, one careless landlord, one problem led to an en masse fleeing of the area.