Crime, Features in Poplar
Rep. Curtis Thomas Speaks Out Following Last Week's Triple Homicide
---
  On Monday, April 3, students at St. Malachy, a North Philadelphia school serving children from preschool to grade 8, went into lockdown just as school was letting out.
   "I was in the office and all you heard was multiple shots," a student told NBC10 after the incident. These shots came from just about a block away on the 1100 block of Stiles Street where three men were killed and one was injured in a quadruple shooting. The incident became a triple homicide with the subsequent deaths of Tyair Jabbar, 20, Marcello Robertson, 27, and Ronald Fenwick, 32. The surviving victim is an unnamed 26 year-old male.
   Last Thursday, State Representative W. Curtis Thomas of the 181st Legislative District hosted a press conference at the Harrison Plaza Recreation Center, near where the crime took place. Community members and a council of other city representatives bowed their heads in prayer. A line of uniformed police officers stood along the east wall.
   "Families lost their loved ones. Today we're having this press conference to call for action," Thomas said solemnly. "We're hoping that this press conference [will signify] a beginning to getting a handle on our community."
   Thomas spoke of other crimes that have taken place in the area in the recent past, including the rape of a 13-year-old girl by 3 males in Hunting Park.
   "In North Central Philadelphia," he said. "There is a problem that we need to get a handle on."
   Thomas condemned "the lawlessness of this act … at 3:30 in the afternoon, thinking that it's okay to try to execute 4 human beings […] as long as lawlessness is allowed to live, and good people stay home, it's going to continue. When good people step up, evil has to pack up and go."
   The Representative called for a "comprehensive effort," mentioning and urging along the Philadelphia Housing Authority (PHA), the community and others to combine efforts in putting an end to violent crime. At one point, Thomas suggested that the PHA, who have a no-weapons policy in their housing, take action in enforcing the policy more harshly.
   Thomas continued by going over what he called the "recommended steps for change," noting that everybody in the surrounding area should have a list of emergency contacts, tip-lines and the names and email addresses of the persons in charge of  each organization. Thomas provided these lists to guests at the conference courtesy of his office.
   "A lot of people […] don't want to snitch. It is not snitching when you do the right thing," he said.
   "Amen," replied a member of the community.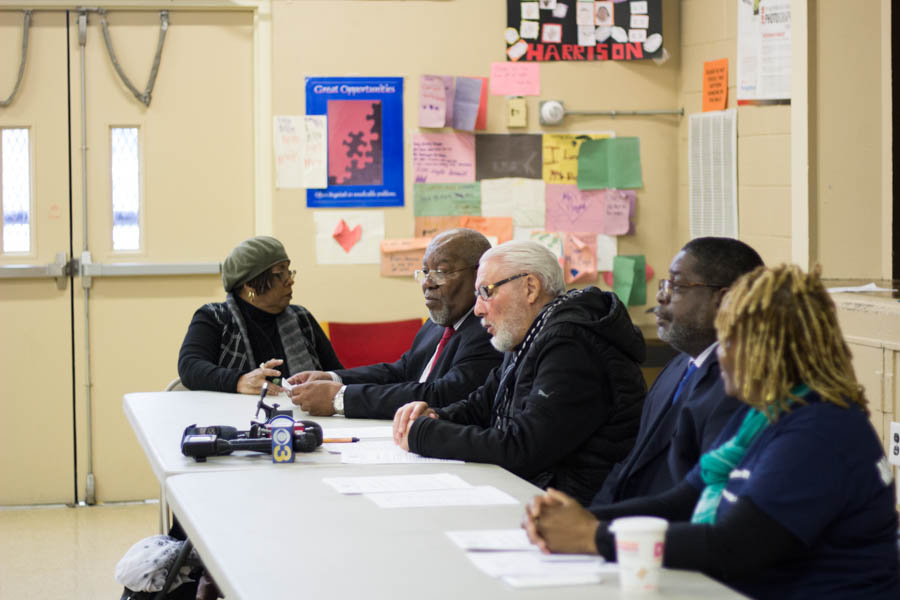 Thomas spoke of the "coordinated effort of bad behavior" in certain areas and encouraged residents to reach out  to the appropriate authorities. In the case of his reference to drug dealing, this authority would be the Drug Strike Force.
   Tensions ran high after the official speakers finished their comments and opened the floor. Concerned members of the community expressed their ideas and concerns passionately, reflecting on the distress of a community plagued by violence and the hope and effort for change in the future.
   "You can't keep coming after the fact to build or help these kids when [you should] try to prevent it. Where are the jobs for these kids?" asked one attendee.
   "We've got to confront the individuals creating this havoc. […] We've got to do something to confront this," another community member said. "If you look at what's going on with our children getting out of school [and] fighting on the busses [or] the subway, this is something that we've got to confront."
   "These are our children, whether you consider them bad or good," said one woman. "There's a joke amongst black women in this community — 'You can't tell us that our bad ass kids are bad.' So I say, stop relying on other agencies to take control of what's happening in this and other communities. We have to take control of that."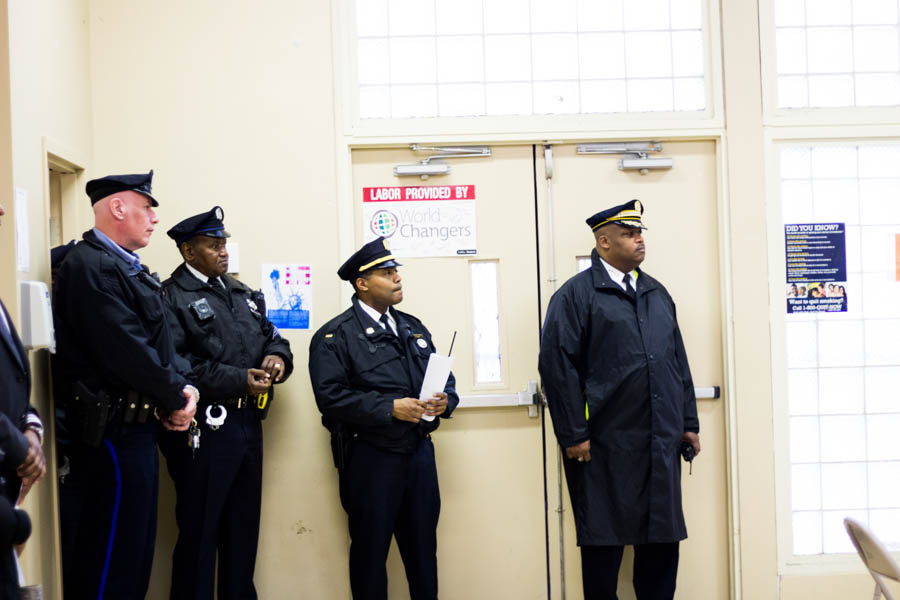 Despite intermittent disagreements, the comments all reflected a mutual desire to nurture a deep involvement in the community. Those who spoke did so solemnly and with conviction. One comment compared guns to cocaine as the most serious killer in the modern era.
   "During the fifties, there was an influx of heroin. Heroin destroyed us as young black people. Then came the '80s and it was cocaine. Now, during the 2000s, it's guns. I mean, during the gang wars here, we might have had a zip gun, a pistol you made," said the man, standing and gesturing to the rest of the room. "But I have never seen the kind of guns that these young kids have got out here today. There's no gun manufacturer around here, just like in the drug days, there was nobody that had a boat to go to [Colombia] to get the cocaine."
   Wayne Walker, mother of slain officer Moses Walker Jr., spoke about the commitment of the Moses Walker Jr. Foundation to 'address the cycle of anti-socialization skills within adolescents in our community."
   "I grew up in this community [and] I was thrust into what I'm doing today. I didn't ask for it," Walker explained. "I don't live in Philadelphia [now]. I live in Dover, Delaware, but I keep coming back here year after year after year because I care. When I heard about [this shooting] on the news, I called Representative Thomas. I was outraged, like he was outraged, like everyone here is."
   The Moses Walker Jr. Foundation deals with "conflict resolution skills," with hopes to reduce violence in part through bettering these and other social skills.
   "We want to let our adolescents and young men and women know that they can make a difference in their community," Walker added. "Somewhere we have to look at who our heroes are in the community and we have to mimic them, and we do have to give them encouragement, and we do have to offer support. This is a community but this is also a village, [and] what's happening in our community is a disease." •