Features, Local Business
December First Friday and Beyond: Your Guide to All Things Local and Gift-Inspired This Weekend
---
Think you missed out on all the holiday deals this past week? This First Friday weekend is chock-full of festive gift-ops and holiday fun.
WeWork Holiday Maker Fair
1010 North Hancock Street
Friday, December 2nd • 6:30PM – 9:00PM

If you haven't been to any of WeWork's new locations in Philadelphia, today might be the perfect chance to drop in and take a look at all they have to offer. WeWork Northern Liberties is a collaborative and creative space, and they're organizing a Holiday Maker Fair. The event will feature gifts from local artists and makers. Some noted gifts include a custom wood-cut map of Philadelphia for your Philly lovers by PhillyLoveNotes, modern and geometric jewelry designed by Carolyn Keys Design, and Urban Stems, who offer fresh, seasonal, straight-from-the-farm flower delivery (so cute!). Holiday themed photo booth and refreshments included.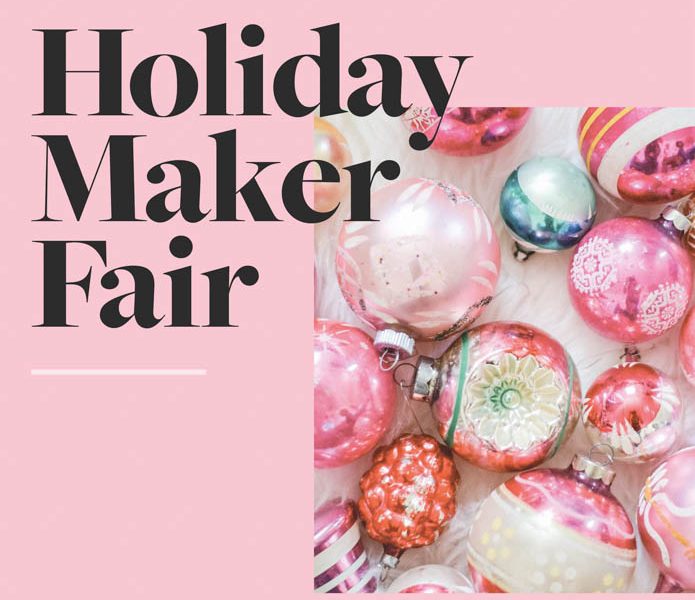 La Colombe Holiday Pop-Ups
1335 Frankford Avenue
Every Friday from 5-7PM from now til the end of the holiday season, La Colombe is hosting local businesses, artists, and makers for a Holiday gift and Happy Hour event. This First Friday, you'll be able to sip on seasonal cocktails while perusing some top-quality wares. Some picks include camp-inspired apparel from Tremper T Apparel (100 percent of their profit benefits inner-city children attending Camp Herrlich), eyelash extension and personalized beauty by Lash Bash, and more! La Colombe will be hosting some of our local favorites with wares by Felt and Fat and Norman Porter within their upcoming Fridays, so stay tuned.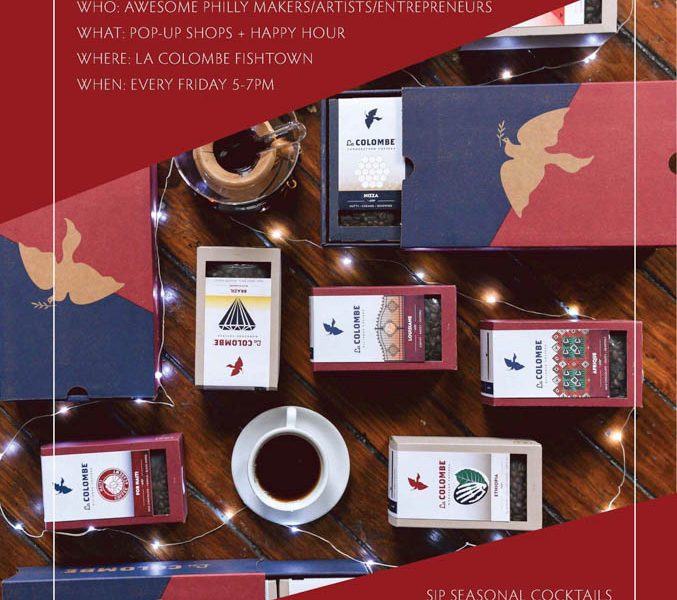 New Boone Art Mart
253 North 3rd Street
Sunday, December 4th • 11AM – 5PM
If you're looking for quirky and unique gifts for the holiday season, this is the place for you. The Art Mart is a wonderful place to find one-of-a-kind gifts, and offers local artists a place to sell their goods in a gallery setting. Fishtown resident and gallery space curator Stephanie Price will be organizing the Art Mart to raise funds for a traveling gallery exhibition in the Spring of 2017 with works from curated show – Wish List. Featured gifts include artwork by local screenprinter Justine Kelley, friendly notepad-like personalized embroidery by Laura Foden, wares by local designer Corinne Mcfadden, and more. There is a small entrance fee of $3.00, and half of their profits will be donated to Planned Parenthood. 

Greensgrow Farms
2501 E. Cumberland Street
Friday December 2nd • 6PM – 8PM and Saturdays + Sundays from 10AM – 4PM
Greensgrow Farms is full of Holiday fun and festivities. On First Friday, you can enjoy 20 percent off Greensgrow farms for their Customer Appreciation Happy Hour, while sipping on refreshments in the greenhouse. They've got a varied selection of Pennsylvania grown holiday trees, wreaths and greens. Plus winter flowering plants, edible gifts and gear of all sorts in the greenhouse. They're also offering a Wreath Making Workshop from 6-8PM and again on December 9th.
Greensgrow Farms will be holding their Greensgrow Holiday Bazaar on December 3rd, 4th, 10th, and 11th. You'll be able to find local, handmade gifts for sale made by some of our neighborhood's most talented crafters and artists. They'll have a range of fine art, crafts and gifts; jewelry, ceramics, wood working, accessories, green gifts, bath/body, Greensgrow-made edible and growing gifts, and lots more. Some artists include BookGrrl Bindery for meticulously appropriated bound books, notable adult coloring books by Everybody Colors, and ethical pet products by Fox and Feline, just to name a few.