Features, History, Real Estate
Digging into Sinkhole History
---
The root cause is traceable to many issues plaguing an old sewer and water main system
  Earlier this month, a giant sinkhole engulfed two SUVs and destroyed a water main and gas lines, leaving several residents on the 2300 block of E. Boston St. without heat and running water.
  The dilemma was nothing new to the neighborhood and the surrounding communities. In August 2015, a smaller but still considerable sinkhole opened up at the intersection of Tulip and Huntingdon Streets. Two popped up in the span of a week back in December 2013 in Northern Liberties on the 900 block of N. Randolph Street.
  In order to understand why sinkholes continue to be an issue in our coverage area and throughout the city, Spirit News consulted city records and interviewed officials and residents. The problem is complex, which is indicative of the more than 3,000 miles of pipes carrying water and sewage under Philadelphia's streets every day.
The Beginnings
  Two of the city's many sewer systems, the Cohocksink and Gunner's Run, border the Fishtown area and roughly run through parts of Northern Liberties and Kensington respectively. Both are natural streams and tributaries to the Delaware River that had sewer systems constructed around them in the mid-19th century, according to city records.
  Records and Inquirer articles indicated that the Cohocksink broke several times in the late 19th and early 20th centuries.
  In November 1888, a horse was almost swallowed by a sinkhole on Germantown Avenue near Second Street, when "by a great effort the driver and several pedestrians managed to pull the animal on solid ground," the Inquirer reported.
  The city acknowledged the sewer's fragility a few years later.
  "The wonder is not that it broke sometimes, but that it was possible to keep it from breaking all the time," the city's 1890 Bureau of Surveys Annual Report stated.
  City records showed that both Cohocksink and Gunner's Run were extended during the 1890s and onward, costing the city thousands of dollars.
  Adam Levine, historical consultant for the Philadelphia Water Department (PWD), also maintains a website, PhillyH2O, dedicated to documenting the history of the city's water department and the sewer network that runs underneath, which was mostly streams in the early to mid 19th century.
  Levine said these early problems were not constrained to Fishtown and the surrounding neighborhoods, adding the sewer technology and work was not as efficient as it is today.
  "They were building them out of brick. They were probably not using the right mortar," he said. "If they were being inspected, maybe they weren't being inspected properly."
  The Cohocksink was a prime example of this, continuing to break into the 1910s and onward. City officials eventually admitted its breaks were starting to become more hazardous.
  "Rebuilding [the Cohocksink] is imperative to prevent damage to property and life," the 1913 Bureau of Surveys Annual Report stated.
The Great Depression to WWII and Beyond
  Although breaks were occurring across the city before the late 1920s and 1930s, the city still was able to repair broken sewers. Levine said the Great Depression caused a decrease in tax revenue, leading to less funding for the Water Department.
  "There's less that you can do, as far as building new sewers, maintaining old sewers, things like that," he said.
  Philadelphia did ultimately recover from the Depression, through the New Deal and the Works Progress administration, he added.
  City records indicated that the city had allocated $18 million to water improvements, which were halted in the late 1930s by World War II. Levine said metal and sewer materials were rationed for the war effort, and records also indicated that city government was urging residents to conserve water.
  The Inquirer reported in October 1941 that the Federal Security Administration investigated sewer issues in Philadelphia. Four years later, mayor Bernard Samuel approved a commission to look into these issues, along with the $18 million that was allocated before World War II.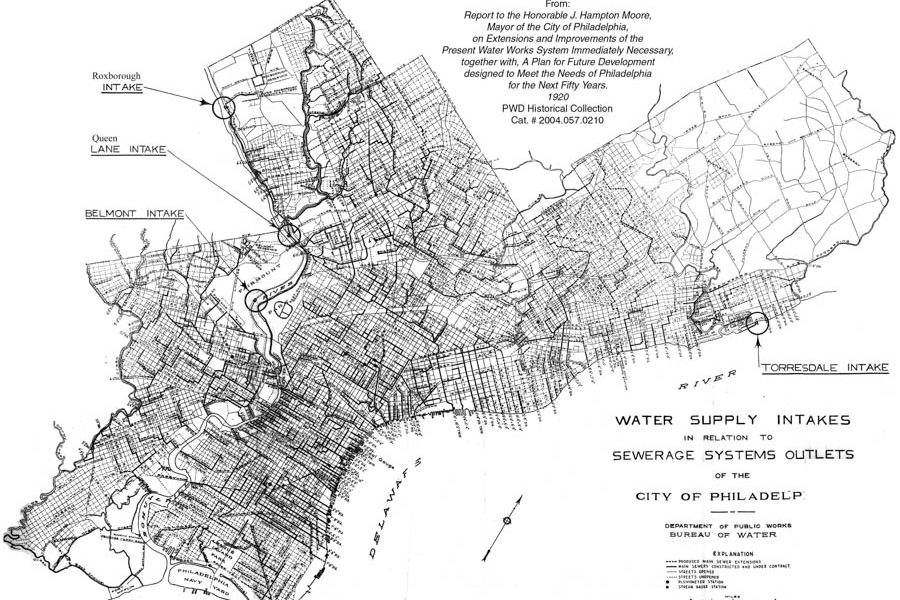 Samuel declared in a press release about the commission that two of the city's greatest needs were additional sources of water supply and cleaning up the bordering streams to that supply.
  "I think it was very easy to the mayor in favor of infrastructure after World War II," Levine said about Samuel's actions. "There was finally money to be spent on infrastructure and the federal government was actually supporting some of the big projects in Philadelphia."
  After some of these projects had started, the Philadelphia Water Department, formerly under larger structures within city organization, formed in 1952 after the Philadelphia Home Rule Charter was enacted.
  According to a 1970 report from the PWD, more than 800 miles of sewers were built from 1946-1970. Current Water Department information indicates that most of the city's 400 miles of large transmission water mains were built from 1854-1954.
  Joanne Dahme, a spokeswoman with PWD, believes the city is effectively managing an old, vast system.
  "Our break rate per 100 miles is less than other comparable cities," she said. "We can always be doing better … but right now, we do feel like we have a good handle of it."
Looking at Issues Today
  In recent years, residents have navigated through losing water and gas because of massive sinkholes opening up in the streets near their properties.
  Paul Marowski, who lives on the 1300 block of E. Susquehanna Avenue, documented sinkholes in the area in 2015. He said he started keeping track while he walked around, and pointed to puddles in the street that could possibly become larger issues.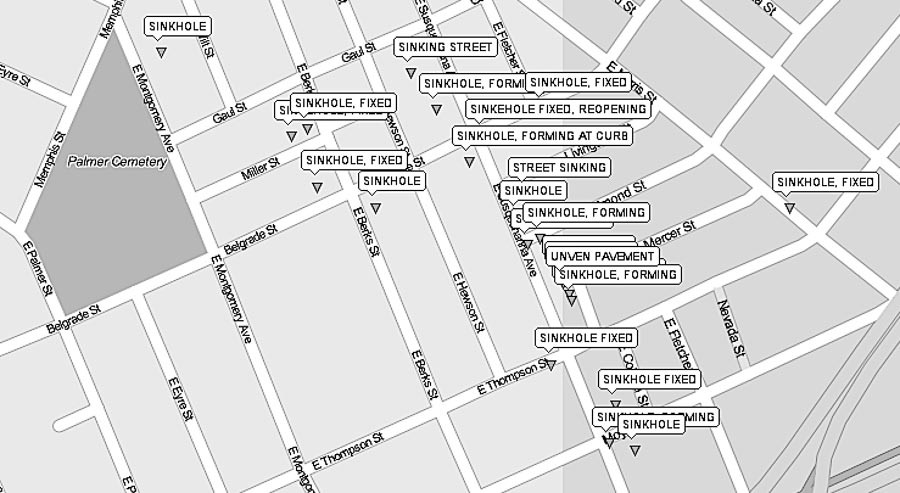 Marowski, 70, said he has reached out to city officials several times about the issue, but believes more people need to be passionate about improving infrastructure.
  "I think it's a lot of rubber stamping," he said of trying to make city officials aware of the problem. "If it's more people speaking up, then things might get done."
  Other residents acknowledge a common issue: the city's old infrastructure. Jonathan Pooler, 31, lives on the 2500 block of Tulip Street, right near the aforementioned sinkhole at Tulip and Huntingdon Streets in August 2015. He was first notified about the sinkhole when his wife texted him, as she was concerned about losing water and gas.
  Although Pooler questioned the durability of the water mains — the Water Department says the average age of them is about 70 years old — he believes the issue isn't central to Philadelphia.
  "I think the infrastructure issue isn't just Philadelphia," he said. "It's an infrastructure thing nationwide."
  Micah Hanson, 41 lives on the 2600 block of Tulip. Neither he nor Pooler lost water or gas, but some neighbors did for about a week, they said.
  Despite the damage of the sinkhole, Hanson believes prevention is key because of their unpredictability.
  "You can't see a sinkhole around the corner," he said.
  Hanson also commended the city for its stormwater management technique, whether it be through pervious pavement or more greenery.
  "They realize digging up the entire city isn't going to happen," he said of trying to replace the city's infrastructure underground.
  Some, however, wouldn't mind if the city tore the street apart in order to update old mains and sewers. One of those is Nelson Devalle, 57, who lives on the 900 block of N. Randolph Street in Northern Liberties.
  Back in December 2013, in the span of a week, two sinkholes developed near the same spot on the block, causing residents to lose water for up to a week. Devalle believes prior work on repaving the street led to a dip in one of the curbs, and then the sinkholes.
  "Holy cow, we're sinking!" Devalle exclaimed when he saw the first hole.
Devalle, like Marowski, has reached out to city government multiple times.
  "It just got to a point … where it just got tough to keep track of," he said of contacting the city about the problem.
  The most recent incident on Boston Street in Olde Richmond left many residents without water or gas for about a week. About three weeks after it had opened up, the hole was patched up, and lines were repaired, but the road still needed to be paved.
  Andrew Fearon, 42, lives on the 2400 block of Tulip, right around the corner from the sinkhole.
He said he heard a loud bang the day the sinkhole swallowed two SUVs.
  Besides the immediate damage, Fearon fears these sinkholes could cause structural damages to nearby properties. He does, however, think the city's water mains and sewers have held up fairly well.
  "We live in an old city, and the fact it's lasted this long is a testament to the city," he said. "We can't thus complain about the water system, but I think it's necessary to address some of these problems … we have to come up with a cohesive plan to the landscape and older infrastructure systems."
How the Department Responds/Looking Ahead
  In order to deal with the amount of sinkholes, the city has implemented a Green City, Clean Waters program to help collect and manage stormwater runoff.
  Dahme said the city decided to use this approach because of its eco-friendliness and cost, versus digging up sections of streets entirely.
  "We're going through the green approach," she said. "[Digging up the streets] can be really disruptive and pretty expensive."
  According to Dahme, in order to deal with the city's aging infrastructure, the water department replaces about 28 miles of water mains a year.
  Most of the sections in Fishtown, Port Richmond, Northern Liberties and their surrounding neighborhoods are on a combined sewer and water system, Dahme said. Because of this, the department is actively looking for green stormwater alternatives, she added.
  When streets do open up, there could be a plethora of service lines underneath, ranging from electric, water, gas and sewer lines. There may even be older infrastructure not even in use.
  Dahme said every one of those utility service units should be knowledgeable about what's under ground.
  "Every utility [unit] should know where its mains and pipes are," she said. "It's not to say there isn't a surprise here or there, but we do [service] about 200 blocks a year."
  She admits, however, that sinkholes like the one on Boston Street can be difficult to handle.
"When a whole street collapses … that's catastrophic and something you can't really plan for," she said.
  Residents said a main concern could be structural damage to properties, given an occurrence like Boston Street's. Dahme said while the department aims to not have those problems, most sinkholes happen in the street, solely affecting utility lines.
  Ultimately, prevention is key. If a resident sees something, Dahme encourages them to call 3-1-1 or PWD's hotline at 215-685-6300.
  Levine also urged residents to understand the age of the city's water and sewage system, and that the city continues to combat the issue.
  "No city planner was perfect," he said. "The city infrastructure was always developing, and continues to develop." •