Features, Food, Local Business in Kensington
FIRST IMPRESSIONS: St. Benjamin Brewing Company Opens New Taproom in South Kensington
---
Years of urban decay have left parts of South Kensington scattered with abandoned buildings and desolate lots caused by the demolition of entire blocks. If you live here, finding a bite to eat isn't always as easy as other parts of the city.
"It's kind of a food desert after 8PM," said St. Benjamin Brewing Company co-owner Tim Patton. "There's an unmet need right now for places for people to go out and eat, or get a good craft beer."
In the past few years, new businesses are once again beginning to appear west of Front Street, and Patton, along with co-owner Christina Burris, is giving this neighborhood a vibrant sense of rebirth.
St. Benjamin Brewing Company has quietly operated at 1710 N. 5th St. since May 2014. Their beer was keg only, and they operated on a three barrel system. This limited what the brewers could do with their product.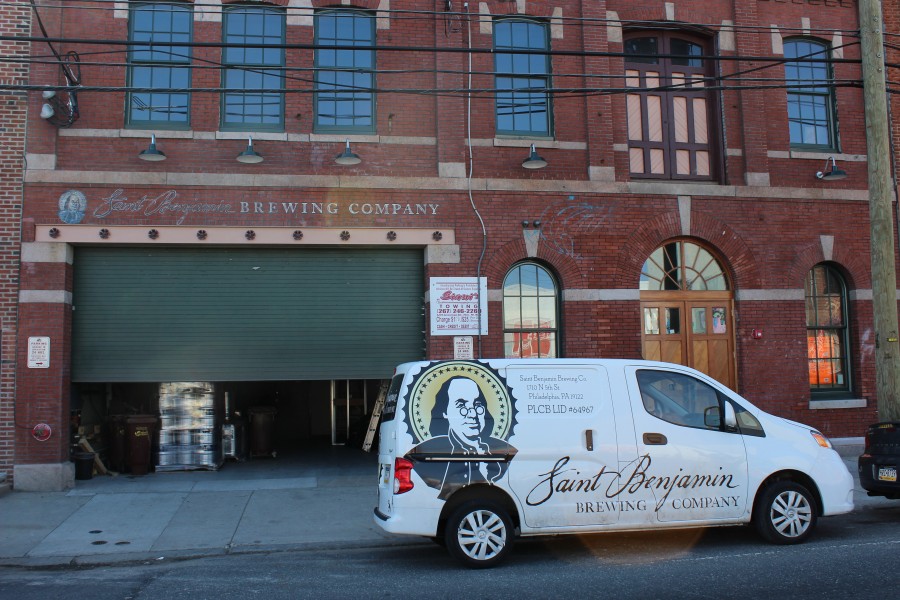 According to Patton, the building was built in the 1880s and was the carriage house for a large brewery complex that once occupied that block. "I was looking for something that had that old world vibe," Patton said. The building that housesSt. Benjamin Brewing Company is the last remaining part of that brewery.
Patton says the new system is about three times as large as their old one and will allow the company to increase production from 440 barrels to 4,400 barrels per year. He says the need to increase production by 10 times is primarily due to the taproom.
The taproom features 12 taps and one beer engine for their firkins.St. Benjamin Brewing Company is also canning their beers and offering 750 ml bottles for the first time. According to Patton, the brewing system upgrade was also necessary in order to make the canning and bottling process worthwhile.
Patton says he wants his patrons to be able to experience a wide variety of beer during their visit. "We're not the kind of brewery that's just making saisons or IPA's," Patton said. "I myself am the kind of person that when I go the bar and see three beers I've never had before, I'll order them I won't just stick with my favorite and order it all night."
The new taproom also has a kitchen and while you'll find standard pub fare like burgers and fries, Patton hopes items like tacos and jerk chicken will appeal to the very diverse neighborhood surrounding the brewery. "We want our doors to be open to everyone," Patton said
Patton also says he wanted to go in a different direction away from the standard brewery tasting room. "We are running this taproom like a bar, not like a brewery tasting room," Patton said. "The kinds of tasting rooms that you see in other areas, that are well suited to that area, I didn't think was going to fly in Philadelphia."
According to Patton, having a real restaurant that showcases the building's past was very important. "We wanted to have an actual restaurant experience for our patrons," Patton said. "It's not just a big warehouse, we put a lot of thought into our design and layout."
St. Benjamin Brewing Company held a soft opening on May 4, which coincided with the Craft Brewers Conference that was in town. The timing of this opening was no coincidence, as Patton hoped to attract thirsty beer connoisseurs. "The attendees [of the conference] are beer aficionado's and they also appreciate what's local," Patton said. "We wanted to make sure our taproom had a nice big soft opening for the conference."
Spirit News was also there to check out the new space. The medium sized room is bright, and feels open thanks to the high ceiling. Long communal tables in front of the bar give the taproom a  German brew house vibe. You can gaze at the tanks where your beer was made through a large glass wall at the back of the taproom. The layout is simple, and captures the industrial feel of the building while comfortably maximizing the space.
The evening was highlighted by tapping a firkin of their specialty beer "Kumpelbier," which means "buddy beer" in German. Brewer Andrew Foss and his buddy Scott Morrison collaborated on this German Maibock and chose the name to honor their long friendship.
The maltiness of this beer hits you on the first sip. It's not overwhelmingly sweet, and leaves you tasting a mild bitterness at first. The beer is very crisp, and easy drinking. I found it refreshing after my bike ride there.
I then tried St. Benjamin's take on the Belgian Wheat style. "Wit or Witout" is a sweeter than other Belgian Whites like Allagash or Walt Wit, but I found it very tasty, and comparable to many of the other wit biers I am partial to.
A similar theme continues to resonate throughout the renaissance in South Kensington. Something along the lines of "If you would have told me that was opening in South Kensington a year ago, I wouldn't believe you," was said by Patton, and many other people who are rediscovering this neighborhood.
Patton doesn't see new business in South Kensington as competition, and he welcomes potential neighbors and businesses. "We hope we can lead the way to there being more bars and restaurants up this way," Patton said "We welcome having more people up here. I wouldn't view that as competition at all, but very complimentary."