Community, Features, Gardening in Fishtown
Frankford Arts Corridor Adds a Fresh Space to Clear the Mind
---
It's no secret that Frankford Ave in the 19125 has gone through a transformation. Anyone strolling along this strip known as The Frankford Arts Corridor will notice bars, coffee houses, salons, second hand shops and art galleries abound.
Starting this Friday, nestled in the northern part of the strip, you will find a new place to add to the growing list of attractions; this one, however, will be a place unencumbered by four walls and a roof, where you can appreciate a very Emersonian moment.
As part of a one-month long residency with Recycled Artist in Residency (RAIR), and in collaboration with New Kensington Community Development Corporation (NKCDC), three artists have created a public garden installation in a vacant lot located at the corner of Frankford Avenue and East Susquehanna Street. Using only objects found at a recycling center, artists from LOTS Philly — Kasey Toomey, Amy Magida and Leslie Billhymer — took a plot of grass stabilized by NKCDC and created a Pop-Up garden where, for three weeks, locals can come to think, breathe and, you know, just be free.
Toomey and Magida founded LOTS Philly as a pilot project to be able to work on public installations, something neither landscape architect ever did before. Using recycled materials was something new to their repertoire, as well.
"We wanted to create a small community park using materials we found at the recycling plant," Magida, who works full-time in Vermont, said. "If people like it and feel attached to it, then that's great for the neighborhood."
The objects the artists used were all found at Revolution Recovery, a Northeast Philly located, for-profit construction and demolition recycling center whose mission is to divert materials from landfills.
"What we offer artists is access to clean waste from building materials, lumber, different kinds of metals and plastic," Lucia Thome, project and residency manager, said.
Despite having had 12 residencies in the past year and a half, the artists involved with this project are the only ones to have taken the materials out of the recycling center. "They are all landscape architects so they have a different eye for how to use these materials in this space," Thome said.
When the artists were looking for a space to turn into a peaceful park, they were originally drawn to this space by  a worn, wooden wishing well which already called this spot home.  "NKCDC provided us with a list of lots and we choose this one because of the well," Toomey said.  "We used that as our starting point."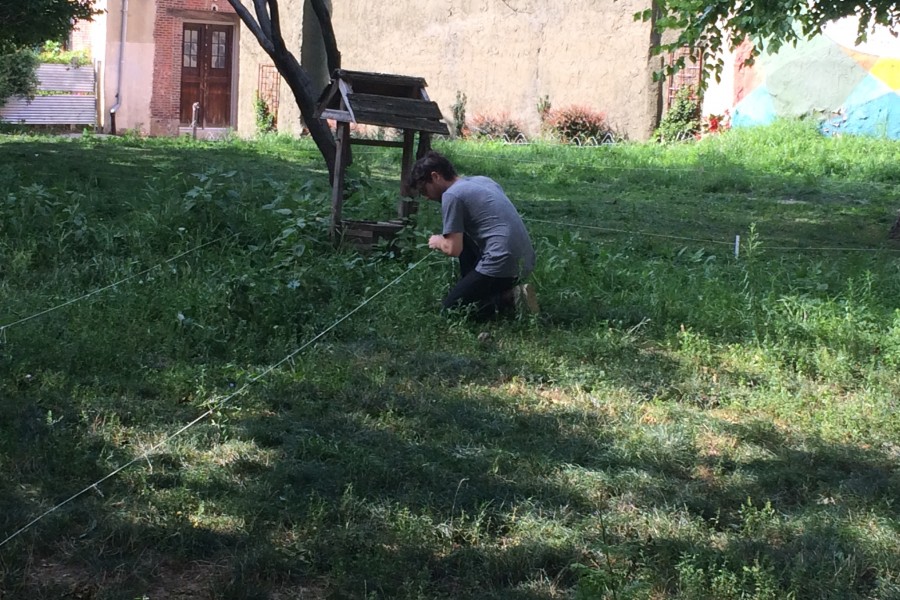 From there, the resident artists created lawn ottomans made from bright colored lawn chair webbing, plastic barrels and garden hoses. They made chairs from salvaged wood, plastic pipe and electrical cord.  For extra fun, they built tall beacons, which will be clustered on the lot to help people use the space in new ways.
But it's the size of the artist's new creations that struck them as the most important aspect of the project.
"We've been focusing on the larger structures that bring a sense of enclosure and visibility to the site," Magida said. "We can't add planting or more trees but we can make things that have height and mass the way vegetation does but in a more abstract way since we are using found materials."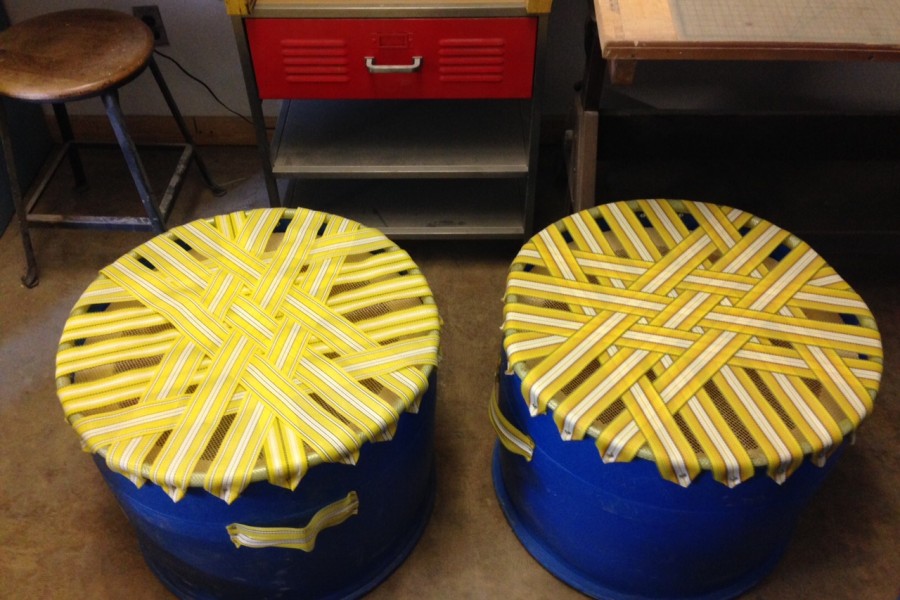 "The LOTS project is just another small contribution to having a fun, friendly and creative arts corridor," Shanta Schachter, Deputy Director at NKCDC, said. "Our role along Frankford Avenue has been to draw investments to the neighborhood that are vibrant to the community." That mission, with this Pop-Up Garden, has been achieved.
Unlike any other the city has seen so far — sorry all, there is no beer at this one — the artists wanted this space to be utilized for a whole new kind of garden. Until the end of August, activities have been coordinated with The Head and The Hand, the ART DEPT and Green Philly to ensure a diverse program of events that will highlight the design of the space.
Please make sure to put a visit to Frankford and Susquehanna on your calendar.
August 7: First Friday Art walk Opening of Pop-Up Garden- 6:30-9
August 17: APIARY Staff reading- 6:30-9
August 21: Game Night – 7-9
August 22: Terrarium Making Class – 1-3
August 23: Herb Gardening Workshop – 1-2
August 26: The Cornbelt Alamanac – 7-9