Features, History in Northern Liberties
Friends of the Doughboy Near Fundraising Goal For Restoration of NoLibs Statue
---
  Thanks to tireless efforts from local residents, careful coordination by the Northern Liberties Neighbors Association (NLNA), and generous contributions from the public, the bronze Doughboy memorial at 2nd and Spring Garden will soon see a complete restoration.   
  Friends of the Doughboy have been chipping away at a $22,000 fundraising goal to restore and maintain the statue this summer. Northern Liberties resident Katrina Mansfield reached out to AMVETS Post 146 in Kensington for assistance. AMVETS is a national veterans' organization with local chapters that focus on serving and honoring men and women who fought for their country.
  Edward Hepworth with Post 146 worked with the NLNA to secure a grant for the project through the Philadelphia Department of Public Works. Transport Workers Local 234 on 2nd Street also committed $2,500 to the cause. The remaining balance will come from a GoFundMe campaign that is quickly closing in on its $4,500 goal.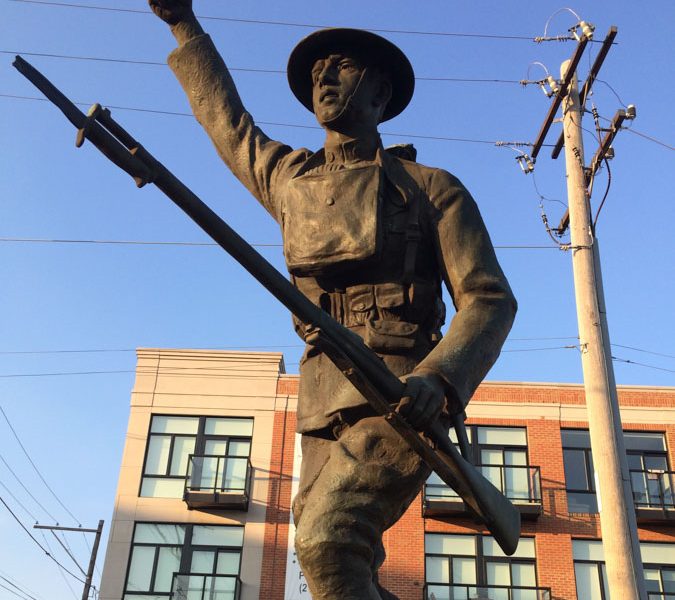 The Doughboy statue, officially named "Over the Top" and sculpted by John Paulding, was commissioned in 1918 and dedicated in 1920 to recognize men from the Riverwards who lost their lives serving in World War I. Like many Riverwards landmarks, it has an intricate and somewhat contentious history. Decades after its dedication, it was "unceremoniously" moved from its original 5th Street location west down Spring Garden to 17th Street, according to longtime Northern Liberties resident Mary Dankanis.
  That move didn't sit well with locals. Neighbors waged a successful campaign to return the statue to Northern Liberties in 1981. Dankanis cited the movement to reclaim the statue as a rallying cry for residents to reinvest in their neighborhood during a Spirit News profile of her last year.
  The Doughboy has continued to be a focus of improvement for neighbors over the years. In 2011 the area around the statue, Madison Park, was redeveloped as a green space connector between Northern Liberties and the riverfront. The statue, however, was left untouched during that renovation.
  On the day the statue was returned in 1981, there was a parade down 2nd Street that featured a wine and cheese party, Dankanis recalled. It was a big deal, she said. Barbara Saverino of the NLNA said the group is currently brainstorming ideas for a similar celebration to commemorate the statue's restoration, tentatively scheduled for Memorial Day 2017. The group envisions a celebration that honors the men who lost their lives and introduces a new generation to their sacrifice, 100 years on.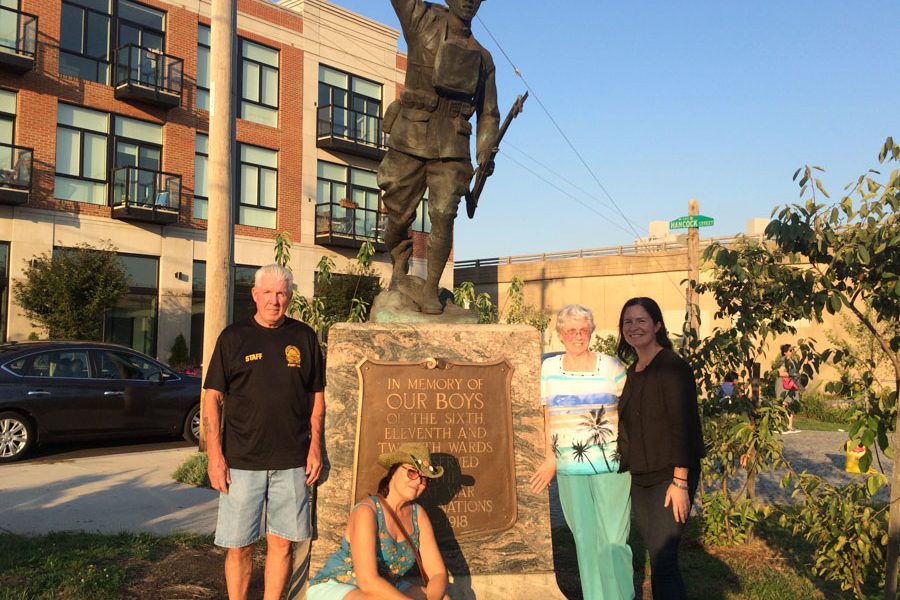 "I'd like to see the Bodine High School for International Affairs students get involved in this and pick a name out of [the plaque] and research the person. Wouldn't that be interesting? They would be learning about World War I and about someone who actually fought in the war," said Dankanis.
  As part of restoration, workers will reproduce and install one of the bronze plaques of 400 names that had previously been stolen, replicate and attach a missing bayonet, and apply a protective covering to the entire sculpture. There will also be an annual budget to support the ongoing maintenance of the statue and Madison Park.
  To learn more about the Doughboy and donate to the GoFundMe campaign, visit www.gofundme.com/doughboy2016. •