Community, Features, Lifestyle in Kensington
GALAEI Comes 'Home' to Norris Square
---
With cushy sofas and loveseats, brightly colored walls and handmade art, the homey feel at 149 W. Susquehanna Ave. is undeniable.
The three-story 19th-century building — the former headquarters of the Norris Square Civic Association — is now home to GALAEI: A Queer Latin@ Social Justice Organization. The nonprofit, now in its 27th year, provides HIV/AIDS services to Latino sexual minorities and bridges gaps between LGBT and Latino communities.
To better meet that mission, the organization moved into the Norris Square space in April, from its former location at 1207 Chestnut St.
"We knew the work we wanted to do around community-building couldn't take place if we weren't actually in the community," said executive director Elicia Gonzales.
"We wanted to move away from providing services to the community and be able to actually work in the community."
The previous space did not lend itself well to that goal, added Sergio Morales, HIV counselor at GALAEI.
"We were in Center City for years, right in the middle of the business district, and it just wasn't where we needed to be," Morales said.
In addition to the location, the layout of the headquarters wasn't conducive to community-building, he said.
"All of the offices were along one wall, where you could hear everyone talking. The testing suite was tiny and business-y. There was another organization sharing the space so there was often confusion," Morales said.
GALAEI leadership explored several locations before visiting the Susquehanna Avenue property, which Morales said was in line with the organization's community-building goals.
"Elicia and I looked at this space and it was perfect. We knew this was right where we wanted to be," he said. "There are a bunch of community organizations around us and a ton of Latinos in this neighborhood. And the building itself is super-homey, super-inviting."
The organization moved in April and hosted a packed open house at the end of the summer to introduce the location to the community.
Updating the building has been an ongoing project, Morales said; all of the walls have been repainted and the air-conditioning system was revamped.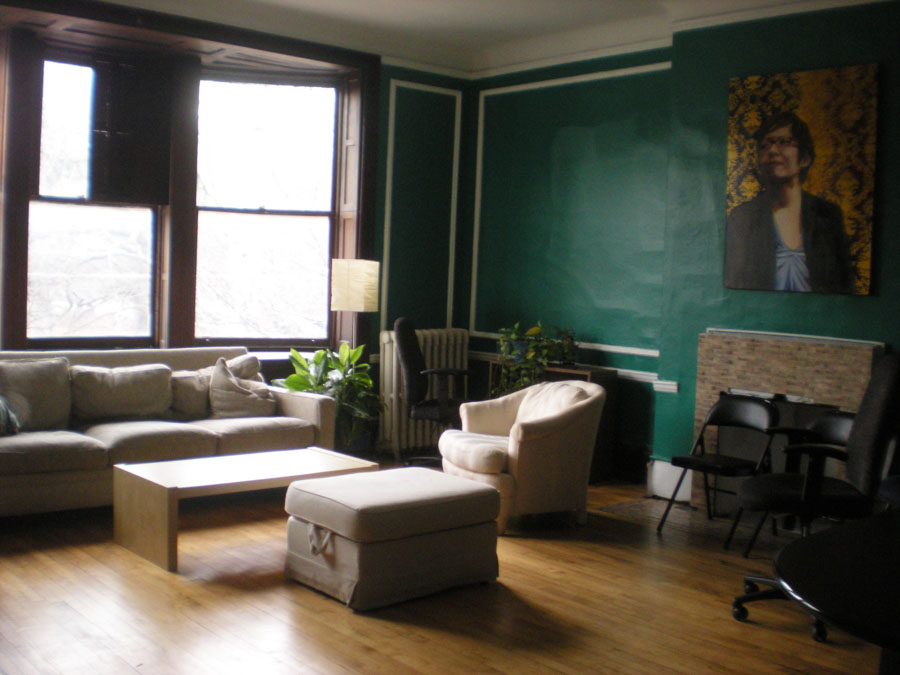 The 13-room building includes four testing rooms — opposed to one at the previous location — as well as a youth-program space, headquarters of the Trans-Health Information Project and a kitchen.
A room called "La Sala" (living room) features a large painting of Gloria Casarez, the late former GALAEI executive director and inaugural director of the city's Office of LGBT Affairs. The room has already held a number of community and staff events, which can also be staged in the expansive lobby.
"Everyone always wants to hang out in the kitchen at a house and that's what our lobby is like," Morales laughed. "There are always interns, staff, people from the community just hanging out."
The response from clients, Gonzales added, has been overwhelmingly positive.
"People are really excited not only with our physical location, but with what the space itself looks like," she said. "We had people suggesting, 'Let's get together and cook one night, or have workshops here.' It's already been a community-driven process in ways we could never do before."
In the coming months, GALAEI plans to open a youth lounge — replete with beanbags — add a full-size refrigerator and stove to the kitchen and launch a computer lab.
"We want to give people a place where they can work on their résumés, apply for jobs," Gonzales said. "We want to make this as conducive as possible to the community coming in and feeling like it's their space."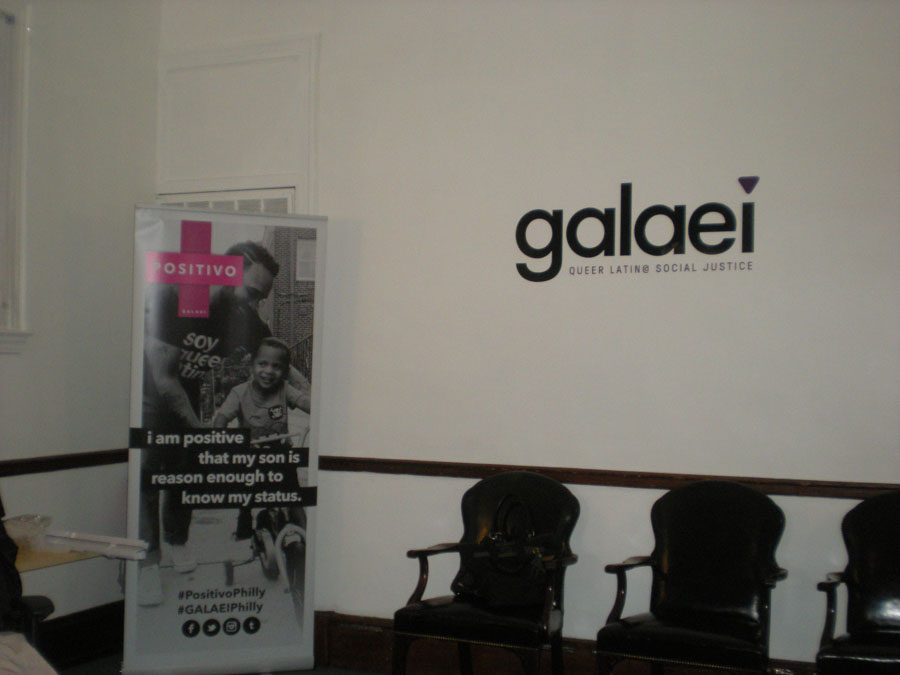 Just as the new location invites the community into the organization, Gonzales said, it also allows GALAEI to better network out in the community.
She said staff was initially curious to see how the neighboring community would receive the agency, but was impressed by the reaction from day one.
"Someone walked in the front door and we said, 'Let us introduce ourselves,' and she said, 'Oh no, we know who you are. We're really looking forward to having you here,'" she said.
GALAEI has hosted sports and activities in Norris Square Park, which it faces, and this summer, A Seed on Diamond Gallery, located across the park, showcased art created by GALAEI's youth clients. GALAEI youth also recently teamed up with Norris Square Neighborhood Project for service projects on Dr. Martin Luther King, Jr. Day.
"We're really working to build community around the park and the surrounding area," Gonzales said.
Another outreach opportunity is the newly launched Noche de Familia. First held last month, the event brought together families of gay Latino men for fellowship and support.
Morales and a community member — a recently diagnosed HIV-positive man who's the new face of the organization's Positivo campaign — conceived of the effort.
"In the Latino community, family is really important; families are so connected. But personally, my mother had never met another Latina woman whose family had a gay child. So we were thinking, What if we brought these guys together so that their families can connect with other?" Morales said. "We wanted them to chat, talk about what it's like having a gay child, hear from the guys about what we felt like growing up. It's a way to be there for one another."
The group is expected to meet at least monthly.
Gonzales said organizers intend for the effort to encourage community, even outside the walls of GALAEI.
"It's an ongoing support network," she said. "The goal is not just to create a group but to increase the leadership capacity of our communities so that they can work together to advocate for what our community needs — whether it's increased access to housing, better and safer schools, information about PrEP [pre-exposure prophylaxis]."
GALAEI will explore some of those needs at an event next month.
At 6 PM on February 12th, the organization will host a community gathering to solicit input on GALAEI's future priorities — an event Gonzales said exemplifies the collaborative spirit the organization is hoping to foster in the coming years.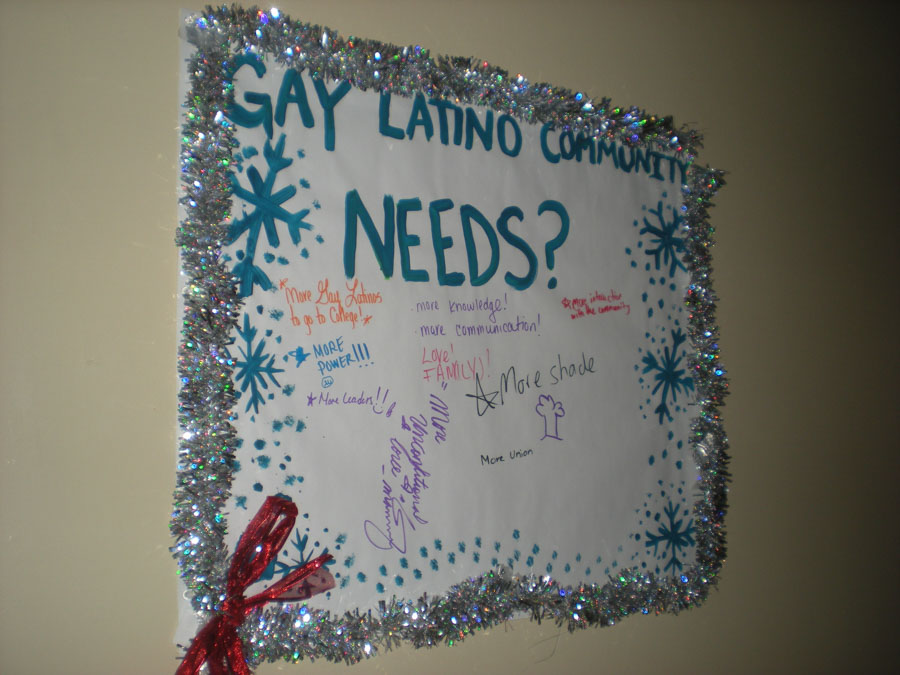 "We really want to build up our base of queer Latino individuals and families to identify our community's needs and then create opportunities to move the needle forward," she said. "We want to grow exponentially in the number of people who consider themselves part of GALAEI and break down that wall that separated us as service providers from you as clients, so instead it's just a collective 'we.'"
For more information on GALAEI, visit www.galaei.org.