Features, Gardening in Fishtown
Gardening Tips from Greensgrow Farms: Thinking Outside the Box
---
On the first week of each month, David Prendergrast from Greensgrow Farms will be answering your urban gardening questions. This month's reader writes:
 Dear Garden Gnome,

 I just installed window boxes for the front of my house. What are the best plants to grow in them? Which perennials will do well in window boxes?
 Flower boxes are a great way to bring gardening into your life. The visual enjoyment of the plants from both the inside and outside, along with their fresh scents, will inspire and delight as you arrive home.
Start by choosing a box that complements the façade of your house. If you live in a home that has a modern design, you may want to go with a more industrial feel by using reclaimed wood, sheet metal or old industrial objects, all of which can be found in our neighborhood. Older 19th and 20th century homes look great with iron-lined baskets, custom wrought iron, or wooden, federal style boxes. Cast stone boxes can lend a cool, old-world style but also adds weight.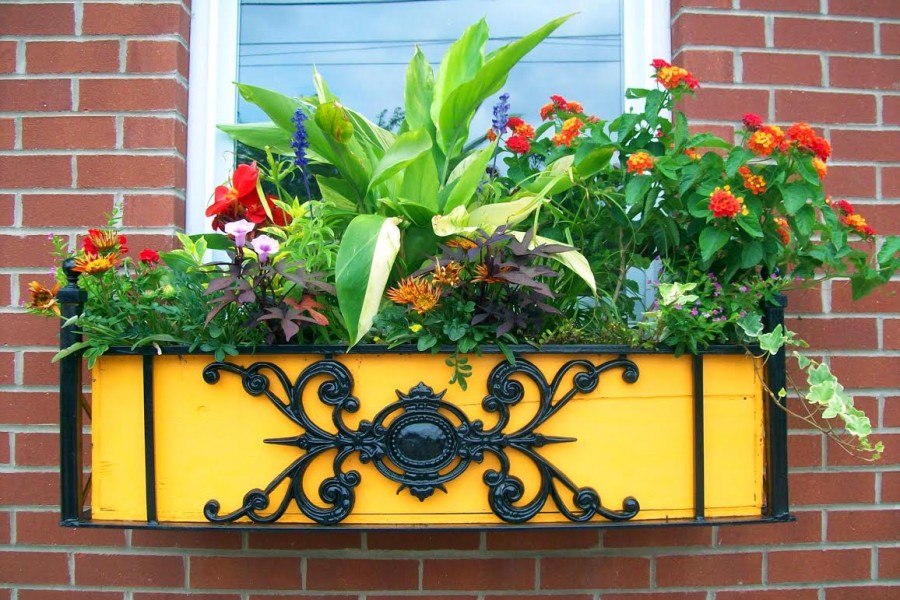 Before installing, be sure that any box you put up has enough support to hold the weight of the soil and all the plant materials, even after you have given the box a good, deep watering. Your window box should have the dimensions of the width of your window, eight to ten inches wide and at least eight inches deep. An average 36 inch window will weigh between 40 and 75 pounds once planted. Deck screws will not work for this install, but most window boxes come with the proper hardware for installation.
Now the fun begins! Start with a great soil; the better the soil, the happier your plants will be. Good soil also means spending less time replacing plants as the season progresses. In the long run, less time equals less money; you want to start with a good foundation. You can mix your own, or stop by the farm and grab a bag of container blend or potting mix. I would also recommend that you add a soil moisture retainer such as Soil Moist. Window boxes are water hogs and need to be watered often. Moist soil will help cut down your watering time and keep moisture in your soil giving your plants a consistent water source.
There are many strategies you can adopt when planning your window boxes. You can opt for a traditional, symmetrical design: From the street, both planters match each other and share the same organizational layout. A mirror image design arranges the plants to appear similar but reversed, giving each window a different look that works together based plant choices. A modern design approach should center around the concept of simplicity and should have a simplified plant palette; it should incorporate the same plants in each, building on texture, color and structure.
When selecting your plants, it's important to keep in mind how the sun is traveling throughout the day and pick the right plants for your lighting and its changes. Depending on your tastes, choose plants that draw you in. The more they speak to you, the more likely you will care for them. Most of us are drawn to color, texture, touch and fragrance. You will go into overload if you walk into Greensgrow, or any other nursery, without an idea of how you want the window box to look when finished.
I always suggest the filler, thriller, and spiller design method when choosing plants. This method will give your window boxes height, mid-range growth and plants that cascade over the box. Thrillers offer height, such as blooming geraniums or a Japanese iris. Fillers, like colorful caladium, white snapdragon, violet African daisy or red common geranium, will add depth and fullness. Spillers will trail over the sides of your window box. These cascading plants, like purple petunias, pink and red ivy geraniums, dark red calibrachoa or purple Lanai verbena, will help vary the window box and make it interesting.
At home, my front planters are more of a window box style that sit under my windows. The rest are in front of my basement windows on the sidewalk since my 200-year old windows would not support the weight. Once my windows are replaced, the boxes will move up to the first floor windows, three feet in the air. My boxes consist of an unique combination of houseplants, tropicals, annuals and perennials, and small root system perennials.
I don't want to watch my plants grow in, I want results now! I feel that I only get to enjoy these plantings for a short time, so why not fill the window boxes to the brim and enjoy them until fall? That being said, I do not recommend this style for most garden practices; food and perennial gardens are best developed over time. Perennials can be used in window box plantings, but realize that most window boxes do not have enough soil to keep the root balls of the plants from freezing during the winter. Philadelphia has a freeze thaw of four to six inches during mid-winter. Small or running root sources will help keep your window box perennials alive. Shrubs do not have a good success rate in window boxes.
To give an idea about what I'm talking about, I'll share some details about what's planted outside my home. The light is north facing, meaning I only have the morning sun. The boxes are in a mirror image design, the far outside edge of one box matching the outer edge of its neighbor, and so on moving inwards. Both planters have a Japanese painted fern along the edge of the pot towards the back of the box. Placed in front of the fern are black Oxalis with yellow flowers, which cascade over the edge functioning as both a spiller and a filler. Each box also has an Ostrich fern in the center that can grow to be about 2 feet tall surrounded by begonias, fascia, and creeping jenny. The two sides that are closest to each other have been planted with snake plant and tropical grasses, which add texture and hardness to the planter. Finally, I used a bright colored lime sage to fill in any empty spaces.
As I was planning the design for my home window boxes, I focused on the five senses, utilizing each plant to simulate the various senses. The most important thing to keep in mind when putting a window box together is to have fun. Embrace your inner artist and you cannot go wrong. In nature, every color, shape and texture grows in harmony, reminding us to relax enjoy what's in front of us. Window boxes placed in front of your home will inspire the same effect and every time you arrive home you'll feel a sense of pride.
Stop by the farm; we will be happy to help you plan your window boxes so that they can be the talk of the block. Or come by and check out our summer interns! We have two sheep visiting for a sheeeeepover, enjoying everything the our neighborhood has to offer And don't forget to enter the Fishtown Neighbors window box contest to show off your hard work and talent.
Send in your questions about gardening to The Spirit; I will be happy to offer advice and suggestions to help make your gardens grow. Think sustainable, keep greening, and keep growing.