Features, Real Estate in Fishtown
Holy Schism: New Conservation Group Emerges as Supporters of Church Seek Consensus on Future of Historic Fishtown Building
---
How much longer will the debate over the future of this historic Fishtown church last?
Last month, supporters of St. Laurentius Church, (1608 E Berks St.) gathered at Unsung Heroes Gallery (2024 E Arizona St) for a meeting of the minds between members of Save St. Laurentius (SSL) and the Faithful Laurentians (FL), a new preservation group started by members of the community. Both organizations support different proposals for the future of the structure.
The building has been closed since March 31, 2014 and was deconsecrated due to the findings of an engineering report commissioned by the Archdiocese of Philadelphia and completed by structural engineering firm O'Donnell & Naccarato. Since the publishing of that report, some of its findings have been disputed by other engineering firms and specialists.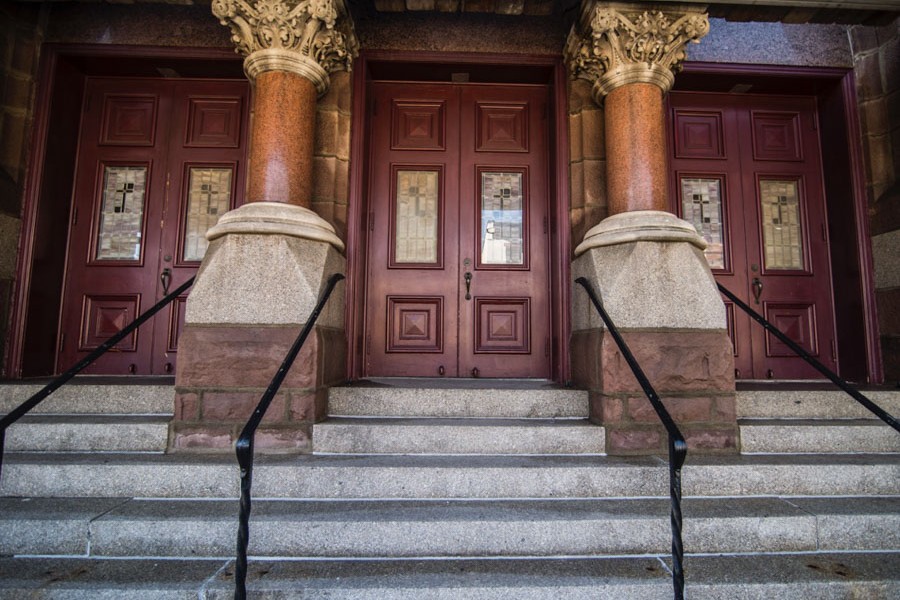 In February 2016, Leo Voloshin, the owner of the Kensington-based textile design company Printfresh Studio, entered a preliminary agreement to purchase St. Laurentius Church from the Holy Name of Jesus Parish. This agreement is supported by the Archdiocese of Philadelphia (AOP). Voloshin plans on turning the interior of the church into apartments while keeping the exterior "entirely intact."
SSL is open to the proposal of the church's interior being adaptively reused as apartments, whereas FL are opposed to any reuse of the building that seeks to alter elements of the building's interior.
Despite the two groups' differences, the meeting at Unsung Heros Gallery began without debate and instead focused on name introductions of each supporter who filled the gallery that night. By the time everyone had a chance to speak, more than an hour had passed with opening remarks noticeably morphing into a series of emotional tales that showcased each supporters' lasting devotion to the church, many of which spanned generations.
"Each story struck a common chord within all of us," FL posted to their Facebook page after the event. "And when we were finished, we no longer felt like strangers, after sharing stories of baptisms and funerals, heartache and joy, we felt intimately connected."
Jesse Gardner, director of the Unsung Hero's Gallery and supporter of FL, lent his gallery space for the meeting after hearing about the story of the church through social media. Once he was introduced to a number of supporters from both groups for the first time in person that night, Gardener said, "a lot of it was just an exchange of information, but the meeting was a realization that this matters. It raised people's consciousness of how much they really care."
Once everyone was introduced to each other and the heartfelt storytelling about St. Laurentius ended, it was time to get down to brass tax: The point for the meeting was to discuss the specifics of an alternative proposal to Voloshin's current plan.
FL's proposal was described in detail by Jeanne Murphy Curtis, a board member of the group.
"The business plan is pretty much complete," Curtis said. "Not to say we can't alter it in any way, but it is really a two fold plan. Number one is to create a non profit 501(c)(3) group called The Faithful Laurentius Institute that is charged with writing grants, seeking donations, doing public outreach and setting up educational programs to educate people about the church."
Curtis acknowledges that a nonprofit model with donation and grant funded initiatives would not allow for the repair of the church's structural issues, nor provide economic viability to the project long term. This is where Curtis says the second element of the business plan comes in. A cooperative business arm called the St. Laurentius Polish Cultural Center would be heavily engaged in event planning, hosting weddings, corporate events, community functions, concerts and other events to provide much needed fiscal sustainability to their proposal for the church.
According to Curtis, an interior designer by trade, the building would be leasable for a fee, between $2,500 to $5,000 depending on the day, time, and type of event,  
"The key to making this successful is having a money generating business associated with [the structure]. So in order for that not to get muddied, both the nonprofit and the business venture have to be separate initiatives with the same common goal, which is the perseveration and sustainability of the building long term," Curtis said. "People would also invest in the building by investing in shares of this business concept. So once that building is sustainable, which based on the business plan could happen at the end of the 5th year, those investors would get a return on that investment."
Curtis, for all her efforts with the group, is not a former parishioner of St. Laurentius, but says she was raised Catholic. Her involvement with the church started in March 2015, when she was approached by Meghan Thomson, a friend and committee member of SSL, to assist in raising support for the group.
Since that time, disagreements formed within SSL on how best to pursue a sustainable future for the church. These disagreements lead Curtis and others to break off from SSL and create FL. The new group's central difference with SSL is their insistence on keeping the entirety of the church intact, including the interior, and dismissing the potential apartment adaptive reuse plan. FL claims that Voloshin's proposed re-development does not meet the concerns and needs of many former parishioners.
"Maybe it can't be a church again, but how can we find a compromise so that void in our lives can be filled?" Curtis said. "Because we really do want to be able to go back into that space and have those moments of peace that we had before."
The discussion of adaptive reuse and the uncertainty surrounding this proposed plan has caused a schism between the two groups — a divide that serves as a reminder of the long road ahead for those who wish to save their church.
"Save St. Laurentius have done a lot of good and they are great people, but they do not share the same perspective," Curtis said. "It's not because Leo is not a great guy, or that I'm a curmudgeon or not a forward thinker. The issue is the space is a work of art and that space is more than just a historic edifice and that is what would happen if it was converted into apartments. It would be an historic edifice."
Members of SSL hold on to their own convictions supporting the adaptive reuse just as firmly as the new group opposes it. SSL sees Voloshin's plan as a proper and acceptable outcome, especially given what they see as the alternative.  
"I personally felt that the most awesome and holy part of the church was the inside," John Wisniewski of the SSL Committee, said. "I was of the mindset that if we can't have the inside then the heck with it, but then I realized that half of the package is better than none."
Wisniewski explains that SSL's distrust of the AOP partially explains the group's decision to settle on adaptive reuse of the building's interior along with the preservation of the exterior: "If you don't allow for something like this (the apartments) to happen, then to be realistic, the church will sit and the AOP will sit on it. Then when L&I tells [the AOP] to fix it they will say we are very poor, we have no money to fix it, and they will wind up knocking it down. So we have a limited timeframe to make something happen."
Even with wide ranging disagreements between the two groups, Wisniewski and some other members of SSL attended the meeting at the Unsung Heroes Gallery to listen to FL's plan and begin a dialogue on how to best to facilitate a path for the building's future.
 Wisniewski says he was encouraged by the meeting: "Most of the people at the meeting did not want the building to be repurposed as appartments. I was encouraged, though, by the plan that they discussed, with the community involvement in there and the cultural aspects of their proposal. It was a very nice approach and a very legitimate one — I think many people there were energized."
 This public display of support between the two groups comes in contrast to recent heated exchanges between both groups, mostly chronicled in a series of comments on the Save St. Laurentius Watchdog Facebook group.
 "Now it's an agree to disagree situation… but there was this idea that there was pervasive hatred and that it was us against them," Curtis said. "Sometimes when things like that happen, some people become so convinced of it and there is no unconvincing them. I'll be honest, I think it went both ways."
Since then, tensions between the two groups have gone from simmering to lukewarm, depending on who you talk to. Chuck Valentine is a member of the Holy Name of Jesus Parish Council and, like Gardner of Unsung Heroes Gallery, has offered space at Holy Name to allow both groups, along with residents in the surrounding area, to meet and reach a consensus on a path forward together.
"I have been a part of meetings before about different issues with upwards of 500 people screaming at me and full police protection. So I'm used to dealing with disagreements," Valentine said. "I have reached out to see if the FNA (Fishtown Neighborhood Association) would like us to host a meeting with residents in the  area, the St. Laurentius supporters, along with L&I, and/or [Voloshin]. So we are still trying to set something up."
Voloshin says that he wants to engage with all St. Laurentius supporters and the community as a whole regarding his potential adaptive reuse.
"I'm interested in trying to make this work," Voloshin said. "I know not everyone is behind the idea of adaptive reuse as apartments and I understand that people are very attached to the church being what it was. I know that is not something I can control. So my plan is to keep the community involved as things move forward."
One thing that does unite both conservation groups is their disdain for Philadelphia's Catholic hierarchy, who they see as spiteful and unaffected by their constant calls to have more influence on the future of the church.
In response to these claims, Ken Gavin, Communications Director of  AOP, has stated that "Representatives from the Archdiocese of Philadelphia and Holy Name of Jesus Parish have met with those concerned about the future of the former church building on at least five separate occasions. The majority of those meetings were held at Holy Name of Jesus Parish and one was held in the office of the President of City Council."
Despite what the AOP says, distrust of the Catholic Church has spilled over among some St. Laurentius preservationists. At the Unsung Heroes Gallery meeting, some in attendance put forth more than a few conspiracy theories regarding the church's fate.
One theory casts Voloshin as a pawn of the AOP and holds that if the property is sold to him he will claim financial hardship to the Philadelphia Historical Commission (PHC). Last July, PHC designated the exterior of St. Laurentius as historic, protecting the structure from demolition. But even with the designation, if the Parish, AOP or developer claims financial hardship on a historic site, meaning that they don't have enough money for necessary repairs, than demolition could still occur. This theory concludes if the developer were granted such a financial hardship, he would decide to demolish as much of the block as possible in order to build "a hotel."
Wisniewski says that while unfounded theories regarding the church can be problematic, they are just a product of the conditions the AOP has created for people trying to give their church new life.
"[The AOP] are the ones who foster this kind of ideology because no matter what they told us in the past, it has been a lie since before the merger [of St. Laurentius and Holy Name] and on," Wisniewski said. "Now I'm not defending this kind of speculative thinking in any way, and in a way I'm sure it does harm efforts. But you have to understand and realize where this thinking comes from."
The AOP upholds that it understands those in the community have an emotional attachment to the building for good reason. The Archdiocese believes that they are assisting Holy Name in responding to a hard economic reality.
"Holy Name of Jesus owns the former Saint Laurentius Church building," Ken Gavin told Spirit News via email in response to a series of questions. "The parish cannot afford the necessary repairs and it is seeking a prudent way to face this challenge."
This ownership claim by the AOP brings to light another major point of agreement between the St. Laurentius support groups: Both believe that it's the former parishioners of St. Laurentius who really own the church.
In March 2016, Spirit News reported that leading members of SSL sent a number of letters to embattled Attorney General Kane's office. The letters sought to put forth the case for a multifaceted charitable trust violation claim against the AOP. The SSL committee states in the letter that: "the building was left forever in trust for the Roman Catholic Congregation of St. Laurentius. Subject to a mortgage debt of $5,000. This language is significant and not typical of most Roman Catholic churches deeds."
But in order for FL's proposed Polish Heritage Center and additional reuse of the church's interior to see the light of day, this ownership dispute has to be resolved in favor of St. Laurentius supporters. That necessity has made getting the state's AG involved a top priority for FL. According to one of the group's board members, they now have a "sympathetic ear" in the AG's office with communication occurring between both parties on an almost bi-weekly basis.
We reached out to the Attorney General's office regarding their potential support for St. Laurentius preservationists, but their office did not reply to our request for comment in time for the publication.
Both St. Laurentius support groups are in agreement regarding the pursuit of a trust violation claim, but their fractured nature on what plan to support for the church moving forward could spell trouble for Voloshin. When it comes to gaining community backing for a zoning variance required to switch the church's current designation from single family use to multiple family use, the jury is still out.
In light of the divided community sentiment regarding the future of St. Laurentius, Spirit News sought the insight of a professional. John James Pron, is a historical architecture professor of 37 years at Temple University, and specializes in the areas of historic preservation and adaptive reuse.
"It's facing up to reality and looking for the best compromise that benefits the highest priorities of the largest number of people," Pron said. "In the case of St. Laurentius: No, it's not realistic to believe that a huge and magnificent edifice like that can ever expect to continue to operate as a Catholic Church with pews full of parishioners, but the community could also not fathom demolishing it."
The Faithful Laurentians invite former parishioners and historical enthusiasts to the Unsung Heroes Art Gallery (2024 Arizona St.) to discuss how to preserve the interior of St. Laurentius Church on Friday, June 3rd.