Features, Technology
Home Grown Airwaves: WPPM 106.5, The New Community Radio Station For The People, By The People
---
 In the basement of the old Bok Technical High School on S. 9th Street, technical volunteers from hackerspace Hive76 and PhillyCAM work, with vigor, on refurbishing old donated radio studio consoles. They clean the oxidation off of the edge connectors of circuit board "fader" modules that plug into the consoles, and wipe the "dust, bugs, and dead skin" from both the guts and the controls.
 These consoles will lay at the hands of the community members who will make up WPPM 106.5 FM community radio, which is part of PhillyCAM, a non-profit designated by the City of Philadelphia to operate its public access cable television network. WPPM's studio space is being constructed upstairs at PhillyCAM's facility at 699 Ranstead Street in Old City, which will beam programming via a donated microwave link to a transmitter site about half a mile north of there at 3rd and Spring Garden. The resulting FM signal, they hope, will reach a large percentage of Philadelphia's neighborhoods and into New Jersey.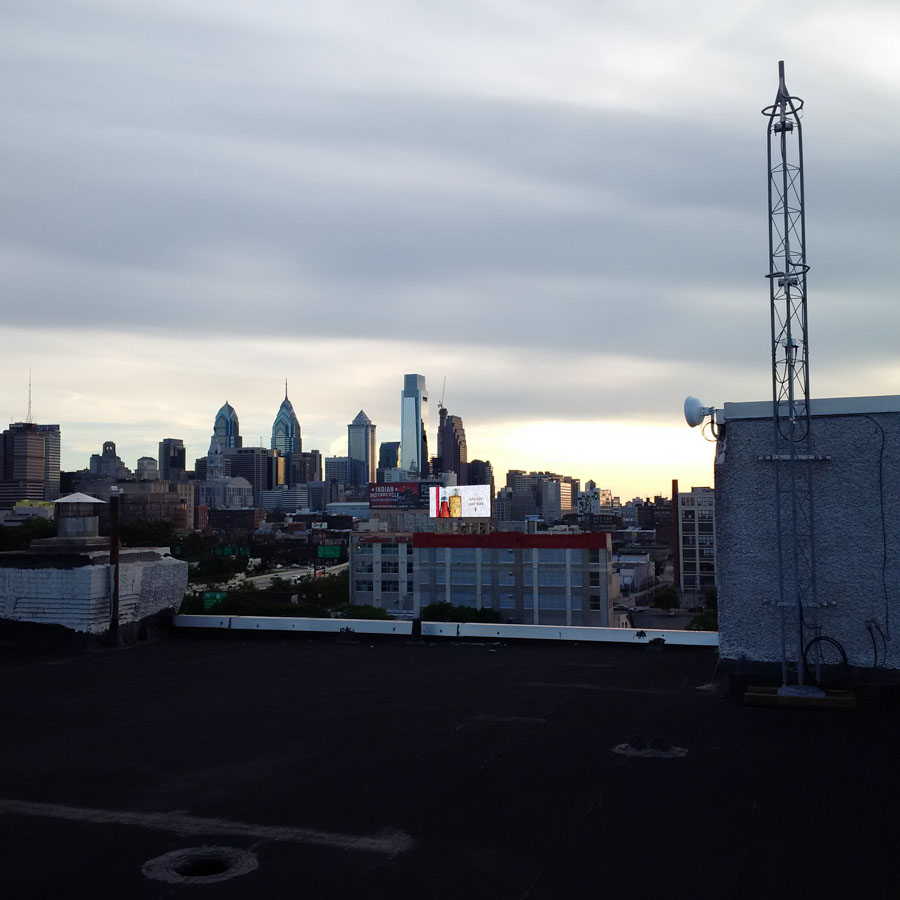 The transmitter was tested briefly in early June for FCC compliance and passed with flying colors. Range testing will begin on July 1st when members of the public can help by tuning in the 106.5 MHz FM signal and sending their signal reports to the email address announced on the air to earn a special commemorative WPPM postcard.
 "A lot of this is about learning," said Ed Cummings, aka hacker bernieS, who has worked with various commercial, noncommercial, college, and pirate radio stations. Cummings is one of the driving forces behind WPPM 106.5, but hesitates to take too much credit. Cummings explains that the success of the station is a culmination of the effort of many volunteers, rather than just his own.
 "We know how to do this stuff, but we want to teach other people how to do it," he said.
 WPPM 106.5 FM aims to be a hands on, community-made asset, inviting regular folks to take up a slot in the station's programming schedule. They seek to find and cultivate creative, unique radio content based in the community, and to cater to residents whose needs and interests are not being met by other local radio stations.
 "The concept of community radio is not ours, it has been around for many decades," Cummings said. "In fact, the FCC offered what they called 'Class D' radio broadcast licenses to schools and nonprofits for decades until the late 1970s, when NPR successfully lobbied the FCC to stop doing that so they could have those FM frequency slots instead for their own network."
 Cummings added, "When PhillyCAM knew the FCC application window would finally open for Low Power FM (LPFM) construction permits in Philly, it took the necessary steps to apply for one.
 PhillyCAM's mission of electronic media education will be enhanced by teaching members of the community about producing radio programming, in addition to its existing public-access cable TV programming education program. PhillyCAM's executive director Gretjen Clausing and community radio consultant Vanessa Maria Graber were instrumental in that process."
 Cummings has been political throughout his radio career, having engineered at Radio Mutiny, a community FM pirate station that illegally provided innovative and eclectic radio programming to much of Philly in the late 1990s, "until the Chief of Enforcement from the FCC in Washington came to West Philly with a warrant (after four previous FCC visits without one) and an armed posse of U.S. Marshals to shut us down in 1998," he said.
 After Radio Mutiny was shut down, the community's efforts were channeled into starting the Prometheus Radio Project, an organization which successfully got the FCC and Congress to allow for a limited number of new, low-power 100 Watt FM (LPFM) community radio stations in 2000. Continued grassroots lobbying eventually opened up additional LPFM channels in metropolitan areas after President Obama signed the The Local Community Radio Act in 2011. The long-awaited passage of that law made WPPM's existence possible.
 The project faced many challenges outside of the legal realm: PhillyCAM hired a radio engineer from Hawaii who specializes in writing LPFM station engineering proposals for FCC review. Then a local team of volunteer engineers, technicians, hackers, and others was assembled to plan the station build-out in collaboration with former Prometheus engineer Andy Gunn, who specializes in building LPFM stations around the country. A quest for suitable FCC call letters took several months, until the U.S. Coast Guard was persuaded to relinquish its mothballed callsign WPPM–which had had been assigned to the cutter Galatea which was built in Camden in 1933 to intercept "rum runners" during prohibition. Now the callsign WPPM will serve a new public service mission for "People Powered Media."
 Now the WPPM radio studio is being constructed and the newly-refurbished consoles will be moved from Hive76 to PhillyCAM this week. Various pieces of studio equipment will have to be purchased, but the public is welcome to donate good-quality turntables, CD players and cassette decks. The station is required by the FCC to go on air on by July 12, and the 106.5 Mhz FM signal should be heard several miles in all directions from the antenna tower in Northern Liberties — an area that will encompass many neighborhoods in Philadelphia and New Jersey.
 "We wanted to cover as much of Philadelphia's population as possible and our transmitter location near Old City and basic radio physics determined what neighborhoods WPPM would cover," said Cummings.
 The station's possibilities are endless, but Cummings certainly has a vision for what it could be.
 "Many people have stopped listening to radio because corporate interests and media consolidation have turned it into homogenized mush, but the medium isn't inherently bad," Cummings said. "Now Philadelphians can make radio as good as they want it to be."
 He added, "My vision for WPPM is just one of many people's visions… I envision WPPM as a grassroots nonprofit local radio station with programming produced by volunteers, that won't broadcast frequent commercial-like 'underwriting' announcements like certain 'public radio' stations do, or play commercials like all the commercial stations in our market do. I want WPPM to play music by local artists who other radios stations won't play. I want WPPM to have DJs who have the freedom to play whatever music they want that isn't being played on other local stations. I want to hear progressive news and commentary and political satire about our local politics. I want WPPM to inform and entertain like no other local radio stations does."
 Interested in helping WPPM get off the ground? The station is looking to raisefunds and is asking for the public's help in doing so. Visit https://www.generosity.com/community-fundraising/invest-in-philly-s-newest-community-radio-station to donate today.