Features, Local Business in Fairmount
HOME Made For the Holidays
---
Project HOME, a nonprofit organization nationally lauded for its work in targeting homelessness and poverty in Philadelphia, is undergoing a revamping to its three social enterprise programs.
  Phil Waller, recently hired as the project's social enterprise manager, is tasked with increasing sales revenue for investment in future businesses. His ultimate goal is reaching full-employment for Project HOME's 827 residents.
  "Economic independence leads to freedom," said Waller.
  Achieving his goal means Waller must improve existing programs and build new businesses that successfully generate incomes, develop skill sets and provide competitive employment opportunities for individuals experiencing mental health issues, trauma, or homelessness.
  "It's not just the social mission that we need to accomplish," he explained. "We need to create businesses that have market value."
  According to its annual report for fiscal year 2015, Project HOME placed 75 individuals in competitive employment and 110 in internships. 68 residents were employed by or making money from social enterprises.
  Currently, 64 residents attend classes in the HOME Made Gifts and Art programs, and two residents work as sales associates in the HOME spun retail boutique. Residents in the HOME Made Gifts program earn $10 an hour making candles, soap, cranberry sauce, and other items.
  An apprentice program also employs 12 residents learning specific trades for $12 an hour.
  Bi-weekly art classes on social realism are open to residents and community members varying in age and experience. Students may submit to open calls for exhibitions after finishing six classes, earning $200 for participating upon acceptance.
  "We've had people with no experience be able to sell paintings and communicate to a market and be on shows and be recognized for the time they put in," said Rachel Erhgood, art program coordinator at Project HOME.
  Erhgood attended her first art class ten years ago when she began working at the project part-time. Over the years, she helped Project HOME organize small exhibitions, receiving outreach from Drexel University and the Philadelphia Museum of Art.
  The art program, claims Erhgood, along with the adult education and employment services programs, help acclimate residents to professional settings, growing skills and confidence through spiritual expression.
  "Everybody is valued here for what they want to do and where they're at," explained Erhgood.
  "There's no judgement, there's no harshness, we're here to create whatever our hearts desire."
  And that's exactly the environment Kai Oceans needed.
  Oceans, who began living at Project HOME in April of this year, is now able to pay his subsided rent through savings from odd jobs, candle making, and artwork. He also earns money by speaking at high schools through the young adult program.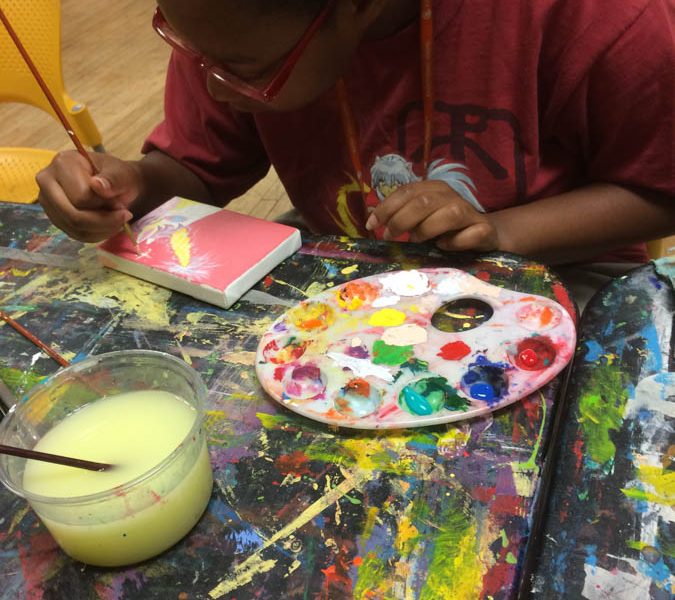 After hurting his back in 2011, Oceans could not sit at the computer to finish his digital artwork. Family dysfunction and subsequent shelter living also prompted his hiatus from art. He found the courage to create again after participating in some of the aforementioned programs.
  "I might not be where I want to be but I can still do this," said Oceans, who aspires to be a video game designer.
  Without any formal training outside the arts program, Oceans recently watched someone buy one of his pieces at an exhibition at Drexel. However Oceans said he doesn't make art for the money or a career.
  "The money is nice," explained Oceans, "but what I'm learning is having a massive effect on my life. I'm learning my creative process, I'm learning about life."
  Living at Project HOME has provided Oceans with a safe space to heal through creation and self-reflection. The artistic process, he said, is like anything else in life.
  "If you try too hard it comes out all funky," said Oceans, "but don't stop. Keep refining, and before you know it you'll come out with something you love." •