Features, History in Cecil B. Moore
Know Your History: Cecil B. Moore, Great Philadelphia Civil Rights Leader
---
Cecil B. Moore impacted the city of Philadelphia in significant enough of a way to have a street renamed in his honor. Moore was living in the city during a tense time in our nation's history; after the Second World War and before Brown V. Board of Education. Cecil B. Moore experienced many successes in his life, but his role in the Civil Rights movement is unfortunately overshadowed by other historical figures, even though he affected the city greater than just about anyone.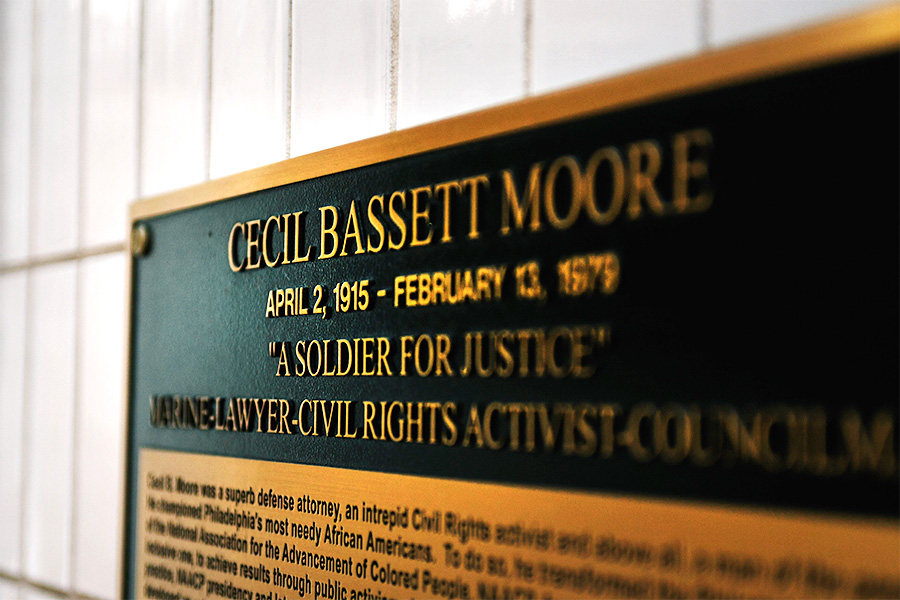 Cecil Bassett Moore was born on April 2, 1915 in Dry Fork, West Virginia to a physician and schoolteacher. He moved to Kentucky and graduated from Gary High School before returning to his home state for college. Upon graduating from Bluefield College, Moore took a job as a traveling insurance salesman. Before he became a "soldier for justice," he became a soldier in the United States Marine Corps. Moore would eventually be promoted to the rank of a sergeant, which was the highest rank a black man could receive at that point in time.
Moore married his wife, with whom he would have three children, in 1946 and completed his nine years of military service in 1947. The following year, Cecil moved to Philadelphia to attend Law School at Temple University. With the aide of his GI Bill, Moore paid for his night classes. To support his family and pay for his other expenses, Moore was a liquor-wholesaler. He developed many good relationships with the bar owners he had business with, and soon his interactions with them became political. He would discuss human rights and the course of action needed to create equality with clients and friends, but he always remained straight forward in his approach.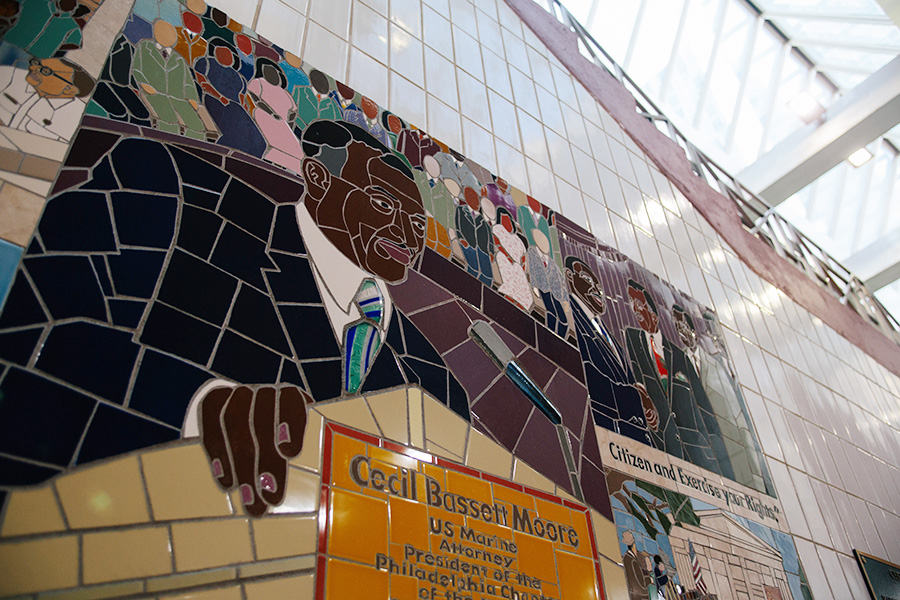 Moore finished his law degree in 1953 and, as a defense attorney, he represented black lower-class citizens in civil rights cases. Even though he was raised in a middle-class family, he worked vigilantly to appear as a regular person. Not only would this help his law career, but it would also help his own Civil Rights movement in the city.
Moore was also in charge of running the Citizen Committee Against Juvenile Delinquency in the 1950s. By the 1960s, he became the president of this organization. In 1962, Moore decided to run for president "as the voice of the working man" for Philadelphia's branch of the NAACP as well. He had a successful presidential race and was inaugurated on January 3, 1963. Even though Moore had risen to power quickly, many people were beginning to see him as a divisive figure for the Civil Rights movement, perhaps because he criticized people by saying things like, "middle-class blacks were 'part-time negroes'." Obviously, statements like that divide people, but Moore would tell you he was just being honest.
Moore began picketing at several places in his first year as Philadelphia's NAACP president. Pickets took place at the Municipal Services Building, a local school in North Philadelphia, and Trailways Bus Terminals. Moore organized citizens to protest construction sites that would not employ black workers. In 1965, Cecil and hundreds of others would participate in his most famous protest out front of Girard College. Every day for seven months, people stood outside of the school in hopes that they would move closer to integration at the 'school for orphans'.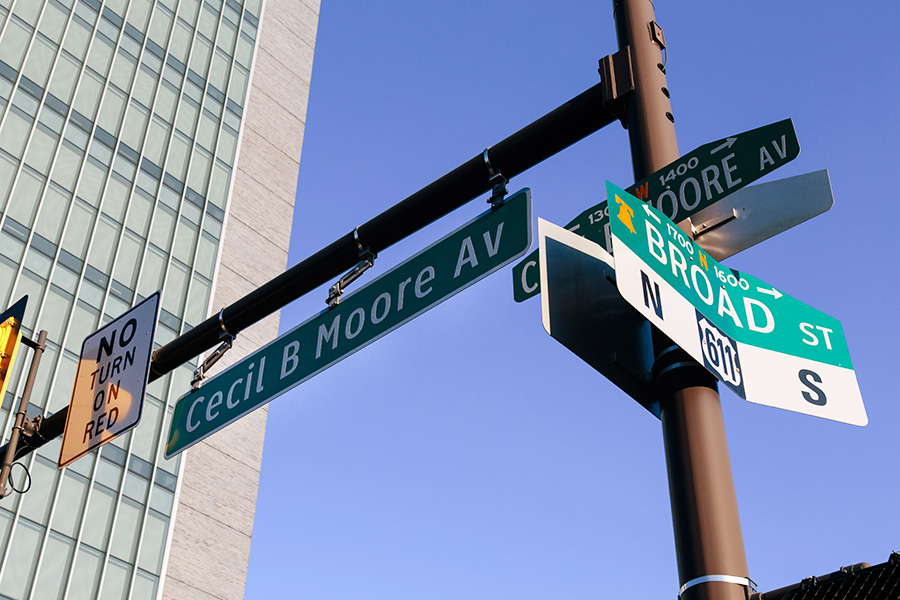 Even though Cecil B. Moore was successful with his protests, other Civil Rights leaders were starting to dislike his approach. Martin Luther King Jr. and Roy Wilkins felt that Moore was harmful to their peaceful approach for equality. Moore claimed that King was weak with his "imported Gandhi philosophy of non-violence." No one can deny that Moore registering 70,000 new voters in the city and increasing the NAACP membership from 6,000 to 32,000 was a sucess. However, Moore's "tell-it-like-it-is attitude" called out other successful strategies, creating rifts in the movement.
In order to strip Moore of power, the NAACP split into three branches in Philadelphia in 1967, so he was only in control of North Philadelphia as opposed to the entire city. In order to maintain his prominence, Moore ran for mayor of the city in the same year, although his campaign was wildly unsuccessful, as he received about 1.2 percent of the vote and finished behind both the Republican and the Democrat also competing for the office.
This did not quell Moore's political ambitions entirely, and he "served as 5th District Councilman from 1974-1979 when he died" from cardiac arrest at the age of 63. His excitable persona may have damaged his heart, or perhaps it was his affection towards cigars and alcohol.   "He incessantly drank; Old Grand Dad being one of his favorite vices."
Cecil may have been aggressive, but he was pure in his intentions. "I don't want more than the white man got, but I won't take no less," he said.
In case you wanted to pay respect to the straight-talking activist, you can pass by his house at 1708 Jefferson Street, which he bought in 1974 from another Civil Rights Leader (no coincidence), Raymond Pace Alexander, the first black judge in Philadelphia. The most recent owner of this property bought the historical house in 2015.
Information for this article came from Articles.philly.com, Blackpast.org, Cecilbmoorephiladelphiafreedomfighters.wordpress.com, Newsworks.org, Northerncity.library.temple.edu, Philaplace.org, Philasun.com, Planphilly.com, and Zillow.com.