Features, Satire
"Leave it to Beaver" Inspires River "Ward" Art Installation
---
WARNING: The following is a work of fiction and part of #SpiritSatire, a column intended to provide comic entertainment for readers. Think of it as The Onion, but hyperlocal. Sounds fun, right? Got something (really, anything) you'd like us to poke fun at? Shoot us an email at news@spiritnews.org.
City Council has commissioned a Fishtown metal worker to create a 36-foot statue in the likeness of Hugh Beaumont (1909-1982), an actor and ordained minister best known for his portrayal of Ward Cleaver, the stern and morally minded father figure from TV's "Leave it to Beaver" (LITB). Many local fans of the mid-century series are eager to see its proud patriarch forever enshrined as a massive monument, permanently anchored off the shore of the Delaware River.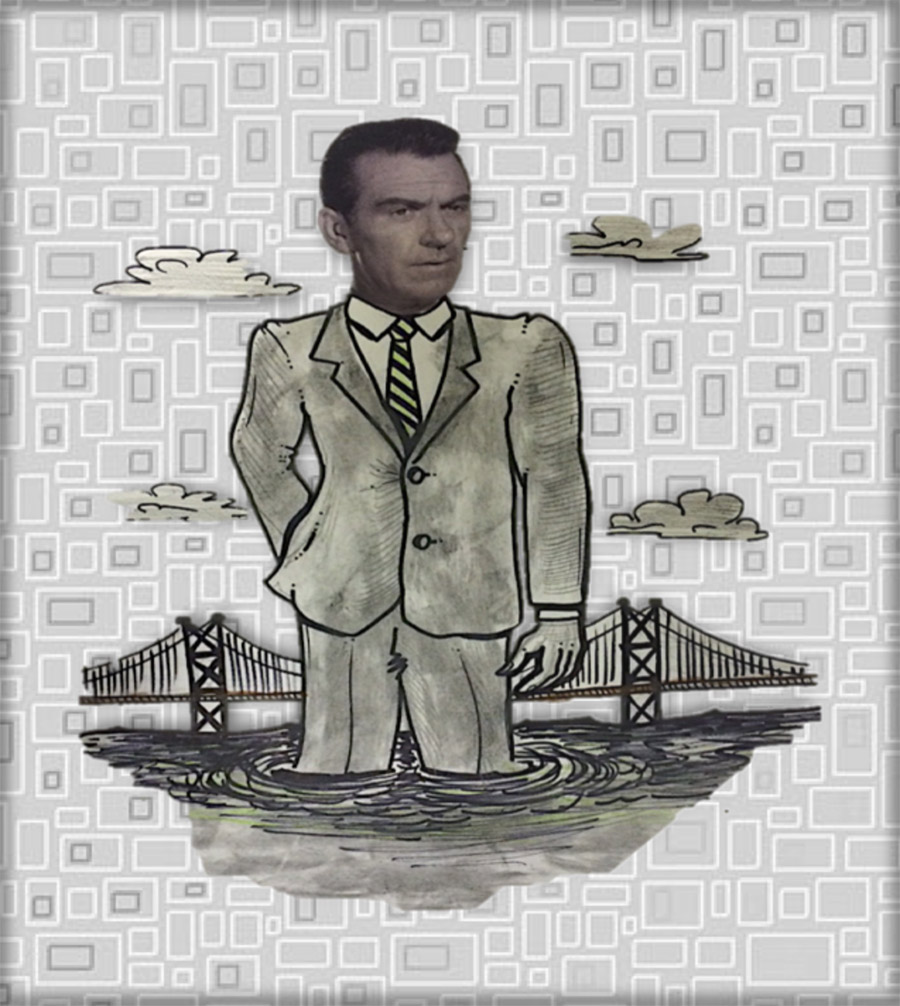 "The Riverwards are the perfect place to erect a real-life river-Ward," according to 26-year-old barista, Bonnie Wexler, an avid enthusiast of LITB reruns and bad puns. Wexler, who recently relocated to Northern Liberties via Bucks County, explained her emotional connection to the forthcoming art installation.
"It's like a tribute to my suburban heritage, but it also reminds myself, and so many of my contemporaries, of why we moved here: To get away from our Republican fathers."
Wexler proceeded to expound on her daddy issues for twenty uncomfortable minutes, concluding with, "I might love decorative taxidermy, Dad, but I'm a vegan now and I refuse to go hunting with you."
For 65 year-old Bridesburg native, Bob Reilly, the statue will evoke memories of better times. "Dig this: There was a chicken in every pot and a car in every garage," he recalled. "And I'm not talking about free-range chickens and Toyotas, man; I'm talking about real-deal, antibiotic-injected poultry and gas-guzzling Chryslers."
Since the project secured $200,000 in government funding last month, popularity of LITB has resurged throughout local neighborhoods, as evidenced by the upcoming "Beaver Burlesque Show" at Kung Fu Necktie, as well as an undisclosed Mexican restaurant's newly introduced, Beaver-inspired fish taco.
"When I first saw the artist's rendering in The Spirit last month, I thought, 'why do we need a statue of Mitt Romney?' but then my flat-mate showed me an old episode of Leave it to Beavis and I was instantly hooked," said 24-year-old Marc Gibson, part-time medical marijuana tester. "I relate to the show's bully, Eddie Haskell. He's like every kid from my generation, a total sociopath," joked Gibson.
But for some Riverwards residents, the project is no laughing matter. "I think it's a huge waste of taxpayer dollars," said 44 year-old Molly Mason of Kensington. "We have bigger problems to worry about; for starters, there's prostitution, addiction and theft — and that's just my brother."
In an exclusive interview with the project's mastermind, Allison Alloy, The Spirit had an opportunity to discover the artist's true intentions.
"This will be my first non-fish-shaped metal project and it has a lot of deep meaning," said Alloy.
"It's not just about tongue-in-cheek wordplay; it's supposed to be a shocking commentary on a fascist era, a time of open racism and suppressed femininity," she explained. "I hope it'll make people ask themselves, 'Why is Beaver's mom content to vacuum all day — just because Ward gave her a pearl necklace?' The show even had a character named Whitey. I'm not kidding."