Features, Health, Lifestyle, Local Business in Fishtown
Listen to My Mantra: New Fishtown Studio Fueled by Mantra Meditation and Travelling Monks
---
 Mantra Lounge wants to help you free your mind. The new mediation studio nestled along Girard Avenue is dedicated to live music mantra, which — through a session of collective call and response-style music — aims to decrease stress and anxiety in one's life.
  Curious and intrigued by the art of kirtan — what they call mantra meditation — I visited the new studio on Friday, Aug. 12 for its kick-off event. Mantra Lounge is fueled by an inspiring, energized group of volunteers who have been active within Philly's mediation and yoga scene for years. They have even hosted on-going events at Bikram Yoga on Sansom Street, among other locations.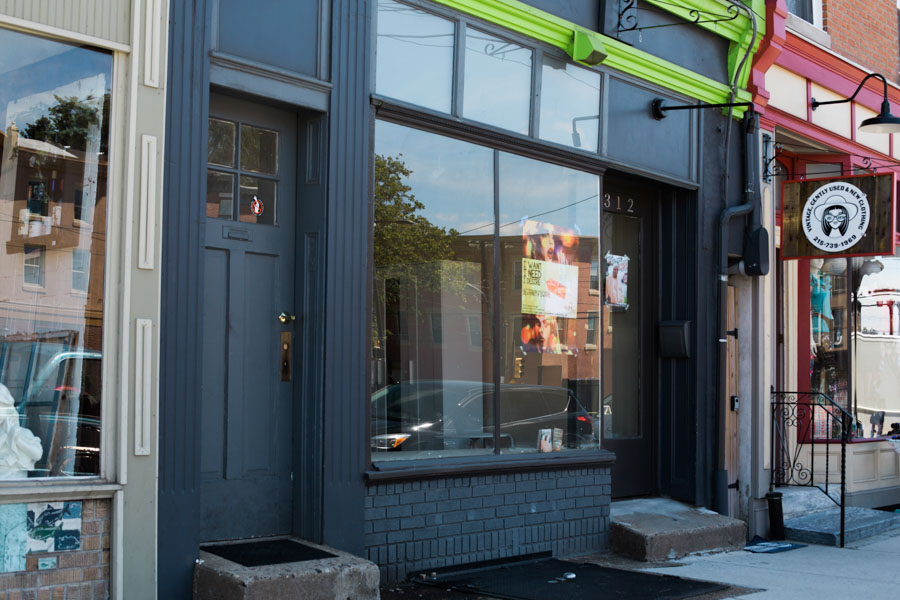 Positioned as a large street-level studio with one mediation room as its focal point, I popped by on opening night and was immediately requested to pass off my shoes and find a pocket of space on the floor, where I'd join over 60 others as they chanted the "Hare Krishna" mantra. The repetitive, rhythmic mantra was led by the beat of a bongo drum. The group of words in the Sanskrit (the primary sacred language of Hinduism) is believed to have psychological and spiritual powers.
  At my first-timer event, I uncovered that Mantra Lounge's celebration of mediation can be easily compared to yoga. In comparison, yoga postures help to relax, strengthen and tone your body, where as mantras act as a revitalizing tonic for the mind. The word "mantra" literally means to "free the mind" and the term itself can be dated back to the special sound vibrations found in the ancient yoga texts.
  An on-going part of the studio's culture is to host visits and interactive discussions with traveling monks. For day one, they acquintated the Fishtown community with Devamrita Swami, a monk in the Krishna bhakti tradition, who has spent his last forty years traveling the world to share sharing the teachings and lifestyle of bhakti-yoga. A once-attendee of Philly's Central High School and a Yale grad, Swami's goal is to speak to modern problems while drawing wisdom from ancient yoga texts.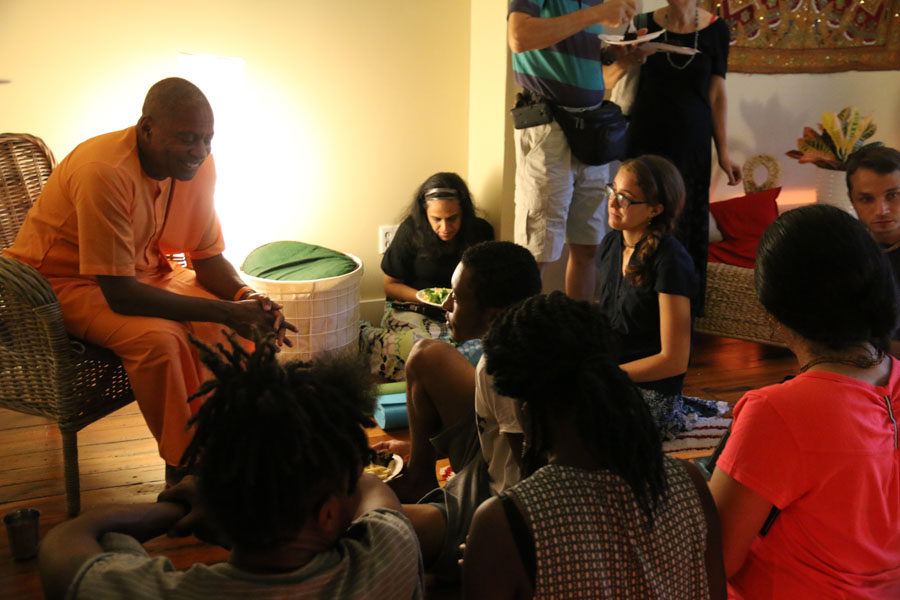 Not only did the traveling monk discuss the price of illusion on Mantra Lounge's opening night, but he also led city-wide discussions throughout this week on topics of desire, love, finding happiness and living spirituality through sustainability.
  If you're like me, unaccommodated with mediation in general—especially that involving mantra chants, consider exploring Mantra Lounge's regular programming that will begin as of Aug. 22. The community-fueled studio also hosts regular workshops off-site and out-of-the-city retreats. For more information, visit mantraphilly.com. Find Mantra Lounge at 312 E. Girard Ave. in Fishtown.