Features in Fishtown
Lutheran Settlement House Celebrates $1.5 Million Renovation Project
---
Last week, Lutheran Settlement House (1340 Frankford Ave.) held a Ribbon Cutting Ceremony and Community Open House to celebrate what $1.5 million, 10 years of planning and 2 years of renovations have done to the 113 year old building. Improvements include a "healthy living deck" that overlooks a garden bed and a commercial grade demonstration kitchen and food pantry for their senior center.
"The fact that this has been done to the original building is just marvelous," Board Member Ralph Wellington said. "This first feeling I have is joy everytime I walk around here."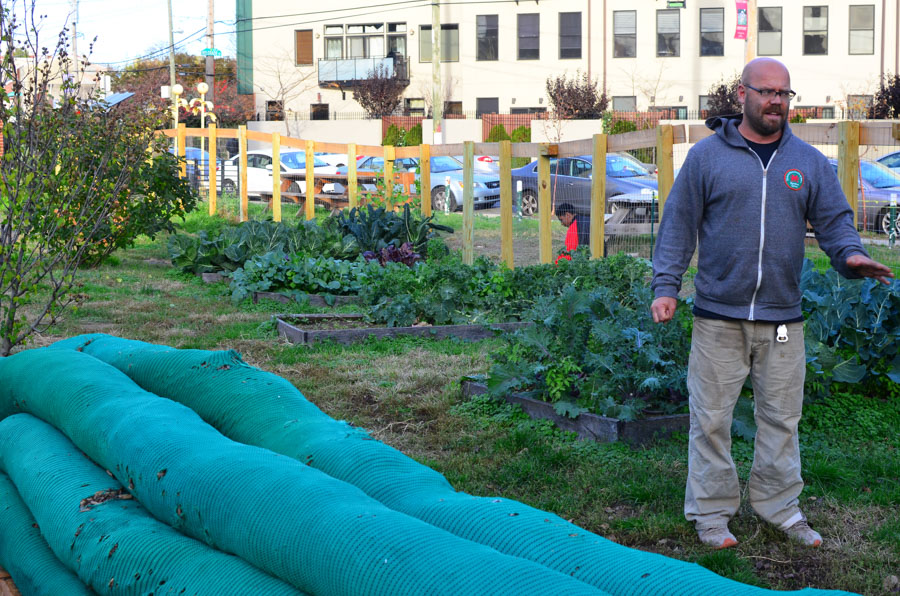 Lutheran Settlement House (LHS) is described as a non-denominational center. Staff and members of the house come from all kinds of backgrounds of different religions and cultures and participate in the many free programs offered by LSH. According to their website, some of those programs include the Senior Center, a Bilingual Domestic Violence Program, a home for the homeless called Jane Addams Place, a program for adult education and helping them find jobs called Community Education and Employment Department and many installments within each program. All of the attendees had bright faces in recognizing all the LSH has done for the community.
"They [Lutheran Settlement House] do so many things for this community," City Councilman William Greenlee said. "They have really become a base for this community over here."
The celebration started around 3PM across the street from LHS with a tour of the new Intergenerational Farm. This area was originally a parking lot used by local motorists until LSH discovered the area was not zoned for parking. The space was turned into a community garden and is now taken care of by seniors and children who come after school. The farm is still in the process of development and with winter on the way LHS will take a break on the renovations until warm weather returns.
Inside of LSH, seniors partook in Bingo games (Thanksgiving-themed salt and pepper shakers were the top prize) and light refreshments (including coffee, water, tea and popcorn) made in the new and improved kitchen were served.
The group then moved outside to the healthy living deck, which City Council President Darrell Clarke called "the best front porch in the neighborhood." A group made up of folks of various ages were heating things up in the cool air as Arnold Zacharias lead dances like "The Electric Slide" and "Cupid Shuffle". Zacharias has been running line dancing program at various senior centers for the past 20 years, teaching the dances at the LHS Senior Center each Thursday at 10AM.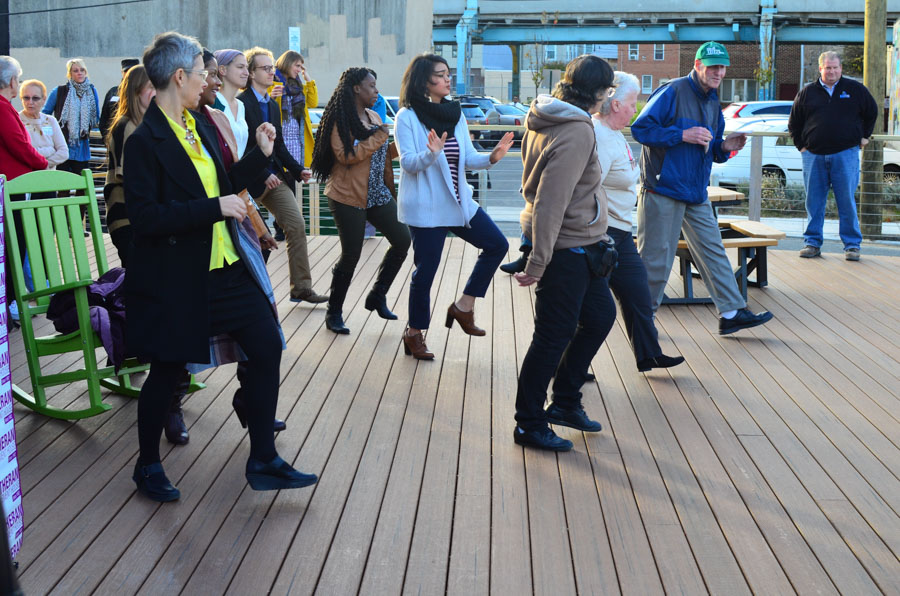 Kelly Davis, LSH's Executive Director, kicked off the official ribbon cutting ceremony by introduced speakers such as Councilman Greenlee, Council President Clarke and members of the senior center.
"I know you call it the Lutheran Settlement House, but [Councilman Greenlee and I] call it home," Council President Clarke said
Members of the LSH staff, Dora Tessler (a seven year member of the senior center), Councilman Greenlee and Council President Clarke then cut the red ribbon — a momentous occasion for LSH.
"We have been here a long time; we are an anchor in the community," Davis said. "We wanted to take advantage of the new energy in the neighborhood. Open up, lighten up, welcome everybody in."
Once the ribbon was cut, a group of local restaurants (including La Colombe, Frankford Hall, Johnny Brenda's and Joe's Steaks) donated $2,500 to LSH. The party continued inside where Zacharias again started leading line dances for anyone to join.