Community, Family, Features in Cecil B. Moore
Million Moms: Solidarity March Against Gun Violence and Police Brutality Held in North Philly
---
  Thousands of mothers and families shut down the southbound lanes of North Broad Street on Sunday, October 16th to march in solidarity against gun violence and police brutality. The event, titled "The Million Moms March", was organized by Mothers in Charge, a national organization with the goal of addressing gun violence and homicide as a public health issue.
  The gathering started before noon with speakers and uplifting entertainment from around Philadelphia. Shortly after noon, participants marched down Broad Street from Cecil B. Moore Avenue and rallied at City Hall.
  Participant Jay Chris spoke about her experience consoling a friend who had lost a brother to gun violence. She recounted her friend asking her if she knew how it felt to have to go to the funeral home to see the body of a loved one.
  State Representative Donna Bullock spoke of her struggle as a mother to know when to have "the talk" with her her sons.  By "the talk," Bullock was referring to the talk that many African-American parents have with their children on how to act when they are stopped by the police.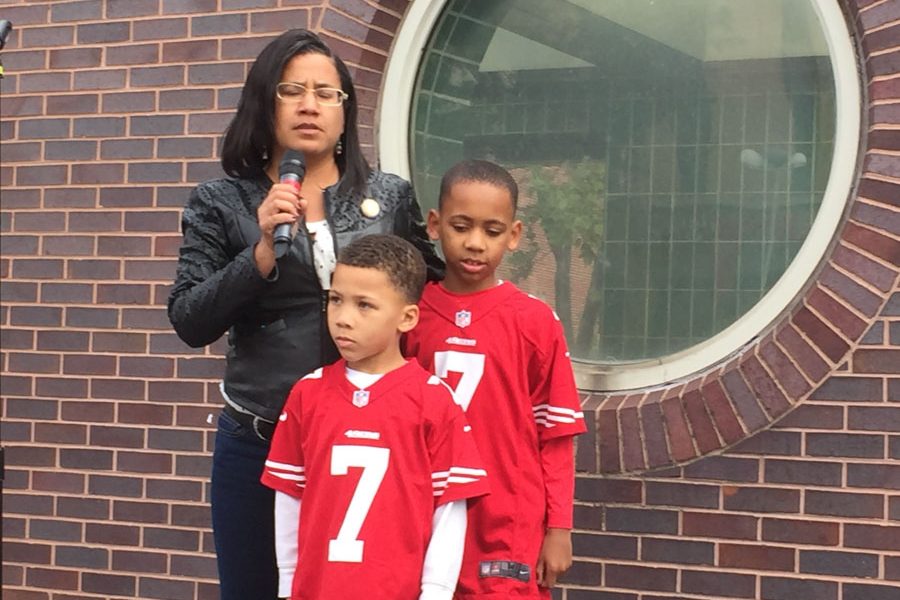 "You know the talk," she said. "Don't look the officer in his face. Keep your hands to your side. Don't make any sudden movements. I don't want to have that talk."
  Bullock wondered how she can raise her sons to be confident young men in a world that fears the strength and confidence of black men. "How do I teach them about their own strength when this world is fearful of that?" she asked.
  In light of recent events, Bullock expressed her bewilderment at what age to even have "the talk" with her sons. "The more I think about the talk and when I give it, the question really is 'why?'" she said. "Because this society is not ready for them."
  As a legislator, Bullock wants to break down the social norms that make it acceptable to devalue the lives of black men and women.
  All in all, more than a dozen people took to the stage to rally the participants to commit to ending police brutality and gun violence. One such speaker was Guardian Civic League President Rochelle Bilal, a mother and a retired police officer. Bilal said mothers can "get this done."  She asked the crowd of mothers if they check their children's bedrooms regularly.
  "I'm a mother. My daughter still lives with me. I still check her damn room every week," Bilal said. "She ain't bringing nothing in my house."
  She said mothers should not tolerate any violence and that starts with the way they handle their own children. "It's on us," Bilal said. "We're going to stand in our communities. We're going to get it done. If you don't think you can get it done, there's a lot of proud men out there who can help you."
  Bilal said that she is tired of people saying that her community is desperate, and said that her community is just like every other community in the city.
  Democratic nominee for state representative in the 192nd district, Morgan Cephas, emphasized how critical it is to invest more money into schools as a starting point for reducing gun violence. Money should be invested in career-training programs in schools, she said.
  "It's important for our nation to understand that our black boys, our black sons are more than just incidents around Trayvon Martin," Cephas said.
  She spoke of Steven Wilson, Tahir Barnes and Bernard Scott, young men who lost their lives to senseless violence in Philadelphia. She attributes this violence to black boys not being educated properly, not graduating on time and many returning home from prison, unable to find gainful employment.
  Cephas also encouraged the crowd to contact elected officials and get involved in their communities.
  Author and self-described revolutionary Mitchell Chance encouraged African-Americans to work within their communities to find solutions to racial violence.
"Integration did not happen because the powers-that-be had some kind of moral epiphany," Chance said. "Integration was solely to make us concede to authority and the control of our own neighborhoods."
  Chance spoke of the need for self-advocacy in addressing the problems facing his community. "If wanting to have my own police force to make sure my people are safe is racist, well, then you can hand me a Klan robe," he said. "If wanting the best for my people is hate, then I don't want to love."
  Many mothers who had lost their sons to violence, either at the hands of police or at the hands of a shooter on the street, walked with the crowd and carried Black Lives Matter signs and posters with the pictures of their lost children.
  Sharise Hammond is the mother of Dante Williams, a young man who was shot and killed on July 30th. Williams was 24 when he was murdered.
  "He was sitting in front of the store," Hammond said. "It was senseless and uncalled for. It took away a vital part of my life."
  Hammond wore a screen-print t-shirt with a picture of Williams on the back.  Hammond's son's murder remains unsolved. "The police are still working on it, but the devastating effects of senseless murder are tearing families apart," Hammond said.
  Another mother, Sherlin Ward, lost her son in March 2005 when he was 30 years old. She said he was fighting with a young man whose brother intervened by shooting her son in the back of the head and in the chest.
  "He loved people. He loved life," Ward said. Her son left behind a wife and four children, one of which his wife was pregnant with when he was killed.
  Ward said her son was loved by so many people that the 33 bus had to be rerouted during his funeral service. Ward was angry and grieving, but she channeled her anger into her work with Mothers in Charge. "The children have never gotten over it," Ward said. "He doesn't get to see his children go to prom, graduation or walk them down the aisle." •
THANKS FOR SUPPORTING SPIRIT NEWS!
Please follow this link to visit Amazon.com through our affiliate portal. It's the same Amazon.com you know and love, but when you shop through this link we receive a small cut at no added cost to you!
By using this link to do your normal Amazon.com shopping, you'll be supporting your local newspaper.