Community, Features in Northern Liberties
N. 5th Street Update: Residents and Civic Associations React to New Speed Cushions in Northern Liberties
---
  For years, North 5th Street, from Spring Garden to up past Lehigh, has been hostile territory to anyone outside of the relative safety of a motor vehicle. Two lanes and long stretches without traffic lights have turned this residential corridor, full of families and their children, into Philadelphia's answer to the Autobahn. Four-way, full-stop intersections along this stretch, such as those at Poplar and Brown streets are even more dangerous than the straightaway. Due to the second lane, cars come to staggered stops and vehicles tend to roll through the intersections alongside cars which have already completed their full stop.
   Residents in Northern Liberties, which hosts the section of North 5th between Spring Garden and Girard, have been engaged in a longstanding to struggle to make this corridor safer for pedestrians and bicyclists. Recently, the Northern Liberties Neighborhood Association (NLNA), through negotiations with the Streets Department and City Council President Darrell Clarke, received approval for two speed cushions to be installed on N. 5th Street. They were put in on August 12th.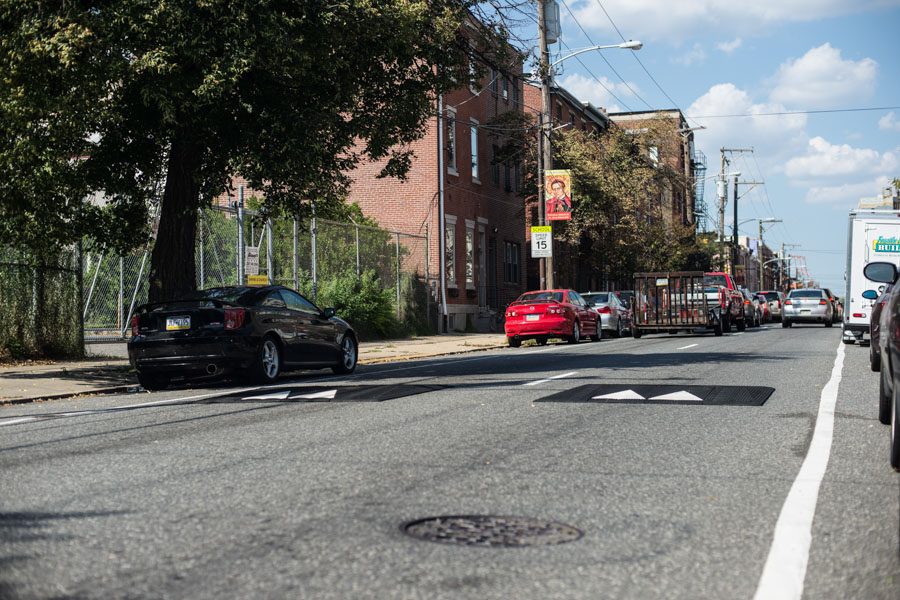 "They're on a trial basis right now. But there has been an immediate change," said Matt Ruben, President of the NLNA. "Traffic is undoubtedly slower."
   Speed cushions differ from speed bumps in that they can be crossed at a higher rate of speed, 25 miles per hour for cushions versus around 5 for bumps. They are wider with a more shallow slope and contain gaps in which emergency vehicles, which have wider axles, can pass through without slowing down.
   But speed cushions, while effective in certain ways, are far from a solution to the problem on N. 5th Street. In fact, they have opened up a few problems of their own. One of the cushions is placed in an area in which the shoulder of street is a designated "No Parking" area. This means there is a gap between the cushion and the curb, wide enough for cars to pass through. Some cars have been swerving around the cushion and into the shoulder, endangering the lives of the cyclists and pedestrians who use the shoulder to keep their distance from the menacing traffic.
   "We've gotten complaints," said Randy LoBasso, Communications Manager for the Bicycle Coalition of Greater Philadelphia. "Within two days of the speed cushions being installed, someone put a video up on the Bicycle Coalition website of cars swerving around the bumps."
   Ruben is aware of this problem and has proposed several solutions such as allowing parking, extending the cushion, or installing a barrier in that section of the shoulder. He believes that the speed cushions should not be faulted for the dangerous driving and that the gap is simply an error that must be corrected in order to have the cushions functioning at their full potential.
   Sara Hirschler is a resident of the neighborhood around this stretch of N. 5th Sreet. She says she was initially hopeful when she saw that the speed cushions had been installed.
   "I had avoided [biking and walking on] 5th Street because I felt unsafe," she said.
   Since the installation of the cushions, Hirschler has come back to riding on N. 5th Street, but feels the solution is only halfway there. "People seem a little more cautious but then they speed up after crossing the cushion, as if making up for lost time," she said. Hirschler has also encountered the problem with cars swerving around the cushion into the "No Parking" zone.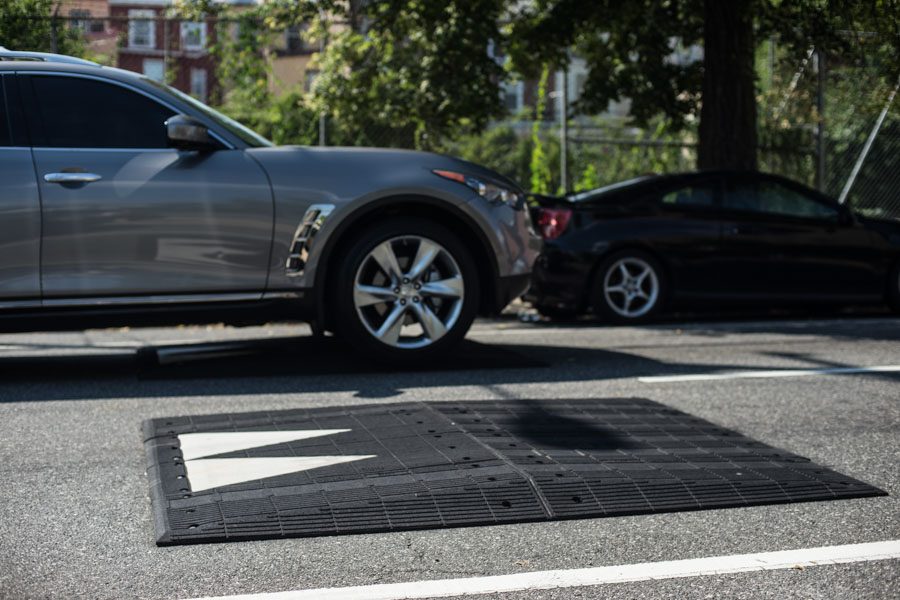 What Hirschler, LoBasso, and Ruben all seem to agree on are the benefits of installing a protected bike lane on N. 5th Street, a proposal which has been approved but has not, as of yet, been granted a time frame. The newly refurbished 5th Street tunnel, which spans between Race and Callowhill Streets features a bike lane separated from car traffic by a series of bollards. Ideally, this lane could be extended up past Spring Garden (where the current lane terminates) and as far north as funding will permit.
   LoBasso reminds us that the speeding problem doesn't end at Girard but continues up to Allegheny and beyond. 5th Street remains two lanes all the way up into Franklinville, where it intersects with Rising Sun Avenue.
   "I find it mind boggling that the 5th Street bike lane just straight up ends after Spring Garden," Hirschler said.
   LoBasso has also suggested that timing the lights differently may help slow down the flow of traffic. On Pine and Spruce Streets (streets which both contain bike lanes), lights are timed so cars traveling at a fixed rate of 20 miles per hour will hit all green lights. "Anything that slows down car traffic increases bicycle safety he said."
   While it seems that the speed cushions are helping the 5th Street situation, there is clearly much more work to be done. Ruben says there has been a new stop sign approved for the intersection of 5th and George Streets but does not yet know when it will be installed. Information on the proposed bike lane will be provided as events warrant.