Community, Features in Northern Liberties
Northern Liberties Neighbors Association Celebrates 40 Years, Unveils Plans For New Rec Pavillion
---
  In the 1970s, Northern Liberties was a neighborhood in transition. The breweries and factories that once sustained the area were on their way to permanently closing their doors. Many of the community's residents left Philadelphia all together. A new group of artists and progressive thinkers were eager to snatch up places to live in the neighborhood as rent and property values declined. By the mid-1970s, Northern Liberties began to organize.
  The Northern Liberties Neighbors Association (NLNA) was formed on October 18, 1976, in the the midst of NoLibs' demographic shift. The NLNA recently celebrated this anniversary by inviting neighbors, members and politicians past and present to enjoy food and drinks at the NLNA Community Center.
  The event also served as a platform to announce plans for a new pavilion on the existing courtyard at their office at 3rd Street and Fairmount Avenue. According to NLNA, the project is largely funded from a $178,000 donation from the Penn Treaty Special Service District (PTSSD) and pro-bono services from several local residents and groups.
  Matt Ruben, the president of NLNA, along with distinguished guests including Congressman Bob Brady, Councilman Mark Squilla, Council President Darrell C. Clarke and former First District Councilman Frank Diccico delivered remarks to a crowd of about a hundred people.
  "We realized we need to secure our long term future and we need to provide more space and amenities so that we can meet the ever rising demand of the community," Ruben said. "The biggest piece (is) to take this underutilized gravel thing outside of our building and turn it into a safe green environmentally responsible usable space, the centerpiece of which is going to be an outdoor permanent pavilion that is going to be a strong message of what public and private cooperation can do and what a community can do when it comes together."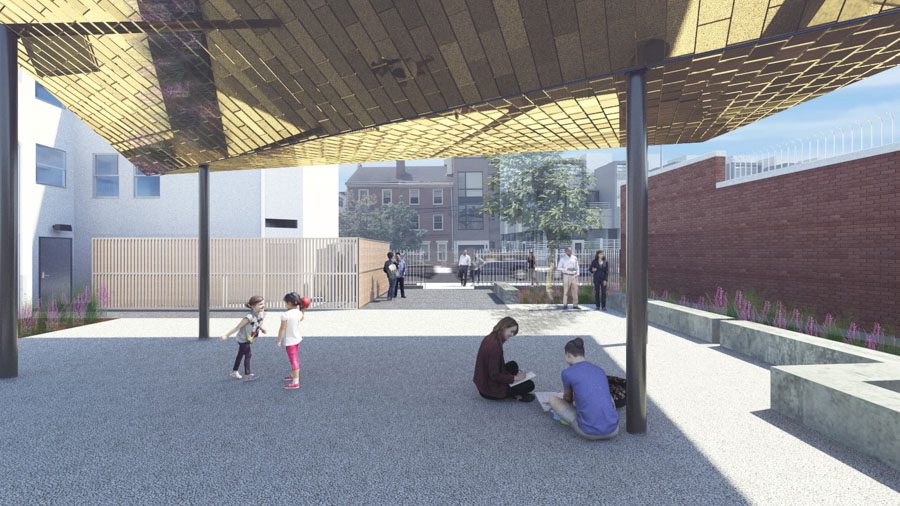 According to NLNA, the community center and their courtyard are currently the site of many community events including a children's summer art camp and the NLNA plant sale. Since more activities occur in summer than winter, the emphasis was focused on creating an area that is shaded throughout the day.
  They brought in Northern Liberties-based architectural firm KieranTimberlake, which annually donates one percent of the company's time to community service and engagement, to design the space. According to NLNA, KieranTimberlake conducted thorough shading and microclimate studies to maximize the use of the pavilion.
  Spirit News was provided with a digital rendering of the finished pavilion. The "folded" roof design channels rain water into one of the several low-maintenance planters that border the space. The roof is also designed to provide shade from all angles as the scorching summer sun passes overhead.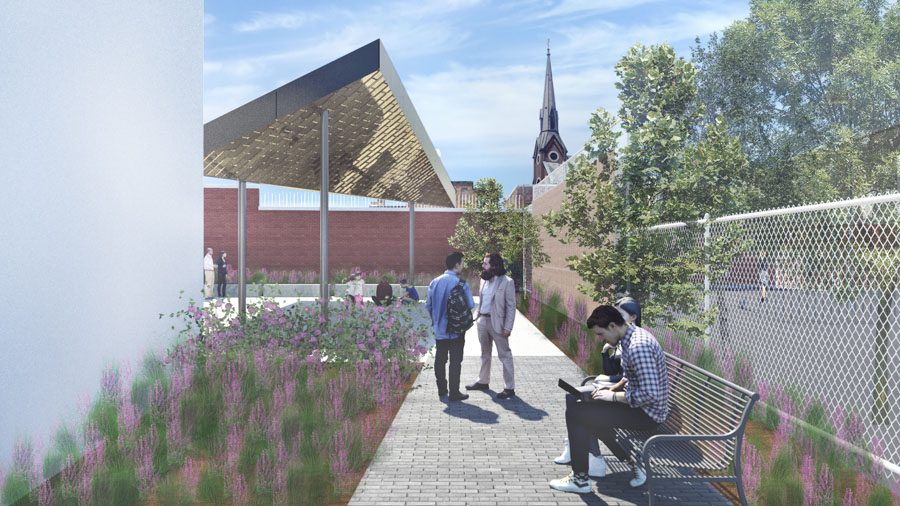 The project is expected to be completed in spring 2017  and, in true NoLibs fashion, will be a shining example of a shared urban space. The landscape design includes stormwater management elements and a partially covered open air space that will become a place for community gatherings of all types.
  Former Councilman Frank Dicicco has seen many projects in NoLibs come to fruition under his leadership. During his remarks, he reminisced about a neighbor who was upset with dog owners using an open space on Orianna Street, which would later become the Orianna Hill Park or "The Dog Park" as many NoLibs residents refer to it as.
  "I would get a call from this guy who lived on Orianna street literally every day. I always try to convince my friends who are thinking of moving out of Philadelphia to stay, after about two months I said move, you'll do us all a favor," Dicicco said. "He left. The dog park is still there, it's thriving and it's part of the growth of this community."
  Council President Clarke believes civic organizations and Registered Community Organizations (RCOs) of any size are key to the vitality of a neighborhood.
  "Wherever possible I encourage people to organize and create whatever type of RCO civic organization, community development organization. It actually makes it a lot easier for us as elected officials," Clarke said. "Every neighborhood has some sort of organizational structure and in some instances you might have an organization of one. "It's just that one person in the neighborhood that cares about everything, and as issues come up they pull people together."
  Both Brady and Clarke see RCOs as the voice of the communities they represent.
  "They're the watchdog. They're the eyes and ears. They're the ones that stabilize the neighborhood," Congressman Brady said.
  "Civic organizations are the backbone of the city of Philadelphia," Councilman Clarke said. "The things that make things happen in communities are good strong organizations. This is one of the stronger civic organizations."
  NLNA has been there for the entirety of Northern Liberties' renaissance and Council President Clarke hopes other neighborhoods looking to organize will take note of what NLNA has achieved in Northern Liberties.
  "To have had a sustained organization like it is extremely commendable and I ask organizations around the city to take a look at what's happening here and try and replicate that in their individual neighborhoods," Clarke said. •
THANKS FOR SUPPORTING SPIRIT NEWS!
Please follow this link to visit Amazon.com through our affiliate portal. It's the same Amazon.com you know and love, but when you shop through this link we receive a small cut at no added cost to you!
By using this link to do your normal Amazon.com shopping, you'll be supporting your local newspaper.

Try Amazon Prime 30-Day Free Trial