Features, Local Business in Spring Garden
Outfits For Success: Career Wardrobe Launches First-Ever Fall Lookbook
---
  Mt. Airy native Danielle Townsend is on a mission to outfit you for success. As a program coordinator for Career Wardrobe, a 21-year-old nonprofit situated on Spring Garden Street, she and her colleagues utilize clothing donations and professional development to empower and prepare unemployed women — and recently men — to reenter the workplace.
  In March 2016, Townsend along with her two program coordinator colleagues, Shauna Ekezie and Brooke Reeder, joined the Career Wardrobe team to build and expand the social enterprise brand.
  "I like to think of us as 'retail with a purpose,'" said Townsend. "The two other program coordinators and I were hired thanks to a grant given by the state to serve Philadelphia. The grant opened the doors for us to come on board — we are actually the ones styling our clients."
  Since Career Wardrobe is a combination of community building, as well as retail and fashion — all of which Townsend and her team are passionate about, they decided to expand their clientele by introducing a high-end lookbook for the fall 2016 season.
  "We are working to get bigger, better and continue to grow, exploring more ways we can serve our community," she said. "We want people to get involved and we want more younger shoppers to come in and see what we are all about — get them interested to shop but also to volunteer. It's such a great cause and I feel that fashion is [such a] facet in our lives that people can come together and collaborate."
  During a recent visit to Career Wardrobe's main hub, Danielle — a fierce and fun 26-year-old fashionista—gave us a preview of the 25 looks that will be revealed this week in their digital lookbook. The color-splashed pages of the fall-themed fashion line were curated by both Townsend and Ekezie, who worked together to transform select pieces of Career Wardrobe's high-end donations into a show-stopping, must-have collection.
  For example, eager shoppers with an eye for fashion will soon be able to vie for a nautical-themed business suit that consists of a medi skirt with a sleek Yves Saint Laurent blazer. There's also an eclectic floral-print Betsey Johnson jacket and a vintage button-down denim dress complemented with a fur vest that we predict are hits for any office. Just one page-through and you'll agree, Townsend is trying to redefine the notoriously stiff looks of the workplace.
  All the stylized outfits being revealed in the nonprofit's lookbook will be for sale immediately to the public. Just one facet of Career Wardrobe's mission is to outfit women for better-paying opportunities. They're a service that operates largely by referrals from approved organizations like PA Department of Human Services, independent job training agencies, domestic violence shelters and homeless and housing programs. However, Career Wardrobe recognizes that everyone may need help some point in their working lives, outside of their approved referral program, so they also offer open access to their dressing services for a small fee — $20 for a whole outfit! — once a year. Most recently, they have targeted college students and recent graduates to help expand their open-access program.
  There's also the Wardrobe Boutique, which operates as Career Wardrobe's storefront and styling center for all clients and is open to the public. That's right, the Spring Garden Street boutique isn't just for referrals, you can shop the well-curated resale boutique that Townsend and her team have designed. With a goal to target all ages and styles, swing by to explore options like their new vintage rack and denim bar, as well as the high- to low-end design brands.
  "Shauna and I work closely together to figure out our inventory and visual merchandising," said Townsend. "We have something for everyone—no matter what's in your pocket. You can come here and find a Moschino blazer thag normally runs for $300, shop mid-level brands like J. Crew or Loft and even spy deals like $5 sandals." The new lookbook's featured ensembles will be up for grabs in the Wardrobe Boutique, available to clients or to the public.
  Though they don't have the retail capacity to sell men's clothes, they host the ability to serve men in the same location. They can be seen like women by referrals, for free with walk-ins or participate in the open-access program—which is $5–$20 depending if you're receiving government benefits.
  Career Wardrobe was founded in 1995 as a "basement operation" to help outfit women for better-paying opportunities. It's become a local service that does much more than elevate your closet. In its first year, it serviced 660 female clients with different needs. Now in 2016, it's on target to service over 6,000 Philadelphians (both females and males).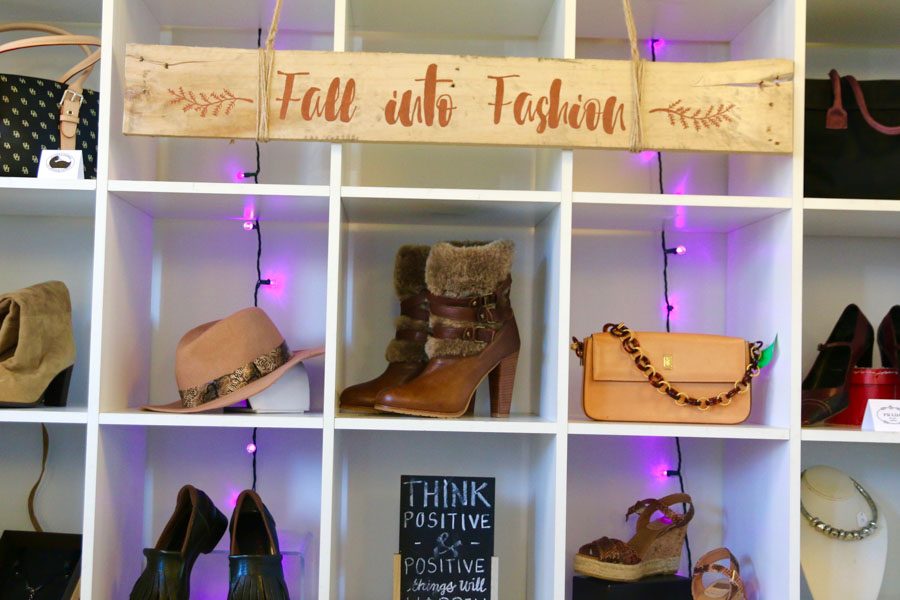 "A new business wardrobe is not cheap," continued Townsend. "Look on Theory's website—a business blazer alone is more than $300. We have become the go-to spot for women who are transitioning back into the workplace and need work-appropriate clothing."   
  Under the leadership of executive director Sheri K. Cole, the Fairmount-based nonprofit also serves its local community beyond corporate dressing. They developed educational programming that was pioneered by program director Cait Garazzo.
  "The whole purpose of Career Wardrobe from the very beginning was to fill an unmet need," said Garazzo. "When there were a lot of funding cuts in what the city and the state are able to provide for unemployed people, we found a need that we could fill.
  "It was really important to us to create something of high quality," she continued. "We have a lot of great volunteers who wanted to help facilitate something—but needed something for them to facilitate. We started with them doing their specialties through one-off workshops."
  Eventually, Career  Wardrobe built a reputable calendar of events, featuring workshops focused on networking, resume and LinkedIn building and role playing for job interviews.
  "We use high-level recruiters for our programming, who are responsible for recruiting executives and CEO type positions," she said. "They can help people where they are and help ensure them that they can get there too and this is what you have to do."
  Career Wardrobe's success operates largely on receiving donations from the surrounding community.
  "When people donate clothes, some of them are appropriate for work and some of them are great for play," concluded Townsend. "Though we can't give the 'play' [clothes] to our clients, we recognize that some of them are still in great condition. They may be cute and trendy, so we sell them in our boutique. When people come in and shop, each purchase is a donation. Those donations help fund our free educational programming. Even if you do something small like donate a few shirts or give a couple dollars, it's great knowing that it's going directly to help someone in need."
  Any donated clothes not given to clients or resold in the boutique are further donated to Goodwill or Salvation Army.
  Inspired to shop, explore the new lookbook, donate or receive help from Career Wardrobe? Career Wardrobe's Boutique is located at 1822 Spring Garden Street in Philadelphia's Fairmount neighborhood. For more information, visit careerwardrobe.org.
  Career Wardrobe also services locations and assists those in Bucks Co. and Delaware Co. •