Community, Features, Local Business
Remembering Dr. King: Service Days Across Riverwards Held in Honor of Civil Rights Leader
---
While Martin Luther King Day is a federal holiday that ensures a day off from work and school for most Americans, many people across the country used the extra time they had off to plan "Service Days" in an effort to give back in their communities the same way that Dr. King did before his untimely death in 1968.
In Fishtown, volunteers from several Philadelphia neighborhoods joined Art Sphere, Inc. for a cleanup day at the Fishtown Rec. Folks in attendance spent their morning cleaning up the recreation center's exterior in 20 degree weather before heading inside to warmer temperatures to complete several art projects.
A group of volunteers from Art Sphere, University of Pennsylvania, Liberti Church and the Fishtown community, touched up murals, crafted Valentines Day cards for seniors and veterans and remembered the ways Dr. King contributed to society.
"Arts Sphere partnered with the Fishtown Beautification Committee back in 2005 because the exterior of the Fishtown Rec was covered in graffiti," Erica Bettwy, an Artsphere volunteer, said. "[The Rec] wanted an art group to come in and help so each year we do touch ups, clean the outside… The Rec wanted to make this place beautiful and safe for kids."
Artsphere is a non-profit organization that works with communities to promote individual and civic empowerment through art education. The organization is involved in a number of ways around the neighborhood, including various art projects at Alexander Adaire K-8, Penn Treaty School and afterschool programs at the Fishtown Rec and Shissler Rec. Kristin Groenveld, Executive Director of Art Sphere, is familiar with Fishtown and focuses plenty of time in the neighborhood due, in large part, to the fact that her own family's roots run deep in the Riverwards.
"My family is from Fishtown," Groenveld said. "My great-grandmother, grandfather, grandmother… are all from here so I know Fishtown historically. There were people who gave back to my family — my grandmother had 13 kids — and a lot of the problems Fishtown has faced, I know first hand."
When a volunteer art program got Groenveld's family involved in the arts it "made meaning in their lives" and created an interest in making things and learning. These characteristics were passed on to Groenveld who has continued to use art to create community today. "I love Fishtown and I'm proud of my family," Groenveld said. "Events like today are sweet and friendly. Art Sphere brings people from all different neighborhoods together into a neighborhood. It's great for Fishtowners to see that their neighborhood is at the center of something that people want to be a part of and are proud of. I think it's great when communities blend."
Joining Groenveld and Art Sphere in their service day was a large group from Liberti Church, a religious group with members from Fishtown, East Kensington, Port Richmond and Northern Liberties. The group was finishing up a service event of their own and was looking for additional ways to pay it forward when they came across the work being done at the Fishtown Rec.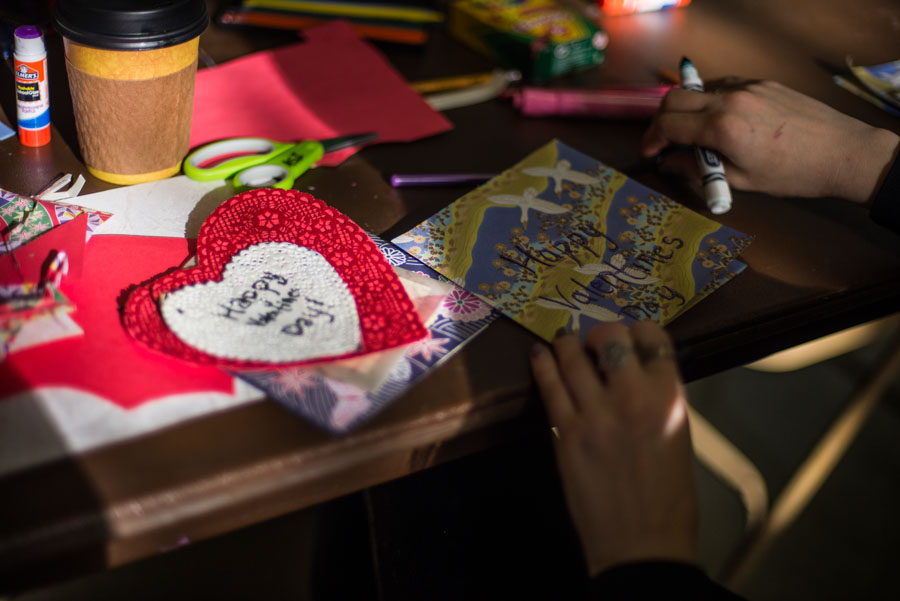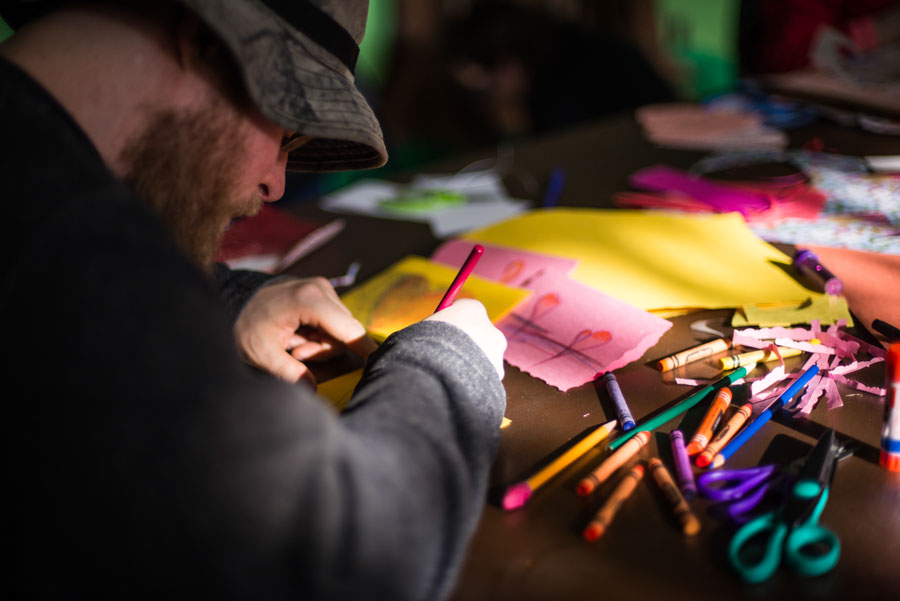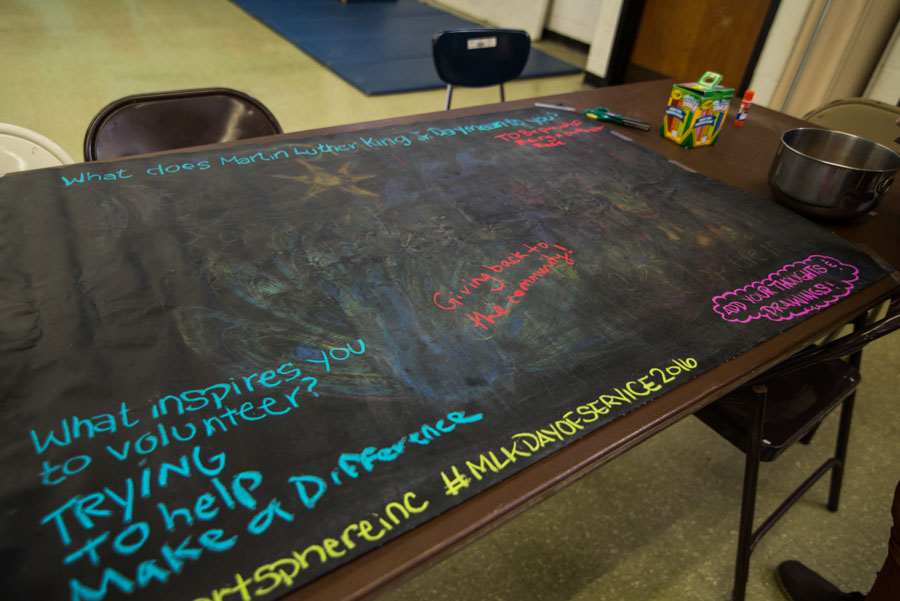 "In the church calendar, we celebrate advent in the weeks leading up to Christmas so in those weeks our church gathered up materials for kids in foster care," Anna Straight, a member of Liberti Church, said. "We collected resources into age-specific bags to be distributed to children entering foster care. We partner with APM, our local foster care program in the Riverwards, to specify what children need in these situations."
After assembling these care packages for foster kids, a group of Liberti Church members looked to other ways they could give back on their service day. That led them to the Fishtown Rec and into the Art Sphere service day being held there.
"I think [MLK service days] like this are a nice way to punctate something that should be happening all the time," Straight said. "If it's a way to introduce people to a life of service and care for our neighbors then it's a great opportunity to take."
Not everyone helping out called the Riverwards home. A group of students from UPenn were also in attendance, cutting out greeting cards and writing well wishes in Valentine's Day letters for veterans and seniors.
"We just wanted to get out and do some service on MLK day," Will Piwnica-Worms, one of the UPenn students, said. He was joined by fellow students in the Penn post-baccalaureate program, Aria Ghahramani and Evelyn Svencer. "We looked online and found this opportunity. It looked like great people doing great work."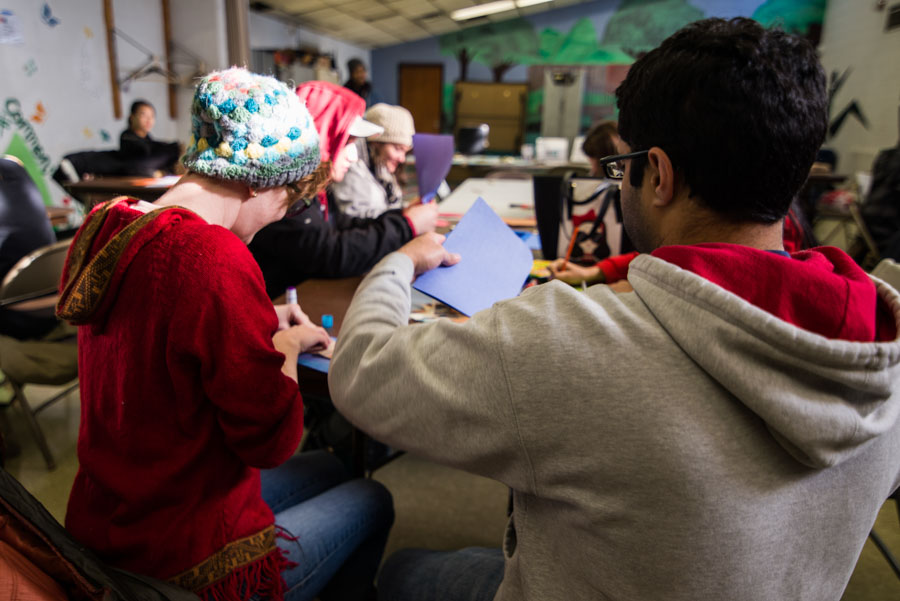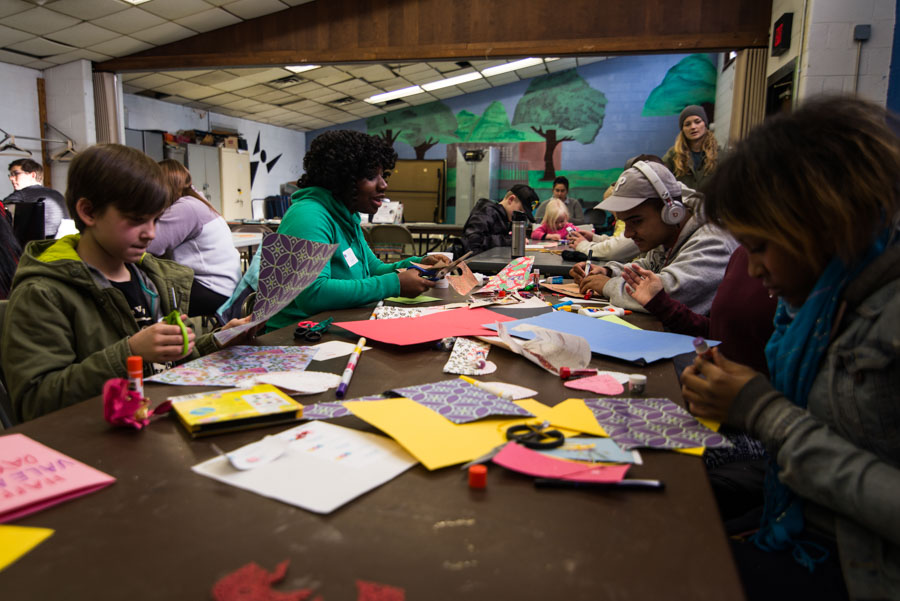 "There are a lot of holidays, but none are really dedicated to service like this," Ghahramani added. "We are recognizing someone who dedicated his whole life to service, this is a great way to remember him and give back."
Community service wasn't limited to Fishtown. Just down Berks Street, another group was volunteering their time at Kensington Creative and Performing Arts High School (KCAPA) in an effort to reorganize the school library and make the facility more accessible to students.
"We have a pretty good group here focusing on cleaning the library up so that kids can start using the space for what it's actually meant to be used for." Stephanie Pennypacker, Americorp Vista Community Partnership Coordinator, said.
According to Christopher Aviles, a junior at KCAPA and member of the school's drumline, the library was in a state of disarray and was rarely used by students. Some books were crammed into shelves backwards, others were miscatagorized. There was also a significant amount trash and damaged books. The group removed all books from the shelves, wiped the shelves down and stacked books into their proper category. Books were reorganized into the Dewey Decimal System and replaced onto the bookshelves.
"Not a lot of people go in here, so we're trying to make it more accessible and focused in here," Aviles said. "Now when people need information they can come in here and easily find it instead of spending an entire day just trying to find a book they really need. More people should use this library now, especially after we put all this hard work in."
Aviles was joined by members of his church group at Urban Worship Center (2036 E Cumberland St.) in the service day at KCAPA. One of his peers, Jermaine Chisholl, wasn't a student at KCAPA, but still felt compelled to spend his day helping clean out and reorganize the library.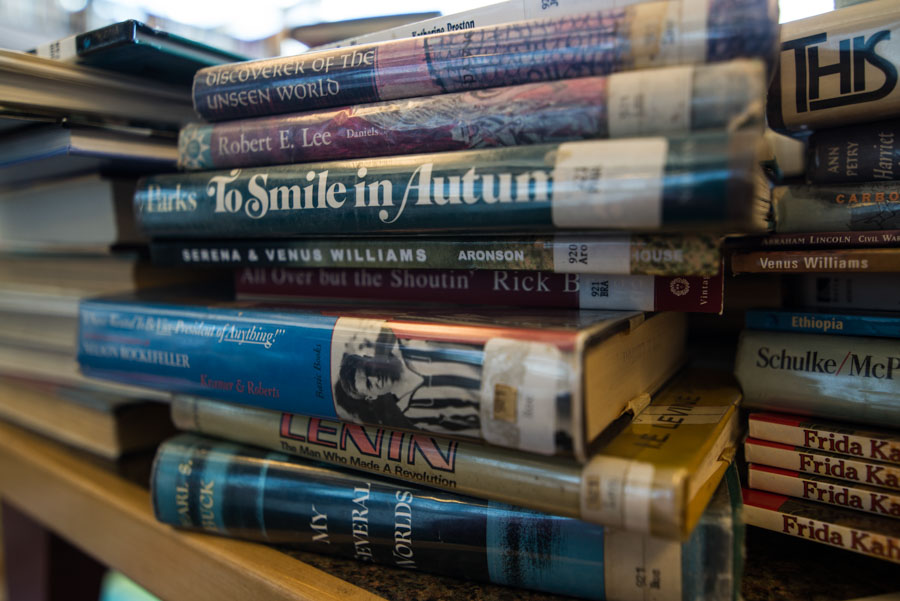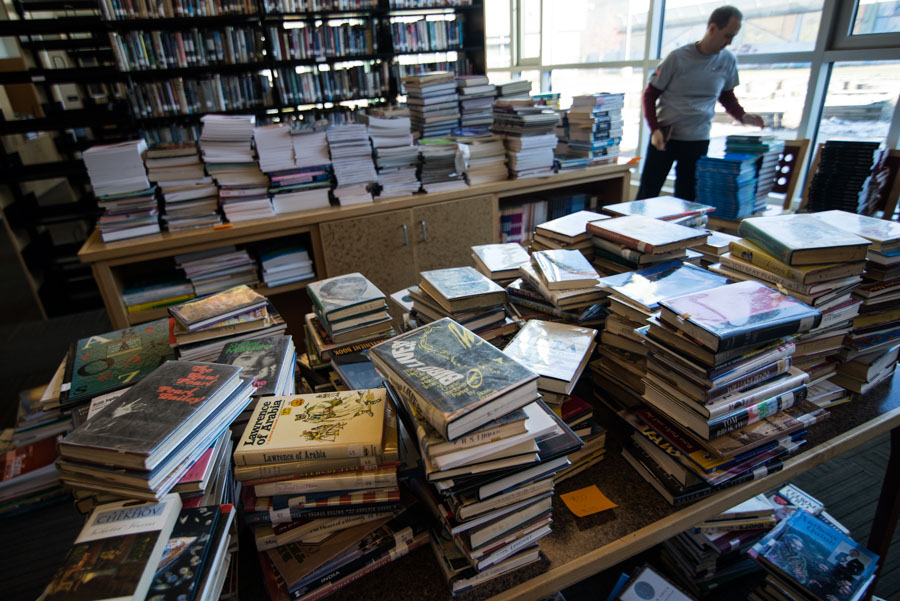 "I came to assist my church," Chisholl said. "I thought that were going to help clean outside, but we ended up cleaning out the library. I didn' expect to be doing library work, but it doesn't really matter, I just like to help out."
"It's all about community," he added. "That's what Martin Luther King wanted, a better community for all types of people. I just like helping out the community to make it better for all people in Philadelphia."