Features, Fiction, Technology in Fishtown
Spotluck: New App Helps Users Find Discounts at Local Eateries
---
  There is a popular new app that can save you money at restaurants near you. Spotluck, a fun and simple app, focuses on providing discounts to its users from different restaurants in your neighborhood. The restaurants listed are always locally owned businesses, so you won't have to worry about getting a large chain like T.G.I.F. or Wahlburgers as a dining option.
  Spotluck started in Washington D.C. and launched in Philadelphia earlier this summer. Nearly 200 locally-owned Philly restaurants are participating and it has over 100,000 user downloads. Due to their rising success in Philly and D.C., the Spotluck founders plan to introduce the app in New York City later this year. (Editor's note: Haha, New Yorkers, we beat you this time!)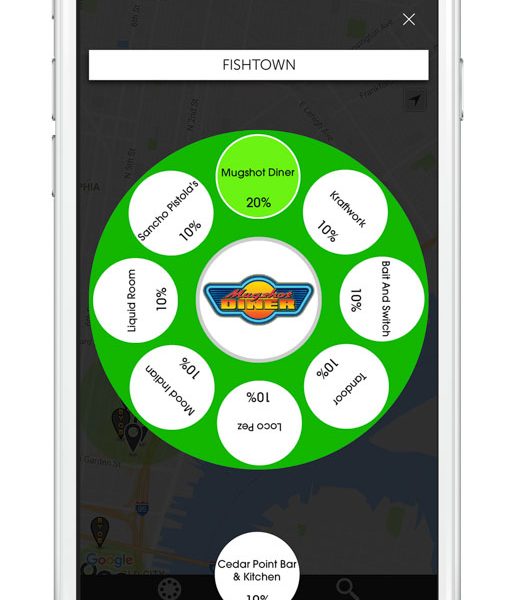 The app, itself, is user friendly. You simply download it, create a profile and then click the green "spin" button to then get a discount from select restaurants in your area. When it selects one for you, you can win up to 25 percent off from that eatery. What's also fun about this app is you still get ten percent off any restaurant it doesn't select in your area. It's a win-win.
  The app is great for the business, as well. It's programmed to fill the empty seats of the restaurant when it might be in a lull, similar to how an airline sells tickets on an airplane. Ticket prices for airplane seats are much higher during peak times, but last minute tickets go down in price if there are empty seats.
  Cherian Thomas CEO of Spotluck says "[the app] gives the necessary tools a restaurant needs to succeed." By providing restaurants with information about the Spotluck users it can adjust how it operates. It tells businesses what times they have most people in their restaurant, their age and where they're coming from. It can also provide the restaurant with stats of how many people land on the restaurant, but decide to dine at other restaurants.
  The manager at Tandoor Authentic Indian Restaurant (1832 N. Front St.) says he likes the app.
  "People come in, we give them a discount. It's nice. No problem," he said. "Who doesn't like discounts?"
  Some of the other restaurants using the app in our neighborhood include, Kraftwork, Bait and Switch, Cedar Point Bar and Kitchen, Kostas, Mood Indian, Liquid Room, Loco Pez, Sancho Pistola's and Mugshot Diner.
  Discounts might not apply to alcohol. •
THANKS FOR SUPPORTING SPIRIT NEWS!
Please follow this link to visit Amazon.com through our affiliate portal. It's the same Amazon.com you know and love, but when you shop through this link we receive a small cut at no added cost to you!
By using this link to do your normal Amazon.com shopping, you'll be supporting your local newspaper.