Community, Features in Fairmount
Spring Cleaning: Fairmount Residents Participate in 10th Annual Citywide Cleaning
---
   Fairmount resident Allison Cornish makes it a habit to walk around her neighborhood with a yellow trash grabber and pick up litter like cigarette butts — her biggest pet peeve.
   "We need to leave an unspoiled environment for the next generation, or at least clean up the mess we have made," she said.
   On Saturday, Cornish joined the estimated 120 people who participated in the 5th Annual Fairmount Spring Cleanup, which was hosted by the Fairmount Civic Association's Neighborhood Improvement Committee.
   The effort in Fairmount was part of the citywide 10th Annual Philly Spring Cleanup.
   Sam Holloschutz, the committee's director, provided supplies like bags, gloves and rakes. The Eastern State Penitentiary also donated tickets to be given to participants for free.
   The cleanup took place between Girard and Fairmount avenues from east to west and 30th and Corinthian streets from north to south. There were 11 designated locations where participants dropped off trash and recyclables to be taken by the city. Holloschutz also served as an ambassador of Circle Compost, a compost pickup service he works for as the chief sustainability officer. The service composted everything they could, including leaves and yard waste that participants found.
   Holloschutz told Spirit News that volunteers collected 210 bags of trash and recycling and 31 bags of compost on Saturday. He added that Saturday's cleanup was the most well attended yet in Fairmount and the fourth one he organized.
   When Holloschutz walks his dog Charlie around the neighborhood he commonly notices trash like doggie bags, cans, paper and broken glass, he said.
   "Anything that's trash, we have it here," Holloschutz said. "[The effect of that] is big. I walk the streets after and you can tell there's been a massive cleanup. People notice it."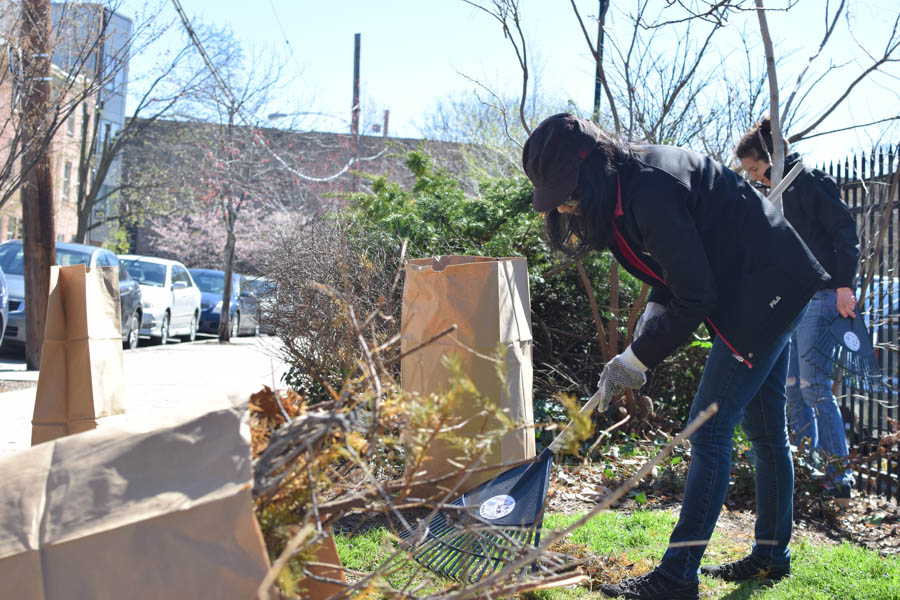 Emily Corrado and Gunter Pfau, an engaged couple that lives in Fairmount, often bring their two dogs — Roxy and Fred — to play at a patch of grass on Aspen Street near 23rd. But a row of dead bushes at the site were "unsightly," Corrado said.
   The couple made it their goal to get rid of the plants on Saturday, which was the second cleanup they have participated in. Corrado said they plan to start cleaning up in the neighborhood regularly.
   "It's important to take care of your home space," Corrado said. "Make sure it's livable."
   Corrado added that cleaning up Fairmount helps to show off its positive traits and encourages people to visit and take advantage of its amenities, like restaurants.
   Kelsey Humphrey is the assistant manager at Rembrandt's, a gastropub across the street from where Corrado and Pfau worked on Saturday. She said trash and dead plants pile up when it's cold outside and make the neighborhood less welcoming.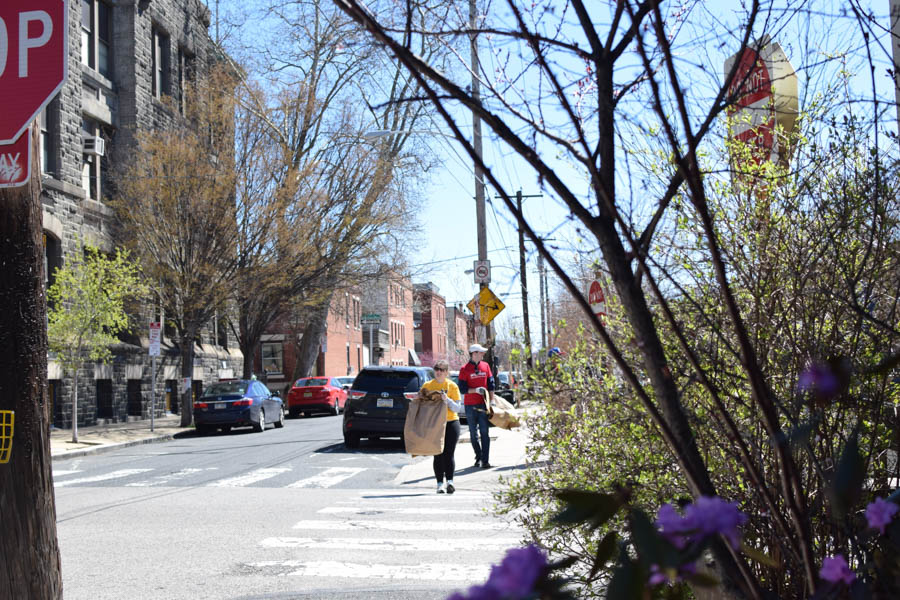 When the area is cleaner and more beautiful, Humphrey said, it benefits everyone invested in the neighborhood: business owners, visitors and neighbors.
   "It lifts people's spirits," she said.
   During the rest of the year, Holloschutz heads the Fairmount Civic Association's environmental efforts by sending out eco-friendly tips and sharing city programs like Rain Check, a stormwater management effort, with residents. But trash is consistently the topic that's most complained about in the neighborhood, he said.
   "A lot of people wait for someone to come along [and make a change], but I always say you have to be that person," Holloschutz said. "If you don't do it, someone else probably isn't going to." •