Community, Real Estate in Northern Liberties
The Scoop on Farmer Brown's No Libs Chicken Coop
---
Most city folks would not expect a flock of chickens to be peacefully existing at 231 W. Wildey St., just a stone's throw away from Liberties Walk and the swanky bars and restaurants in that area. But there are in fact chickens living there and for more five years, Northern Liberties resident Otto Brown has given the birds sanctuary on his property in exchange for their tasty bounty of eggs. The chickens are illegal residents in Philly, but Brown hopes a zoning variance will allow him to keep his flock.
According to Grounded In Philly, City Council passed strict laws regarding "farm animals" in 2004. One restriction limits farm animals to parcels larger than three acres. This makes most properties in Philadelphia County ineligible.
There are currently 13 chickens living on Brown's property. Brown says he's kept chickens for the past six years without complaint. Brown believes a dispute with one of his neighbors led to a call to Licenses and Inspections (L&I), which cited Brown for the chicken coop, as well as a 10-foot wooden fence with a mural on it that has become an attraction for photographers and people enjoying the scenery along No Libs' quaint streets.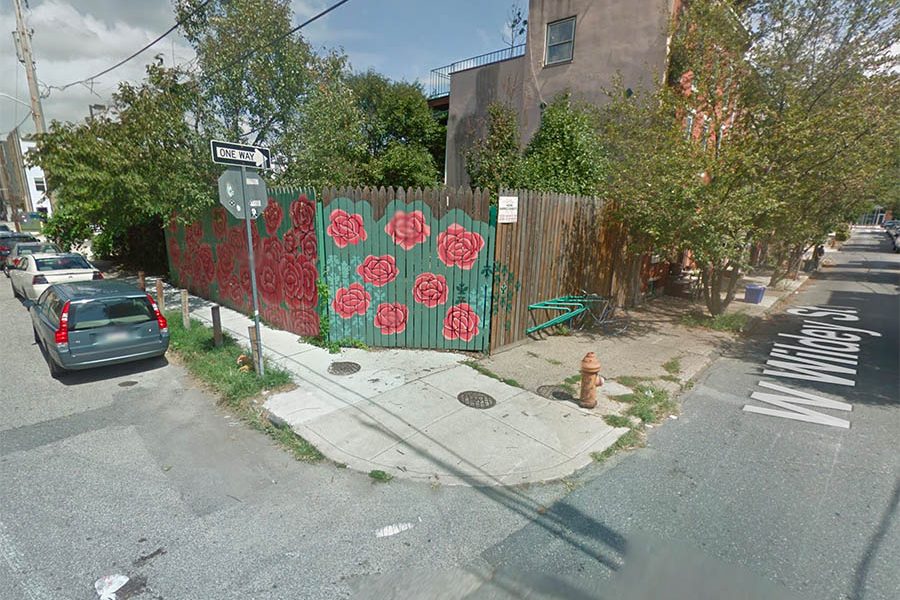 Brown enlisted the help of Jordan Rushie, a local zoning lawyer, to assist in seeking a variance.
"I've never pulled a permit for a chicken," Rushie said. The lawyer says he has an interest in furthering urban farming and sustainable livestock practices.
According to Rushie, Brown hasn't been the only person cited for having a chicken coop in Philly. The previous case went to Philadelphia Municipal Court, where, according to Rushie, the case was dismissed. Since L&I was the agency that issued the citation, Rushie believes this is the first time an issue like this has been brought to a board of adjustment with the intent to change a law.
Brown, who Rushie affectionately refers to as "Farmer Brown," used to have pigs, goats and chickens while living in Maine. He realizes that living in Northern Liberties limits what he can do in terms of raising livestock, but he believes raising chickens is perfectly suitable for the space he has.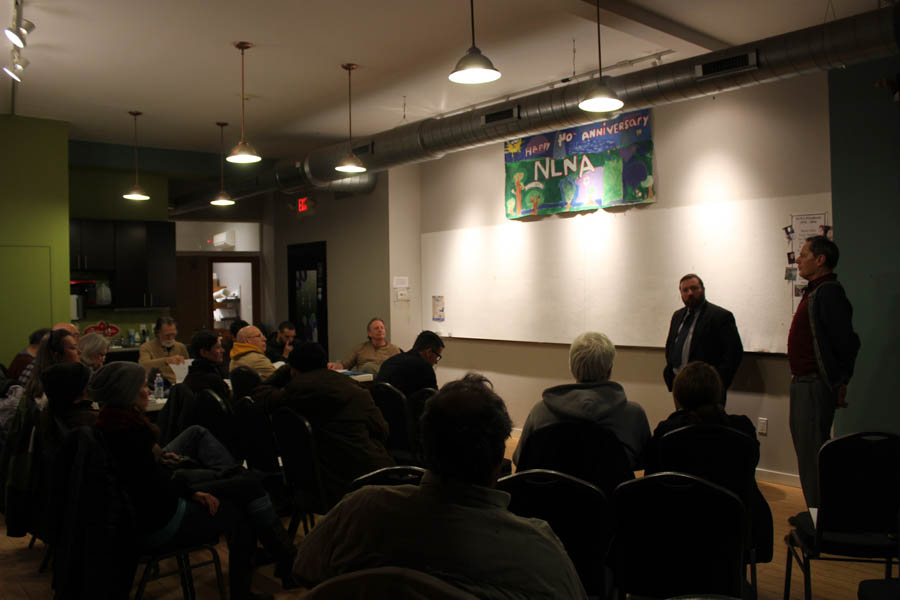 "Around here, I don't think there's too much possibility for most livestock, but chickens are mostly innocuous," Brown said. "Most people like them… I've never had any complaints."
Brown and Rushie stood before the NLNA zoning board and members of the community on December 19th to explain their case for a variance. Brown, wearing a sweater and loose slacks with one leg tucked into his sock, didn't look like the average person seeking a zoning variance in Northern Liberties.
During the meeting, Brown, with his thick glasses and passion for livestock, explained to the audience why he keeps the animals. Audience concerns ranged from what types of chickens Brown keeps and how many birds he could be allow on the property since zoning variances are linked to properties, not owners.
Rushie explained that the chickens would only be hens since the crow of a rooster at sunrise may not please Brown's neighbors. "Years ago I had a rooster. He got in there accidentally, I wanted females only, so I knew I was looking for trouble, so I gave him away," Brown said. He also specified that the chickens are used only for their eggs and are not slaughtered.
After Brown and Rushie exited the room, the audience had a chance to discuss the variance without the owner present. During this time, one neighbor, who said he lived next door to Brown, stated he had no problem with the chickens.  The variance passed the zoning committee with seven votes and provisions were also written in limiting the amount of chickens to no more than 20 with no roosters.
In addition to whatever payment Rushie is receiving from Brown, Rushie admits the fringe benefits of this particular case are quite tasty.
"It's nice for me to be able to get a healthy humane breakfast from Ottos backyard, and not some factory farm," Rushie said.
Brown believes fresh eggs are only one benefit of having his chickens. He also sees them as something for the children passing by to look at through his fence.
"The young children enjoy them. They peer through the fence…Moms bring the kids there," Brown said. "I foresee more people doing it, they just got to make sure they're not going to get prosecuted."