Features, Local Business in Port Richmond
The Thrifty Irishman Moves To A Newer, Bluer Home Across the Riverwards
---
  There's a new pot of gold in Port Richmond, but it's not a cauldron with coins. Run by a thrifty Irishman, this prize at the end of the rainbow is filled with secondhand products and other treasures.
  Kensington-native Robert McCormac has moved his thrift shop, The Thrifty Irishman, from its former location at Westmoreland and Cedar Streets to a larger warehouse at 2226 E. Butler St. A leather-tanning business previously occupied the Port Richmond warehouse.

  The family that owned the tannery was closing its business in the warehouse around the same time that McCormac was looking for a different building for his thrift shop. The new location seemed like a natural fit to McCormac, or perhaps even a supernatural one.
  "This store is the most serendipitous thing that's ever happened to me," McCormac said. "[The family who owned Regal] were gracious enough to want to work with me, and we said, 'We're going to put our store here,' and people [said], 'You're crazy.'"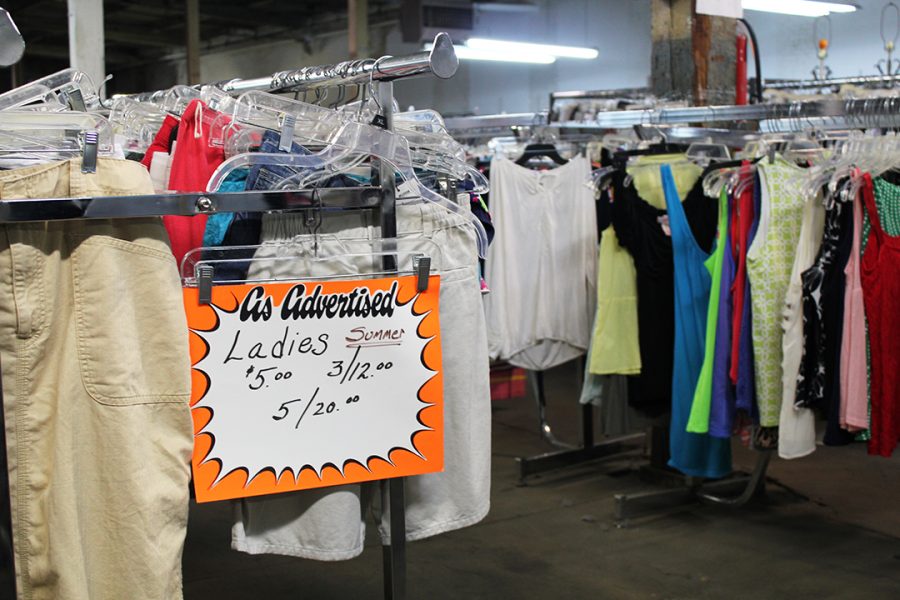 The warehouse is 60,000 square feet, essentially tripling the size of the store. The new location is a mile away from the original location and a mile and a half away from Village Thrift, a once popular community thrift store that has permanently closed its doors. McCormac thinks his new location won't stop customers from coming by. "We're still part of the community in this location," McCormac said. "It''s not a world away."
  The old Thrifty Irishman building was white and featured a green Leprechaun logo. The new location is neither green nor orange, but a deep blue. McCormac settled on this hue after changing his logo's color for a clothing drive with La Salle University. McCormac was not just sold on blue itself, but also the emotions he believes the color conveys. "From that day, I changed everything I had to blue. It's incredible. It looks better," McCormac said. "The [warehouse] is all blue so that it's welcoming, comfortable."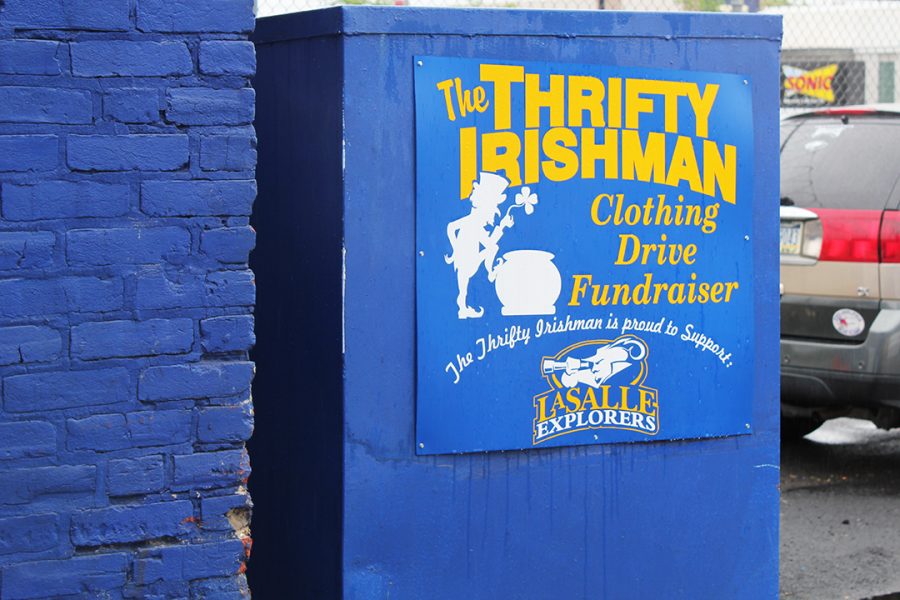 Inside, the thrift shop is filled with racks of adult and children's clothing that seemingly go on forever. The Thrifty Irishman still has the same pricing for its products: $5 a piece, five pieces for $20. McCormac collects the clothes he sells by setting up bins at fundraisers, weighing the collection, and writing the organization a check based on how much clothing he collects.
  One can get lost looking through the aisles and aisles of clothing at the Thrift Irishman, and staring upward to the building's ceiling can yield a similar effect. The ceiling is in the process of being painted sky blue. McCormac plans to paint clouds into the "sky" with "inspirational" quotes. Whether the quotes come from Dale Carnegie or a friend of McCormac's who helped fund the original shop, McCormac knows that he wants the quotes to be "positive" and consistent with the karma-driven approach to how he does business.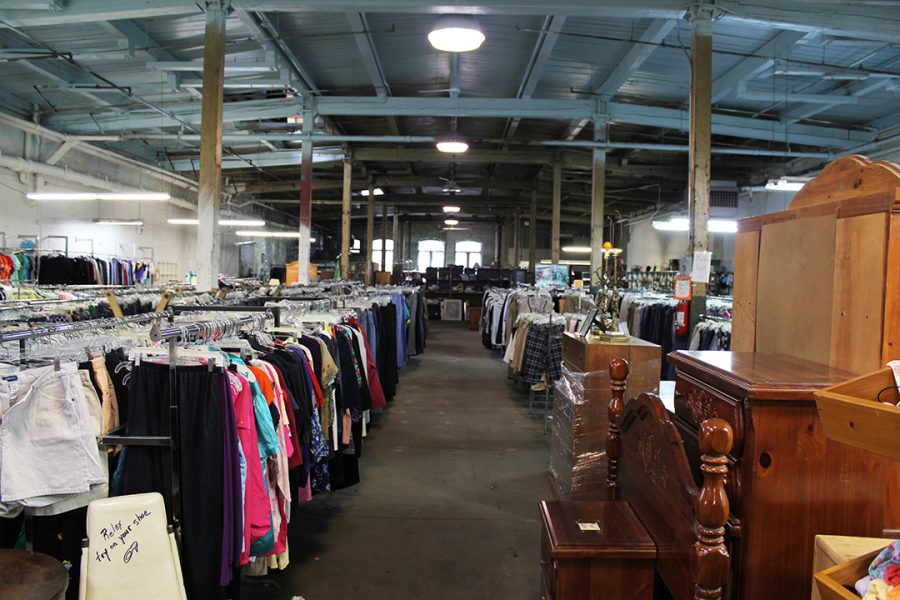 "People come into my shop if they need something or if they are in need. Every single person that works with me knows that we don't turn anybody away [if they can't afford something]," McCormac said. "I can always make money. You don't always have the chance to help somebody. I just feel like because we have that philosophy, that contributes to what good happens to us."
  Part of the "good" that came to McCormac was finding what was above the thrift shop's ceiling, on a separate level of the warehouse. Through the various rooms and doors is a steep staircase that leads to a massive, open space. McCormac claims the space has been left unused, but he's changing that. He recently allowed Sorority Noise, a punk band with local ties, to shoot a music video in the space, and doesn't plan on stopping there.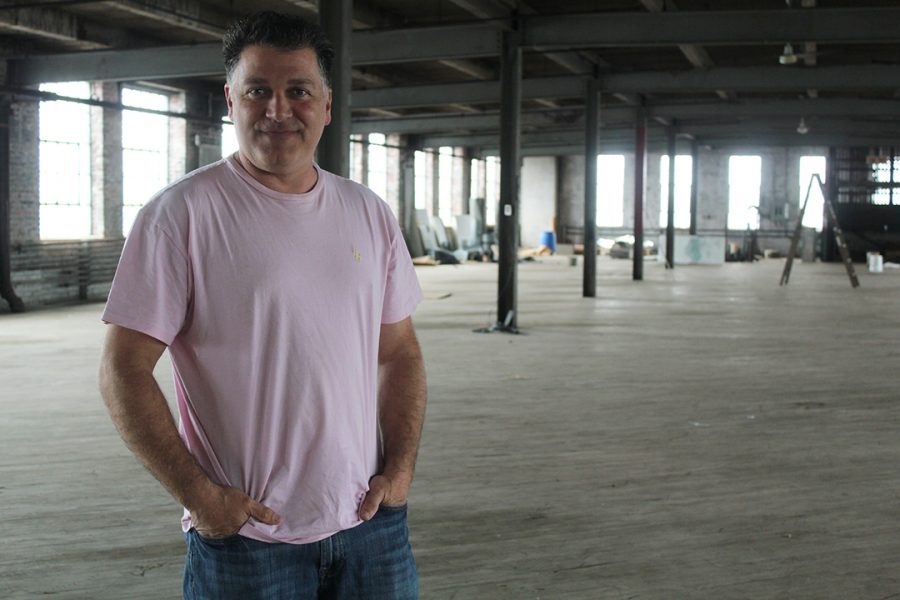 Whether it's video shoots, art shows, nude photography, or beer festivals, McCormac wants to offer the space to anyone who needs it. "I do want to convert it into an event space, but Robert J. McCormac is not going to be the person that runs it," McCormac said, referring to himself. "I'm going to help somebody turn this space into something spectacular."
  Now that the Thrifty Irishman is bigger, McCormac wants to set up permanent bins at schools and continue holding clothing drives with organizations. No matter where the location, the "Bloomingdale's of thrift" will continue to willingly give to the Riverwards. "[We're excited to] still be part of the community and still be able help somebody out," McCormac said.
  The Thrifty Irishman is open 10AM-6PM every day and closed most holidays. For more information, call 215-MARCH17 (627-2417). •