Community, Features, Real Estate in Fishtown
Thou Shalt Not Park Or Alter St. Laurentius: Fishtown Church Zoning Variance Shot Down in Community Vote
---
  On Tuesday, September 20, the basement of Holy Name of Jesus Church was packed with more than 200 local residents. Those in attendance were set to take part in a meeting and non-binding vote on whether or not to approve a zoning variance for St. Laurentius Church.
  If granted, the variance would allow developer Leo Voloshin to adaptively reuse the interior of the building, turning it into 23 apartment units while keeping the exterior "entirely intact."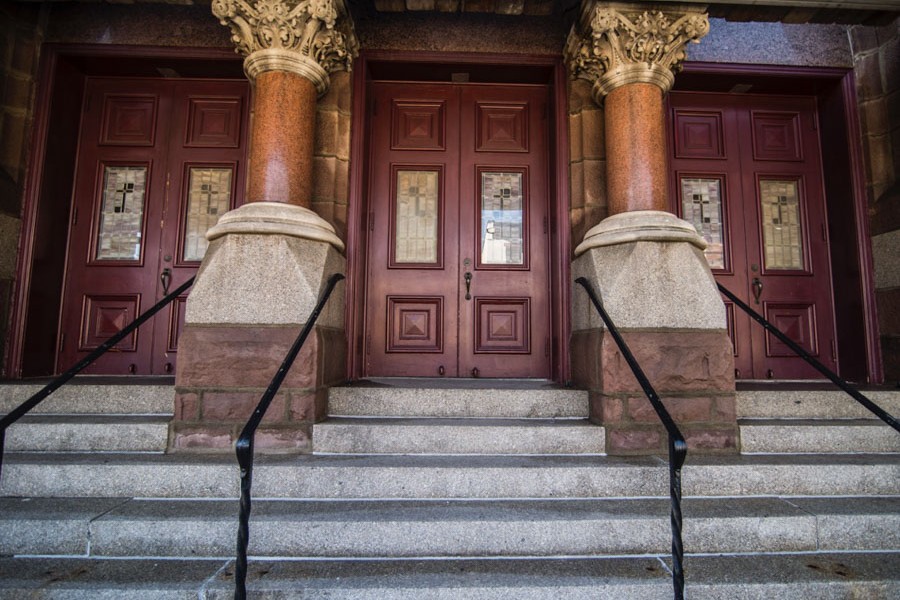 The building has been closed since March 31, 2014 and was deconsecrated due to the findings of an engineering report commissioned by the Archdiocese of Philadelphia (AOP) and completed by structural engineering firm O'Donnell & Naccarato. In July 2015, The Philadelphia Historical Commission (PHC) designated the exterior of the church as historic, which has since protected the structure from previously impending demolition.
  The room was filled with a mixture of tension, hostility and eagerness from the start. Both Voloshin and Matt Karp, Executive Chair of the FNA Zoning Committee, stepped forward to explain the adaptive reuse plan and zoning requirements of the potential project.
  "Even though this has been a church for hundreds of years, it's zoned right now as RSA-5 and that is for single family homes," Karp said. "So if you want to do something to the church that does not conform to that existing zoning, you are going to need a variance in order to move forward. So that is why we are here tonight."
  After the zoning stipulations were laid out, Voloshin took his case for adaptively reusing the interior of the historic structure as apartments to a somewhat skeptical crowd. At times he was interrupted mid sentence — a sign of some people's vocal hostility towards the proposal. Despite numerous interruptions throughout the meeting, Voloshin continued on, showcasing a few architectural drawings and artist renderings of his plan to community members in attendance.
  "We do not propose to make any changes to the outside of the church, except for addressing the costly L&I (License and Inspections) violations that currently exist." Voloshin said. "So in order to save this building we need to find a new use in partnership with our architectural team at Continuum Architecture, which has done several other projects in this neighborhood. This is a chance for this property to be saved as a landmark in our community."
  Following the presentation of Voloshin's plans, the community had a chance to respond with questions and comments regarding the proposed adaptive reuse of the church and how it would impact the community.
  A number of issues were raised by those skeptical of Voloshin's plan. The primary critique that was continually mentioned had nothing to do with what would happen to the church, but rather with how the renovation will impact parking in an already crowded neighborhood.
  "I really respect, first of all, that you (Voloshin) respect this building so much and something has to happen with it," Jennie Shanker, a Fishtown resident living in close proximity to the proposed reuse, said. "I don't know what the answer is, but I have a hard time taking the proposal seriously when there is not going to be sufficient parking with 23 units, given the kind of conditions we are living with already."
  Shanker added: "Parking is an issue and I just want it to be known that I already look outside my house every night and see cars parked at the fire hydrants. There have been cars parked so deeply with their tails across Wilt Street that cars and trash trucks cannot even turn into our street."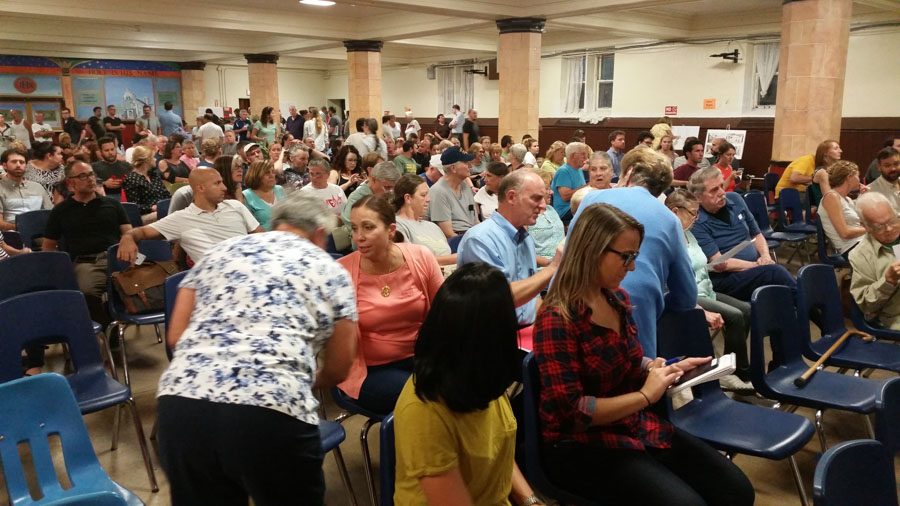 AJ Thomson, a supporter of Voloshin's plan and vocal community member, first helped lead the charge to restore St. Laurentius. Thomson responded to parking critiques, citing short sightedness when looking at the proposal.
  "I have been living the nightmare of trying to save this church for three years and this nightmare was started by the Archdiocese of Philadelphia," Thomson said. "… We are here because we have a gun to our head. If this plan is not approved, the AOP is going to demolish this building just like they were going to do before. They had the demolition permits ready to go before we got the historic designation."
  Thomson went on to address the issue of parking and why he felt it would not be wise to use this as a reason to deny the community of an adaptive reuse for the church. "When I walk my kids to school and they ask me why did they tear this building down. I'll say some people were concerned about parking, which we don't even have now," Thompson said. "So don't vote against this for parking."
  Beyond the issue of parking, other residents questioning the motives of Voloshin and his partners. One attendee asked for the developer to disclose his projected return on investment into the church as a means of satisfying their uncertainty. Some residents felt as though they were providing a private developer with a public asset of the community and that they should have a clear understanding of what he is personally making from his investment in the church because of that.
  "Would you be willing to release the financials of what your estimated gain on this property is and does the contract that you signed for this building in any way preclude the LLC (Limited Liability Company) that you formed to purchase this building from declaring bankruptcy, or financial hardship," the resident said, "then claiming this building can not be repaired and finally knocking it down anyway?"
  Voloshin responded by saying "financial information would not be disclosed to the public" and that he had "no interest in taking on this project except to save the church." He then insisted that apartments would be rented for a fair market rate.
  "You know I have been grilled for about an hour now during this meeting. I'm fine with that because this is a beautiful building and it would be a damn shame to lose it in this neighborhood," Voloshin said.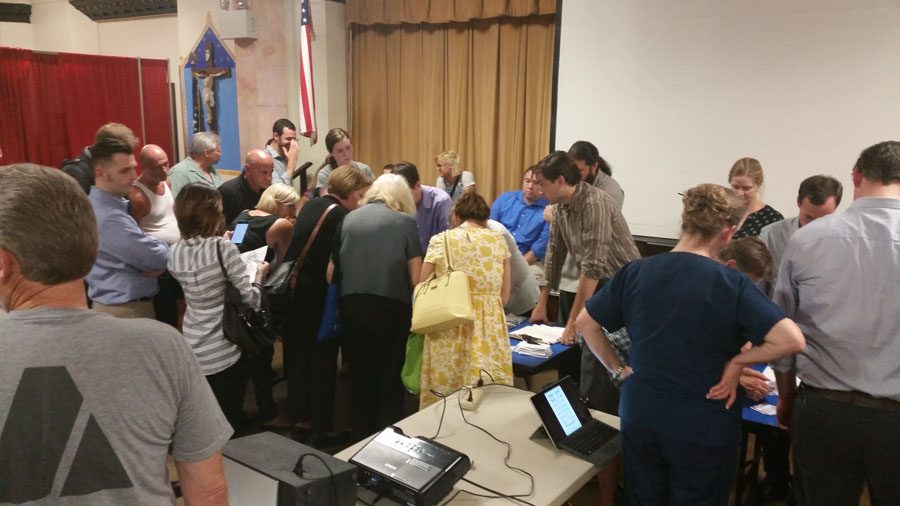 Other community members and supporters of the Faithful Laurentians (FL), a group insisting on keeping the entirety of the church intact, interjected during the time allowed for questions and comments. Some members of FL insisted that the church could not be altered in any way because it was "blessed" and that Canon Law would not allow for apartments to be built on the "hallowed ground of this sacred space." Canon Law — ecclesiastical law laid down by papal pronouncements — does not supersede U.S. Law and is in no way enforceable on real estate contracts.
  Still, FL dismisses Voloshin's adaptive reuse plan and claims it does not meet the concerns and needs of many former parishioners.
  In recent months, leading members of FL have put forth an alternative plan they view as a means to "save the entirety" of the historic structure. The two-part plan would, in theory, create a non-profit 501(c)(3) group called The Faithful Laurentius Institute. The new organization would be charged with writing grants, seeking donations, doing public outreach and setting up educational programs to teach people about the church.
  The plan's second facet would include a cooperative business arm called the St. Laurentius Polish Cultural Center, which would be heavily engaged in event planning, hosting weddings, corporate events, community functions, concerts and other events. However, there are no available funds for such a plan at this point in time.
  Additionally, FL's repeated attempts to gain support for their proposal from the AOP and Holy Name of Jesus Parish, who currently own the church, have been unsuccessful. Still, a number FL supporters urged Voloshin and others in the room to look deeper into the potential benefits of an alternative plan for the church.
  "If this plan for the apartments goes through you will never again be able to get into that building without knowing someone and that is a huge loss to this community," Jesse Gardner, director of the Unsung Hero's Gallery and supporter of FL, said. "To have the threat of demolition hanging over our heads, basically saying if you fight this apartment reuse proposal it will be torn down, is very unfair. You will never realize what you have lost until it's gone."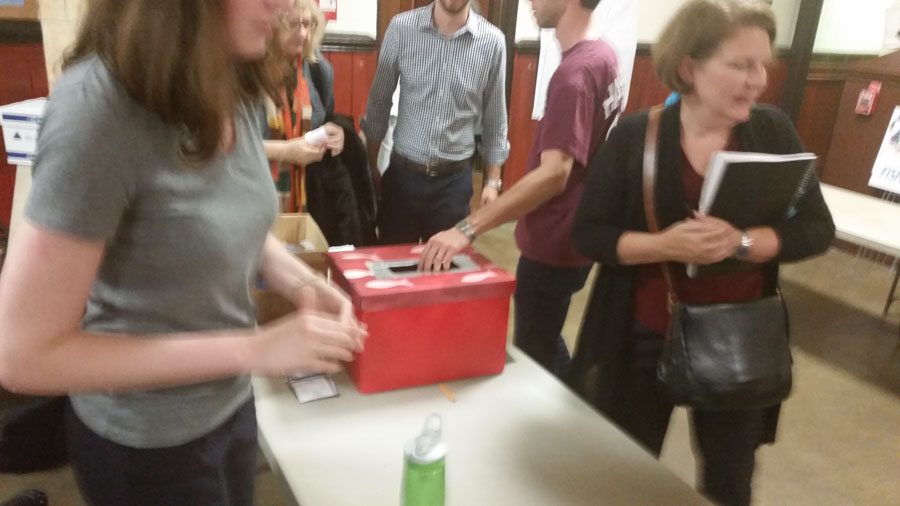 The Faithful Laurentians also maintain that they are in discussions with the Pennsylvania Attorney General's office for legal aid in a multi-faceted Trust Violation claim against the AOP and Holy Name. Posts on Facebook by members of the FL claim that there has been at least some level of back-and-forth between the parties. Spirit News reached out to the AG's office for comment, but a representative could not confirm or deny that they had been in contact with members of the FL.
  Thomson, however, vocally opposed the FL plan during the meeting.
  "You don't have any money for this plan and the archdiocese already told you no," Thomson said, in response to Gardner. "So don't tell all these people that your plan is a possibility. You can't just say things and not be held accountable for it, that is what is happening in America right now with Trump and it's nonsense."
  Despite disagreements over how the church building should be used in the future, parking was ultimately the deciding factor when the votes on Voloshin's adaptive reuse plan were tallied.
  According to Karp the final vote count read: 107 "Yes" to 165 "No." The community vote was nearly split down the middle 73 "Yes" to 74 "No." The local vote (residents living in close proximity to the proposed project) came out strongly against the zoning variance, 34 "Yes" to 91 "No" due to the lack of parking in the immediate area.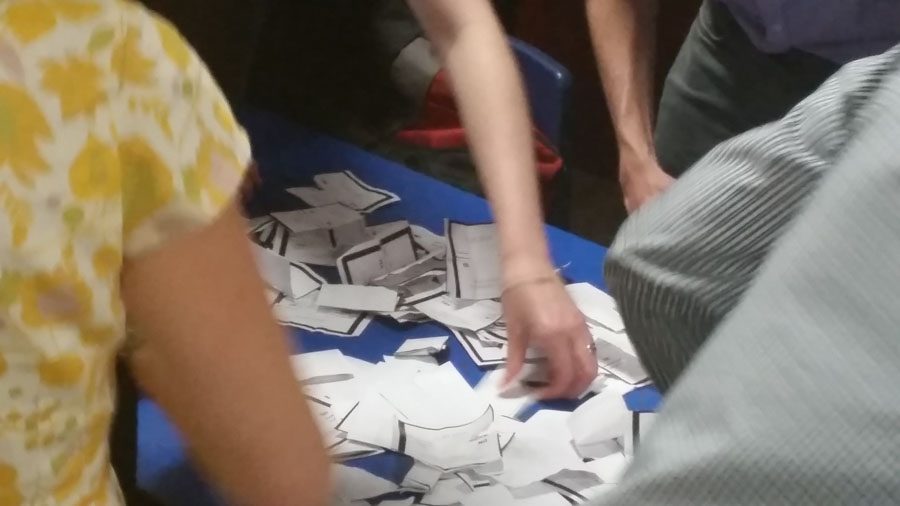 A few of the voters took time to catch up with Spirit News after the meeting to share their thoughts on the voting outcome and what they got out of the meeting.
  "It's already been several years of a lot of people investing a lot of thought, money, research and time into what is going to happen to this building, and I expected tonight to be a culmination of that, which it was," Rene Horst, a resident of East Kensington, said.
  "I came in tonight not understanding a lot about Voloshin's plan or his intent, but after leaving tonight I have to say I think he took the time to really consider this properly and has done the community a service."
  Voloshin, in spite of the losing vote at the meeting, will continue to move forward with his plan for adaptively reusing the church as apartments. He will meet with the Zoning Board of Adjustments for a public hearing on his proposal on November 1st at 9:15AM. •