Community, Features in Strawberry Mansion
Tour Ambassador and Stewardship Training Project Completed in Strawberry Mansion
---
  Philadelphia's status as a historic city is hardly rivaled throughout the country, and sites and stories from its past can be found throughout its borders. But most tourist draws and promotions are clustered into a few square blocks in Center City's quasi-official historic district.
   Far from that downtown concentration, one woman in Strawberry Mansion is working to  encourage the development of historic tours in her neighborhood that will be led by the youth who live there.
   Judith Robinson, director of the Strawberry Mansion Civic Association, began her Tour Ambassador/Stewardship Training Project in September 2016. Meeting in the Recreation Center of Mander Playground at 33rd and Diamond Streets, the weekly sessions are open to youth from ages 12 to 20 and feature speakers offering details about Strawberry Mansion's history with the goal of preparing the young attendees to act as tour guides for their self-designed routes.
    A former tour guide at Fairmount Park's Woodford Mansion, Robinson said her vision of locally developed and led tours is a demonstration of self-determination in a time when jobs are scarce and the future uncertain.  Strawberry Mansion, she said, is historical enough for youths to create summer jobs and show off North Philadelphia's past. According to Robinson, in such a historic city as Philadelphia, "tourism is a million dollar business. There's no reason why we shouldn't have some of those dollars."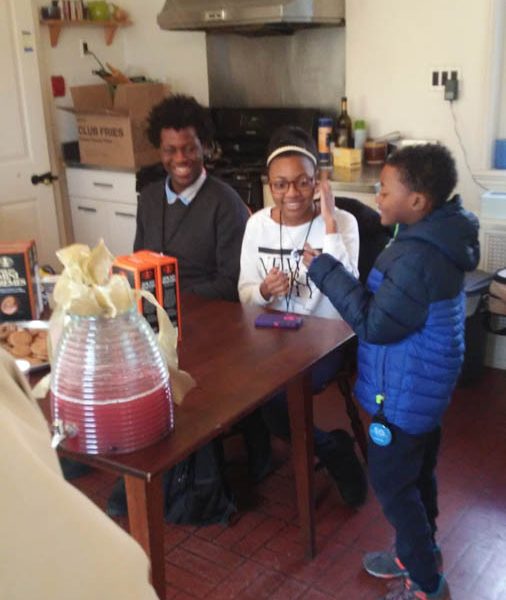 In addition to exposing participants to historical facts, Robinson also teaches them about the business of event planning and how to create a tour. As far as possible programming, she suggested a tour of murals, the many historical markers, architectural styles or churches in the neighborhood.
    "If nothing else, I want to orient them to what is happening in their own community right under their noses," Robinson explained. "There was no place for youth to learn about this, so I took on the task."
    One such historical gem was revealed on September 26th by author and transit historian Joel Spivak, who told the group about the Fairmount Park trolley, a free service which ran a circuitous nine-mile route from Belmont and Parkside Avenues through the west park and across the Schuylkill River to 33rd and Dauphin Streets in Strawberry Mansion..
   Spivak explained that the trolley began as a shuttle bringing people from the former Market Street train station at 32nd and Market Streets to Memorial Hall in Fairmount Park ,where the U.S. Centennial Celebration was being held in 1886. The Fairmount Park Trolley adapted and expanded that line as a recreational ride. In a time before air conditioning, the free service allowed people to cool off in the breeze created by the forward motion of the trolley.
   A month later, historical researcher Kevin Colquitt told the group about importance of research. He urged them to focus on their own personal interests and to express their passions when digging up their historical facts and to never let their passion for their historical quests fade.
Colquitt, who grew up in North Philadelphia, has researched and written several small booklets about two bygone North Philadelphia landmarks: the North Philadelphia Community Pool and the Pearl Theater.
   According to Colquitt, the pool was located at Broad Street and Columbia (Cecil B. Moore) Avenue. Though it served as an African American pool and was known as one in a chain of such facilities from Chicago to New York, the pool served all races. It burned down in 1975.
   The Pearl Theater, located at Ridge Avenue and Jefferson Street, opened as Philadelphia's first African American entertainment facility in 1927, Colquitt said. Many big-name African American entertainers performed there, including  Bill (Mr. Bojangles) Robinson, Cab Calloway and Count Basie.
   At that time, he explained, black performers had few options for places that  would accept them for jobs so the Pearl became a hot spot for them. Switching to presenting only movies in the 1940's, the Pearl closed in 1969.
   "North Philadelphia is a treasure chest, " Colquitt said. "Our children should see the glory that was there."
   Robinson also held workshops on lip balm-making and soap-making as another possible path for youth and young adults to travel toward toward self-sufficiency. About ten adults and children attended each demonstration. Monica Wright, who has created her own line of soaps, which she makes and sells in her home in South Philadelphia, led each workshop. She explained the process of each enterprise and led the participants in making their own product.
   Andrea Mitchell, 40, attended the soap-making workshop and said she might like to make and sell soaps out of her home if she didn't have kids. The use of lye as an essential ingredient in the process is dangerous. "If I could do it [elsewhere] I would do it. It looked really interesting." Already very business-minded, she talked about how the use of expensive essential ingredients would mean high selling prices. But if she had pre-orders or knew she had a customer base that might be interested in her creations, "then I'd do it."
   Robinson said that with her program, she's trying to foster that kind of interest in starting one's own business and determining one's own future among Strawberry Mansion residents. "I'm trying to whet people's appetite [and] orient our community to the possibility of what can happen"
   As the days are drawing shorter, Robinson's initial program is also drawing to a close, but she already has an eye to the future. "I will turn it around and do it in the spring," she explained. •