Community, Features
TROUBLE INTERSECTIONS: A Meeting of Bad Driving and Increasing Poulation
---
  During the past few months, Spirit News has closely examined issues involving streets in the Riverwards. In this installment, we look at some of the problem intersections throughout our coverage area.
  This is not an exhaustive list — it's based off how Lowenthal and Abrams, a law firm downtown, analyzed 2015 PennDOT data. The three spots Spirit News looked at are Lehigh and Aramingo Avenues, East Norris Street and Frankford Avenue and 2nd and Spring Garden Streets.
  All three spots have at least one busy street, but only East Norris and Frankford Avenue lies in a somewhat residential area. The other two are larger intersections, and more so a product of being near busy, wide thoroughfares.
  Gus Scheerbaum constantly looks at street logistics citywide, as he serves as the Safety Engineer and Automated Red Light Enforcement (ARLE) Program Manager in the city's managing director's Office of Transportation and Infrastructure Systems.
  Scheerbaum said starting four years ago, the Streets Department made changes to all these intersections, ranging from painting new STOP bars on the road to improving traffic and pedestrian signal timing. One of the challenges is that the city doesn't want to make changes on a whim, he added.
  "When we do some sort of engineering intervention, we don't want to look at a single year's worth of data," he said. "We want to look at an average data set over a set of years."
  During the past week, Spirit News spoke with several Riverwards residents about what makes these and other intersections a problem. Despite varying answers, nearly everyone we spoke to pointed to a common theme: with increasing development in the Riverwards, there is more traffic on the streets, making more spots an issue.
2nd and Spring Garden
  Our first intersection lies in Northern Liberties, close to the Spring Garden SEPTA station and a couple blocks away from the Fire Administration building. Residents point to the amount of activity as to why it might be a problem.
  "They're both bus routes, first of all," said George Polgar, 63, referring to the SEPTA bus routes that travel through it. "I think to some extent, there's a lot of activity around there, with the Social Security and Fire Department buildings."
  Poglar and others, however, believe more dangerous intersections could exist further north in more residential spots, like 4th and Green, where Poglar lives. Matt Ruben, president of the Northern Liberties Neighbors Association, noted 2nd and Spring Garden appears somewhat lower on the list than the other two intersections we looked at.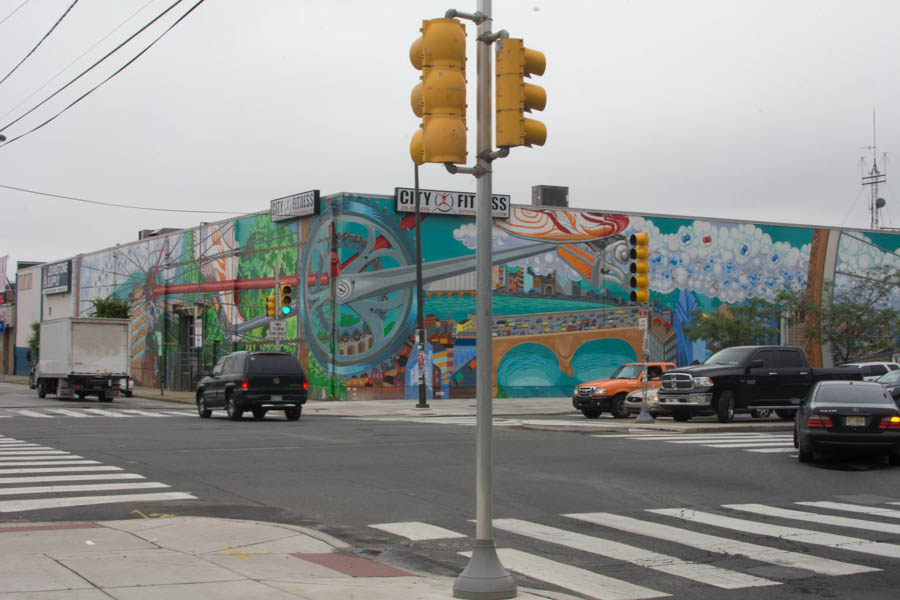 "Given that this intersection is 49th on the list, it's not immediately obvious what exactly the issues are, in contrast to a place like Roosevelt Blvd., which appears about 20 times on the list," Ruben wrote in an email. "So we first need to get educated about exactly what is — and is not — causing problems there."
  Paula Gansky, 65, has lived in Northern Liberties for nearly three decades. She believes there are worse intersections north of Spring Garden.
  "If I take a bus and get off at 5th Street … If I have to cross at 5th and Poplar, people don't stop," Gansky said. "They come close to sideswiping me."
  Poglar said overall foot traffic can ultimately lead to issues in dense parts of Northern Liberties.
  "These are all a price of development and an influx of people," he said. "There's so many people roaming around, just checking things out."
E. Norris and Frankford
  The next area Spirit News looked at lies in Fishtown, along what officials describe as a highway on Frankford Avenue. It's in a fairly residential spot, near Dan's Meats and the Nut Hut Saloon.
  Residents and employees near East Norris and Frankford, however, point to other intersections along Frankford as bigger issues.
  "Frankford and Girard is way busier," said Jenna Vecchione, 27, a lifelong Fishtown resident. "With all the businesses, lights and cars, that [intersection] is more prone to accidents than down here."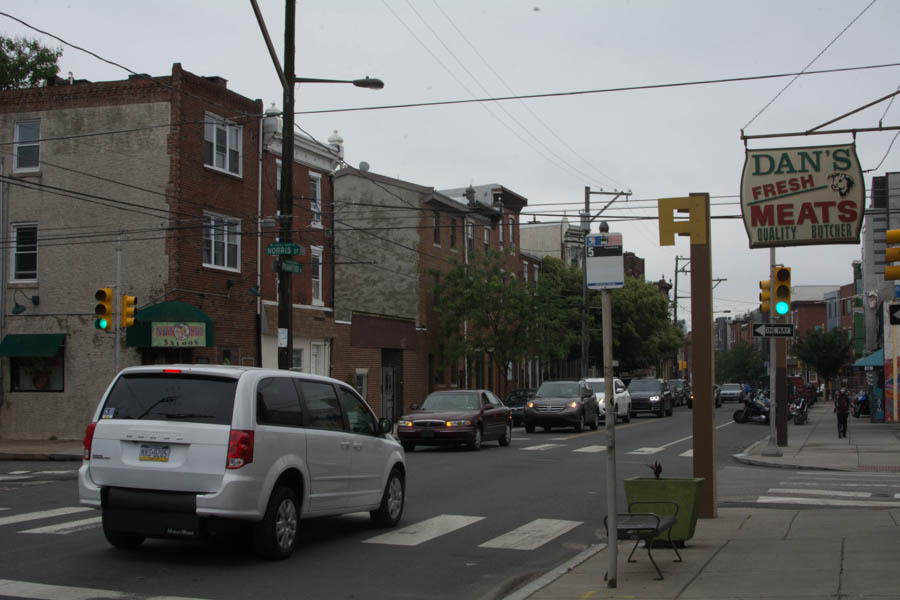 David Hans, 30, has worked at Yorick and Sons Motorcycles for parts of the past six years. He said the worst part of the intersection isn't vehicle-on-vehicle collisions.
  "The worst part about this intersection are the buses and trucks," Hans said. "Trucks took out the streetlights twice … that's about it, besides traffic and people honking."
  Jon Yankelewitz lives right by the intersection, on the 1800 block of Frankford. He said he hasn't seen any accidents there, and agreed with Vecchione that Frankford and Girard is a worse spot.
  "Frankford and Girard is the motherload," said Yankelewitz, 34. "You have a lot more lanes, Uber drivers are everywhere and people don't know where to go."
  Yankelewitz, Vecchione and Hans all said motorists speeding on Frankford has been a continuous issue, which could lead to accidents at any intersection.
  Hans said this led to an accident at Susquehanna and Frankford about a year ago, involving a car and motorcycle. The car hit the motorcycle and caused considerable damage to it and a leg injury to the man riding it, he said.
Lehigh and Aramingo
  The worst intersection, according to residents who frequent it, was Lehigh and Aramingo, a convening of two major thoroughfares in Port Richmond. It lies near St. Anne's and the Cione Recreation Center, and is the largest intersection of the three Spirit News examined.
  Emery Greenfield, 29, has lived on the 2600 block of Aramingo for about two years. He said it's hard to even cross the street given the timing of the pedestrian signal, and that people speed through the intersection constantly.
  "Even when I try to cross, everyone [driving] on Lehigh is trying to turn," he said. "It's a sense of urgency for no reason."
  This speeding led to what another Port Richmond resident Jimmy Trindle describes as a near fatal accident at the intersection in July of last year. Trindle, 52, was sitting at a red light facing south on Aramingo at around 8AM on a Sunday morning when the collision occurred.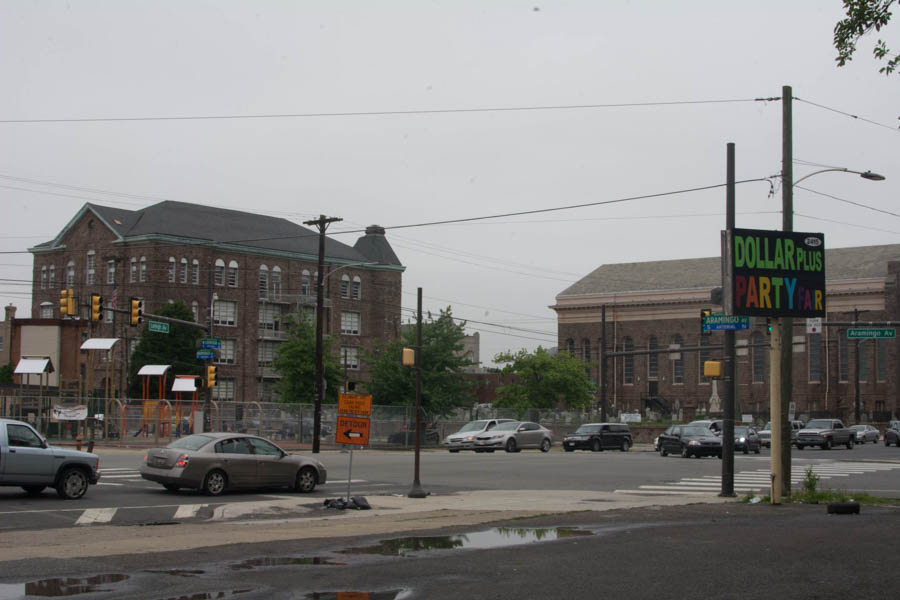 "I traveled from where I was parked … all the way across the street into the fence near the [Cione] playground," he said. "If it wasn't early on a Sunday, I probably would've been killed with traffic coming on Lehigh."
  Amanda Yost, 32, is passionate about the problem Lehigh and Aramingo presents. She does, however, understand why the spot is bad.
  "I think it's just a lot of traffic," she said. "What, it's like a three-section highway?"
  She added, however, that steps need to be taken, especially considering the playground and school's proximity.
  "There needs to be a crossing guard here all the time, even in the summer," Yost said. "Because of the school, and the playground here."
Looking ahead
  Gus Scheerbaum understands complaints about certain intersections in the city. He said his office regularly does crash data analysis using PennDOT and police data.
  He added, however, that what complicates the process is they don't factor in unrelated crashes to certain spots—like those in nearby parking lots or alcohol-related crashes. Therefore, the number of complaints doesn't always equate to a high-priority problem in terms of engineering, Scheerbaum said.
  "I think it's gotta be case-by-case," he said when considering the problems intersections pose. "We try to always make sure signal timing and phasing is working best for that intersection … when we look at crashes, we have to weed out the crashes that don't count." •