Community, Features
(Watch) Blurred Lines: A Discussion on Disputed Boundaries and That Awful "Port Fishington" Nonsense
---
Back in May WE RELEASED THIS MAP and the debate began. Here's our follow up. Our NEW MAP is featured at the bottom of this post.
I'll confess this right now: I'm not from Philadelphia, I don't live in Philadelphia, and despite having many jobs in the city after getting my first car in 2001, (a 1990 Jeep Cherokee, which my heavy right foot tortured every day, expediting its demise) I don't have much experience with this city aside from working here at The Spirit since last November.
This lack of expertise is primarily why I was tasked with gathering opinions on the great debate that erupted on and off social media when my editors at The Spirit put forth a map outlining and color-coding the neighborhood boundaries of the Riverwards: The objections would be met by my inherent impartiality.
The Spirit originally submitted the map back in May as a correction to Philadelphia news stations and publications who share the collective habit of inaccurately labeling the locations of their stories — most often crime scenes. A shooting in Port Richmond might be reported as occurring in Kensington or vice versa. These errors confound and exasperate the residents of these  mislabeled locations. The frustrated comments that sprang up on social media surrounding misinformation of local crime inspired our close attention to neighborhood borders in an effort to improve accuracy.
This, too, was met with much dissent.
So what went wrong?
"I think there's a process of defining a neighborhood that feels inauthentic to a lot of people," said Shanta Schachter, deputy director of the New Kensington Community Development Center (NKCDC). "While we need to define these neighborhoods, it's more the role of the residents."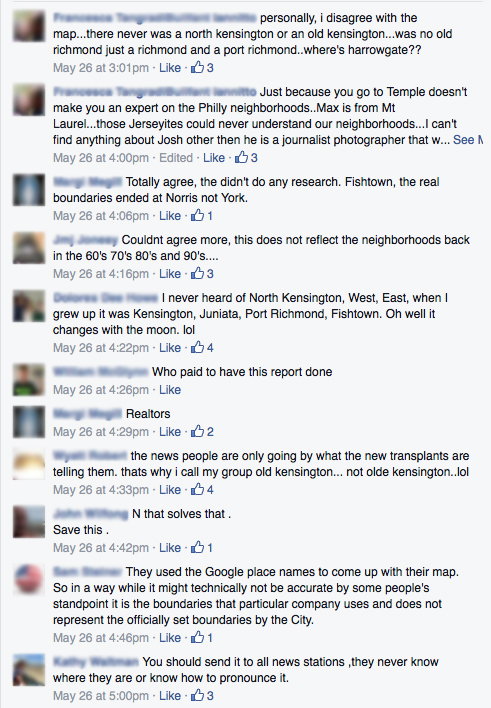 Schachter, a resident of Olde Kensington — AKA South Kensington on our map — echoed the chief disagreement of those in the "Kensington Pride" Facebook group: What's all this directional-Kensington stuff?
"We've never heard of North or West Kensington," she said, as she pointed out West Kensington is known as Norris Square, and North Kensington is just… Kensington — although it should include the Harrowgate neighborhood, which was snubbed in our configuration.
Also in disagreement was Kenneth Milano, long time Riverwards historian, author and lifelong resident.
"Northern Liberties is way too big," he said of our map. "Bring the line to 6th Street and Girard Avenue. Northern Liberties tries to claim SugarHouse Casino sometimes, too, but that's always been Kensington."
Milano said the boundaries of the neighborhoods were originally formed by Catholic parishes and schools, but now they're held together by current civic associations. Himself a former board member of the NKCDC, he sees current neighborhoods being the product of associations such as the Olde Richmond Civic Association (ORCA), and East Kensington Neighbors Association (EKNA).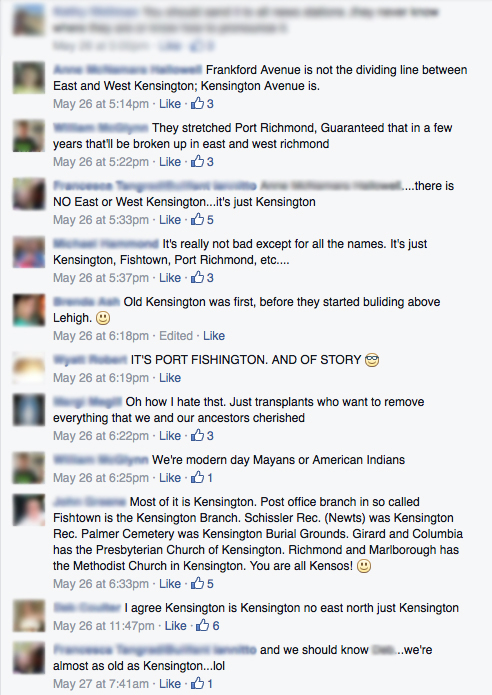 While these groups spawn from a cross section of old and new residents wanting a say in their community, they also want to be part of some of the money being thrown around as revitalization takes place, Milano said. While his tone may have been wry, he noted that ultimately it's not a bad thing: "The more people that get involved, the better."
If churches and civic associations help create and reinforce neighborhood boundaries, what leads to their dissolution? Milano, Schachter and Riverwards residents like Kyle Deissler all agree: realtors.
Deissler, 25, considers himself full-Port Richmond. He works at Stock's Bakery, although they're closed briefly for six weeks this summer and has worked at Byrnes' Tavern. His home along Tucker Street has been owned by his family for over 100 years. By our map, however, he and the bakery are part of Olde Richmond, just over the border from Fishtown. But really, he falls within the veritable nexus of the Riverwards universe, a ka-jumble of neighborhood boundaries known affectionately — okay, maybe a bit sardonically — as Port Fishington.
Deissler's cousin, 25-year-old Adam Wilczynski, learned and passed along his neighborhood knowledge as a youth by associating with the different playgrounds he'd frequent. As an adult, he has a somewhat bleaker view of their confusing confines.
"From Richmond to Lehigh, down to Frankford and Girard, we're 'The Lost Neighborhood,'" he said. "Even where we're standing [outside Stock's Bakery], young neighbors and people buying in can just be told any neighborhood name."
When their grandmother took ownership of her Cedar Street home 60 years ago, she was told she'd be moving up from blue-collar Fishtown to Port Richmond. Now, Deissler and Wilczynski see neighboring homes being marketed as Fishtown homes as they go up for sale.
"With homes going up right here [in Olde Richmond], and in Port Richmond, realtors keep calling this 'Fishtown,'" Deissler said. "It's the new Northern Liberties. Those homes are going for $300,000, but if they were listed as Port Richmond, people might not even want to look at them. The same house in a different neighborhood can mean a difference of at least $50,000, sometimes."
Standing in a group with Stock's Bakery co-owners, Frank Stock and his sister Kris DeCarles, everyone agreed that new homes going up anywhere near the boundaries would be upmarketed to the trendier neighborhoods — with Deissler listing examples of building and renovations on residential Hagert Street.
"When you're buying, you'll make sure of the neighborhood before putting in a bid," DeCarles said. "When you're selling, you'll list the neighborhood with the most buzz that you can get away with."
Deissler and Stock even playfully argued over the neighborhood in which we were all standing at that moment. Stock then pulled out his phone to show me an old map of the neighborhoods from 1954, illustrating that we were standing in Kensington on East Lehigh Avenue; The Spirit's newer map showed we were in Olde Richmond. Everyone was surprisingly happy with the distinction.
"You can definitely put Olde Richmond on the bakery shirt," said Deissler with a grin. "That works."
DeCarles chimed in, "We'll take it," then joked, "Or maybe we'll start a new neighborhood: Upper Fishtown, or Fishtown Heights."
So there you have it. There is an art to neighborhood boundaries: forged by the clergy, maintained by the gentry, warped by the almighty dollar. Wow. That's only 104 characters; I could've just tweeted this story.
The Spirit has left plenty of room for suggestion and revision of the new map; and we're happy to see it contested. The debate it's brought forth shows that Riverwards residents, old and new, care about every last square inch of their respective neighborhoods. And watch out, because the 21st century show neighborhoods in flux like a lava lamp compared to the two relatively stagnant centuries before it.
"There are neighborhoods still forming, that — who knows — as they develop civic associations, might continue to re-define the map structure," said Shanta Schachter back at NKCDC. "It's still difficult to define and even if some of these lines are blurry, this is a good attempt to get us mostly there."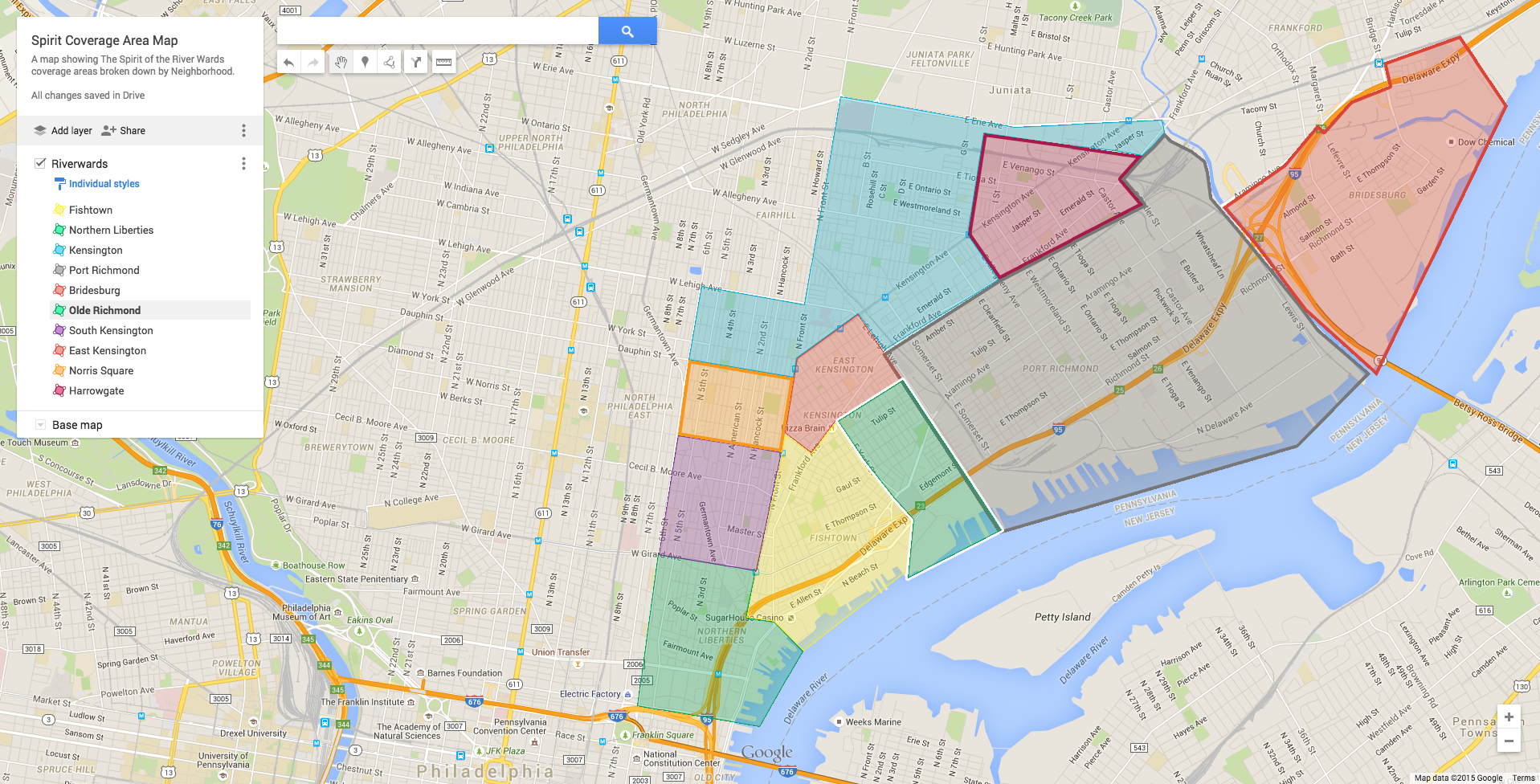 Have thoughts about our map? Email us at info@spiritnews.org to share your opinions.