Community, History
What the Heck is a Sepviva?!
---
"What the heck is a Sepviva?"
  Many have wondered about the mysterious street name that does not sound like an actual word. Even Spirit News reporter Bob Stewart was unclear about what a "Sepviva" might be, as he noted in his June 29, 2016 article about the Ampere Electric building at the corner of Norris and Sepviva Sts.
  The first place someone needs to go in the year 2016 to discover the definition of a word is Google and that is exactly where I began. Unfortunately, my search "define: sepviva" yielded no credible results. My journey to discovering the truth about Sepviva Street was beginning to look like it would take longer than your average definition search. With my schedule consistently being filled to capacity, I decided to spend several hours researching it anyway.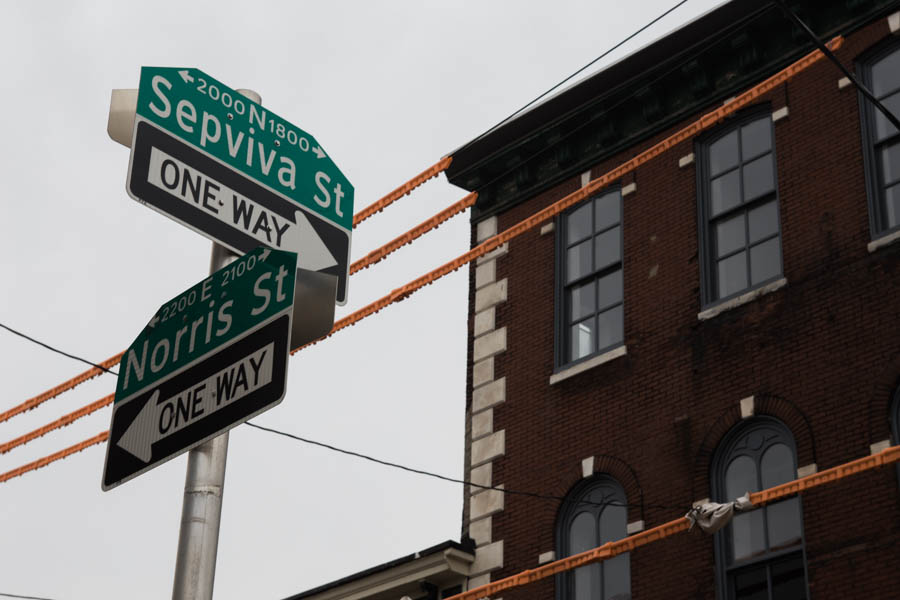 The next step I took to find out the history of this street was looking at old maps of the city on philageohistory.org. On G.W. Bromley's 1895 Philadelphia Atlas, Sepviva Street is named, but there wasn't any additional information I could find by viewing this map. Since streets are often named after people that lived along them, I assumed that if I kept searching for who was named Sepviva, I could prove that they were responsible for the strangely named street.
  I reached another road block when searching for a person named Sepviva. On G.M. Hopkins 1875 Philadelphia Atlas, I found that Sepviva Street existed as early as that map was created. What was even better than learning that the street was older than I may have originally thought was finding the word "Sepviva" many additional times on this map.
  Five blocks south of Sepviva Street, right underneath of the "31" designating the city's ward, was a property marked "Sepviva Est." This means Sepviva Estate. If there was an estate with the same name, surely there must have been a person who owned the estate. I assumed that the estate stretched at least as far north as Sepviva Street and it must have been where Mr. or Ms. Sepviva lived. In the area between two pieces of the Sepviva estate was the Pratt & McKenzie Putty Manufactory. In 1874, Pratt and McKenzie employed two men and four boys to make putty for their business. Pratt was also a part of Hasse & Pratt's Steam Whitening Works that made whitening and chalk.
  Referencing back to the 1895 Atlas, it looks like the last pieces of the Sepviva Estate had been purchased by other Philadelphians. The largest portion of the Estate remaining in 1875 had become part of William Cramp & Sons, a shipbuilding company that was famous for building vessels that would be used in the Spanish-American War, World War I and World War II. Cramps' was so distinguished that the Imperial Russian Navy paid to have a cruiser made there in 1899 and President McKinley visited the location in December of the year prior.
  The other piece of the Sepviva Estate on the same block was now owned by "Ed. A. Jessup." Alexander Jessup was an editor who worked on "'Representative American Short Stories,' 'The Book of the Short Story,' the 'Little French Masterpieces' Series, etc." According to the inside of another book he edited: "The Best American Humorous Short Stories," which is available on archive.org, the remaining two pieces of the estate were also purchased by Cramp & Sons, who merged two blocks together to create their brass works section of the company. Today, a Planet Fitness stands on top of that location.
  Samuel L. Smedley's 1862 Philadelphia Atlas is less detailed than the ones that followed, so it is unclear where exactly the estate is. However, Sepviva Street is already named and existing on this map as well, meaning that it was named before the end of the Civil War. Knowing that whoever Sepviva is must be pretty old, I kept viewing maps that were older and older.
  R.L. Barnes's 1855 "Philadelphia City" map shows that street was already created. The 1843 map of Philadelphia County by Charles Ellet, Jr. does not show the street, but it does show a few dots around the area with the name "Norris" identifying it. John Hills' 1808 map, "Phila and Vicinity" also shows Norris at the same location. At this point, I was worried that Sepviva had lived at a time in between the dates of the maps of which were available to me.
  Out of desperation, I began searching "Norris Sepviva" to see if there was anything I could uncover in my final efforts. At that point, I found an article by Joseph S. Kennedy of the Inquirer about Isaac Norris and his son (also named Isaac) who "put the 'Norris' in Norristown." Ironically, neither of the Norris men had ever been to Norristown, but that is not important for the current mission of discovering the origin of Sepviva.
  The article explained that Isaac Norris purchased 7,000 acres of land from William Penn Jr. in 1704. He built a mansion "just off the road from Frankford to Germantown" that he named Fairhill. His Fairhill mansion no longer survives, but its influence obviously does in its name. I decided to dive deeper into the background of Isaac Norris and his possible role. Perhaps this is what it would take to discover the secret behind Sepviva Street.
  I found a book called "The Historic Mansions and Buildings of Philadelphia: With Some Notice of Their Owners and Occupants" by Thompson Westcott, written in 1877. The Fairhill mansion was included within the pages of this book. It was with this resource that I finally discovered the creation of Sepviva Street. As it turns out, the Norris family was actually much more important to this area than I originally expected. The Norris family impacted the region in a more significant way than just naming Sepviva Street.
  Isaac Norris was born in 1671 in London to a family of Quakers. When he was seven years old, his family moved to Port Royal, Jamaica where they traded rum, molasses, and sugar to Philadelphia. He moved to Philadelphia when he was 21 years old to "act as his father's agent" in the trading business. He returned to Port Royal where he was "shocked to discover that an earthquake had killed his entire family."
  Being a wealthy trader, he purchased his land from Penn and started his family in Northern Liberties, an area that got its name from Isaac Norris himself. The second son of Isaac, Isaac II, was very active in politics, and was a political opponent of Benjamin Franklin.
  During the American Revolution, the British burned down Fairhill mansion in 1777. Isaac Jr. was a patriot and he was responsible for choosing the quotation inscribed on the Liberty Bell, according to ushistory.org. "By Order of the Assembly of the Province of Pennsylvania for the State House in Philada."
  The Norris family owned slaves, but freed all of them periodically throughout their lives. Their Quaker background was a big influence in that decision. "To the eastern portion" of their property, the Norris family had a large plantation. Their plantation was "estimated to be about one hundred and fifty-five acres." Upon purchasing his 7,000 acres of land, "Mr. Norris gave the name Sepviva" to the area that would become his plantation. The Norris family slaves would work on this land until the 1740s when the final slave was freed. And today, we have the name Sepviva Street.
  I was hoping that the story behind the name "Sepviva" would be as funny as the word itself. But in actuality, Sepviva was the name of a slave plantation. I guess that would not have been such a big deal in the 18th Century, but in 2016, the silliness of the Sepviva mystery seems to have lost its same light-hearted feeling after discovering its true origin. •