Community, Features in Fishtown
What's Up With These Local Streets? Examining Parking, Street Issues in Developing Neighborhoods
---
Up and down East York Street, stretching from Aramingo Avenue to Memphis Street, dozens of parked cars face the sidewalk.
This appears like a normal row of parked vehicles, until Spirit News discovered there are back-in angle parking signs on about every block.
This observation is one of many issues involving streets and intersections in the Fishtown and Kensington neighborhoods, due to increasing development, and a greater number of cars on the road.
During the past couple of weeks, Spirit News looked into some of these problems. They range from parking to accidents at busy intersections—but in each case, residents and city officials acknowledged the need for solutions on our neighborhoods' streets.
York Street's parking fiasco
For the past couple of weeks, dozens of drivers pulled in and parked straight-in on York Street, between the major thoroughfare of Aramingo Avenue and side streets like Gaul Street and Memphis Street.
The issue with that is there are signs on every block that read: BACK-IN ANGLE PARKING ONLY. These signs were installed by the Streets Department in September 2015, said spokeswoman Keisha McCarty-Skelton.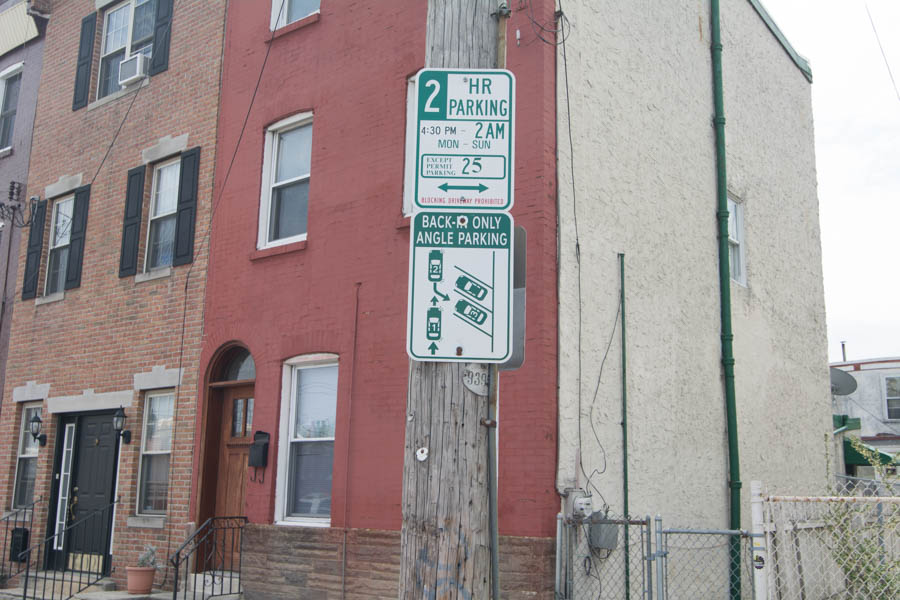 Multiple residents on York Street admitted they don't follow these signs, but added that York Street poses other significant issues.
Debbie Kull has lived on the 2500 block of York Street for more than 50 years. She understands why back-angle parking is enforced, but argued this rule can cause its own problems.
"About a year ago my nephew was backing in," Kull said. "He was practically in the spot and a bunch of bikers his his truck from behind."
Kull added that "bumper-to-bumper" traffic in the morning can make it difficult to back into a parking space.
Jennifer Gardner has lived on the same block for the past two years. The greatest problems facing York Street have nothing to do with parking, she said.
"I think more than anything, they need to enforce speed," she said. "People are flying down this street to get to Aramingo and coming off it."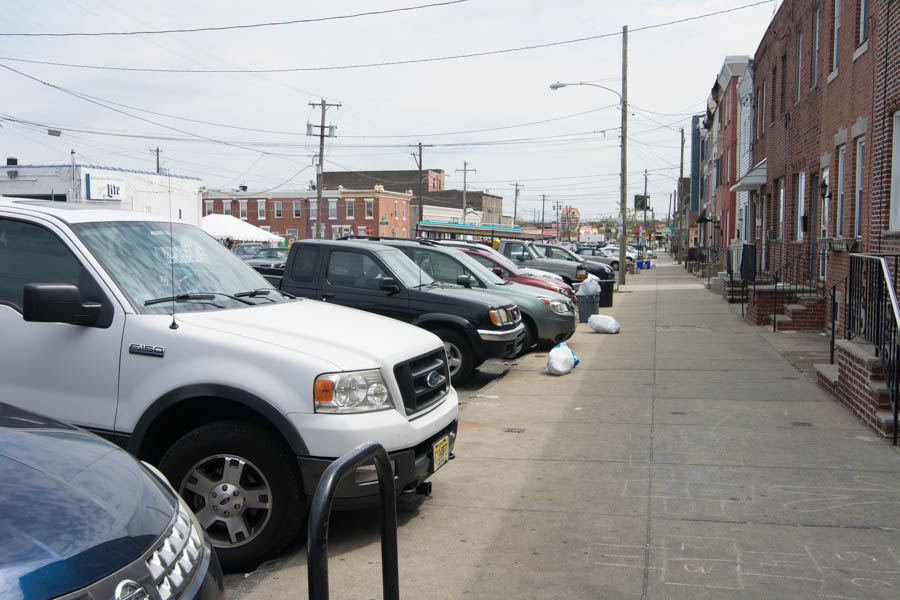 One of the main reasons back-angle parking is the law on York Street, however, is there are bike lanes between the driving lane and parking spots. John Boyle, research director at the Bicycle Coalition of Greater Philadelphia, said the fact cars aren't backing in is concerning, but understands the PPA has large areas to enforce.
Boyle added, however, that backing into a spot prevents possible legal trouble down the line.
"If you hit a cyclist while pulling back, you're probably liable," he said. "It's just good practice to get in the habit of back-angle parking."
After contacting multiple city officials, Spirit News learned that back-angle parking on E. York Street is enforced by the Philadelphia Police Department's 26th District.
A source within the 26th said police started issuing warning letters to those that don't back-angle park on York Street. Then, in the next couple of weeks, officers will start ticketing, which will be around $40.
One resident on the 2500 block has a simple solution: paint parking lines on the entire street.
"As soon as you give people an outline of what to do, they'll follow," said Adam Phaneuf, who's lived on the block the past three years.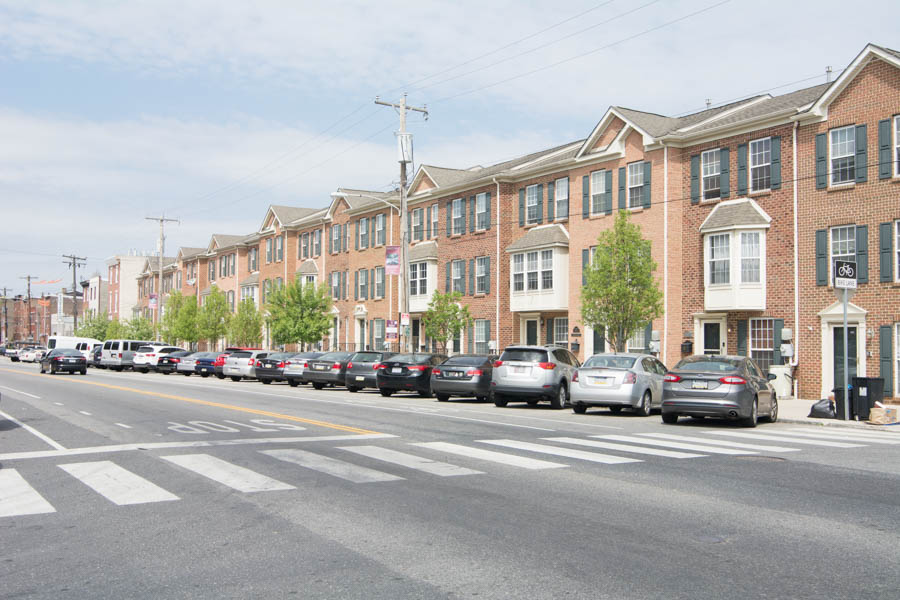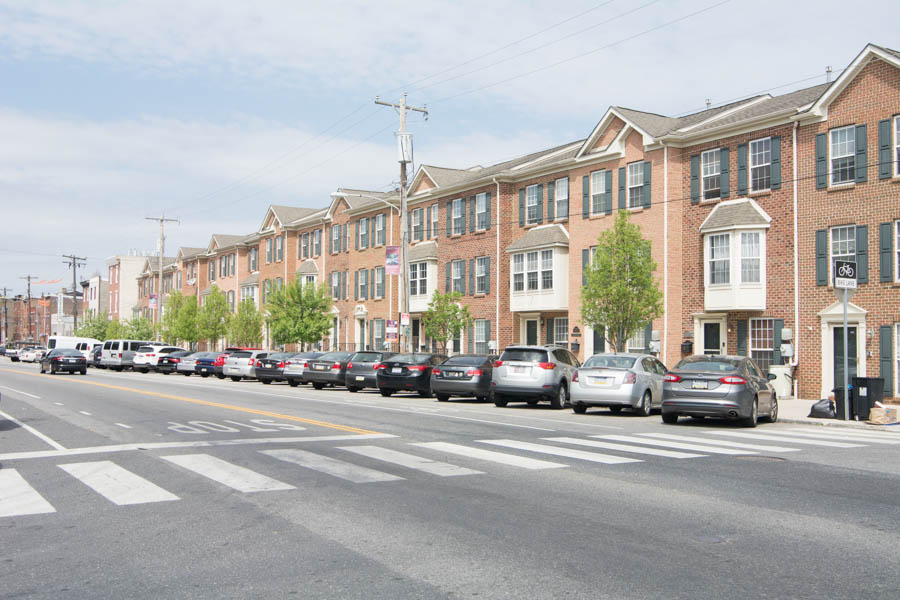 Trenton and Susquehanna
About a 10-minute walk to the northwest, lies an intersection in East Kensington that Erica Vanstone has major concerns about.
Trenton and Susquehanna avenues meet near the Kensington High School for the Creative and Performing Arts. It's a relatively large intersection, and is bordered by ballast stone on Trenton Avenue. Recent development is also evident on the northern corners of the intersection.
Vanstone said parking issues and overall traffic near there has led to calls for new stop signs and crosswalks.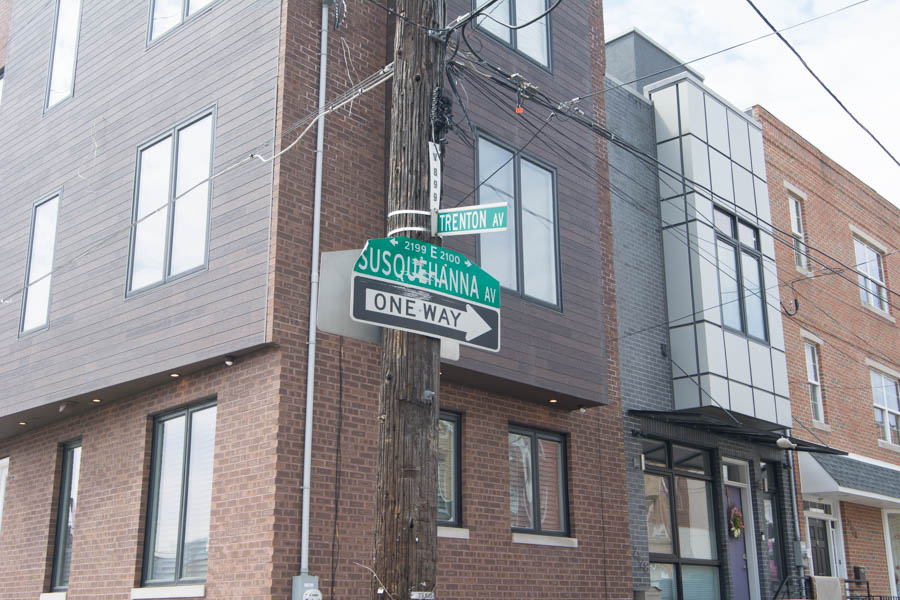 "This sort of crusade of mine started at the end of the year in 2016 when I was walking my nine-year-old across the street and seconds behind us, two cars t-boned into each other," said Vanstone, who lives on Susquehanna two doors down from the intersection.
"So we've witnessed an accident that day and every time I try to pull out into that intersection, I'm reminded of how dangerous it is to try and see past any of the vehicles to try and get through there."
Vanstone added she has been working with the East Kensington Neighbors Association to install a new stop signs on the north and south side of Trenton Avenue, and crosswalks also need to be painted.
Andrew Pry Ortega, who serves on the zoning committee of the EKNA, said Vanstone has taken the lead in making the intersection safer.
He added that development along Trenton Avenue will continue to increase traffic near the intersection. The city's Streets Department has been notified of neighbors' concerns, Ortega added.
Spokeswoman Keisha McCarty-Skelton said the department's Traffic Unit has started a study on the area, which should take about 13-15 weeks to complete.
Vanstone said parking is already scarce near that intersection, and that a recent zoning variance means 14 more cars will need space for parking in the area.
She understands her complaints can be frustrating, but wants the area to be safe. "I'm not trying to take away anybody's inexpensive parking solutions for their jobs, but safety is a consideration, especially since the number of developments have gone up over the past five years," she said.
Hagert and Frankford
Much smaller than the former intersection, Hagert Street and Frankford Avenue is flanked by new construction, Atlantis: the Lost Bar and Philadelphia Brewing Company.
It's also been a spot for a considerable amount of accidents, according to residents and people who work in the area.
Bo, a bartender at Atlantis, said he's seen all types of accidents at the intersection, and believes many motorists speed on Frankford Avenue.
"People either think it's a four-way stop, or just speed," said Bo, who declined to give his last name. "And people are definitely going over the speed limit."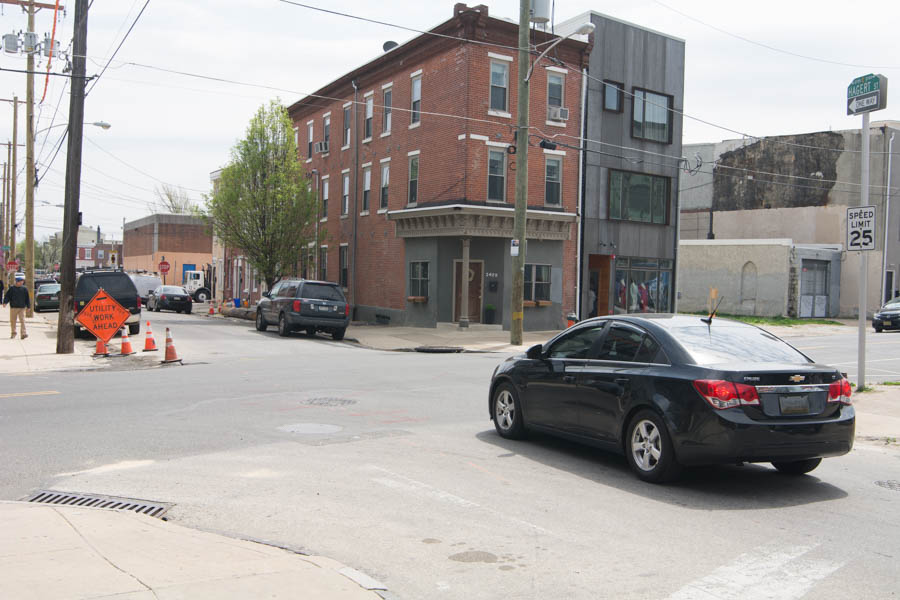 Jen Jones, who frequently visits her brother on Hagert about a half-block east of the intersection, said the problem stems from the intersection to the immediate south, consisting of York Street and Frankford and Trenton avenues. For drivers moving north on Frankford, there are two separate stoplights at the intersection—and Jones believes this makes them act like a "fast break" on a basketball court.
Jones said safety should be a priority in the area, given Atlantis and Horatio B. Hackett Elementary School's proximity.
She believes, however, that the intersection and surrounding area has the signage, and thus drivers need to slow down on Frankford. She disagreed with Bo that a stoplight is needed.
"People just need to obey them [the signs]," she said.
Our source in the 26th understands the concerns about the intersection, and like Bo and Jones, thinks speeding is the main issue.
"The problem is it goes for such a long straight stretch," he said about Frankford. "The longer stretch without traffic lights almost gives it the sense of a highway."
He added that Frankford is a narrow street, making it harder to avoid possible accidents, and believes the intersection at Palmer Street could be resulting in more accidents due to development and the location of the post office a block south.
Richard Montanez, deputy commissioner for Transportation in the city's streets department, said Fishtown and Kensington's rapid development is making his office and others closely look at street logistics.
"We're looking at crashes throughout the city," he said. "The booming real estate is causing changes [in neighborhoods] to happen really quickly."