Features, History in Brewerytown
Who are the "Leins" of The Monkey & The Elephant Stained Glass Fame?
---
  The Monkey & The Elephant has been gaining a lot of recognition since opening in February of last year. For those who have not read Joe Palinsky's January 14th article in The Spirit of Penn's Garden, The Monkey & The Elephant is a coffee shop located at 2831 W Girard Avenue in Brewerytown. The coffee shop employs individuals whom have aged-out of foster care.
  The building that this business calls home is at an interesting location, standing only a couple of doors away from boarded-up properties and down the street from Girard College (which was famously desegregated through the work of Cecil B. Moore). 2831 is not the tallest building on the block and it is not the shortest. 2831 fits flawlessly into the uneven architecture that characterizes the neighborhood.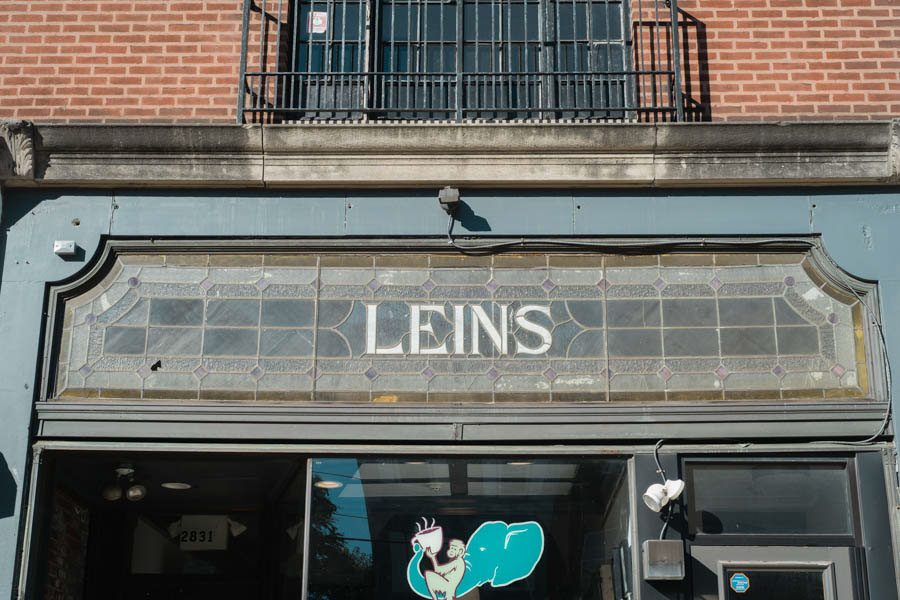 Perhaps the most striking feature of this building is not the new, shiny glass window displaying the modern Monkey & Elephant graphic, but instead it is the large, stained glass window that stretches across the face of the building that reads: "LEINS." 2831 has been owned and rented by dozens of different businesses over the years, but the stained glass window has remained throughout all of this time.
  Few people have stopped to wonder about the origin of this stained glass, but Reddit user 'johnturner1818' posed this question and 'b0b0tempo' responded to enlighten the audience. Linking the "Industrial Directory of the Commonwealth of Pennsylvania: Vol. 4", 'b0b0tempo' supports his answer of the window's proprietor Gustave A. Leins.
  Gustave A. Leins was born in Germany to Johann Georg Leins (b. May 22, 1862) and Karoline Schneider (b. September 4, 1866). Johann was called Georg, probably because his parents, Johann Leonhard Leins and Christina Evele, wanted to distinguish the father and son (a common practice in German families who pass names down generations). Karoline was born to parents Christoph Adam Schneider and Amalie Karoline Westermann.
  Georg and Karoline married in 1899 in Stuttgart, Württemberg, Germany. On April 14, 1890, they had their only child, Gustave Adolph Leins. On April 24, Gustave was baptized in Stuttgart as Gustav Adolf Leins, although his name changed slightly once moving to America, just as his parents' names will slightly change as well.
   Ellis Island passenger information shows that Karoline arrived with 2-year-old Gustave to the United States as "settlers" on June 1, 1892 and met with Georg who had arrived March 31st traveling as a "workman." Their immigration was finalized in 1893, but it was not until July 13, 1908 that Georg Leins became naturalized at the Pennsylvania Eastern District Court, that also gave his wife and son citizenship as well.
  The Leins' earliest known residence in the United States derives from a 1900 Census that lists their address as 1428 Hollywood Avenue in Philadelphia. Karoline was written as "Carolina S." on the 1900 Census. By the 1910 Census, the Leins family found a new home. Georg, Karoline (affectionately listed as Carrie), and Gustave lived at 1337 North 20th Street. Georg was a brewer, Karoline did not work, and Gustave was a decorator.
  Georg and Gustave immediately began using their home at 1337 as a flower shop, because they appear in the 1911 city directory as such. By the 1914 directory's publishing, the business is listed at 2834 Girard Avenue. Taken from a June 5, 1917 World War I Draft Registration record, we know that 2834 was also the home address of Gustave and his parents, both of which are listed as dependents. This is now the second property that was not only a business, but also a home. Karoline never held a job in the United States and Georg would not survive long enough to see the 1920 Census, so it appears that Gustave was, in fact, the breadwinner at this time, with his parents depending on him for sustenance. Although the Leins family started out living at 2834 Girard Avenue in the flower shop, by 1918, they lived at 2825 Girard Avenue. 2825 is now operating as Uncle Nick's Pizza.
  Gustave's wife, Wilhelmina Fredericka Mayer, was not an immigrant herself, but the daughter of immigrants: Carl Mayer and Katherine Kleber. Carl arrived in Pennsylvania in 1875 and Katherine arrived in Pennsylvania in 1877. The couple had 12 children, but only 8 of them lived for more than a couple of years. Wilhelmina was the third child of Carl and Katherine, born on February 20, 1892 in Philadelphia.
  In the 1900 Census, Wilhelmina was listed as living at 1578 Stillman Street with her parents and six siblings. By 1910, the Mayer family had moved to 1500 Stillman Street, but the oldest child had moved out of the household by that time. One can assume that Wilhelmina lived in the family household at 1500 Stillman until her marriage with Gustave, based off of a World War I Draft Registration record of her brother Charles who listed it as his address, as well as the 1920 Census that shows Carl living at the same address with his wife and four of his children. Between 1900 and 1910, the Mayer family spent some time in Buffalo, New York, based off of a 1905 New York State Census.
  On August 13, 1919 Gustave and Wilhelmina got married in Manhattan, New York. Gustave's father, Georg, died on April 25, 1918, 11 days after his son's 28th birthday and 15 months before the wedding. After the wedding, Wilhelmina moved into 2825 Girard Avenue with Gustave and his mother. The 1920 Census was taken on April 10th and Gustave would have his first son with Wilhelmina on July 10th of the same year.
  Gustave Robert Leins was called "Robert" by his parents, evident in Chester Times newspaper clippings and on the gravestone of his parents. On March 29, 1924, Gustave and Wilhelmina had their second (and last) child, Gregor A. Leins. The Industrial Directory of 1922 shows that the office of Gustave's flower shop was at 2825 Girard, which is where the family lived until sometime before the 1930 Census.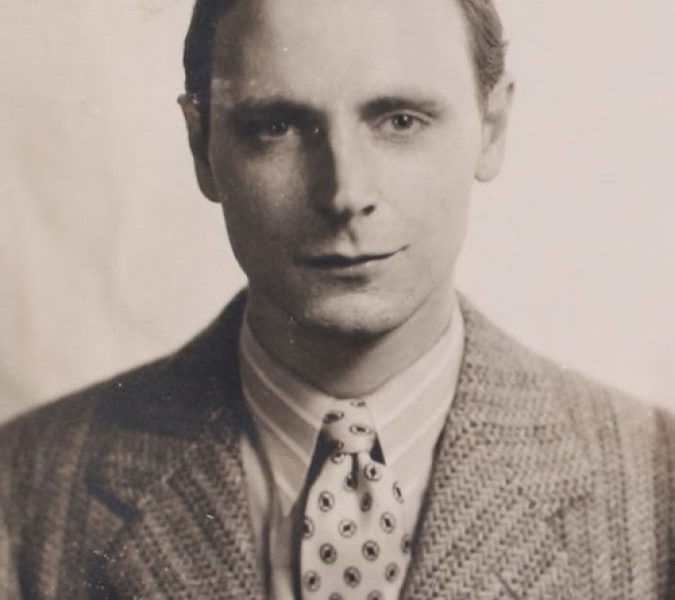 By 1930, the family moved into 2831 Girard Avenue, the current address of the Monkey & Elephant Café. The flower shop was still operating at 2834 Girard, just across the street. Gustave's mother, Karoline, had passed away on October 2, 1928. Between that point in time and 1935, Gustave, Wilhelmina, Robert, and Gregor swapped their home with the flower shop. By 1935, the family lived at 2834 Girard and the flower shop operated at 2831 Girard.
  Another notable event in 1935 is that the Leins family had hired a maid named Anelia Krahn, an older woman from Germany. Gustave and his family lived with their maid at 2834 Girard until, at least, 1940. Interestingly, the 1940 Census details Ms. Krahn's 1939 income at $780, but Gustave and Wilhelmina both reported zero income, despite both working all 52 weeks of the year. The Census also states that the sons are both in school and the parents never received higher than an 8th grade education.
  Robert was enrolled at Pennsylvania Military College and he made enough of an impact that he was mentioned in four issues of the Chester Times between 1939 and 1941. In May of 1939, Robert was one of two students to qualify as a sharpshooter in rifle training. In June of 1941, Robert graduated with a Bachelor of Science degree in Business Administration. On July 1, 1941 Robert accepted a job as second lieutenant in the army. The article describes him as "graduating with highest honors" and "the son of Gustave Leins, of 2831 Girard Avenue, Philadelphia." This means that between April 10, 1940 and July 1, 1941, the Leins family moved across the street.
  With Robert away at college and then with the military, Gustave, Wilhelmina, and Gregor moved into the flower shop at 2831 Girard, the current location of the Monkey & Elephant Café. In addition to the Chester Times regarding Gustave's address as 2831, a World War II Draft Registration record shows Gustave's address is at 2831 as of April 22, 1942. Gregor enlisted for the army on August 13, 1943, and his address was also 2831. A city directory, as well as Gregor's Veteran Application, in 1950 lists both of their addresses at 2831 Girard Avenue, and the location still operated as a flower shop.
  Gustave and Wilhelmina took several trips by boat beginning in 1941 throughout the 1950s. Gregor traveled with them once, as well as taking a trip alone. This could be to visit Robert or to travel to California (perhaps both). In 1968, Gustave is listed in a phone directory in San Rafael, Marin, California. United States public records show that Robert lived in Mill Valley, California in 1993. All four of the Leins' would spend the rest of their lives in California.
  Gregor A. Leins died on March 3, 1972 in San Rafael. Gustave Adolph Leins died on April 11, 1977 (3 days before his 87th birthday) in San Rafael. Wilhelmina Fredericka Leins died on September 4, 1978 in San Rafael. Gustave Robert Leins died on August 7, 1999 in Mill Valley.
  Gustave and Wilhelmina are buried together at Mount Tamalpais Cemetery in a couple's plot. Their gravestone reads "Gustave A. Wilhelmina F. Beloved Parents Of Robert & Gregor. Auf Wiedersehen Dearest Ones."
  We can assume that the Leins family was comfortable financially while they were living. Their addresses on Girard Avenue were just a few yards away from Theodore Engel who lived at 2820. Engel was a multi-millionaire who was half of the Bergner & Engel Brewing Company that sold beer internationally. The quality of their beer was compared to the best Bavarian beers in the world. Even though the Leins family moved back and forth a few times and they also lived in their place of business, they were wealthy enough to afford a beautifully crafted stained-glass window for their storefront. They were also able to operate a business in the part of town that was economically privileged, even after the breweries had shut down post-Prohibition.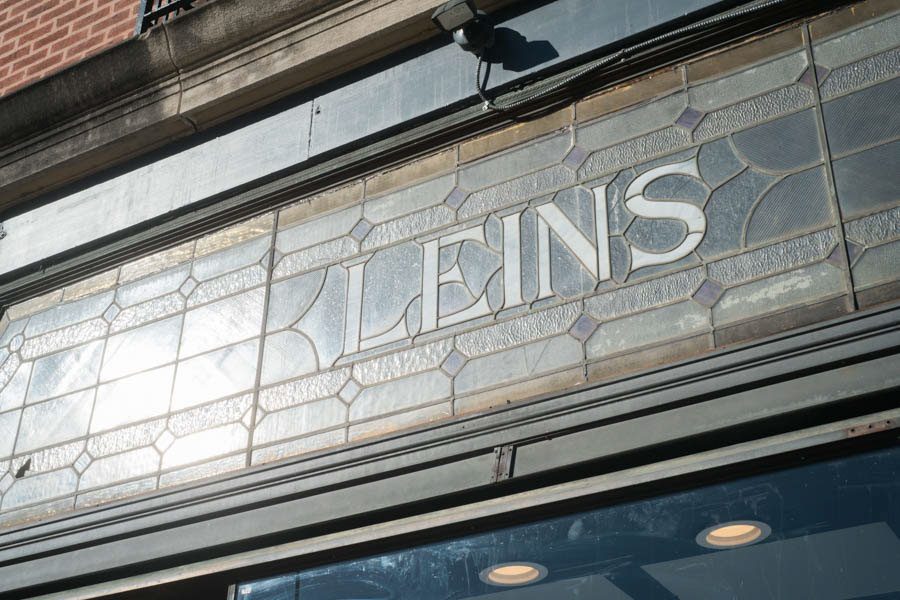 The flower shop began operating at 2831 Girard Avenue sometime between 1922 and 1930. The stained glass that still rests above the Monkey & Elephant Café has been there between 86 and 92 years. The ever-changing landscape of Philadelphia gives older properties an unknown lifespan. Hopefully we can remember the history that was made and the lives that were spent in the properties we inhabit today. 2831 Girard Avenue is a perfect example of how the past and present compliment each other so well.
  Surviving documents teach us a great deal about individuals from the past. Gustave's World War II Draft Registration Card informs us that when he was 52 years old, he was a white man standing at 5'7" with blue eyes and brown hair, weighing 148 pounds with a dark complexion. Gregor's Veteran information tells us that he served in the army oversees for 13 months during World War II. The best surviving record of the Leins family is the Army Enlistment Records of Robert. Listed as a driver, Robert's headshot is the only known (for now) picture of anyone from this family. Along with this photograph, we remember the Leins family from the long-lasting impact they have on Girard Avenue at 2831.
If anyone knows the Leins family, or where their descendants may live, feel free to contact us at info@spiritnews.org. •
THANKS FOR SUPPORTING SPIRIT NEWS!
Please follow this link to visit Amazon.com through our affiliate portal. It's the same Amazon.com you know and love, but when you shop through this link we receive a small cut at no added cost to you!
By using this link to do your normal Amazon.com shopping, you'll be supporting your local newspaper.