Features in Brewerytown
Youthquake: The Monkey and the Elephant hosts night featuring Philadelphia's young poets
---
On the third Thursday of every month, young poets between the ages of 13 and 23 are welcomed to The Monkey and the Elephant Café (2831 W Girard Avenue) for Youthquake, one of Brewerytown Social's longest standing events. Youthquake starts with an open-mic style sign up period where any of the young poets who are attending can sign up if they would like to read. After the open-mic portion of the night, a predetermined feature youth poet will take the stage, headlining the night.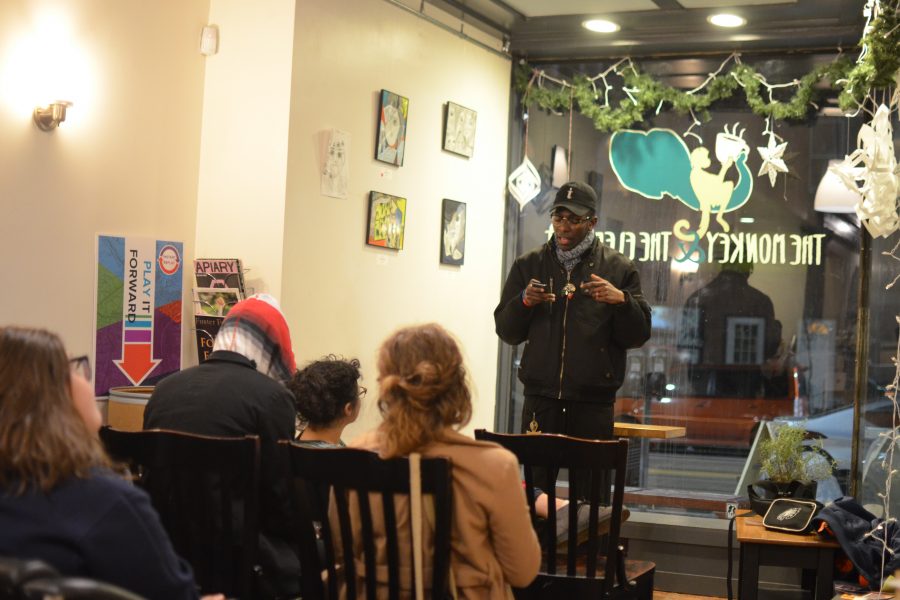 February's edition of Youthquake featured 4 young poets, 3 of which signed up for the open mic, and 1 feature. The poets were not shy to tackle subjects such as race, sexuality, loss, abuse and love.  The mood is welcoming and inclusive, with the crowd snapping fingers in encouragement when a reader begins to stumble or freeze, and wooing loudly when a reader nails a line.
When asked how old he is, Mount Airy native Lindo Jones simply replied, "I'm timeless. I'm secretly a man that's lived a couple lifetimes." Jones was one of the readers that night and it was his first Youthquake. "I've been hearing about the open mic for a minute and decided to come out finally and check it out," Jones said. "What really kept me, because I came mad early, was just the vibe in here, they were playing hip-hop, the folks were really approachable and welcoming—and the corn muffins were really great. I ate like, 3 corn muffins while I was here!" What made an even bigger impression than the corn muffins on Jones was The Monkey and the Elephant's business structure: a non-profit that employs youth that have "aged out" of the foster system. "Once they told us about why this space is here and who they are bringing into the community, and giving back, I was like, 'alright, now this has got to be a spot I always go to.' I'll be back here more," Jones said.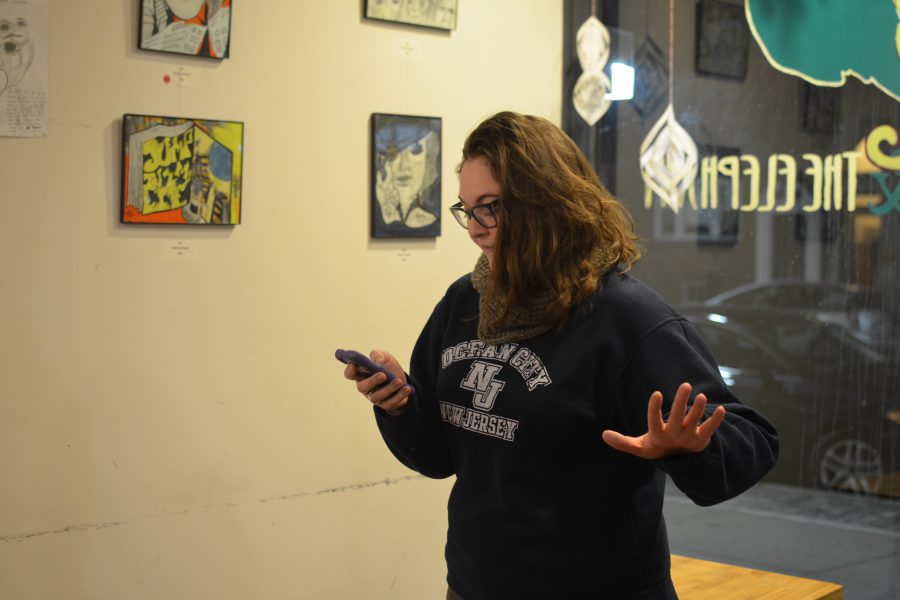 Zillah Elcin, another one of the readers that night explained that since poetry is sometimes made just to be performed, it makes it difficult for poetry to get into the open world and out of the notebook or cell phone it was written on. "It's not really a thing you get a lot of opportunities to do. So it's just a good chance to stretch those muscles," Elcin said.
Featured poet Aliyah Palmer (also known as @svpa.nova) and her friend and fellow reader Kegan (@king.kegan), were also first timers of Youthquake. "I really like it, it's really calm, down to earth," Kegan said. "People were really supportive."
"It's very nostalgic," Palmer said. "They keep their cookies in mason jars!" While the energy in the room certainly helped, Palmer explained that reading work in front of a crowd, let alone being the featured poet, is a daunting task.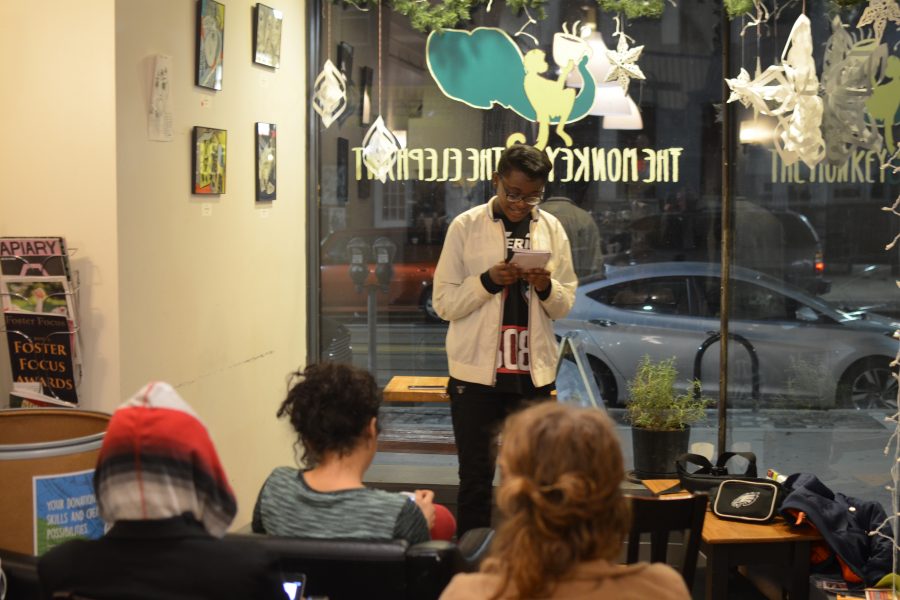 "I was really nervous," Palmer said, laughing. "But I like how everyone is so welcoming. It was really big. I was so nervous.  All that pressure, like the feature is supposed to be really great."
Kegan and Palmer, both 18 and from the Oxford Circle neighborhood of Northeast Philadelphia, feel events like Youthquake are not only nice to have, but necessary. "We need more places like this in Philly," Palmer said. "I'll give advice for the youth, anything can happen. I was bullied and I never pictured myself being here." When asked what she meant by "being here", Kegan jumped in. "Being around so many new people. I was really introverted, plus I always bullied, so that didn't help, but now I'm meeting all these new people and going to all these events — it's crazy." Palmer agreed. One of Kegan's poems fittingly ends with the line, "Love is paramount in today's youth."
As the readers finished performing, Maryan Captan, Youthquake's MC and a founding member of Brewerytown Social, gave the young poets one last bit of advice:
"Don't. Ever. Give. Up. Writing!"
You can catch Youthquake the third Thursday of every month at The Monkey and Elephant, 2831 W. Girard Avenue, Phila., PA 19130. You can find out more about Youthquake and other events at Brewerytown Social