Sports
BOXING ROUNDUP: Brunson, Ortiz, Conquest, Ennis and Sparrow All Victorious in Busy Week for North Philly Boxers
---
It's six months into 2017, we now have a front runner for Philly Fight of the Year.
North Philly fighter Tyrone "Young Gun" Brunson knocked out ex-champ Kermit Cintron at the 2300 Arena in South Philly on Saturday.
The fight was action-packed, with Brunson coming back from two knockdowns to secure the victory. Referee Shawn Clark called the fight at 1:21 of the 5th round after Brunson miraculously came back to knock down Cintron three times. The ref's call led to Brunson rocking the arena with thunderous jumps of joy and the crowd going nuts.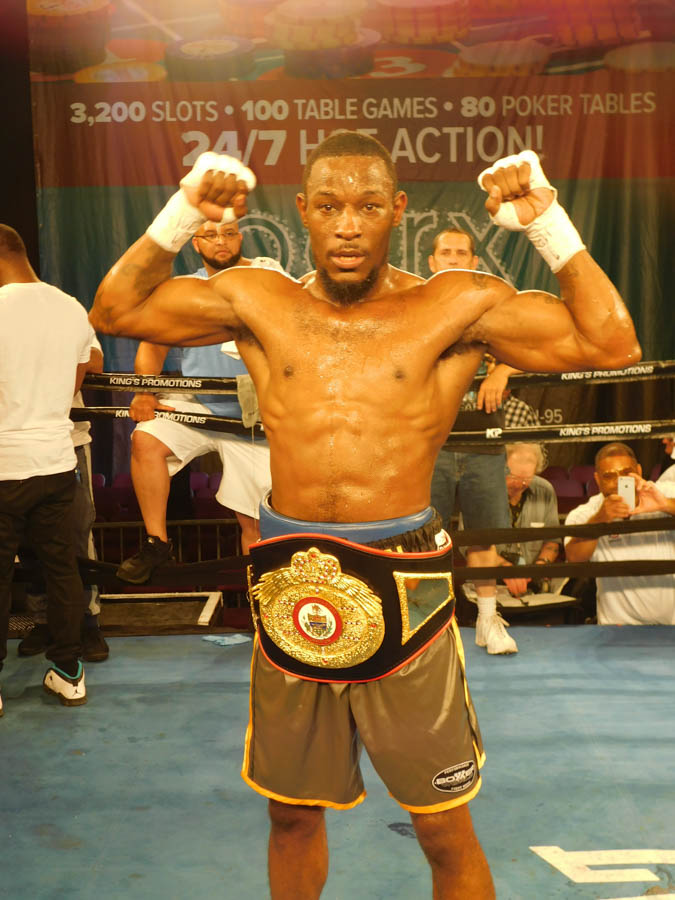 With the victory, Brunson wins the Pennsylvania State Super Welterweight title and expects to be ranked in the top 15 by the IBF.
Brunson, a graduate of Benjamin Franklin High School on North Broad Street is now 25-6-2 with 23 knockouts. He posted after the fight:
"I just koed a two time world champion a glory to god. Y'all suckers keep hating ima keep winning!! thanks for the talk yesterday @tevinfarmer22

I'll be #1 for the USBA and 15 for the IBF keep chasing them dreams. #WorldTitleTour"
Brunson was cornered by Vaughn Jackson and Billy Briscoe. Briscoe posted:
"I want to congratulate TY Brunson and VON and all of Team Brunson on Winning the The Pa State Jr Middleweight Title Last night By Stopping Former World Champion Kermit Cintron in the 5TH Round and I want to thank them for Hiring me To work the Cuts For them it is always a pleasure to work with a Great Team"
Originally from Carolina, Puerto Rico, Cintron grew up in Warminster, Pennsylvania and is the former IBF World Welterweight title holder. His most recent loss came at the hands of superstar Canelo Alverez in Mexico City. This loss to Brunson throws a serious roadblock in front of his comeback plans.
In a thrilling undercard bout, Edison High School grad Steven Ortiz registered two knockdowns en route to a six-round unanimous decision over Tyrome Jones of South Bend, Indiana in a battle of previously undefeated lightweights.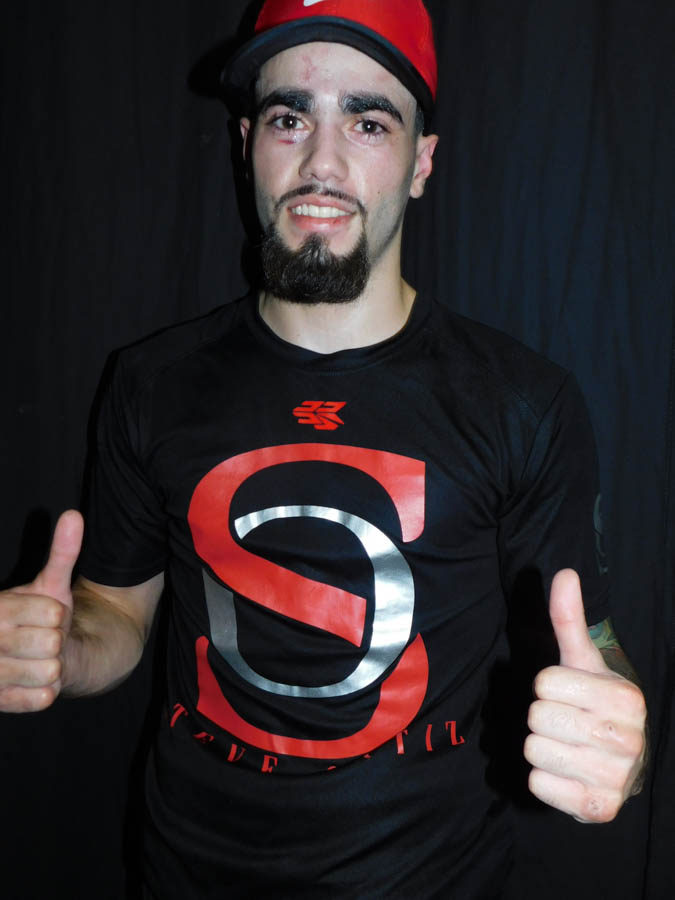 Ortiz, who looks huge for the 135 pound division, scored knockdowns in rounds three and four in a bout where both guys landed effective blows. The 23-year-old reportedly walks around at 145 pounds. He won by scores of 59-53, 59-53 and 57-56 to remain perfect at 7-0.
Fan favorite Jerome "The Conqueror" Conquest (8-2 with 1 KO) out of Joe Hand and Strawberry Mansion High School, counterpunched his way to victory over South Korean Jae Ho Kim in a six round lightweight bout.  Kim was a bit of a mystery coming into the fight. He trains in West Philly at Fastlane Gym, but all of his previous fights were in Asia and Australia. Kim dropped Conquest with a left hook at the end of round three, but Conquest shrugged it off and controlled the rest of the action, and won by scores of 59-55, 58-55, and 57-56.  Conquest was cornered by trainers Wade and Randy Hinnant.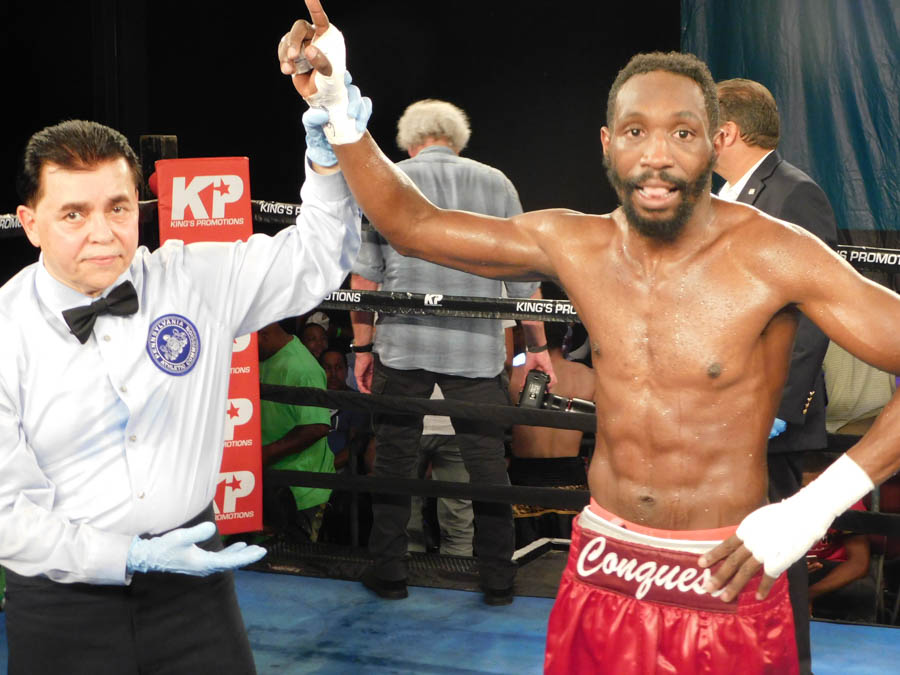 King's Boxing Promotions did a great job with the event, as all of the fights were evenly matched.  They have never been averse to bringing in quality out-of-town opponents, or to have Philly fighters square off for regional bragging rights. Their next events will be August 11 at Sugarhouse and back to the 2300 Arena on September 29.
"This was a tremendous fight, and all-around great card. Some fights and cards don't live up to the expectations, but the main was one of the great fights of this year.  I am proud of all the fighters who competed tonight, as they all brought their best, and it showed in quality of the fights," said King's Promotions CEO, Marshall Kauffman.
Jaron "Boots" Ennis, out of Bozy's Dungeon in Harrowgate, celebrated his 20th birthday with his 13th straight victory at the Durham Armory in North Carolina against veteran Robert "Hitman" Hill of Gulfport, Mississippi. Boots is now 13 – 0 with 11 knockouts since his professional debut in April of 2016. His opponent was a journeyman with over 40 fights who upset Eudy Bernardo (21-2, 15KO) of the Dominican Republic just three months ago.  Boots hammered Hill to the body and his corner decided not to come back out after the 3rd round.
"I only got hit one time during the fight," said Ennis. "I went in there, and had fun like I always do. He backed up the whole time. When I first came, I was touching him to the body a lot, and that slowed him down. He didn't come out for the fourth round."
Ennis continues his barnstorming tour with his next fight scheduled for August 12 in Washington, DC in the co-main event.
"I'm thankful to have been so busy since my debut," said Ennis. "It keeps me sharp, and I'm excited for my first eight rounder. I'm ready to show more of my talent, and the results of my hard work."
North Philly featherweight Avery "A-Plus" Sparrow, also fighting out of Joe Hand's, beat previously undefeated southpaw Isaelin Florian at the Sands Bethlehem Event Center on Tuesday.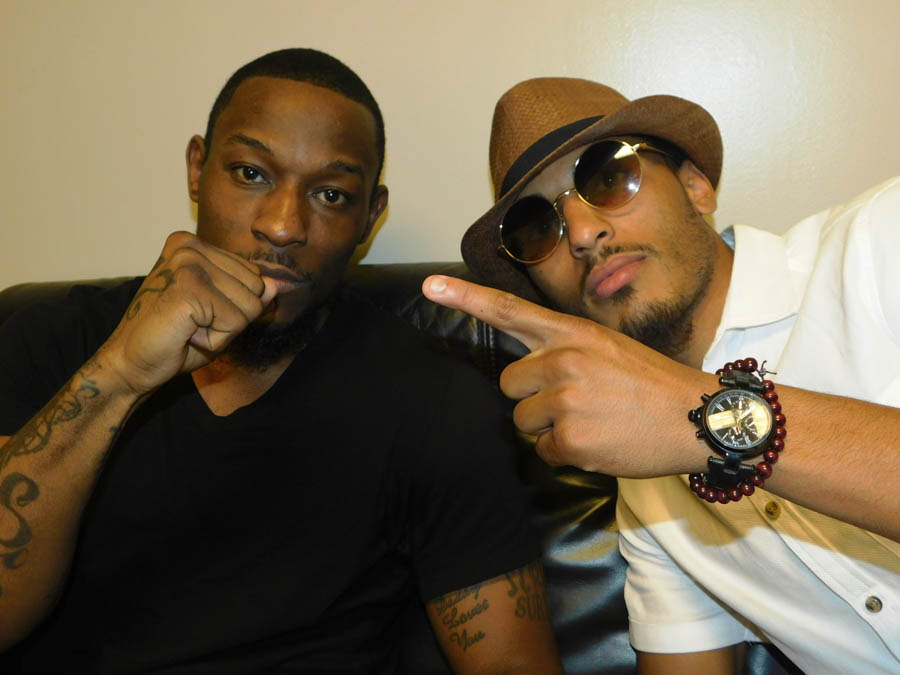 Both fighters came out dropping bombs from the opening bell, and both boxers each got dropped twice to the canvas.  Sparrow got the decision after four rounds.  The fight was broadcast on Fox Sports 1.
"Great fight for the fans as far as my performance I give myself a "B." I got up from a great shot and got the win like a true champion would! He was a tough undefeated guy who was hungry for the win also it was great to fight on national TV and show was skills to the world," Sparrow said after the fight.
In other local boxing news, Eric Peguero fights this week at the Junior Olympics in Charleston, West Virginia. Eric is the brother of exciting pro prospect Crystian Peguero out of La Gallera in Harrowgate and Philly Rumblers and is also coached by Tito Varela.
This coming Friday in Atlantic City: Ray Robinson, Christian Carto and Branden Pizarro all fight at the Tropicana.