Sports
Peguero, Boots Ennis and Hank Lundy Victorious in South Philly
---
 It was a sold-out, thrilling night of boxing at the 2300 Arena in South Philly on Friday with mixed results for our neighborhood boxers.
 In the main event , fan favorite "Hammerin'" Hank Lundy (28-6-1 with 14 knockouts) blasted Daniel Evangelista against the ropes for a TKO at 2:53 in the fifth round of the scheduled eight rounder. Former champs "Joltin'" Jeff Chandler and Bernard "The Executioner" Hopkins were ringside to watch the battle.
 Lundy was winning every round, but Evangelista did not show up just for a paycheck. He clipped Hank a few times throughout the fight, but it only seemed to get Lundy angry until he eventually lowered the boom on the Mexican in the fifth.
 Lundy, 33, has fought professionally for over a decade but relatively few times in his hometown of Philly. He was a 2005 National Golden Gloves silver medalist and represented the United States at the 2007 Pan American Games. He fought twice professionally at the Blue Horizon before the legendary venue closed for good in 2010. He has fought coast-to-coast in 12 states and Canada. In 2013 he traveled to Kiev, Ukraine to battle the then undefeated Viktor Postol for the WBC International super lightweight belt. His most recent loss was to Terence Crawford at Madison Square Garden. Crawford is currently rated as one of the best pound-for-pound fighters in the world.
 With this victory, Lundy feels he is ready for a new run at a title shot.
 "I felt good," he said immediately after the bout.  "You know I'm ready to go back to 10 or 12 rounds and fight for a world title. This was a little icing on the cake to show everybody y'all got hell to pay.  I'm back and I mean business. Nobody can beat me. The only person who can beat Hank is Hank Lundy, and I did that already and there's no more of that. Its world title time. I want them all at 135. You already know their names: Luke Campbell, Mikey Garcia, Broner, Terry Flanagan, Robert Easter. Stop running and give me them fights. Anthony Crolla – give me all of them. Lomachenko? I'll whip his ass, too. Hank Lundy doesn't run from nobody."
 Before the fight, Lundy said he would happily travel to Manchester, England to fight any of the title holders and contenders in the U.K.
 "I'm the real deal… I'm an action fighter who has lived the life. I traveled all over the world.  I wasn't born with a silver spoon in my mouth. I'm from the hood in Philadelphia – the streets of Philadelphia."
 Lundy raised his fists and added, "I fought with these growing up, and that's what I show when I fight.  I'll take my bundle on a stick and go get it. I'm ready. The thing is, would they fight me? I've been calling these guys out for years, even when they first popped on the scene. They run from Hank Lundy. They don't want to fight Hank Lundy. They run from me.  The proof is in the pudding. Why does Hank Lundy got to move up to 140 when I fight at 135? They don't want to fight.  They know I'm a dog."
 Earlier in the evening, exciting bantamweight prospect Crystian Peguero (2-0 with one knockout) beat Saquon "Roto Rooter" Felton of New York by unanimous decision in a four-round bout.  Peguero, originally from Caguas, Puerto Rico, moved to Kensington when his sister required surgery that was performed at a local hospital. He attended Luis Muñoz Marín Middle School and Edison High School. Peguero always wears a huge grin when he is outside the ring, but inside he is all business. His fighting style is brash and dynamic and is a sure crowd-pleaser. He trains at the new "La Gallera" in Harrowgate Plaza and rolls with the Philly Rumblers.  
 "Miguel Cartagena is like a big brother to me," Peguero told me before the fight. "Tito has been my mentor and like a father to me. His brother Javier is my manager. With them in my corner, I know I'll be okay in every fight. I just have to work hard and stay focused."
 After the fight, Philly Rumblers posted to their Facebook page:
 "Congratulations to Crystian Peguero on his unanimous decision over a very solid opponent who was a former national champion with over 70 amateur fights. The scores were 39-37, 40-36 (twice) all in favor for Crystian. I'm in [a] little disbelief how the one judge gave one round to the guy.

It was a great fight for Crystian and definitely a developmental win, one that he will grow from. Thank you to the 100+ people that bought tickets and came out to support. Good job to Tito Varela for doing a great job with Crystian….

Thank you to the godfather of boxing, J Russell Peltz, and the boxing queen, Brittany Rogers, for being part of Crystian's development and growth.

I know that they could've found an easier opponent, one that would've [lain] down with the first punch but our goal is to make a world champion, not a fighter with a pretty record.

Can't wait for the next fight, six rounds maybe?

Thanks to Billy Briscoe for his outstanding work last night as a cutman. Billy's passion is unmatched and he definitely loves this sport more than anyone I know."
 Also on Friday, if you blinked you might have missed Jaron "Boots" Ennis of Bozy's Dungeon in Harrowgate. His first-round knockout of Wilfredo "El Zerdo" Acuna of Nicaragua by a body shot was as clinical as it was quick. Ennis improved his record to 12 – 0 with 10 knockouts. He and Christian Carto have most certainly graduated from "prospect" status and will be looking for bigger fights in the next 12 months. Ennis has fought four times in 2017 already; his last bout was just three weeks ago in Virginia, also a knockout of Eduardo "El Cheito" Flores of Quito, Ecuador. Ennis has fought 14 times in the past 12 months and remains unbeaten.
 "He's always ready," Bozy told me. "I never have to get him ready."
 Junior middleweight Isaiah Wise, an instructor at the Strength Academy in the Piazza, won a six-round unanimous decision over Mark Daniels Jr. of Wisconsin. The bout was closer than the scorecards indicate: 59-55, 59-55 and 60-54, but Wise still won with a comfortable margin. He improved to 5-1, with three KOs.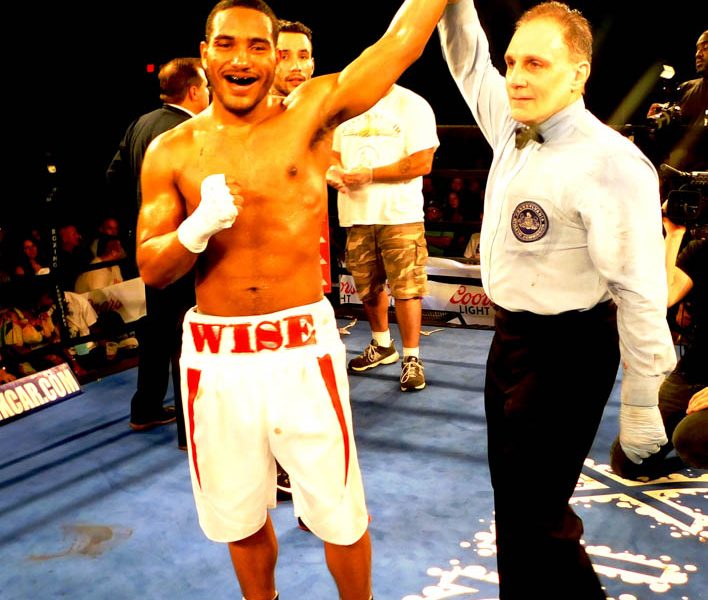 Welterweight Marcel Rivers, 2-0 with one knockout, scored a knockdown in winning a decision over Jamaal "Shoota" Gregory, of Charlotte, NC, over four rounds. Rivers is a graduate of MLK High School in North Philly and trains with Fred Jenkins Sr. at the Rec Center at 26th and Master in Brewerytown. He was cornered by Jenkins and his Uncle Julius.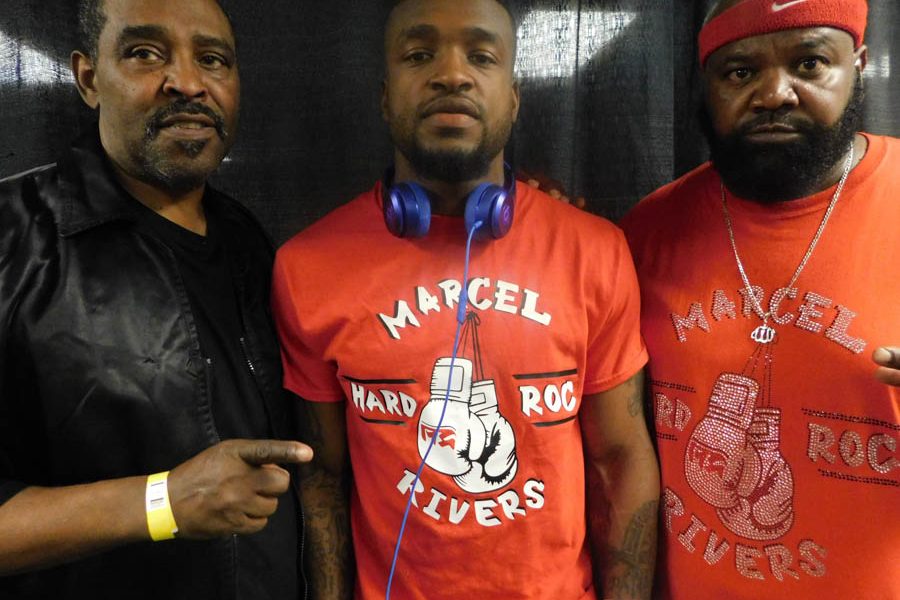 Scott Kelleher, out of Joe Hand's Gym, lost to Don Richardson of Newark, New Jersey in super lightweights. Kelleher falls to 5-1 with the defeat.
 In the opening bout, North Philadelphian Tyree Crowder drew with Ishmael Altman of North Carolina in the professional debut for each fighter. Both fighters now have a record of 0-0-1.
 Crowder posted after the fight:
 "Thought I had the fight but the judges gave me a 'Draw' but thanks to everybody that came out & supported me. Right back in the gym on Monday #NoDaysOff"