Sports
Brazilian Jiu Jitsu Fighters Square Off, Including Fishtown-Trained Athlete
---
Two fighters with local roots were victorious at the Fight To Win 31 professional grappling Super Fight. The bouts were held at the 2300 Arena in South Philly on Friday.
Bassil Badre Hafez, who trains at Balance Studios on Frankford Avenue in Fishtown, submitted Taylor Bright of Marcelo Garcia BJJ. Hafez is also a professional MMA fighter with his eyes on a UFC contract.
"I got the win by triangle!" Hafez posted immediately after the event. "I want to thank my coaches Ricardo Migliarese and Phil Migliarese. I also want to thank my strength and conditioning coach Eddie Hall at Hall of Fame Personal Training, my sponsor Guerilla Nutrition and I want to thank my team #TeamBalance!! On to May 20th at the 2300 Arena for CFFC 65!! Let's go!! We workin!!"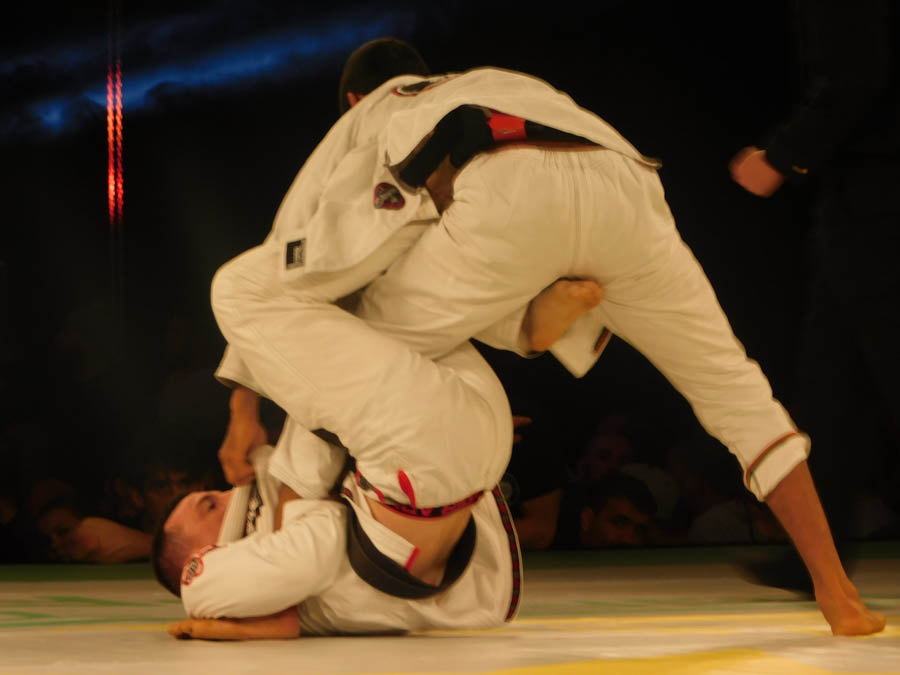 Jason Youseph, originally from Northeast Philly now based in Orange County, California at Carlson Gracie BJJ, defeated Levi Lalonde of Roots Athletics, also by triangle. Youseph, who has the funkiest feet in the game, said the win was the culmination of a lifetime dedicated to jiu jitsu.
"Today is one of the great achievements in my Jiu Jitsu career," he posted.  "I got to come home for the first time to represent my family, my heritage, my lineage, my academy. Everything on the line to cross the country and to come out with a triangle choke!  Words cannot express how I feel."
The event had the theatrics of a rock concert with smoke machines and a laser light show. The night featured more than 25 one round, head-to-head bouts at various weight classes both gi and no gi at the black, brown and purple belt levels.
In the co-main event, Jared Weiner from BJJ United in Jenkintown submitted John DeSimone of Maxercise. In other matches:
At 185 pounds, Michal DiPiero of BJJ United defeated Kyle Braun by decision.

Samantha Faulhaber of Move Well Philly and Gracie Academy Philadelphia submitted Fiona Watson by armbar.

In brown belts, John Battle defeated Zach Maslany by split decision.

Jack Tankersly edged Aaron Murtaugh by decision, Danielle Kelly submitted Alexandra Whitlock by triangle and Abi Pacinelli defeated Natalie Konieczny in purple belts.
While the competition was fierce, there was great camaraderie and respect evident amongst the competitors as many share common friends, training partners and jiu jitsu lineages. In fact, Philly has a rich martial arts tradition unmatched in the rest of the country.
The Philadelphia Judo club was founded in 1949 as the Philadelphia Jiu Jitsu Club at the Center City YMHA, and was the home of the first black belts awarded for any martial art in the city. In 1962, Master Takahiko Ishikawa arrived from Tokyo. Ishikawa had previously been the All-Japan judo champion, where he historically fought four time champion Masahiko Kimura to an epic draw in 1949, and subsequently won the title in 1950.
He was sent by the Kodokan to America to spread the virtues of Judo. He trained a generation of Philly Judokas who still revere him as an instructor and father figure. He passed away in 2008 after a lifetime committed to martial arts and his students.
"He was the best," said Norman Macera, a student of Ishikwawa from Southwest Philly who went on to become an instructor at Temple University and Eastern College. "I loved that guy. He was perhaps the greatest Judo master. I really miss Sensei."
But it was in the late 1980's that Brazilian Jiu Jitsu, the form that would come to dominate mixed-martial arts competition, came to Philly. Steve Maxwell was a personal fitness trainer and competitive athlete, first at Carlisle High School in Central Pennsylvania and later as a Division I wrestler at West Chester State Teachers College (now West Chester University.)
After graduating with a Master Degree in Exercise Science, Maxwell opened the Maxercise Gym on Chestnut Street, but always felt a need for something greater. "I saw the 'Gracies in Action' tape on VHS, and I was fascinated," he said.
In 1989, Maxwell attended a BJJ seminar in New Jersey and was immediately hooked. "It blew me away," he said. "I had been looking for years for something to replace wrestling in my life. I had tried other martial arts but none of them did it for me. When I met the Gracie brothers at that seminar, I knew right then and there I wanted to get my black belt and become a certified instructor."
The Gracies needed qualified instructors and Maxwell literally answered the call.
Rorian Gracie told Maxwell he had to come to California to train, saying: "You have to come here; it's the only game in town."
So Maxwell did just that, taking extended breaks from his gym to learn BJJ with the masters.
"My first lessons were in the old garage, before the Gracie Academy opened in Torrance. I learned from the absolute best," he said. "It doesn't get any better than Master Helio Gracie and his family."
Maxwell would later become an early financial investor in the UFC and Royce Gracie's strength and conditioning coach for UFC 1, 2 and 3.
Royce became a legend subduing and beating giants in those original UFC matches, which were the brainchild of Rorian to highlight the benefits of Brazilian Jiu Jitsu. BJJ was about to the America and the world by storm.
In 1999, shortly after Maxwell won the Pan American Championship as a purple belt, Rorion and Royce Gracie awarded him his brown belt. He would later become the first American to earn a black belt from Relson Gracie.
Maxwell was among the first certified Gracie instructors and opened the first BJJ academy on the East Coast at Maxercise, which became a destination for fighters wanting to train in the fledgling art form of MMA. "I had the privilege of working with five-time Ukrainian national wrestling champion Andre Brenner," he told me by phone. "He showed me so much technical wrestling."
Maxwell added: "I would just get my old wrestler friends, guys from the Philadelphia Judo Club, Aikido guys and we'd practice our jiu jitsu. And then a couple of months later I would go back to Los Angeles to train."
"Then I got smart and started bringing the Gracies back to Philly with me.  Relson would stay with me for a few weeks at a time and Royce stayed for over a month once. I introduced him to his future wife in Philly."
On the Joe Rogan podcast, Maxwell recalled the story of one low key student's first day on the mat. "He had big thick coke bottle glasses, a silly little grin, really polite," he said. "He's bowing a lot, he spoke almost no English. He wanted to train with us, so we gave him a gi and white belt. No fuss. Next thing I know he is launching dudes across the room."
That new student was 5th degree Judo black belt and three-time Japanese Greco-Roman wrestling champion Yasushi Miyake.
"How's that for a sleeper?" joked Rogan.
"He just wanted to train," responded Maxwell.
Steve's wife and son Zak would also become BJJ black belts. On more than one occasion, Steve got called into middle school to discuss Zak's ending a schoolyard dispute with a bully using a rear naked choke.
"It was a tough neighborhood," he said.
Maxwell subsequently sold the gym and now travels the world teaching seminars, personal training and living as a "digital nomad" with a popular online presence. He has been name one of the top 100 personal trainers nationwide by Men's Journal, and is credited with being the first to teach kettlebell classes in the United States.
Friday's matches can be seen in their entirely at Flograppling.com.