Education, Politics in Spring Garden
CCP Faculty and Students Protest New Contract Set to Increase Healthcare Costs
---
  Faculty and students of the Community College of Philadelphia (CCP) gathered on the steps of the Allied Health Sciences building last Thursday in a protest calling for college President Donald Generals to bargain fairly.
   CCP's administration is currently proposing a contract that would increase workers' healthcare costs and increase faculty workload. American Federation of Teachers Local 2026 co-president Steve Jones said the administration wants to increase the teaching workload by 25 percent.
   The rally was scheduled outside the Allied Health Sciences building to coincide with CCP's Board of Trustees meeting. The union wanted the board to hear from regular staff and faculty members while negotiations are ongoing, Jones said.
   "We're getting concerned with how much time is going by," he added.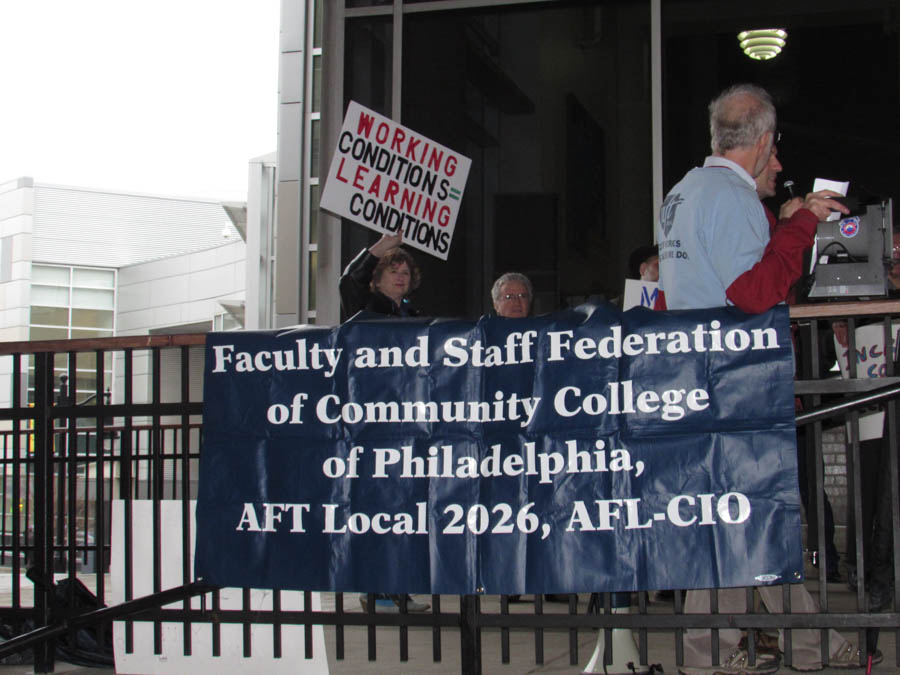 Local 2026 is demanding a five percent pay raise for all members and improved health benefits, as well as an increase to $15 an hour for classified staff. The union is also seeking an outside entity to look into making college jobs more equitable and up-to-date.
   The union has worked without a contract since January 2016 and it represents three bargaining units of more than 1,800 full-time and part-time faculty, visiting lecturers and classified employees.
   "Faculty make moderate wages and the college proposes to make us pay thousands of dollars more for healthcare," said John Braxton, a biology teacher at CCP.
   Currently, most union members pay $300 deductibles. Higher paid members would pay over $2,000 a year from the premium increases. The administration has also proposed increased co-pays for prescriptions and doctor visits.
   Additionally, the administration wants to add extra classes for full-time faculty every semester.
  With an extra class every semester, full-time faculty will be forced to work overtime, and that will hurt the quality of education and time that the professors can devote to their students.
   "We like to have time outside each class to prepare," Braxton said. "No one should be required to work overtime because it is not in the interest of the students."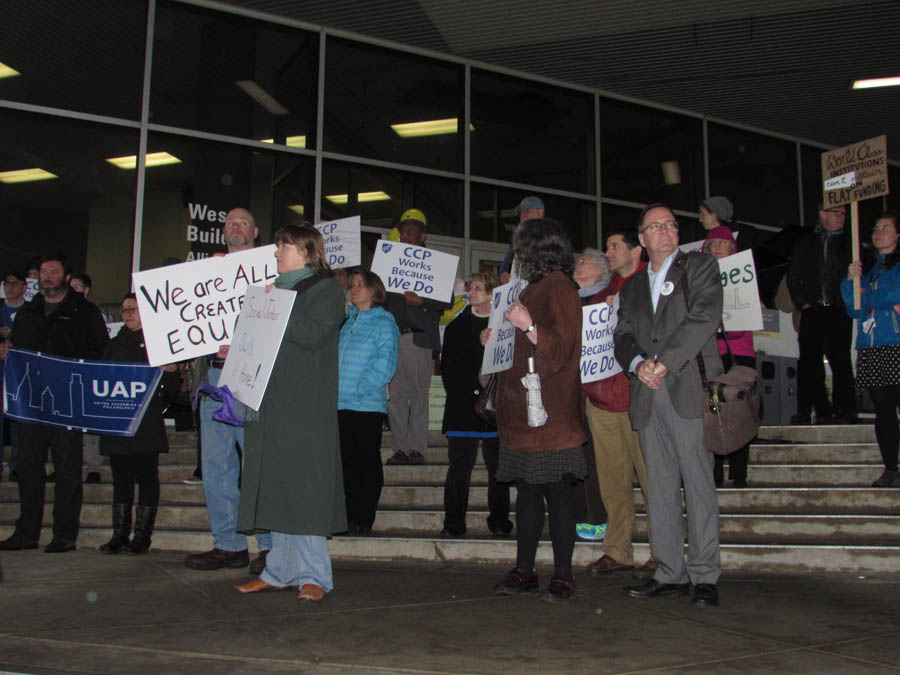 According to Local 2026's newsletter for 2017, increasing the workload of an already full-time faculty would reduce the number of full-time teachers by 25 percent. Over time, there would be 100 fewer full-time faculty to teach the same number of students they currently teach.
   Local 2026 also pitched in $500 to buy a cart of food to donate to the Snack Rack, the student government-run food pantry.  Buying food for the pantry symbolizes that the issues of faculty and students intersect, Braxton said.
   Clare Cady with the College and University Food Bank said that food insecurity is high among the nation's community college students.
   Cady referred to a study done by the Wisconsin HOPE Lab that found nearly 50 percent of students surveyed experience some form of food insecurity, meaning not having reliable access to affordable, nutritious food.
   "Students' problems don't end when they come on campus," Cady said. "I think it's really exciting to see the commitment to students at CCP. A lot of schools don't offer food pantries."
   In response to the rally, President Generals released a statement about the administration's focus on student success during the negotiations.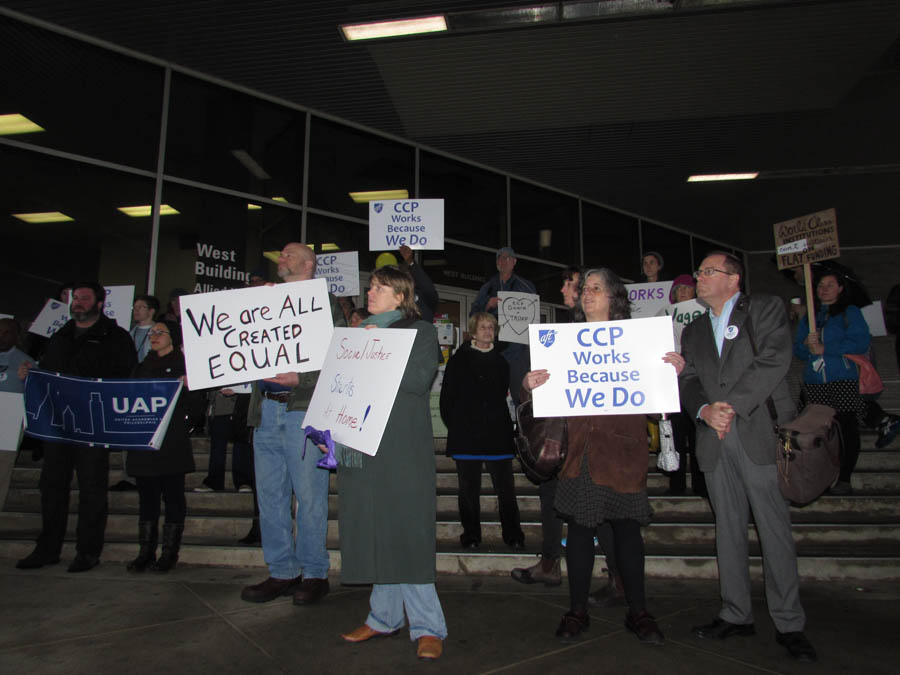 "Throughout the contract negotiations, the College has remained focused on student success and kept their ability to afford tuition costs at the forefront of our deliberations," Dr. Generals said in his statement. "We will continue to do so. We are working to ensure that, in the years to come, even more students will be able to reach their goals, and build a foundation for a stable future. Our proposals reflect this commitment to our students."
   Zoe Cohen, a Temple adjunct professor and visual artist spoke at the rally, as well. "We are doing the work to demand, not ask, for proper working conditions for staff and faculty," Cohen said.
   At the rally, Student Government Association president Troy Bundy spoke on behalf of the student body. "A group of us students are working with faculty and staff and the union to try to build one voice to speak out on getting a fair contract," Bundy said.
   Sophomore Nahje Royster, a member of the Student Power Network at West Chester University, told Spirit News that students attended to show support because many issues that affect students and staff are interconnected. "There are too many faculty who have to choose between having a part-time job and a full-time job … having to worry about ways to provide with the salary they are given," she said.
   As an issue that encompasses the Pennsylvania State System of Higher Education (PASSHE), it also concerns the state and nation as a whole, Royster added.
   A part-time student attending the rally who did not wish to be named told Spirit News why he was standing in solidarity with college faculty. "I do think the teachers have their hands full with the current load," he said. "I think it's unfair to expect them to add to their class load." •