Education, Family, Features in Fishtown
Comcast Cares Day Caps off "Historic Week" at Alexander Adaire Elementary School
---
More than 250 volunteers, most of them from right in the neighborhood, gathered in the schoolyard at Alexander Adaire Elementary School on Saturday morning on East Palmer Street in Fishtown. The volunteers were taking part in the 15th annual Comcast Cares Day, a global day of action for the cable and communications giant. The event at Adaire was one of hundreds scheduled to take place around the world as a part of the company's initiative to connect with local communities.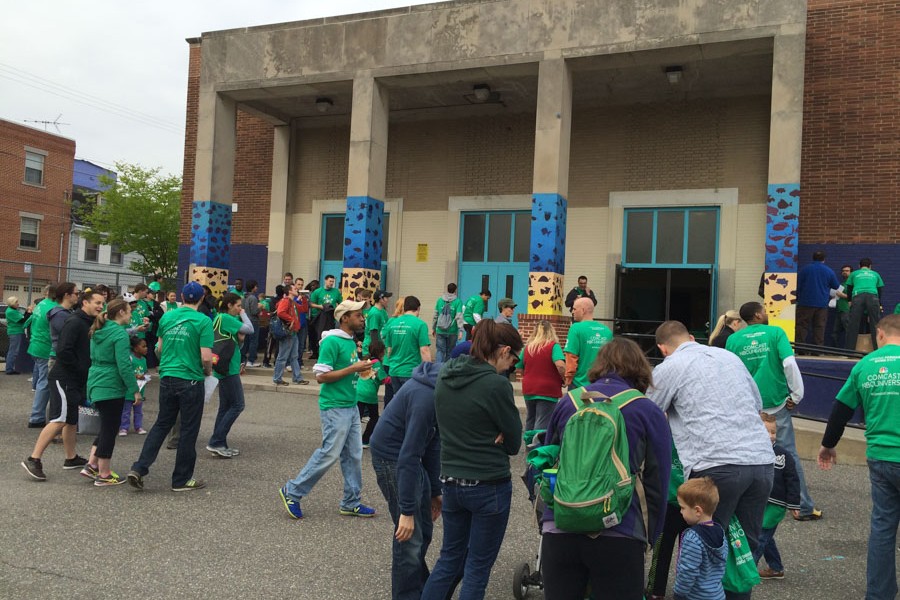 Sipping coffee and trying to ignore the drizzling rain, the crowd was addressed by a few members of Friends of Adaire (FOA), a neighborhood nonprofit group dedicated to enriching the school through community engagement. One member of FOA, Ryan Olah, thanked the crowd for braving the elements and explained their goals for the day: purging old equipment, de-cluttering office spaces, painting accent walls, and general clean up.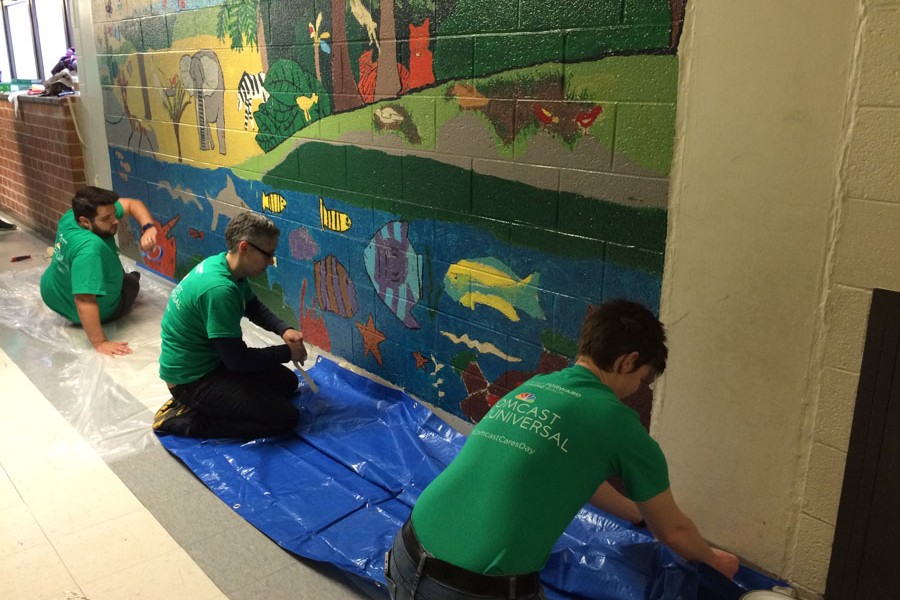 Olah, like thousands of Philadelphians, is a Comcast employee working in Center City and living in the surrounding neighborhoods. Shortly after he landed his role in Comcast's Talent Acquisitions department two and a half years ago, he learned about the Comcast Cares Day initiative. He pitched the idea of hosting an event at Adaire and it took off. The inaugural Comcast Cares Day event at Adaire in 2015 was so successful that it was a unanimous decision to return to the school in 2016.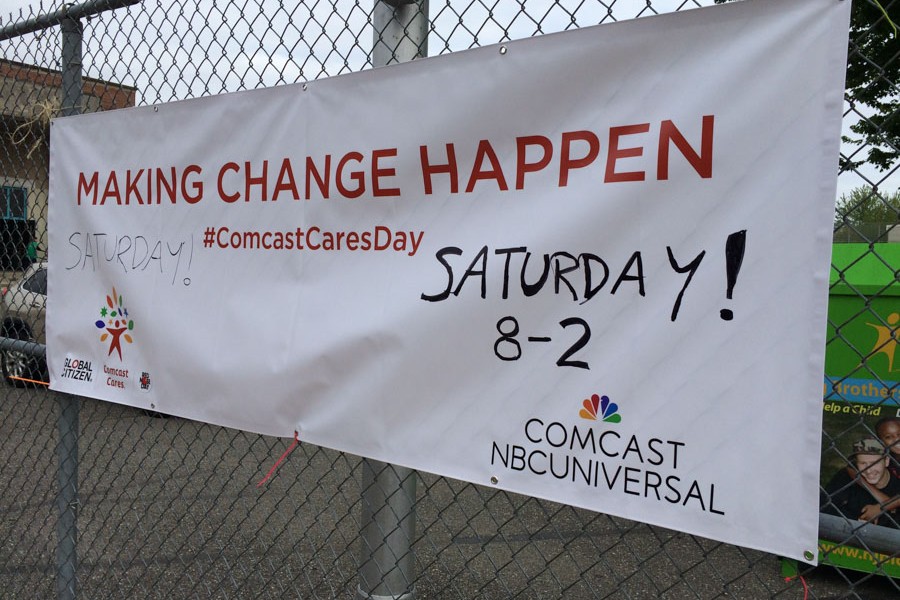 Denis Divine, another member of FOA, praised Olah and his co-workers for turning out and made special note of his group's "historic" efforts over the past week. On Thursday April 28, FOA helped to organize a first of its kind benefit concert for Adaire in the school's recently renovated auditorium. Renowned composer Andrew Lipke and Celtic folk musician John Byrne performed to a packed house filled with Adaire students, parents, and neighbors. At certain points during the performance, Lipke and Byrne shared the stage with Adaire students currently enrolled in band, orchestra, and choir to raucous applause from the audience.
Revenue from the concert's ticket sales will help to purchase new instruments for the school's music department. A focus on art and music has been a rallying point for the FOA in recent years, as school district budget cuts hit these areas first and hardest.
Speaking with Ryan Olah one on one, it's clear that Friends of Adaire's efforts to engage the community are paying off in a big way. A Fishtown resident of 10 years, Olah said he first heard about FOA through neighbors who had children enrolled in the school. He's been involved with FOA for two years now and has seen firsthand the impact that neighborhood involvement can have on the success or failure of a school.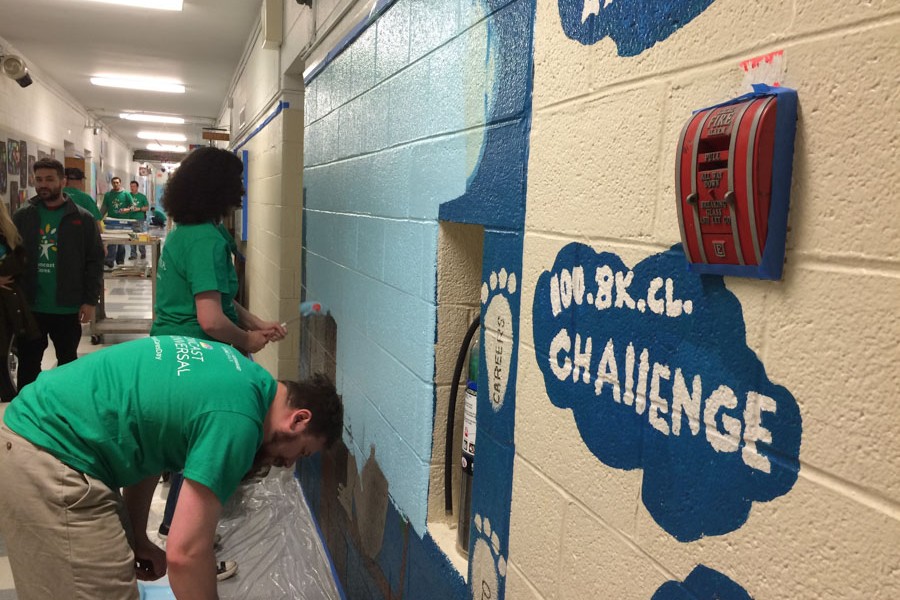 "After our involvement with Friends of Adaire over the past two years, my wife and I have made the decision to enroll our son in the school next fall. He's currently in a charter school, but Adaire has so much momentum and so much going for it, we feel it's the right decision to have him attend school here next year," he said.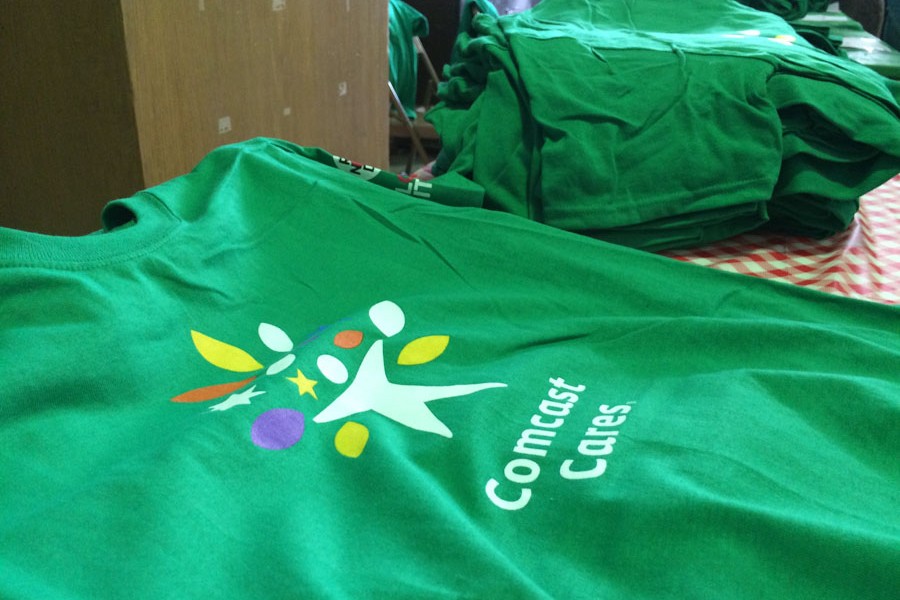 As I watched hundreds of smiling volunteers work together to transform the school on a damp and dreary Saturday morning, it was hard to argue with Olah's assessment. This is what momentum looks like.