Education in Harrowgate
Deep Roots Charter School Proposed to Open In 2018
---
  Logan Blyler wrote most of the plan for the charter school he founded, Deep Roots, at a table in the back of Amalgam Comics & Coffeehouse (2578 Frankford Ave). The proposed site of the charter school is only two miles away at 3701 Frankford Ave.
  The college preparatory school plans to serve K-8 students by 2022. Planning for the school began about a year and a half ago, Blyler said, and its proposed opening date is August 2018 for K-4 students.
  The school had its second hearing with the School Reform Commission and Philadelphia's Charter Schools Office on January 5, 2017. By February 21st, Blyler said he expects to know whether the school's opening is approved.
  To show the SRC and Charter Schools Office that there was a need for Deep Roots in the community, he and his team canvassed around the neighborhood, asking people to sign non-binding intent-to-enroll forms. Within four days, 187 families expressed their interest.
  "We have a really strong team of experts in a ton of different fields on our proposed board and our founding coalition, both from in the neighborhood and around Philly," Blyler said. "I think we've really put forward a strong application and strong hearings to be moving toward approval."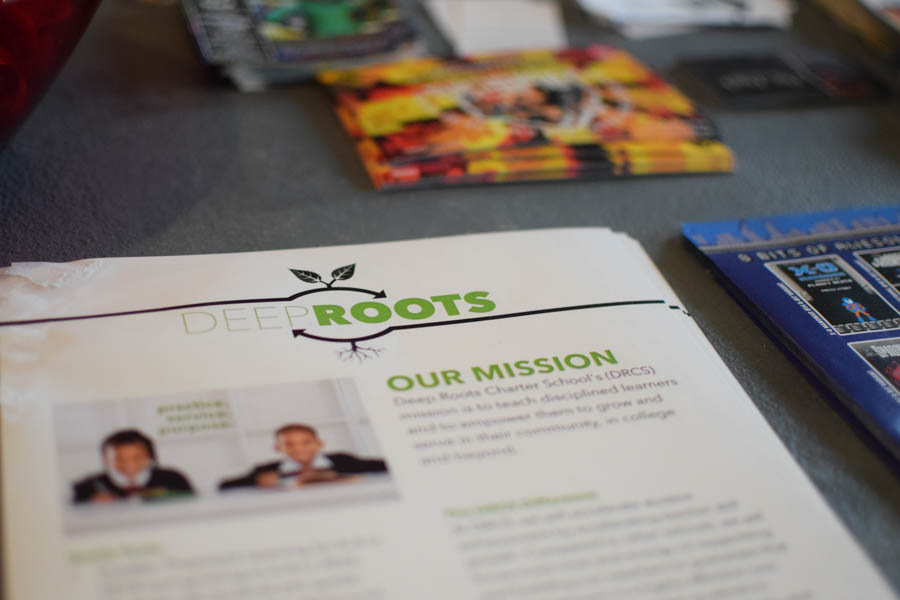 Deep Roots focuses on teacher development, an ideal inspired by Blyler's experience at Jounce Partners — a fellowship working with school leaders and educators to improve education.
  The Philadelphia-based organization develops teachers' skills, including how to give directions, ask questions in the appropriate format and how to walk around the room. Fellows from the organization, like Blyler, spend about four hours a week in a school coaching teachers by giving immediate feedback to educators in the classroom or high-repetition practice outside of it.
  Paul Dean, the co-founder and executive director of Jounce Partners, said high-repetition practice asks teachers to repeat a task, like asking a question, so the fellow can offer instruction to get better every time. Blyler compared it to a basketball player practicing layups over and over again until it's perfected and becomes instinctual.
  "We are definitely pushing people outside their comfort zone," Dean said. "But people love to grow and people love to support and get better at what they do."
  Before Jounce Partners, Dean co-founded the Student Leadership Project and focused on helping students succeed. After one year of the program, he noticed classrooms with strong teachers were excelling more than classrooms without one, and Jounce Partners was formed five years ago to increase teachers' effectiveness.
  The first school opened by a fellow of Jounce Partners was in Memphis this past fall. Deep Roots will be the first school opened by a fellow in Philadelphia.
  Opening schools in urban settings is also an ideal upheld by Jounce Partners. Dean said this is partly inspired by his background in New Orleans, the District of Columbia, Camden, Memphis and Philadelphia.
  "It's also the heart of the achievement gap… The place where you see a really high concentration of under-performing schools are urban areas," Dean said. "It's the opportunity to have the largest impact through our programs."
  Dean said Blyler's experience with Jounce Partners leaves him with no doubt that he will be an effective school leader.
  "It was his job to flesh out what the values of the school would be… I think he has a really strong vision for what he wants his school to be," he added.
  With 60 students per grade and two classrooms for each grade, the school will operate on a co-teaching model with two teachers per classroom, Blyler said. Every student will also have an hour-long "intervention block" with about 3 or 4 peers to reinforce the subjects of math and english.
  Besides teacher development, Blyler said the charter school wants to instill the virtues of practice, service and purpose in its students.
  To encourage practice and keep kids learning in the classroom, no students will be expelled or suspended from the school unless necessary by law. There will also be service projects offered  for each grade throughout the year, Blyler said.
  "The mission of Deep Roots is to teach motivated learners to grow and serve in their community, college and beyond," he added.
  Art and general physical education will be offered to students every other day. Martial arts will also be enriched in the curriculum every other day.
  Blyler started practicing martial arts when he was 8 and has two black belts.
  "The self-discipline, self-respect and self-control that I was able to learn through martial arts translated not just to my time in a martial arts classroom, but also to my time in school and my time out of school and my time with my family," he said. "We see it really as a key component in our development of our whole student."
  Blyler has been teaching since 2011 in Philadelphia and Camden. He moved to the city 10 years ago and has lived in Port Richmond near Somerset and Gaul streets for four years.
  Blyler wants to provide kids an education that they don't have to leave the neighborhood for.
  "We really want to be a neighborhood school, we really want to be a tight-knit community," he added. •