Education, Sports in Northern Liberties
Down the Line and Beyond Launch New Tennis Program at Bodine High School
---
During a meeting at Bodine High School (1101 North 4th Street) on Wednesday, February 15th, community leaders gathered to officially kick off the Down the Line and Beyond Foundation's new tennis program. The new program will allow Bodine High School students to participate in after-school clinics that use tennis as a foundation to support character and educational development.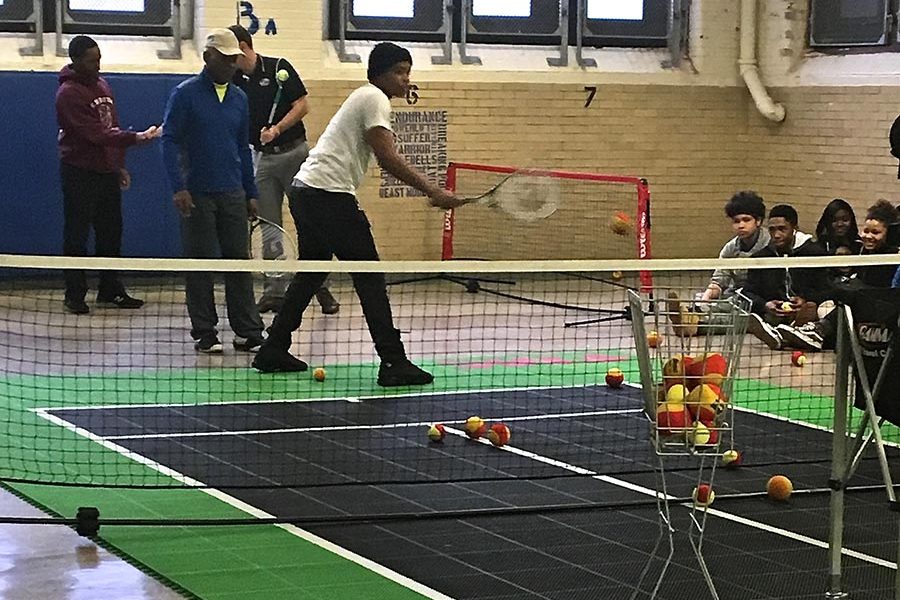 Down the Line and Beyond (DTLB) will be assisting Bodine in building up their current tennis program by raising money to rehab the courts at Poplar Park and donating coaching time and equipment to the school.
 Founded in 2010, DTLB is a United States Tennis Association (USTA) affiliated National Junior Tennis League (NJTL) nonprofit foundation that organizes free tennis and character development programs for 1,600 children in underserved parks and communities in the city of Philadelphia.
 According to the DTLB website, their mission is "to facilitate positive character and education development for Philadelphia area youth tennis players, in order to maximize each child's full potential on and off the court and cultivate the next generation of leadership."
 "Down the Line and Beyond works with the public parks, schools and afterschool programs to give people of all ages the chance to play a sport many had never had the opportunity to play. We do this by bringing portable tennis programs, which can be played in gyms, classrooms, parking lots and roofs," Oscar Eppley, executive director of the DTLB told Spirit News. "In these programs we make sure to offer different forms of education, whether it is character education, USTA ACE education as well as nutrition and general education."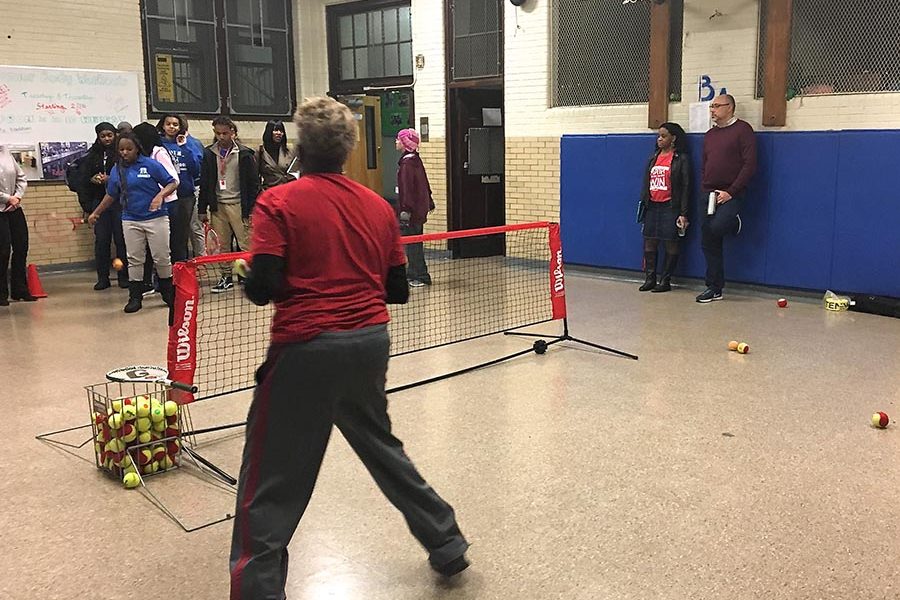 The DTLB tennis program provides students at Bodine with a great opportunity to take part in something completely new, while developing skills that are best enhanced outside of the educational facility.
 "Although highly motivated, the students at Bodine High School do not come from affluent backgrounds, which can be limiting in their exposure to sports like tennis. Down the Line and Beyond has already begun assisting our Athletic Department in the recruitment of students to the sport and increasing opportunities for students to learn the game and enhance their skills," Aaron Greberman, a teacher and the coach of the boys' and girls' varsity tennis teams at Bodine, told Spirit News.
 The DTLB's program has brought with it much excitement not just from students, but from parents as well. Initiatives like this are going to have an overall positive effect on the student's physical health as well as their mental development.
 "Even though our partnership with Down the Line and Beyond has just started, parents attending last week's Report Card Conferences expressed excitement about the revitalized tennis program and partnership," Greberman said.  
 He added: "Several parents were reflecting back to their high school years when American players dominated the game. But now they see value in tennis in a different way; Bodine is a very multicultural school consisting of black, white, Latino and Asian students, and tennis itself is also culturally diverse. Connecting with culturally diverse sports helps our students see the world in a holistic way."
 Though there is a relatively small number of students enrolled at Bodine, the school boasts more than 60 extracurricular program opportunities for students to get involved in, covering a wide range of areas. Some of these activities include the debate club, the literary magazine, the world affairs club, the Latino culture club as well as sports like soccer, basketball and baseball.
 "The World Affairs Council has been our greatest advocate enhancing all academic programing at the school, so the addition of an athletic partnership is a great compliment to helping develop a more well-rounded person," Greberman told Spirit News. "This is a unique partnership for our athletic department, and to my knowledge, in the past, we haven't had anything as extensive athletically as this new program for our students."
 Although the program at Bodine is the newest on the DTLB's list, the organization has carried out some great work over the last few years, having worked to rehab two tennis courts at Belmont Charter School (4030 Brown Street) and Penrose Park.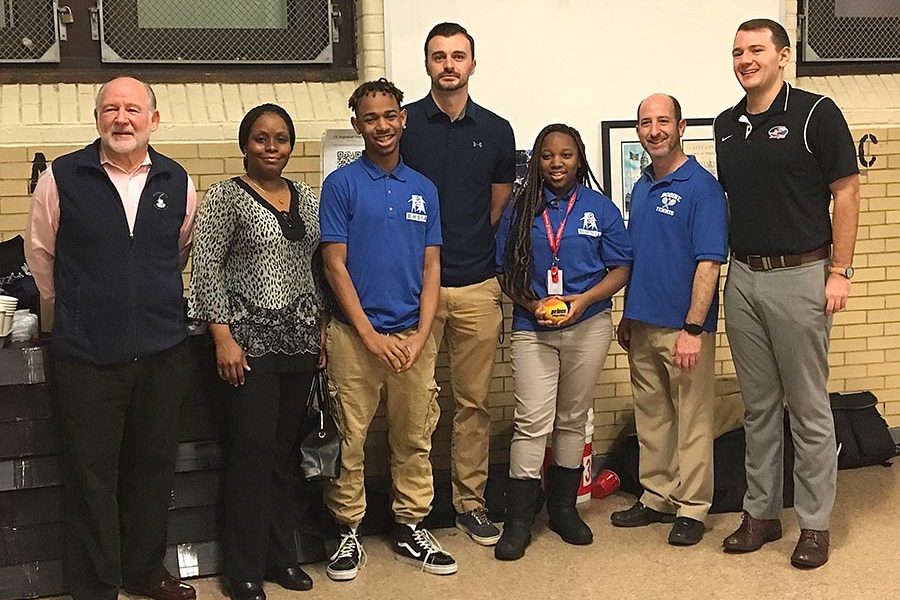 "We have had partnerships with the Boys and Girls Club, Salvation Army and multiple schools and public parks over the past seven years," Eppley told Spirit News.
 Commenting on the impact of the DTLB's tennis initiatives in the past, Eppley said, "The children have seen an increase in grades in the classroom, played team tennis tournaments, and have received scholarships to attend both private high schools and colleges."
 There is much excitement and anticipation surrounding the new program and everyone is looking forward to seeing and experiencing its progression over the coming years.
 "We will be able to give the children at Bodine the opportunity to play tennis year-round at a high level and build a program that will be sustainable for years to come," Eppley told Spirit News. "In the past they have not been able to play any home matches because of the lack of facilities, and they will finally be able to have a "home" for their tennis program, thanks to the great work of Bodine, the city of Philadelphia and our generous donors and coaches."
 Greberman added: "Down the Line and Beyond has created a great buzz around the building and a large increase in students signing up for this spring's tennis season. We are expecting some of the largest participation numbers in the sport that we have had in years."  
 "Not all schools are able to offer an opportunity like this. In this program, the teachers and coaches are here to help with everything," Anthoni Torres, a tenth grader at Bodine told Spirit News. "I think I can gain good teamwork skills and I can also learn good sportsmanship."
 The benefits that have come as a result of the DTLB's tennis programs in the past cannot be understated, and the continuation of this success is something that everyone involved with Bodine High School is eager to see.