Education, Features, Health in Kensington
Every Tooth Counts: St. Christopher's Foundation Launches Ronald McDonald Mobile Dental Unit
---
  As part of the Every Tooth Counts Campaign, St. Christopher's Foundation for Children launched a Ronald McDonald Mobile Dental Unit on Wednesday at 1750 N. Front St. in Kensington.
  Gwenn Camp, U.S. Senator Bob Casey's State Director, spoke at the event. She said the senator sits on the Health Committee. One of the things she discussed was making healthcare available for every child.
 Camp explained that even with the Medicaid expansion, not all dentists are going to take Medicaid. Even with the Affordable Care Act requiring pediatric dental insurance, there are still going to be a lot of children without coverage, she said.
 Camp thanked St. Christopher's Foundation for Children, the foundation funding the Every Tooth Counts Campaign. She related her experience as a child with St. Christopher's Hospital and she said she received quality care.
 CEO and President of Health Partners Plans, Bill George, commented that his organization is a 31-year-old, not-for-profit hospital HMO that serves 265,000 Philadelphians.
George is also a board member on the St. Christopher's Foundation for Children. He said a lot of foundations and organizations for kids ask Health Partners Plans for support and funding. St. Christopher's is one them.
 "I would have to say that it's not a difficult sell for our organization to support the St. Christopher's Foundation for Kids," George said. "More than half of our members are kids and we all love kids. What the foundation does is remarkable."
 According to George, about 15 percent of children who receive dental care through St. Christopher's Foundation see a significant reduction in tooth decay. "That's just totally amazing," he said. "Who else can say that? So, it's easy for us to support them and we'll continue to support them."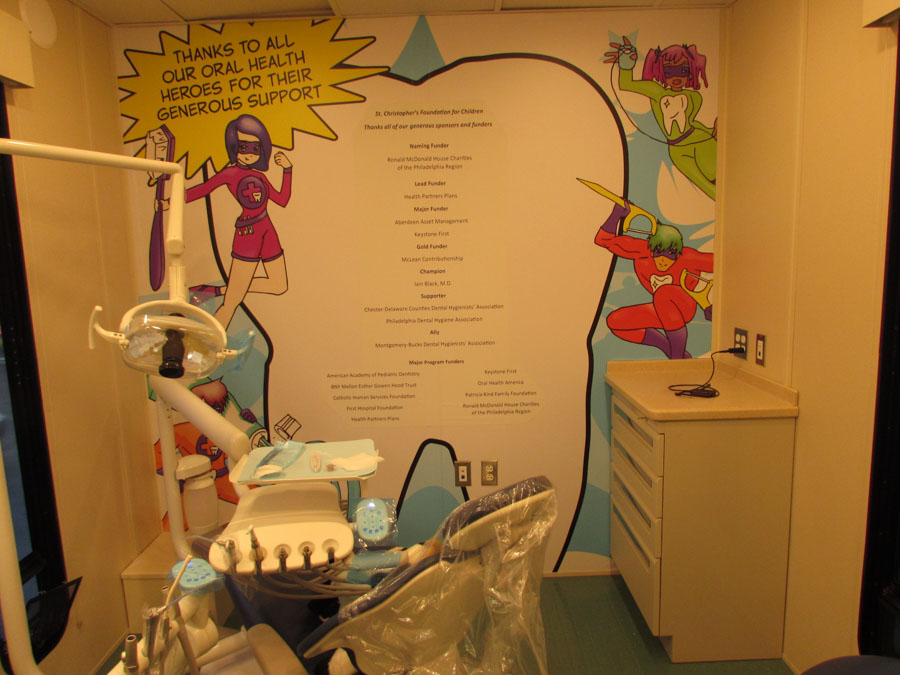 George said many of their members receive CHIP, Medicare Advantage and Medical Assistance.
 The Ronald McDonald Care Mobile, a mobile dental unit that provides no-cost treatment to local children, currently serves North Philadelphia. As of Wednesday, June 8,  the mobile unit will also serve Kensington and Fishtown.
 Ronald McDonald House Charities of the Philadelphia Region, Inc., and Ronald McDonald Corporation partnered with St. Christopher's Hospital for Children in Philadelphia to provide dental health care to underserved children. They opened the unit in 2001.
 The dental clinic on wheels serves children ages one to 13 who either cannot find a dentist in their area that takes Medicaid or whose families cannot afford to pay for a dentist. Services come at no cost to the family, said Director of Community Oral Health Initiative, Julianna Gelinas.
 "We have a very robust educational program," Gelinas said. "This is possible because of St. Christopher's Hospital for Children…. We're not a hit-and-run."
 By "hit-and-run," she is referring to other mobile clinics that visit an area once-in-awhile and then leave without allowing families to make follow-up appointments. These clinics become unreachable to many families, she said.
 But with the Ronald McDonald mobile dental unit, Gelinas says families are able to make appointments and the clinic-on-wheels comes to their neighborhood. The clinic holds appointment days two days of the week and on days that schools are closed. Gelinas encourages families to call the mobile unit at 215-427-8877 to learn more or to schedule appointments.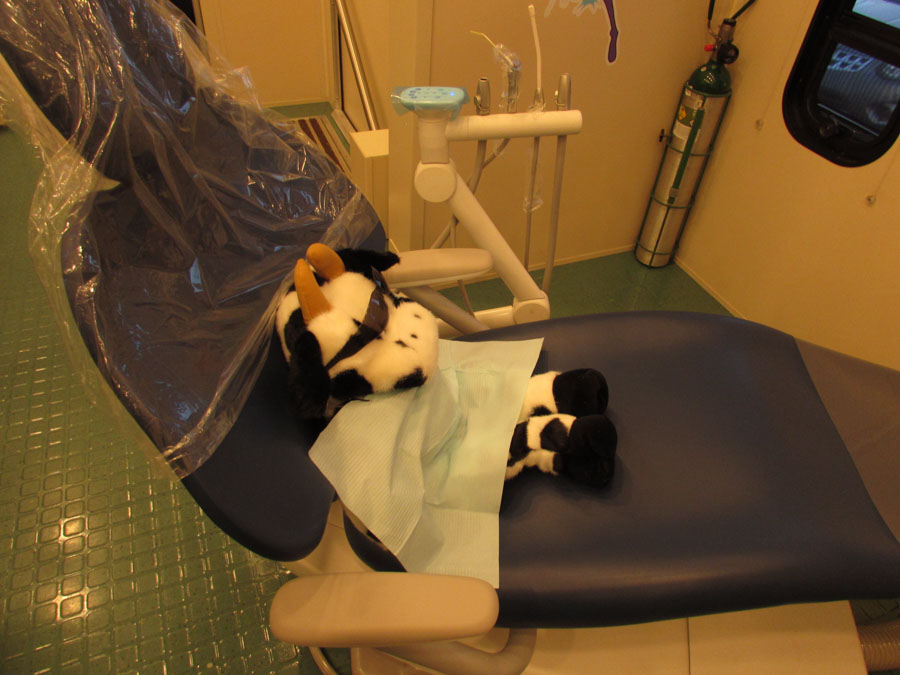 The staff of the mobile unit do not investigate salaries and they see children who have not seen a dentist for a year. Friday public treatment sessions will be held at the Nelson Pavilion of St. Christopher's Hospital for Children located at E. Erie Ave. and N. Front St. in Philadelphia.
 Care includes examinations, cleanings, fluoride and sealant treatments, x-rays and fillings. Care Mobile staff will also provide children with dental hygiene education.
 Dr. William Hite, Jr., Superintendent of the Philadelphia School District, spoke well of St. Christopher's Foundation for Children and of the access to dental health the mobile unit provides. He emphasized the importance of access to dental care for children in Philadelphia. It is particularly important to children in North Philadelphia, he added.  
 The superintendent recalled the story of 12-year-old Deamonte Driver who died in 2007 from an infected and untreated abscess in his mouth.  Hite credited St. Christopher's Foundation for Children and the mobile unit for making dental care widely available to children so they do not experience the same fate as Driver.
 "Children come to school hungry, with a toothache they can't see, they don't feel safe, then it's not likely we're going to be able to teach them," Hite said. "So, on behalf of all of the children and families of the School District of Philadelphia, I thank all of you board members, doctors and staff members."