Local Business
Four Friends Bring Screen Printing Business to North Philly
---
Tariq Buckner, one of the four owners of Busy Stage Screen Printing at Germantown Avenue and Diamond Street, maneuvered between a sea of screen printing presses on his paint-splattered hover-board.
"Does this look straight?" business partner Ikeam Simmons asked as he looked down at a design he just pressed onto a black t-shirt.
"Yeah, I think so," Buckner said as he examined the test shirt, which would work as a prototype for a large order.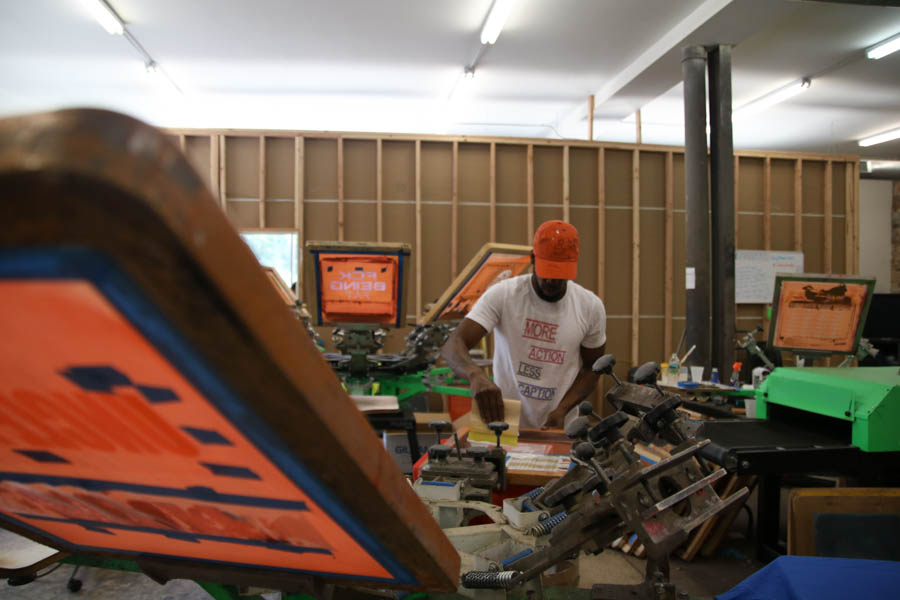 Busy Stage Screen Printing held its grand-opening on June 4, 2017 and since then the orders have been keeping the four owners busy.
Before Buckner, Simmons, Marty Geez, and Chad Black were business partners, they were friends. And that friendship is still at the forefront of their business.
The name of the company was part of that, Buckner explained. The four each had their own business before coming together. The idea was to combine all the different business names of their old companies, and form it into a new one.
Buckner, Geez, and Black ran their own individual screen printing businesses. Simmons owned a real estate company called Get Busy LLC, which is where "Busy" in the store name comes from. "It's really a together, team type thing," Buckner said.
Orders — which are primarily apparel — come in from store walk-ins and email, but most commonly from Instagram direct message and their personal cell phones. "Even though we have a shop number, [our clientele] still call our personal numbers," Buckner said.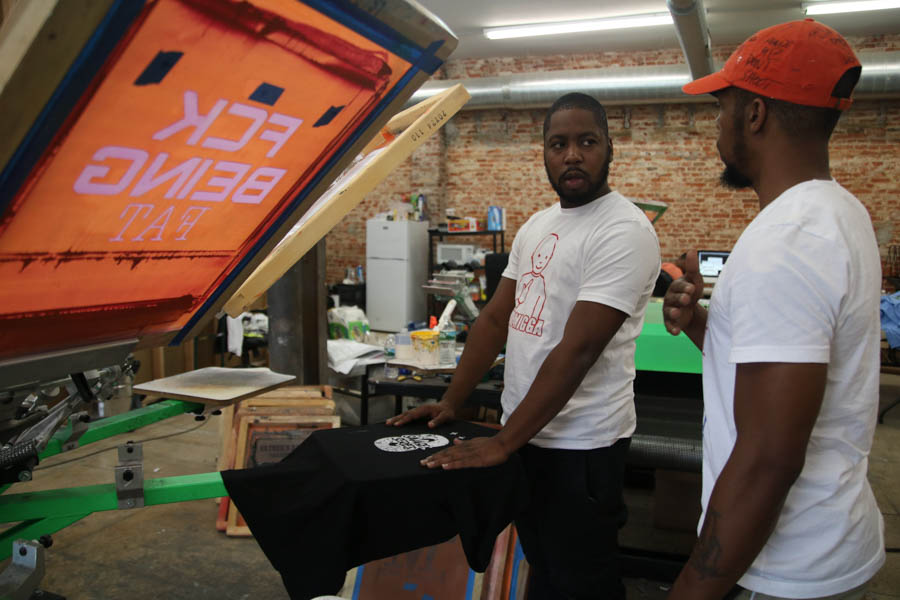 The shop hasn't done any promotions yet, but is running on word-of-mouth and the combined clientele from their old businesses.
The process starts with the design. Some clients have a design, and others "need help forming their vision," Simmons said. They work on designs using Adobe Photoshop. From there, the designs get printed and burned onto a screen. The screens then go onto a screen printing press, where the design will be pressed onto a shirt.
Both Buckner and Geez taught themselves the process by watching YouTube videos and a lot of trial and error.
Before opening Busy Stage, Buckner was making music and selling shirts that he outsourced from other screen printers. "I got tired of paying people to [make my shirts] so I bought the equipment for screen printing not knowing how to do it…I destroyed a lot of my own clothes figuring out how to do it. I was destroying everything for months, like thousands of dollars," Buckner said. "But I finally got it."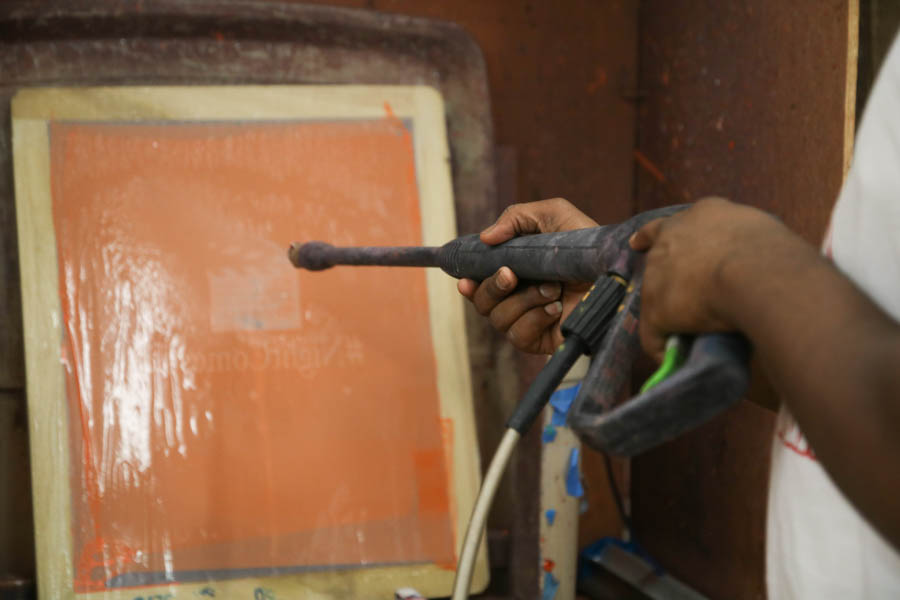 Geez went through a similar process. He worked as a DJ and got fed up with the prices of making shirts.
"'That's too much money,' I said to myself. So I went online to figure out how to get the price down. I ended up buying a whole screen printing set up not knowing anything," Geez said.
The process of learning is ongoing for the whole team. "I've been doing it for a while, so I really put my all into it. There are still some things I need to learn, but I basically got everything down pat," Geez said.
Simmons — who knew nothing coming into the business — has learned the entire process.  
"Tariq taught me everything. I've been here learning ever since, and I'm still learning," he said.
The shop is open from 10AM to 7PM., but at least one of them is there until midnight, usually Chad Black, who works another job during the day. The work hours are flexible, which still feels new to Buckner who left a job with the city to start Busy Stage.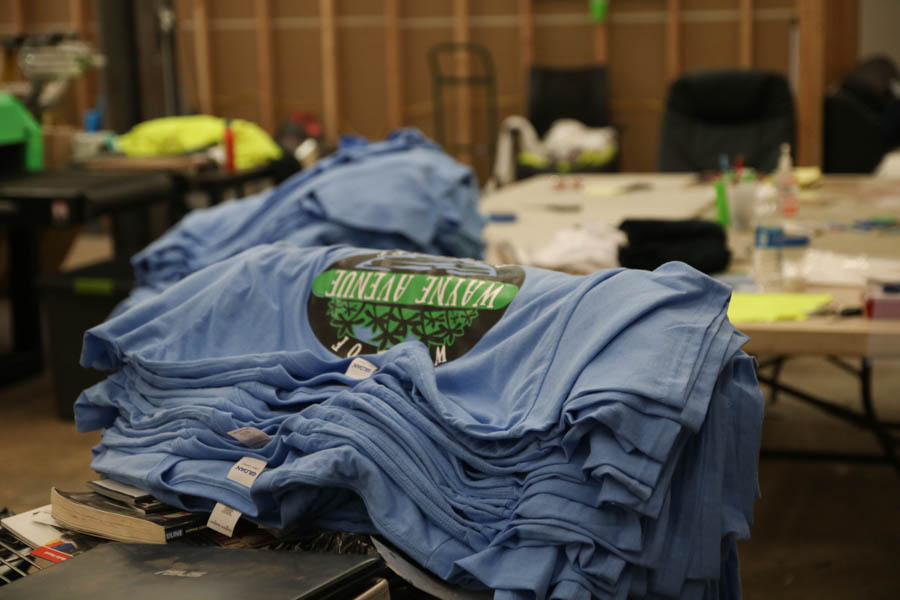 "I'm excited every day I come in, the best part is pulling up. I don't have to clock in or clock out," Buckner said.
Buckner had his doubts when he left his job with the city. "It was really the unknown for me. I was like, 'Is this gonna work?'" Buckner said. "But it's trial and error and I believe that's the best way."
The self-taught start-up is what Buckner wants his business to be a model of. Buckner grew up in North Philadelphia, which he described as his biggest motivator. "I always wanted to do something different. A lot of people do the same thing to get out. I got into this not knowing anything about business and I'm still not that sharp, but I'm learning," Buckner said. "But that's all this was ever about—showing people that you can do something different. You don't have to do what everybody else is doing. You just gotta make you cool," he said.
Surrounded by orders for shirts, three of the owners – Simmons, Geez, and Buckner – ate water ice and laughed as they pressed designs for another day of work.