Local Business, Profiles in Fishtown
Printing Business Celebrates Two Decades In Fishtown
---
 Devilfish Ink, a graphic arts and printing business so named after the octopus, with which it shares the ability to spray dye, is celebrating its 20-year anniversary in the Fishtown community by opening its doors to the public to learn about the printing process, drink and eat, and buy work at discounted rates.
  "I've always embraced this neighborhood. I love the sense that it is a community, as opposed to other sections of Philadelphia," Brian Potash, owner of Devilfish, said.
 The celebration, which is being held on Saturday, June 24th from 11AM to 6PM at his shop, 2424 Martha Street, will feature cocktails made with squid ink (in honor of the business' namesake), Philadelphia Brewing Company beer, food donated by local restaurants, and make-your-own sessions. "People can come in and learn more about what we do. They can have an opportunity to get hands-on experience printing their own T-shirts, printing their own souvenir postcards," Potash said.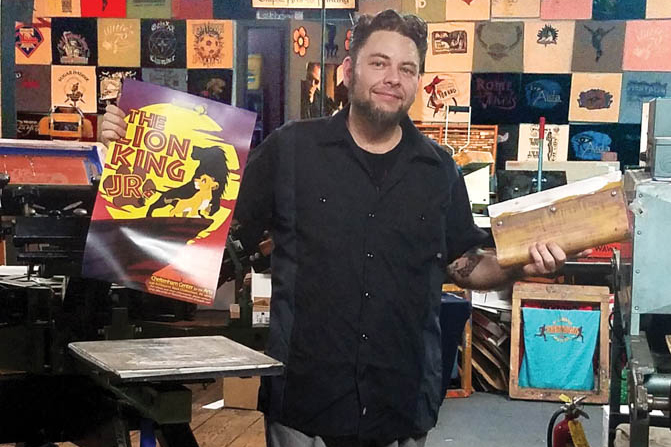 Potash is also selling 250 business cards for a discounted $19.97, a callback to the year Devilfish was founded.
 A man of many artistic talents, Potash is the lead singer of a band called the Sideshow Prophets, a punk rock blues band, and he's been musically performing since the age of 17.
  His early musical forays, in fact, are the source of his graphic design roots – Potash's concerts needed posters and other promotional materials. "Originally it was, 'Oh, man, I'll print for bands and concerts and all the cool jobs,'" he said.
 It wasn't exactly the path least expected, though. Even in grade school, he could get away with charging a fee for his talent designing apparel. "Since day one, I have always wanted to be an artist."
 Potash went to, and graduated magna cum laude from, the Tyler School of Art, immediately after which he started his business. He spent his life savings on a printing press, took up shop in a friend's basement on Frankford Avenue, and scrounged for clients mainly through word of mouth. "I certainly never would have dreamed that 20 years later I'd be doing exactly what I dreamed I'd be doing," he said.
 He thinks that conventional graphic design and printing shops draw too solid a line between commercial production and fine art. "A lot of it is clip art you can go to any website and buy from," he said.
"My theory is, if you're creating a logo for your company, and you're buying an image of a Lionhead, for instance, what's to say you're not creating the same logo that 19 other companies have, even for the same city."
 Potash combines the digital and printing technology with his flair for fine arts. He can do custom lettering, for example, build his own ink with phosphorescence so that it glows in the dark, create hand-drawn logos before scanning them into the computer and coloring them digitally, and many more techniques with his bevy of technologies in the nearly 3,000-square-foot workspace, which includes a digital printing press and two textile screen presses. "If it stands still, we can print on it," he said.
 With 20 years under his belt, both Potash's business and Fishtown have changed. Back in the 90s, "you lived with your folks, your folks would die, and then you'd stay in that same house and raise your family," Potash said. Now, condos and business multiply like weeds.  Potash might do one or two jobs in a typical 1997 week, but now does closer to 15 or 20.
 His work abounds in Philadelphia, in the hundreds of projects exhibited in schools, restaurants, and churches across the city, uncredited to him but, in his estimation, seen by everyone who lives in Philadelphia.
  Even where Potash's mission to marry fine art and commercial print production does not get explicitly acknowledged, then it is subliminally received, every day, in every corner of the city.