Sports in Brewerytown
Ledendary Boxers Stop by Athletic Recreation Center To Support REBUILD Initiative
---
  On Monday, December 5th, two legendary boxers stopped by Athletic Recreation Center (1400 N. 26th Street) to support young Philly pugilists and a new city program. "Golden Boy" Oscar De La Hoya and "The Executioner" Bernard Hopkins took some time off of promoting and training to mingle with youngsters and older fans alike at the North Philly rec center and boxing gym.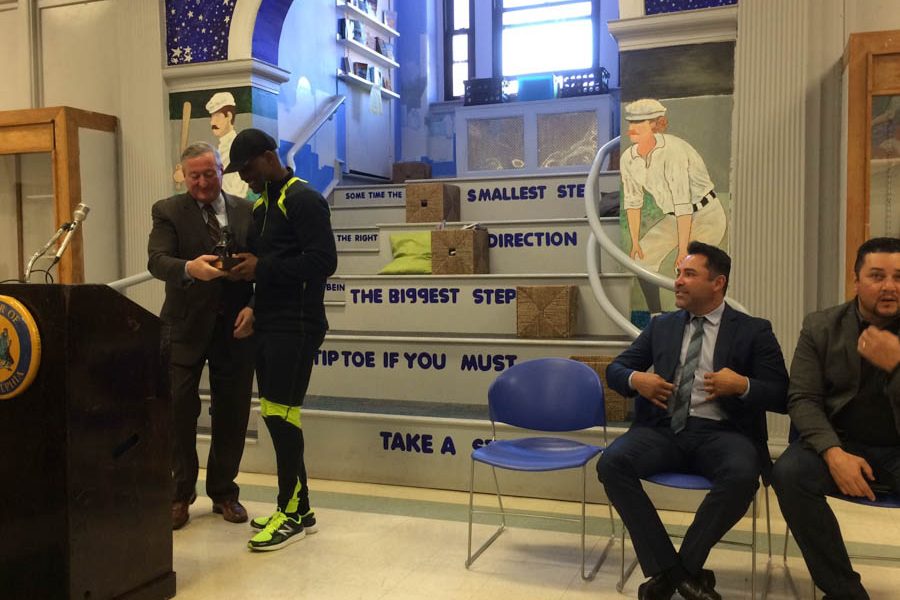 Aside from hanging out with two legendary fighters, Mayor Jim Kenney was also on hand to discuss the importance of the REBUILD Philadelphia initiative, which will support various programs to revitalize neighborhood spaces that have been in disrepair for years. These spaces include libraries, recreation centers and parks located in underserved communities. Kenney, who has fought for Pre-K funding, said that kids need a safe place to go "after school too."
  REBUILD will consider physical conditions of facilities such as parks, libraries and recreation centers that have not received new equipment or repairs in years. The City intends for REBUILD to improve infrastructure and impact communities economically by providing jobs, increasing community engagement and providing new services once the repairs are complete.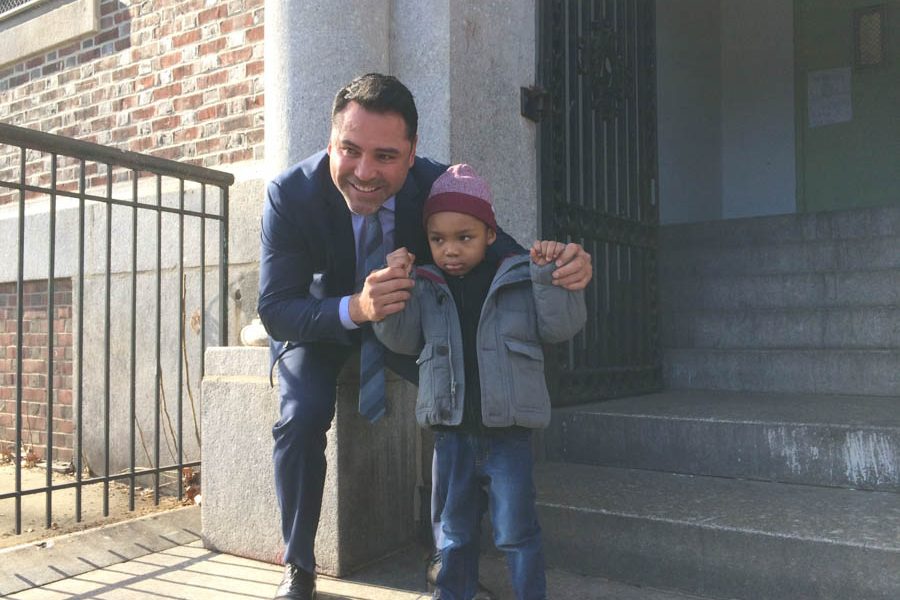 City Council is still in the planning phase for the $500 million program. To break that down further, $300 million of that money will come in bonds, $120 million will be from foundations and private donors (including a $100 million grant from the William Penn Foundation), $32 million will come from state and federal funds and $48 million will be from city capital funds.
  "As we move forward with REBUILD, which is extremely important, I can't think of better people to speak about the positive impact athletics can have on your life than Bernard Hopkins and Oscar De La Hoya," Kenney said.
  De La Hoya, who founded Golden Boy Promotions, Inc. in 2002 during his storied fighting career, said, "What an inspiration not only is Bernard Hopkins, but the Mayor for establishing these types of programs. I commend you and I thank you on behalf of so many kids."
  Some students from Robert Morris Elementary attended the event, as well as students from Camelot Academy Charter School. De La Hoya then called a young child up to the ring. Bernard Hopkins encouraged the youngster to "shadow box for Oscar" as Major Kenney watched on.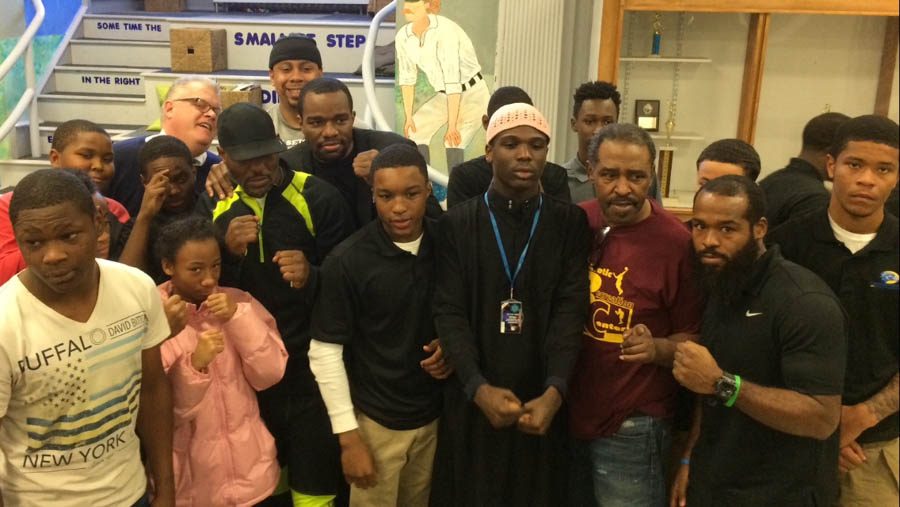 Hopkins was pleased to see the city invest in recreation and boxing. He explained the importance of the sport in his own life, and the historical significance of the gym they were standing in.
  "[Boxing is an] institution that I know that helped breed me and get me ready for the challenge that i had early in life. To be who I am in front of you right now," Hopkins said. "Everybody who boxed in Philly [in other neighborhoods], you had to come [Athletic Rec] for the final stamp that you was the real deal."
  Hopkins also took some time to give props to Fred Jenkins, the boxing director at Athletic Rec. Jenkins said that the funds from REBUILD could help "get local fighters into the olympics," elaborating that judges at the Olympic Trials have never seen many of the Philly fighters and often the decisions "go the other way because they're familiar with the other fighters." Funding for travel to other locations for competitions would help improve local fighters' chances.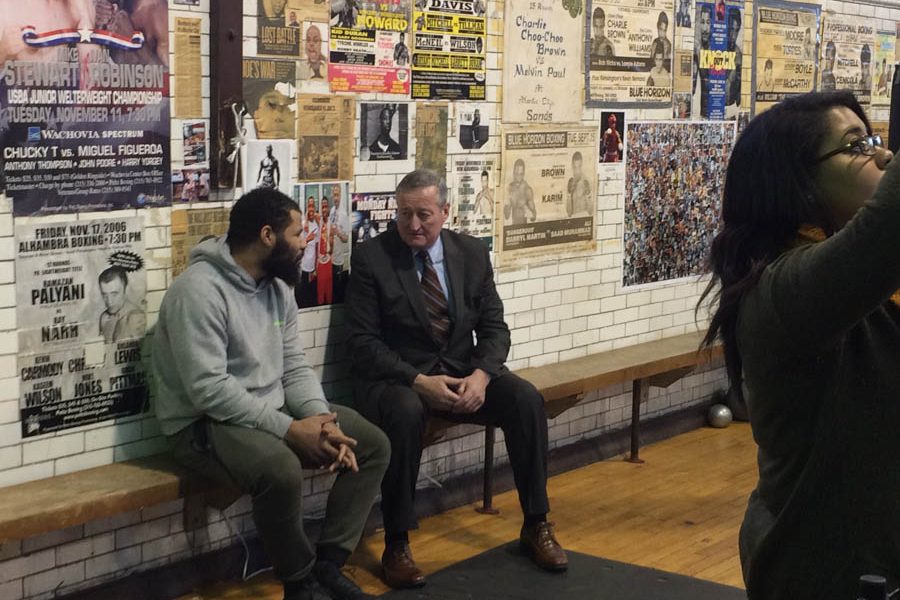 Hopkins, a Philadelphia native, was in town preparing for his December 17th fight against young upstart Joe Smith Jr. Hailed for his longevity, Hopkins held the middleweight title from 1994 to 2005, successfully defending his title a total of 20 times. There's no question that Hopkins will find his way into the Boxing Hall of Fame, but not before one final fight at the Forum in Los Angeles.
  Hopkins has confirmed that his fight against Smith will in fact be his last, concluding his 28-year career. "It's not because of lack of speed, lack of this or that," he said in reference to his impending retirement. "When you see that now I'm doing it despite the level of age. That's one of the reasons I'm really key to not only winning the fight but [also] making it the final one."  •