Education, Features
Local Schools Represented at Children's Scholarship Fund Philadelphia Citywide School Fair at Girard College
---
  Ivy McDaniels sees a "tremendous" need for families in Philadelphia to be exposed to more educational options.
  McDaniels is the communications director for the Children's Scholarship Fund Philadelphia (CSFP), a 501(c)(3) that has partnered with more than 160 schools to offer need-based scholarships for K-8 students in Philadelphia since 2001.
  CSFP held its first annual Citywide K-8th Grade School Fair at Girard College (2101 S. College Ave) on Saturday. The event was free to the public and allowed families to learn about more educational options in the city.
  About 70 private, charter and public schools were represented at the event. A raffle for school supplies was held. Representatives from organizations like Playworks, a nonprofit encouraging fair and safe play in schools, were also present.
  "We're hoping this event opens people up to the idea that there are a lot of choices [for education]," McDaniels said.
  Destiny Lewis, a resident of West Philadelphia, attended the event on Saturday with her 4-year-old daughter Nala. Lewis said she found options at the fair she had not heard of before.
  "I think in general it is excellent for our kids to have a better education," Lewis added. "Our children have a better start."
  Henry Fairfax, the vice president of enrollment management and institutional advancement at Girard College, said hosting the fair was an opportunity to educate more families about Girard College's history.
  In 1831, Stephen Girard bequeathed about $7 million to create a school for orphaned, white boys. Over the last 168 years, the school has given 100 percent of its students free tuition, books, room and board, and an education that progresses virtually all of its students toward higher education.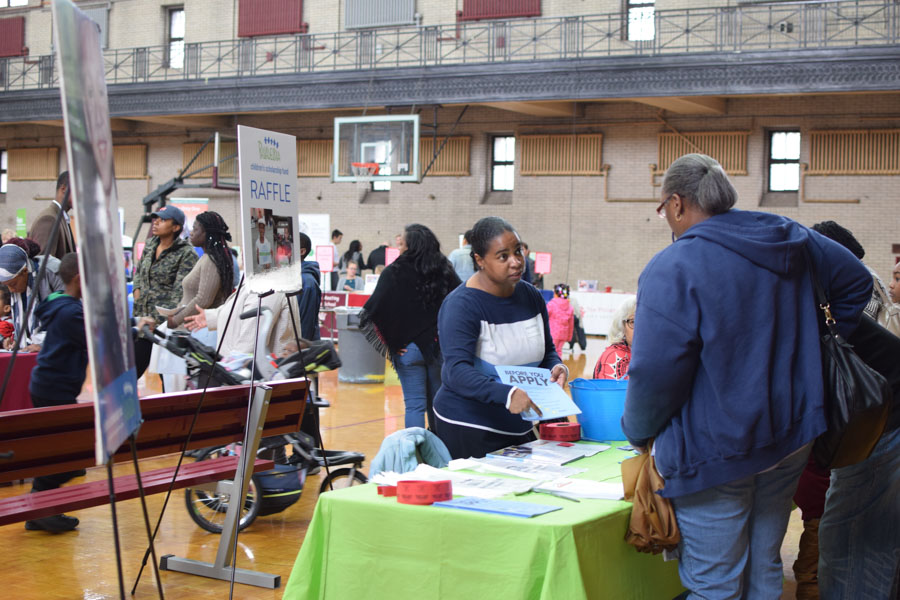 Today, Girard College is an independent, co-ed, college prep, 5-day boarding school located on a 43-acre campus, enrolling students, grades one through twelve, and awards a full scholarship with a yearly value of approximately $44,000 to every child admitted.
  Girard College did not desegregate until 1968, following a fourteen year legal battle to desegregate the school. Cecil B. Moore and the Philadelphia Freedom Fighters marched around the wall encompassing the campus for seven months in 1965 and even Dr. Martin Luther King Jr. came to the front gates of Girard's campus and addressed the protesters.
  "The Children's Scholarship Fund Philadelphia does very, very impressive work," Fairfax said. "It seemed like a really smart partnership. … It's good to have more people in the building taking in the sights and sounds."
  Our Lady of Port Richmond (3233 E. Thompson St.) was one of the schools represented at the event. Renee Rozniatoski, the advancement director at Our Lady of Port Richmond, said the fair was an opportunity to "open up a dialogue" between schools and parents.
  Rozniatoski said students receive a "high-quality Catholic education" at Our Lady of Port Richmond. Alongside athletic and musical programs, the school has a TECH Kids Program, which provides all students in grades 5-8 with access to an in-school iPad.
  "Whether they find the best fit in a Catholic school environment or in a public school, a charter school or a private school, [the fair] is really trying to work with the individual families to determine what's best for their students," Rozniatoski said.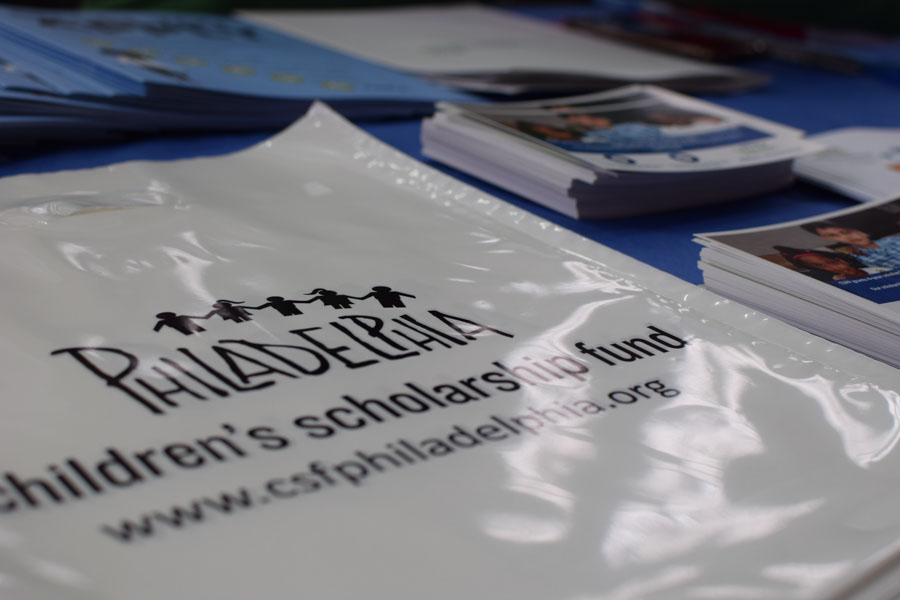 Logan Byler of Deep Roots, a charter school set to open in either Port Richmond or Kensington for the 2018-19 school year, was also at the event.
  Byler, the school leader and founder of Deep Roots, surveyed families about what communities in Philadelphia need from their schools on Saturday. Common responses included rigorous academic programs, safety and a student-focused staff.
  "I think it's really important for families to have the opportunity to have a lot of input in the direction that they want to see schools go," Byler added.
  Families interested in receiving scholarships from CSFP can apply on the organization's website. Priority will be given to families who apply before Nov. 15, but applications will be accepted until March 1st. •
THANKS FOR SUPPORTING SPIRIT NEWS!
Please follow this link to visit Amazon.com through our affiliate portal. It's the same Amazon.com you know and love, but when you shop through this link we receive a small cut at no added cost to you!
By using this link to do your normal Amazon.com shopping, you'll be supporting your local newspaper.

Try Amazon Prime 30-Day Free Trial