Sports in Temple University
Philly's Danny Garcia Defends His Boxing Title at Temple University With Win Over Vargas
---
  Boxing has long been a sport that allows young people to learn a skill that will help them become a more disciplined person in life. North Broad Street has a lot of boxing history along its sidewalks as well.
  Legendary Boxer Joe Frazier's Gym, located at 2917 N. Broad St., received historic designation back in 2013. The Legendary Blue Horizon at 1314 N. Broad Street is also host to many boxing matches and title fights. Boxing has been happening there since 1961 and according to their website, in 1998, promoter Vernoca L. Michael became the first female boxing promoter by creating her own promotions company to ensure boxing continues at the historic site.
  On Saturday, November 12th, Premier Boxing Champions hosted a night of championship boxing at the Liacouras Center on Temple University's Campus, continuing a strong tradition of boxing in North Philly. Philadelphia native Danny Garcia defended his Welterweight belt from Samuel Vargas. But Garcia's title fight was not the only bout fought that night and the undercard was stacked with fighters from Philadelphia.
  "This is going to be a great night. It's an exciting card from top to bottom," Garcia said at a press conference leading up to the fight. "Young local fighters getting a chance to show their skills is great for the sport and great for Philadelphia." Garcia also helps local fighters hone their skills at his gym, DSG Boxing Club at 3731 Jasper St. in Kensington.
  Early bouts featured Jeffrey Torres beating Joseph Serrano by TKO; TJ Velasquez beating his opponent Raul Chirino by decision; Milton Santiago defeating Claudio Rosendo Tapia by decision; Titus Williams over Antonio Dubose by decision; Kyrone Davis beating Carlos Gabriel Ozan by TKO; and Christian Carto maintained his undefeated record by knocking out his opponent Leonard Reyes in the 8th round of his fight. Carto will be fighting at Sugarhouse Event Center on December 16th.
  The night truly got underway with three nationally televised bouts on Spike TV. Each fight was scheduled to last 10 rounds. The first fight was between lightweights Javier Fortuna and Omar Douglass. Fortuna came out of his corner and quickly opened up on Douglass with a slough of punches before losing his footing and falling to the canvas.
  The fighters bounced around the ring, squaring off and eying each other. As their positioning and anticipation built to climax, the fighters attacked with tremendous speed, with punches flying and connecting. Douglass barely dodged one of four unassuming wicked downward punches and landed a blow to his opponent's face. After Fortuna went down in the first round, both fighters went at each other in what appeared to be an equal fight. In the end, Fortuna was able to capture a win by decision.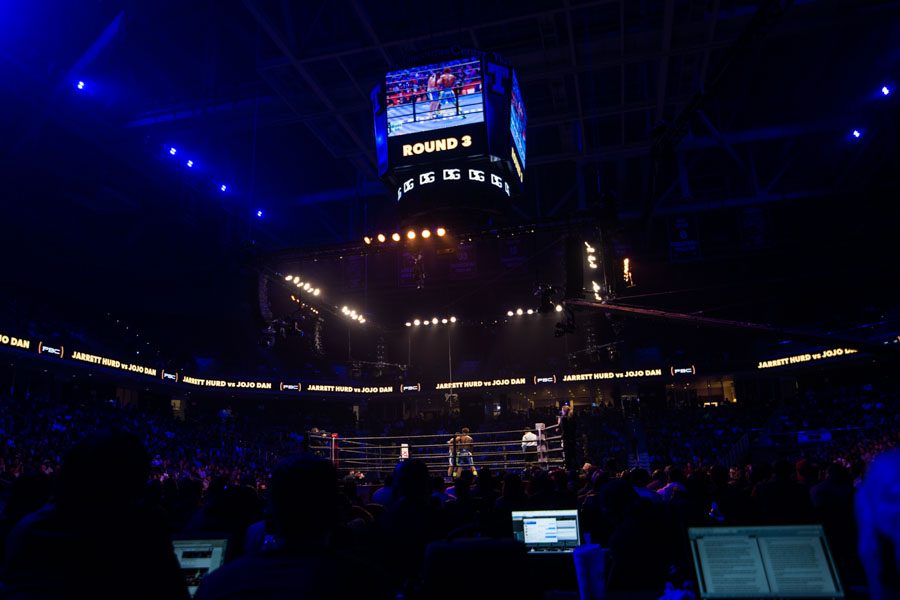 Junior Middleweights Jarrett Hurd and Jojo Dan fought just before Garcia and Vargas. According to the bout sheet, both fighters weighed 153.1 lbs, however Hurd seemed to have a notable size advantage in the ring. Dan struggled to land blows on Hurd as he covered his body.
  Hurd followed up with solid punches that looked devastating given the size difference between the fighters. At one point, Hurd landed a punch to Dan's groin. Dan stumbled before dropping to his knees from the below the belt hit. Despite the low blow, Hurd won the fight in the 6th round by TKO.
  Danny Garcia vs. Samuel Vargas was undoubtedly the most anticipated fight of the evening. Garcia came out dressed in a bengal striped outfit and wore an intimidating blood covered face mask. He was also trailed by legendary 76ers guard Allen Iverson, who had Garcia's title belt draped over his shoulder.
  The fighters bounced around the ring, landing fluries of punches on each other. Garcia knocked Vargas to the mat so hard that he did a flip backwards before getting back up. Garcia took some blows from Vargas, but returned the favor by pinning him against the ropes, and laying into him with no mercy. The fight ended in the seventh round with Garcia once again pinning vargas to the ropes and savagely beating him until the referee called the fight, and awarded Garcia with the TkO.
  Danny Garcia will be fighting Keith Thurman on March 4th at a to be disclosed location. Thurman was ringside as part of the Spike TV broadcasting crew. Garcia had this to say about his future opponent. "He will just get an up close and personal look at what will happen to him in March. I hope he's paying attention," Garcia said.